Folks that carry precious cargo and want to keep it secure appreciate tonneau covers quite a lot. First of all, they are great at protecting your stuff in the truck's bed from rain, snow, dust, and the wind. Secondly, they prevent thieves from stealing the goods by locking everything up. So, yes, there's a lot to like about bed covers.
However, no matter how careful you are, they do wear out over time. Plus, all the grime and stains can make them look worn and aged. So, you might be wondering, "How can I restore and refresh the appearance of my tonneau cover? How to make a tonneau cover look new?" Well, worry not! I'm here to guide you through the process. In the following steps, you'll learn effective techniques to revitalize your tonneau cover and bring back its pristine condition. Let's dive right in and discover how to make a tonneau cover look new by removing dirt, tackling stains, and rejuvenating its overall appearance.
How to Find the Right Bed Cover?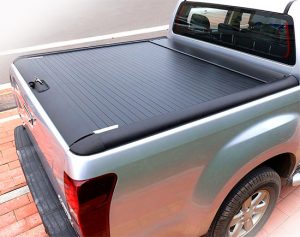 Here's what you need to know: there are two types of tonneau covers – soft, and hard. Soft covers are mostly crafted from vinyl, while hard ones are manufactured from high-grade aluminum. And, no matter which type you go with – hard or soft – there's always gonna be a choice between rolling and folding covers. The rolling design is more popular among truck owners, as it's very easy to use.
Drivers that only carry "regular" stuff in the bed, like groceries, tents, chairs, batteries, and things like that, choose soft rolling covers. Hard "rollers", in turn, are more durable and reliable but will cost you more. Now, if you've got the money and want the best protection the market has to offer, go with hard folding covers. They're pretty much unbreakable and you can even carry extra weight on top of them (up to 400 pounds). Soft "folders" are decent as well.
Tonneau Cover Maintenance
And that's pretty much all there is to know about the different tonneau covers. In my experience, soft covers are a bit harder to clean, as they require more attention and some extra stuff (like different formulas/solutions). Keep that in mind and make sure you come prepared. As mentioned in the beginning, over time, even the toughest covers lose some of the factory properties. The sun rays, rain, and dirt make the vinyl crack.
Hard covers are more resistant to all that because they're crafted from sturdier materials. Still, they do require maintenance as well. So, today, we won't only be doing basic cleaning: we'll also do our best to extend the lifespan of our cover(s) and restore some of the original properties. First, we'll learn how to clean vinyl tonneau cover and only then move on to aluminum (hard) covers.
Inspecting the Side Rails and the Hardware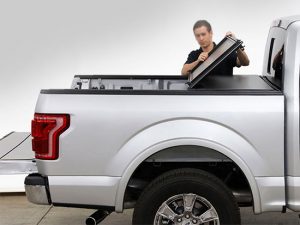 Start by parking the vehicle in a shady spot, like somewhere under the trees, or maybe in your garage. The idea is to keep the tonneau away from the sun so that it doesn't dry all the cleaning products we're gonna use. Next, check the side rails of the bed, specifically the latches. They can also be exposed to UV rays, moisture, and dust; so, they might need a proper cleaning as well. If you see that corrosion is taking, over, use some oil to battle that.
This should be done right after the inspection because the cleaning products won't go well with the oil. And, while you're at it, you can use that same oil to grease the bed cover hardware – the bolts, nuts, washers, and clamps.
Soft Bed Covers
Getting Started
Before you get to the actual cleaning, there are some things you'll need to buy. For a soft cover, use a soft brush. If you can get your hands on a wheel brush as well, that'd be great. Plus, don't forget about a piece of cloth and a towel for drying. Microfiber has proven to be the best material for this. Now, for the actual cleaning, some drivers use "universal" products like soft top cleaners, solutions for boats, rags, etc.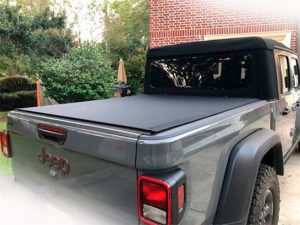 However, the market has lots of solutions to offer that were specifically formulated for soft covers. They are available for 10-15 US dollars, or even less. So, go ahead and grab one of those. For a long-lasting effect, I'd also suggest getting a cover protector. These also won't cost you much ($15-20). Last, but not least, make sure you've got a garden hose around to clean the cover.
Cleaning Guide
Alright, we actually start with the hose: use it to wash all the dirt and grime from the tonneau cover. Next, grab the cleaner and spray it all over the vinyl. Don't be greedy and make sure you spray every single spot. With that done, equip yourself with the brush and get to scrubbing. If you did everything right with the first two steps, there won't be much scrubbing to be done. The wheel brush will help to reach the tough spots.
Are you happy with how everything looks? Then use the garden hose again to clean the vinyl. Just rinse it – don't go too crazy! Finish it up by drying the cover with a microfiber towel. And don't forget about the cleaner protector solution. Spread it and wait for the formula to dry. Most people consider the job done at this stage, but it would be best to scrub the bed cover a bit with the microfiber cloth for an even better effect.
Hard Bed Covers
Getting Started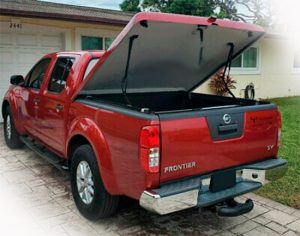 The best thing about hard covers – they're a lot less demanding. All you'll need to bring them back into shape will be a hose (or even a bucket with water), a scrubber/towel, and a cheap soap. A quick note: I've got a full-size truck with a hard cover, and I clean it every 2-3 months to keep it in good shape and avoid rusting.
Cleaning Guide
Just like in the previous scenario, begin by parking the vehicle and washing off all the dirt with a garden hose. Or, if you don't have one, a bucket of water will also do. Combine the water with soap; go with a 50-50 ratio for the best results. Dip the scrubber into the newly-created mix and, well, get to scrubbing. Don't press the scrubber too hard, or you might damage the aluminum surface.
Keep going until you're satisfied with the results, and rinse the cover again, but this time only with water. When the bed cover dries out, you can hit the road!