Best Tonneau Cover for Toyota Tacoma Review & Buyer's Guide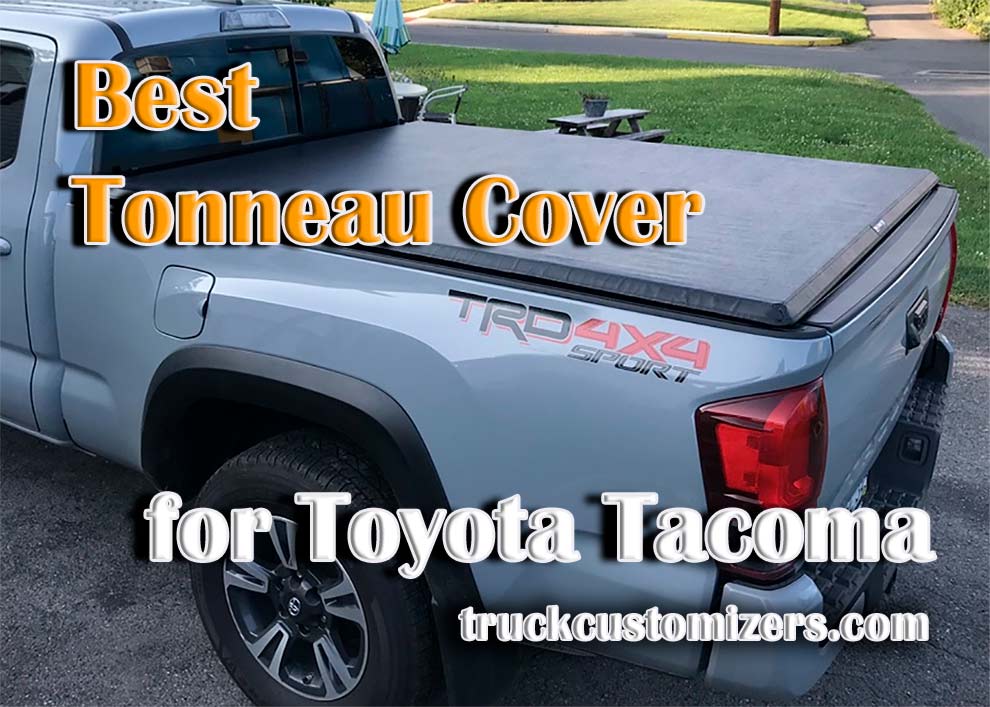 If you're driving a Tacoma, there's a 50/50% chance that you carry lots of cargo in the back. Camping stuff, extra gear, tools you need for work – those kinds of things. Well, you better start thinking about proper tonneau protection. Otherwise, natural elements will ruin the bed in the blink of an eye. Rain/snow, dust, dirt, rust, and UV rays tend to be serious problems.
On the bright side, all these hazards can be easily avoided with the best tonneau cover for Toyota Tacoma. Specifically designed with one goal in mind (brick-strong, reliable protection), they will secure your goods and the bed area. On top of that, you'll get protection against thieves – also very important. So, ready to check out what the market has to offer? Let's get right to it!
Best Tonneau Cover for Toyota Tacoma Review
1. TruXedo – Best Soft Roll Up Tonneau Cover for Toyota Tacoma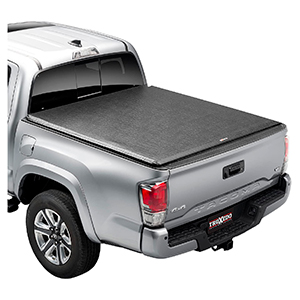 What are you looking for in a bed cover? Statistically, most modern-day drivers are in the market for a user-friendly, easy-to-install unit. Well, that's exactly what TruXedo is all about. As a soft roll-up cover, it only takes ten minutes to secure it on the bed and even less time to disassemble. Strangely enough, the included user manual isn't at all helpful. It's not vehicle-specific and will probably end up confusing you.
On the bright side, thanks to the pre-set tension tarp, you can achieve just the right tension and create a tight, weatherproof seal. The material quality also deserves our attention. TruXedo used premium-quality leather grain for this cover. It's known to be very flexible and reliable, among other things. So, if you're the proud owner of a 2016-2021 Tacoma, this could very well be the best pick for you.
Pros & Cons
High-quality leather grain material: flexible and durable
Can be installed in 10/15 minutes with basic tools
Pre-set tension tarp for creating a tight seal
Misleading installation instructions

TruXedo is one of the finest soft roll-up covers out there. Enhanced functionality, no-hassle installation, and decent build quality turn it into a must-have. The pre-set tarp and 100% bed access are even more reasons to invest in it. Just don't put all of your trust into the user guide.
2. Gator ETX – Best soft Tri Fold Tonneau Cover for Toyota Tacoma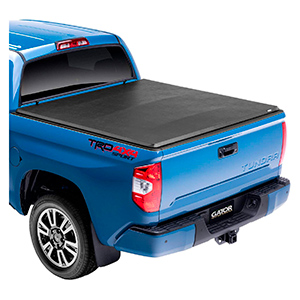 Up next, we've got another soft cover, but this time around, it's a tri-fold design. So, what can you expect from Gator ETX – what are its biggest selling points? First of all, I want to mention the T-handle clamps. They take minimal effort to fine-tune/adjust to your truck's bed, thus ensuring a tight fit. Plus, they're quite durable and long-lasting. In addition, you'll get market-leading resistance to natural elements, including water and dust.
The heavy-duty frame, tear-resistant vinyl, and perimeter sealing make sure of that. Unfortunately, the included rubber seals are of average-at-best quality and tend to wear off in a couple of months (you can get a new pack for +/- $5). To compensate for that, Gator ETX is a really cheap bed cover and can be an excellent choice for a Tacoma driver on the budget. Anti-theft protection is decent, by the way.
Pros & Cons
T-handle front clamps: easy to adjust and built to last
Excellent protection against rain, snow, and dust
Available at a very affordable price

Gator is the least expensive tonneau cover on the list, and that's what makes it such a popular choice. And, I'm happy to say that for such a low price, it features top-quality front clamps, strong resistance to elements, and an aluminum frame. You might want to replace the seals, though.
3. Retrax – Best Retractable Tonneau Cover for Toyota Tacoma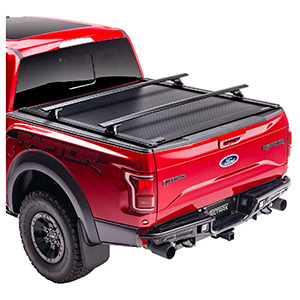 In contrast to the previous bed cover, this one's on the expensive side. Compared to the market average, it's two-three times pricier. But, it does have a long list of pros that justify the steep price. Most importantly, Retrax comes packed with a highly secure and easy-to-use locking system. You get a key and can use it to, well, lock the cover anywhere you want along the rails.
In addition to that, this cover is incredibly strong (practically immune) against UV rays and scratches. So, if you live in a sunny area and take off-roading trips now and then, put ONE XR on the list. And let's not forget about the TRS (Trax Rail System). It's compatible with a wide range of upgrades for the bed and makes the cover even more secure.
Pros & Cons
Superb protection against scratches, dirt, and UV rays
Features the Trax Rail System for easy upgrades
Top-notch locking mechanism: secure + flexible
Pretty expensive for the average driver

If you have the budget for it, this cover will be worth every single penny. Key lockable, packed with the Trax System, and crafted from premium materials, it's pretty much the best tonneau cover for the 2021 Toyota Tacoma. Besides, it can be operated with one hand and looks great.
4. BAK – Best Hard Folding Tonneau Cover for Toyota Tacoma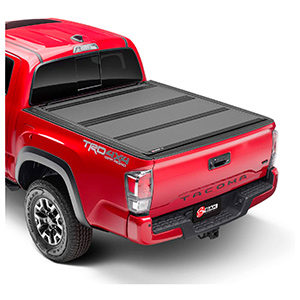 The #1 job of a bed cover is to protect your goods from thieves and Mother Nature. However, if it's a hard-folding unit, it can also carry extra weight, expanding the cargo capacity. For example, the MX4 easily holds up to 400 pounds, which is quite impressive. As long as the weight is evenly distributed, you'll be able to use this capacity to the fullest. Quick, full bed access, easy operation, and auto-latching panels will be a part of the package as well.
More good news: BAK backs this product with a prompt, customer-oriented support team. Based in the US, it takes little time to respond. You'll also get a five-year warranty deal and a choice between two colors/finishes – matte and gloss. As for the cons, some buyers report design flaws. The weather strips aren't at all reliable; furthermore, the tailgate rails are poorly secured. This means weak protection against weather and thieves.
Pros & Cons
Can carry up to 400 lbs. of extra cargo weight
Client-oriented, US-based customer support
Two different finishes to choose from

Tacoma drivers that carry around lots of cargo might find BAKFlip MX4 to be right up their alley. It's capable of holding 400 pounds of additional weight. However, it's not very secure due to issues with the design. On the bright side, you can always reach out to helpful support agents.
5. BAK Revolver – Hard Roll Up Tonneau Cover for Toyota Tacoma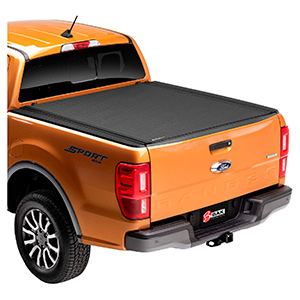 Finishing up, let's look at another BAK product. This time around, it's a hard roll-up cover, which means it's slightly less secured but easier to operate. The biggest standout point is, of course, the aerodynamic, low-profile design. First of all, that keeps wind noise to a minimum. Secondly, you'll see a minor boost to fuel efficiency, which is always nice. The actual cover is protected by a top-grade matte finish.
Next, thanks to the integrated tailgate lock and rotational locking rails, this cover is also quite secure. Add quick, charge-free deliveries across the country, and you'll see why Revolver X4 is a worthy investment. Do keep in mind, however, that it only fits a narrow range of Tacoma trucks (the 2016-2018 models). So, make sure it's compatible with your vehicle before ordering this unit.
Pros & Cons
Low-profile, aerodynamic design for slight MPG gains
Features a stylish, premium-quality matte finish
Fast delivery within the United States

Are you in the market for an all-around solid hard roll-up cover? If the answer is yes, Revolver X4 by BAK might be right up your alley. It's got a low-profile, fuel-efficient design, a premium finish, and a decent security/locking system. Plus, it boasts quick deliveries across the States.
Does Toyota Tacoma have a Tonneau Cover?
Technically, yes, the company does manufacture bed covers for its Tacoma and Tundra trucks. And, as you can imagine, they fit these vehicles perfectly and require almost no effort to install and remove. With that said, you'll have to buy the cover separately. That's right: even if you invest in the most expensive package/trim level, it won't include a wide range of exterior accessories, like a tonneau cover, bed extender, mat, or bedliner.
Besides, factory-made covers cost quite a lot. You'll get a better deal if you go with aftermarket products, like the ones from today's list. They might be a bit harder to install and not have that sleek, OEM look, but on the protection side, third-party covers will be a more preferable pick.
What is the Best Tonneau Cover for Toyota Tacoma?
There are quite a lot of offers out there, and they all have their pros and cons. So, let's take a quick look at the available options and see which ones suit your Tacoma best:

The Roll-up Mechanism. This is the cheapest bed cover design on the market. It's very easy to install and remove (five-ten minutes tops) and is very easy to control with one single hand. On the downside, roll-up covers provide average protection against weather elements and are even worse against thieves. But, if it's a hard roll-up cover (not a soft one), that could be a reasonable compromise.

The Folding Mechanism. As the name suggests, instead of rolling, these covers fold. In general, folding covers are more reliable and serve longer. Again, if you put security above everything else, go with a hard design. As a bonus, you'll get extra cargo capacity.

Retractable Covers. In many ways, these covers are identical to roll-ups. However, they roll into a canister (that comes as a part of the package) and provide 100% access to the cargo.
The Biggest Pros & Cons of a Tri-Fold Tonneau Cover
If you thought that a tri-fold means the cover folds three times, you're absolutely right! These covers offer extended security for the cargo, as they can be locked with a key. And, you'll have to open the tailgate before getting direct access to the cover. Statistics show that this design "scares away" most potential thieves. On the downsides, depending on the design, tri-fold covers don't always provide full access to the tonneau area.
Keep this in mind when navigating through available tri-fold units. Another minor con has to do with the profile. Tri-fold covers sit a couple of inches above the bed height. While that's not particularly bad, compared to, say, a roll-up, you'll get slightly worse mileage (because of aerodynamics).
Tips for Choosing a Truck Bed Cover for Toyota Tacoma
Alright, with the different designs/styles out of the way, it's time to talk about key factors that set poor-quality covers from top-of-the-line products. Tonneau covers have one important job – to protect the cargo – and that's why they gotta be resistant to natural elements. Here's a more detailed breakdown:
Water- and Dust-Resistance. Water, snow, moisture, and humidity are any exterior accessory's biggest enemies. The same goes for dust. These particles can find their way into the tightest spots. So, see that it says "100% water and dust protection" in the specs. Or, better yet, check its IP rating. IP65 ensures average protection, while IP67 is the golden standard.

Rust/Corrosion and UV Rays. In premium-quality covers, the frames, rails, and all the other metallic parts are crafted from aluminum. This material is naturally resistant to rust – keep that in mind. Stainless steel is also pretty strong against it, but not quite as much. As for the sun, it can also be a "threat"; thankfully, most covers are safeguarded against the paint-peeling UV rays.
Is a Tonneau Cover really worth it for Tacoma?
Yes, it most definitely is. Even if you don't carry cargo around for a living, a bed cover will still be one of the most important upgrades for the Tacoma truck. The climate in the States can be quite harsh, especially if you live somewhere up north where it's freezing all the time or in the hot, humid, and dusty south. A proper-quality tonneau cover will safeguard both the cargo and the actual bed area from the effects of natural elements and hazards.
Without it, your goods will be taken over by rain, snow, and dirt. The bed, in turn, will be covered in scratches and the paint/finish will be gone in no time. Even if you only have the budget for a cheap soft roll-up cover, it will still be an excellent investment into the safety of your Tacoma.
Toyota Tacoma Tonneau Cover Maintenance
There's nothing hard about this. As long as you followed my guide and got a cover with strong anti-weather resistance, maintenance will be fast and easy. Do regular check-ups for any signs of wear, tear, and tiny cracks. To keep the cover clean, you can just use a bucket of water and some rags. Premium-quality finishes make washing the surface a walk in the park. And if you're serious about this, consider getting a cleaner product.
It will cost +/- $20 and last for a long time. First, go over the cover with a water + soap mixture and then apply the cleaner for a better effect. Some experts recommend using a plastic restorer or a protectant formula. These do a decent job but aren't 100% necessary for a bed cover.
Buyer's Guide
We covered many topics in the FAQ, including tips and tricks for finding the perfect tonneau cover for Tacoma. But, there are still some things to familiarize ourselves with to make an even better pick. So, let's go over engineering quality, different materials, security against thieves, and, of course, pricing and the package, along with the available warranty deals.
#1: Build Quality + Materials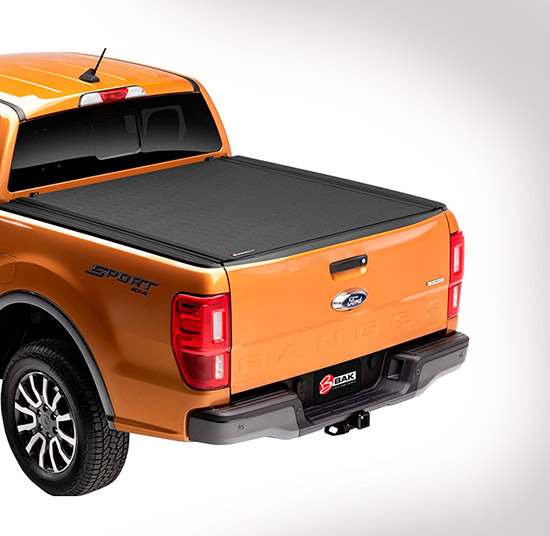 As I already mentioned in the FAQ, you gotta make sure the cover is well-protected against natural elements. However, even if resistance is strong, but the engineering quality is low, you won't be very happy with the cover's performance. A durable frame, tight seals, and an adjustable tension system should also be a part of the picture. Speaking of the frame/slats the best option on the table for hard covers is aluminum.
It's not only well-secured against rust, water, and dust, but can also carry extra weight (up to 400 pounds). Besides, the flexible nature of this material allows it to adapt to the ever-changing conditions on the road. As for soft covers, leather-grain vinyl is an industry-standard that most brands stick with. It must be tear-resistant and marine-grade for the best performance (heavy-duty 24 0z. for example).
#2: Anti-Theft Protection/Locking Mechanism
So, you found a tonneau cover that's built from premium materials and is highly resistant to weather. But what about the thieves – how can you secure the cargo from them? What you should do is to buy a cover with a brick-strong locking system. The most reliable solution is a lock + key combination. It's pretty much impenetrable, as the low-lives will have to break the lock to access the bed area.
I'm talking about a hard folding cover, of course. In contrast, a soft roll-up will be the least secure option, no matter the vinyl quality. That's especially true if it's equipped with latch clamps or rotary latches.
#3: Pricing, Hardware, Warranties
With tonneau covers, the price range is pretty wide. Entry-level soft roll-up covers are available for as cheap as $200. For that kind of money, you'll get easy fitment, one-hand operation, and decent material quality. For a hard roll-up cover, you'll have to pay at least twice as much. Soft folding units cost roughly the same as hard roll-ups, while hard folding tonneau covers can go well over the $1000 mark.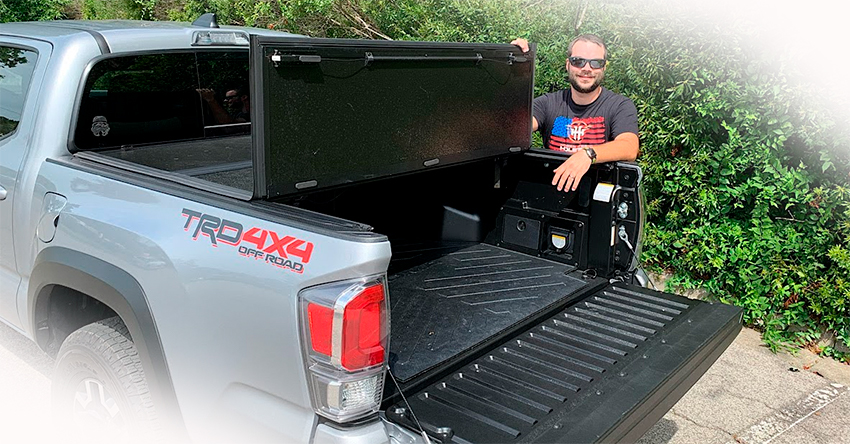 The final cost is also dictated by the material quality and the extras (like front clamps, a tension tarp, and the TRS system). Oh, and don't forget to check the package. Ideally, it should include detailed installation instructions, a complete hardware set, and a generous warranty. A one-year standard manufacturing guarantee is what you can expect with basic covers. The more expensive alternatives will be backed by 5- or even 10-year warranty + strong support.
Conclusion
And that's about it, fellow drivers! Along with headlights, a protective grille, and new tires, a tonneau cover is one of the most important exterior upgrades for any truck. All-around protection against Mother Nature and hijackers, beefed-up looks, and extra cargo capacity – that's what you'll get with a premium-quality cover. So, don't rush yourself and make sure you get the best bang for the buck.
The top picks from today's list will help you with that. They've all got their strong sides but appeal to a slightly different target audience. Take your time with the reviews! Oh, and don't forget to check out the FAQ and Buyer's Guide for maintenance tips and a quick look at the key aspects of a best-selling cover. Stay tuned, and I'll see you next time!