Best Tonneau Cover for Ford F150 Review & Buyer's Guide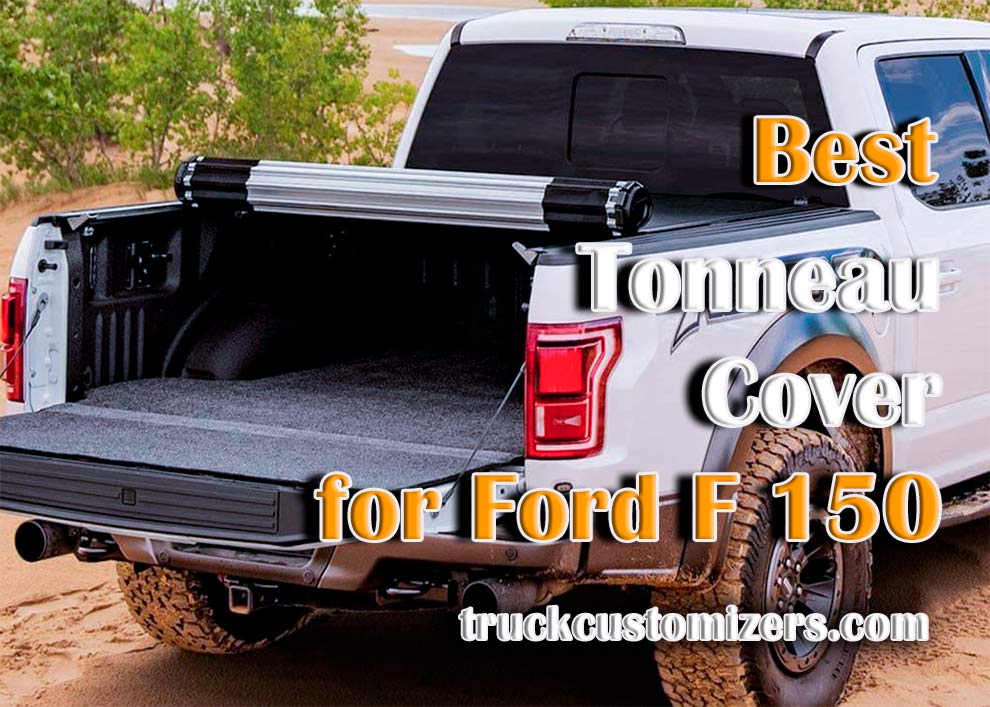 If you live in an area with a harsh climate, that's bad news for the truck's bed. Drivers that regularly carry tools, equipment, and other stuff in their F-150 already know what problems rain, dust, and dirt can create. So, the question is – what can we do about that? Use those cheap plastic coat-like covers that do more harm than good? Well, how about tonneau covers?
Specifically engineered for the bed, they do an excellent job of keeping your cargo safe and sound no matter how bad the weather is. With the best tonneau cover for Ford F150, you'll significantly increase the lifespan of the bed and make the truck look badass while protecting the goods. The following list includes five top-notch covers for the F150 – take a look!
Is a Tonneau Cover Worth it?
The short answer – yes, it most definitely will be a worthy investment. Tonneau covers have three important tasks: first of all, they protect the bed from natural elements, including UV rays, dirt, rain, and humidity when you're driving cargo-free. Secondly, they shield whatever you've got in the back of your Ford from the same hazards. On top of that, these covers keep thieves at bay. You never know when someone's gonna try and steal your stuff!
Some premium-quality tonneau covers can even carry extra weight (up to 300 pounds). Overall, given the relatively easy installation routine, great looks, and long lifespan, bed covers are one of the best upgrades for Ford's legendary F-150 truck. They won't cost you a pretty penny but will serve for many years, if not decades.
Best Tonneau Cover for Ford F150 Review
1. BAK BAKFlip G2 Hard Folding Truck Bed Tonneau Cover – Best Hard Tonneau Cover for Ford F150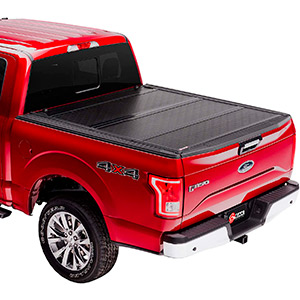 If you're looking for a brick-strong bed cover to protect your precious cargo, it doesn't get better than BAK. First of all, this is a folding cover, crafted from aluminum panels that easily handle rain, snow, dust, and the harshest UV rays. Secondly, it features a highly reliable and hard-to-crack auto-latching system that keeps thieves at bay. I also want to mention the outstanding design.
With most tri-fold covers, you don't have much access to the furthest end of the tonneau. That won't be a problem with BAKFlip G2. It allows easy, 100% access to the bed, which means you can store more stuff. Add a two-year warranty, and you'll see why it's a no-brainer. There's one downside, though: issues with quality assurance and control. Some buyers complain about torn latches; others get panels full of scratches. This happens rather rarely, of course.
Pros & Cons
Quick and easy bed access (100% foldable)
Auto-latching system + aluminum panels
Backed by a 2-year hassle-free warranty

Despite the problems with QA and QC, the BAK cover is a God-sent. It is manufactured from premium-quality materials and protects the bed from the weather and thieves. Plus, you can flip the cover up to get full access to the cargo, which is something you don't see with most tonneau covers.
2. TruXedo TruXport Soft Roll Up Truck Bed Tonneau Cover – Best Soft Tonneau Cover for Ford F150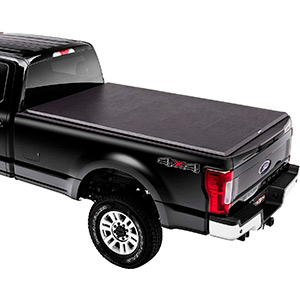 This next manufacturer is just as big as BAK. But, with TruXedo, we've got a soft roll up cover instead of a folding tri-fold. So, what's the difference? More importantly, what are the pros? Here are the facts: the TruXport cover is very easy to install. It will only take 30-40 minutes to mount it. The dismounting process is even simpler and quicker. Plus, it is sewed from top-notch leather grain material that easily withstands the effects of weather.
And let's not forget about the company's generous five-year warranty. What about the downsides, though? Well, I have to say that while TruXedo is, indeed, crafted from high-quality materials it's not very good at keeping robbers at bay. On the bright side – the tailgate + latches are very user-friendly and even kids can use them. Besides, thanks to the tension controls, you won't see any wrinkles on this cover.
Pros & Cons
Takes less than 30 minutes to mount/dismount
Crafted from premium leather grain material
Covered by TruXedo's 5-year warranty
Average-at-best protection against thieves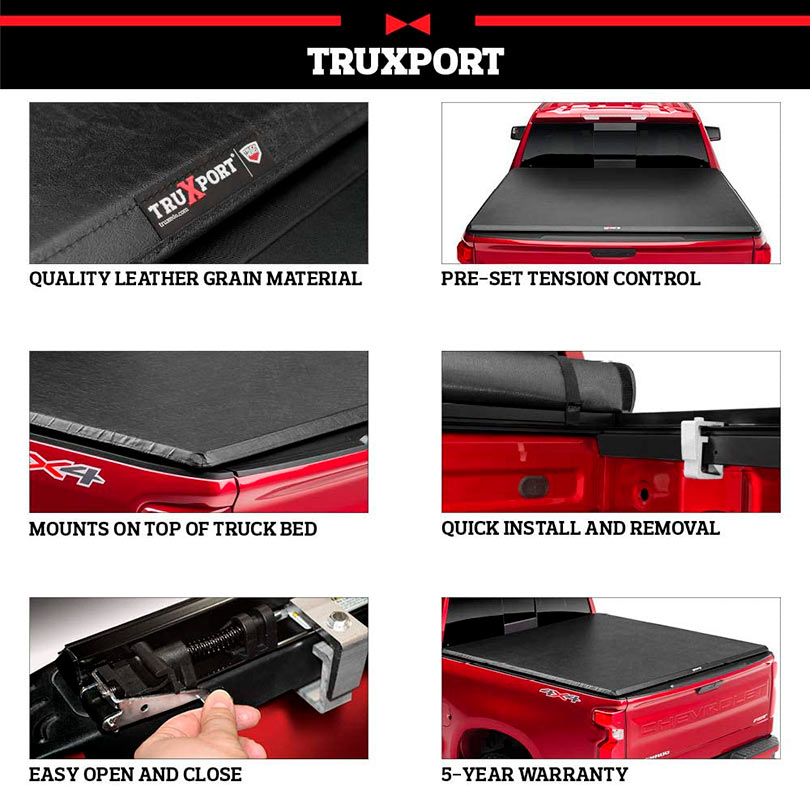 Easy to install, easy to control, and built from superb-quality leather grain – that's the TruXedo cover in a nutshell for you. It's also covered by a five-year warranty (the best deal on the list). Don't rely on it heavily in terms of anti-theft protection, however, as it's not that great in this regard.
3. Lund Genesis Elite Tri-Fold, Soft Folding Truck Bed Tonneau Cover – Best Tonneau Cover for F150 Short Bed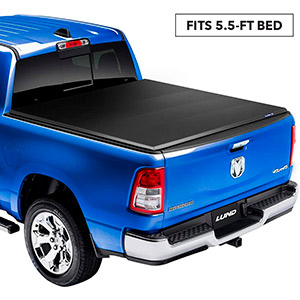 Lund Genesis is like the golden middle between the previous two products. On one hand, it's a soft cover; on the other, it's got a folding design. So, that means it's not very expensive and does a decent job of safeguarding the bed against Mother Nature. The fabric deserves our attention as well: it is super low-maintenance – you can just clean it with a garden hose and call it a day.
This is a US-made product, with globally sourced materials to ensure maximum efficiency. Do keep in mind, however, that it will probably take you a while to install. While the mechanism is rather straightforward, you'll have to go back and forth a bit to achieve a tight seal. Other than that, Lund is a safe bet for any F150 owner.
Pros & Cons
Superb protection against elements
Crafted from low-maintenance, durable fabric
A US-made product (globally sourced)
Might take a while to install

If you're in the market for a high-grade soft folding tonneau cover, Lund has got your back. Sewed from strong, maintenance-free fabric, this US-made cover will be a worthy investment. But, although this is a bolt-on design, some DIY action might be involved (to ensure a perfect fit).
4. Tonno Pro, Tonno Fold, Soft Folding Truck Bed Tonneau Cover – Best Soft Folding Tonneau Cover for F150
Here, we have another soft folding bed cover, this time by Tonno Pro. Its biggest advantage over the competition is the tear-resistant fabric that's incredibly durable and doesn't wear out over time. On top of that, I want to mention the aluminum frame. It's powder-coated and, again, highly reliable and long-lasting. As for security, Tonno engineers added the trademark E-Z clamping system.
It locks down the tonneau cover from the inside, making sure your belongings are secured against thieves and weather elements. There is one con, though, and it has to do with the hinges. The design is a bit off; as a result, the hinges don't sit right on the bed, allowing rainwater to leak in. Drivers that know their way around covers will be able to fix it no problem. For the rest of us, it's still a downside.
Pros & Cons
Advanced E-Z clamping system for extra security
Features a powder-coated aluminum frame
Tear-resistant fabric: protected against wear

The reliable anti-theft and anti-weather design, premium-grade aluminum frame (with coating), and wear-resistant fabric turn the Tonno Pro bed cover into a must-have. Sadly, the hinges aren't at all user-friendly and may cause you trouble. You can always request a replacement, though.
5. Tyger T3 Soft Tri-Fold – Best Soft Tri-Fold Tonneau Cover for 2015-2022 Ford F150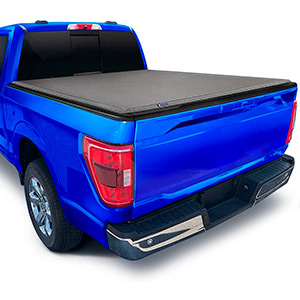 Is this the best aftermarket bed cover for the F150? Is it at least on par with the competition? Well, it sure does have its fair share of pros. The first thing that'll probably catch your attention will be the aerodynamic, fuel-efficient design that gives Ford's truck an edge on the road. The second standout point is the price tag: this is one of the most affordable premium-quality tonneau covers.
Tyger's warranty/support is also a big pro. It allows returning and replacing the cover within days. You will have to pay the shipping cost, but it's not a very big deal. The real issue is with the folding design: it takes away 1.5 feet of tonneau space, and if you carry around lots of stuff, that's a rather big con.
Pros & Cons
Aerodynamic design for aesthetics and gas saving
Rather affordable, compared to the rivals
Limited return/replacement guarantee
Takes a bit too much bed space

Tyger did a great job with the T3 bed cover. It features an aerodynamic, performance-oriented design and comes at a very attractive price. The return and replacement guarantee is another reason to purchase it. Sadly, when folded up, it blocks a large chunk of tonneau space, limiting access.
Buyer's Guide
Are soft covers better than hard covers? Should you go with the rolling or the folding design? How do you find the right material? What about the installation process and the locking mechanism? And finally, what's the right price for a decent-quality tonneau cover for the F-150? Is it 200, 300, or maybe 500 US dollars? You'll find all the answers in this guide! Read carefully so that you don't miss anything!
Installation + Fitment
It shouldn't be hard to ensure easy installation. All you'll have to do is find a cover that's compatible with your truck. Be careful, though, because if the specs claim 100% compatibility with the F-150, that definitely doesn't cover EVERY single model year. Most likely, you'll see something like 2015-2020 in the fitment chart, or 2010-2015. Once you're confident that you chose the right cover, look for a direct-fit, bolt-on installation.
That means you won't have to drill new holes in the truck's bed or bend/trim the tonneau cover to make it fit. That's pretty much all there is to it. As long as the package includes the necessary hardware (rails, clamps – stuff like that), the installation process shouldn't cause you any hassle.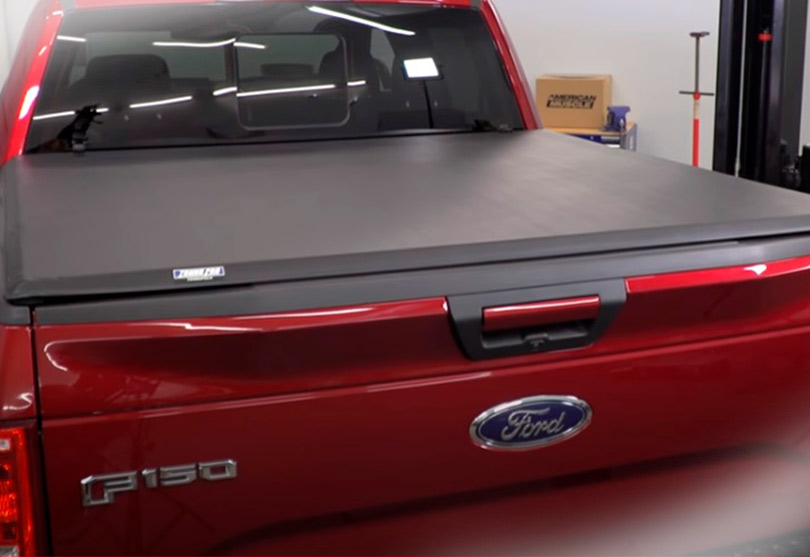 Build Quality + Durability
Soft covers are usually made from (marine-grade) vinyl. Hard covers, in turn, are crafted from aluminum or composite, which makes them significantly more durable and impact-resistant. Fiberglass and hard plastic are also pretty common, but they're not a match for aluminum. This material is also perfect for latches, rails, and straps.
Obviously, the cover needs to be weather-proof; otherwise, there's little point in buying one. When shopping for a new tonneau cover, make sure it's got "weather-tight" in the specs. That way, there won't be any gaps between the cover and the bed for dust, rain, and snow to slip through. This is also what the tension system is for: with it, you can make everything super-tight, with no wrinkles.
Soft Rolling vs. Hard Folding
Soft rolling covers have a relatively short lifespan and tend to wear out quickly. In contrast, hard rolling covers last longer and are much more resistant to tear. Overall, they are a reasonable investment if you live in a mild-climate area and don't carry around cargo every single day. Folding covers (AKA the tri-folds), in turn, are at the top of the "food chain", with hard folding covers being the most expensive and the most long-lasting option.
They protect from the harshest winters (snow, rain, humidity) and summers (dust, pollen, UV rays). Plus, if you pick the right hard cover, you'll be able to carry extra cargo on top of it. I'm talking about 250-300 pounds of weight! This won't be possible with a soft folding cover, though. Plus, it will be much easier to penetrate a soft cover, regardless of its design (rolling or folding).
Anti-Theft Protection
You'll be surprised by how much cargo is stolen by thieves! Thankfully, all modern-day tonneau covers have some sort of protection against that. Tailgate locks are the most secure option. Without a set of keys, it will be almost impossible to break-in. Latch clamps and spring-loaded clamps are also decent, but not as reliable. Auto-locking panels are the best: they seal everything shut the second the tailgate goes up.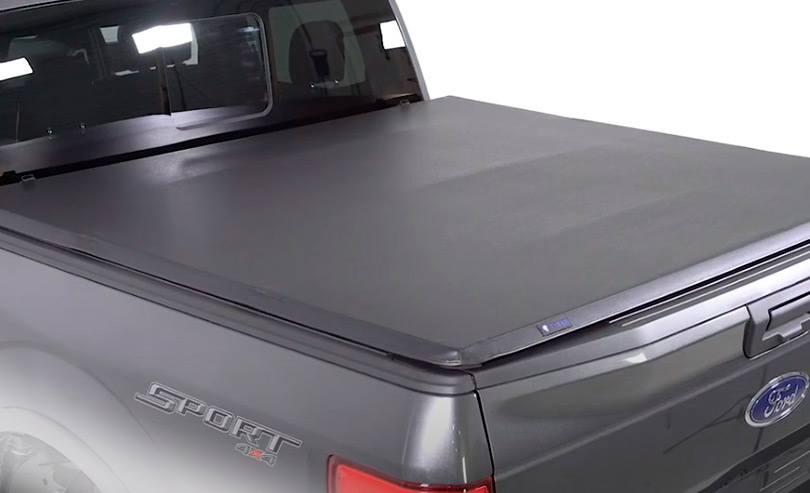 The Budget: Figuring it out
Last, but not least, let us talk about the average price for a brand-new bed cover. How much should you pay to get all-around protection from weather and thieves? The cheapest option on the table right now is soft rolling covers. You can get one for +/- $150 depending on the area that you live in and the make, model, and year of the F-150 truck. As we just learned, hard rolling covers are a better choice if you put durability and reliability first.
They are available for 200+ US dollars and won't disappoint you in the long run. Folding soft covers will cost north of 300 bucks. This might seem like a steep price tag, but it really isn't. For this kind of money, it is a decent product. At the top of the ladder, we've got folding hard covers. These are somewhat expensive (400, 500, or even more dollars) but provide ultimate protection, especially against dishonest people looking for an easy pick.
Conclusion
Tonneau covers are more than just another accessory for the F150. They're an essential upgrade for any industrial or construction worker, a person that heavily relies on the bed for transportation. As for the regular drivers, they'll greatly benefit from a bed cover as well. A premium-quality tonneau cover keeps the bed safe from bad weather and thieves while giving the truck a masculine, aggressive look.
TruXedo, BAK, Tonno, and the rest of the brands on today's list have perfect reputations and raging reviews from international drivers. So, you'll be in good hands no matter which cover you choose. And if you want to learn all the tiny details and pick the ideal cover for your Ford, check out my detailed reviews and the Buyer's Guide!