Modifying a tonneau cover to fit a toolbox is a practical project for those who need both security and utility. This process involves measuring the truck bed, customizing the tonneau cover's length, and, if necessary, sewing the vinyl to fit around the toolbox. While auto shops can assist with this, a DIY tonneau cover with toolbox approach allows for personal customization and can be a rewarding endeavor.
How to Modify Tonneau Cover for Tool Box Fitting
Bed covers keep weather elements from ruining your cargo. Plus, they prevent thieves from stealing your stuff. A toolbox, in turn, can be of great help if you're a professional mechanic, carpenter, or just like to camp out in the wilderness for days. The question is – how do you make these two accessories work? Tonneau covers are designed to be an exact fit with the bed.
So, how can you customize one to make room for the toolbox? And is there a way to do that manually or maybe you should ask an auto shop for help? As you'll learn from this step-by-step, it's very well possible to modify the bed cover for toolbox fitting. Get some tools ready, follow my lead closely, and we'll be done in a couple of hours!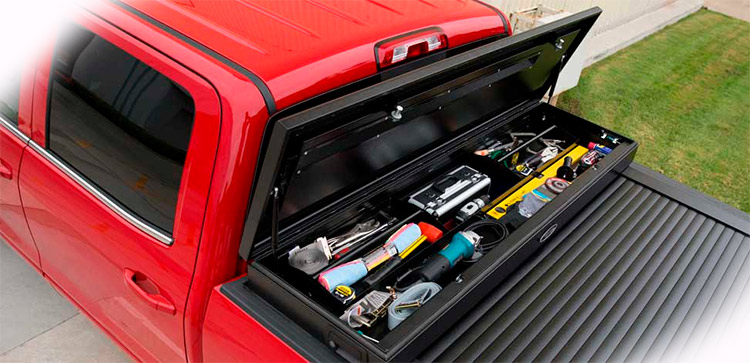 Tools Required for the Job
If you want to get this done smoothly, there is some stuff that you'll need. It's not very expensive or hard to get your hands on, but the list is still pretty big. First of all, buy a set of protective gloves; otherwise, you might hurt your own hands. Next, get a tape measure, a set of Bungee cords (two will suffice), a drill, sharpie, and a decent-quality hacksaw. I'm sure you've got at least some of this stuff in your garage.
The most expensive tool is going to be the drill, of course (50-100 US dollars). A hacksaw can be yours for 15-20 bucks, or even less. All these tools will help modify the tool box cover a bit so that we can fit a toolbox on the bed. It's very important to get the measurements right unless you want to end up with a ruined cover!
Getting Ready
Alright, now that we know the right tools for getting this done, let us move on to the meat and potatoes. Our main goal is to shorten the tonneau cover – that's pretty much all there is. Oh, and remember: customizing bed covers is only possible with soft covers. The reason: hard covers are mostly either made of plastic, aluminum, or fiberglass.
Soft covers, in contrast, are made of vinyl – a rather pliable and yielding material that can be cut using regular tools. As for the sewing part, most experts recommend having an upholstery shop re-stitch the cover because it will be pretty tricky to do that on your own. Auto shops can handle this as well, but they usually charge more.
Customizing the Bed Cover
We start the modification process by parking the truck on an even, flat surface. Next, activate the parking brake. The last thing you need is for the truck to suddenly start moving while you're busy with the bed. As always, I recommend doing this outside, while the sun is still up. The garage can be a decent alternative. With the tonneau cover modifications, the first thing to do is to take its measurements with the size of the toolbox in mind.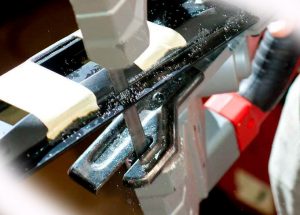 Mark 0.5-inches in front of the second bar. Roll the cover up – it should be overlaying the whole bed. In most cases, the toolbox is an exact fit to the width of the truck's bed, meaning you'll only have to be cutting the length of the cover. Once you're happy with the measurements, grab the hacksaw and get to cutting. Be very gentle with the vinyl and try not to damage it.
Cutting the Vinyl
Next, connect the two halves to get the size (or, rather, length) that you want. This, of course, will be dictated by the toolbox's dimensions. That's right: not all toolboxes are of the same size; but, if you want an average number, I'd say most boxes are 12-15-inches long. That should give you some idea about how much of the cover you'll have to cut. Most drivers get a 0.5-inch overlap behind the first bar.
You won't be needing the overlapping part of the cover – go ahead and cut it. Don't rush yourself at this stage: see if the cover really fits, or if it needs some more cutting/reshaping. Looking good so far? Great, then carefully remove the cover, unroll it, and turn it upside down. Mark the vinyl 1-2 inches away from where you're planning on cutting the material – just put two marks on each side.
More Cutting and Sewing
To connect the markings, I use a straight edge. You can use whatever you've got lying around (like a long stick, for example). Next, just cut the vinyl. So, why did we leave those extra inches out? Well, that gives us peace of mind, room for error, if you like. As I already mentioned, the tonneau cover will have to be sewed, but most drivers don't really know the first thing about this.
That's why it would be best to visit a local upholstery shop and ask them to help you out (for the right price, of course). That will cost you $40-50. Put the two halves next to each other, making sure the cut ends are lined up perfectly. Once the sewers are done with their job, you'll be able to "open" the cover like it's a book. Finishing up, use the drill to make holes in the bed frame. Put a Bungee cord through each hole.
Be careful not to damage the cover! The other end of the Bungees can be hooked onto the frame bracket.
What's the Alternative?
The other option on the table is a truck bed cover with toolbox already incorporated into its design. These are available both online and at local stores, but you should be ready to pay a top dollar for such a customized accessory. Again, make sure you measure your truck's bed before getting this cover, because, regardless of the unique shape, it won't be a universal fit. Most modified tonneau covers feature the roll-up design.
Retractable tool box covers can also be (relatively) easily made toolbox friendly, thanks to the flexible and versatile engineering. However, in my experience, these covers aren't very reliable or long-lasting. It would be better to use the method described earlier to create a customized cover on your own. That way, you can be sure that it will be able to "work" with the toolbox and won't lose any of its original properties. Investing in a truck bed cover with toolbox is a viable alternative, but the self-modified option might provide a more tailored fit and functionality.
Conclusion
In conclusion, whether you choose to modify a tonneau cover for a toolbox or opt for a premade tonneau cover with toolbox, the key is precision and compatibility. Accurate measurements and careful modifications can result in a functional and aesthetically pleasing outcome. For those who prefer not to alter their cover, purchasing a custom tonneau cover for toolbox is a viable alternative, though it may come at a higher cost. Ultimately, the decision to customize or buy premade will depend on individual skills, budget, and specific truck bed requirements.