Best Muffler for Ford F150 Review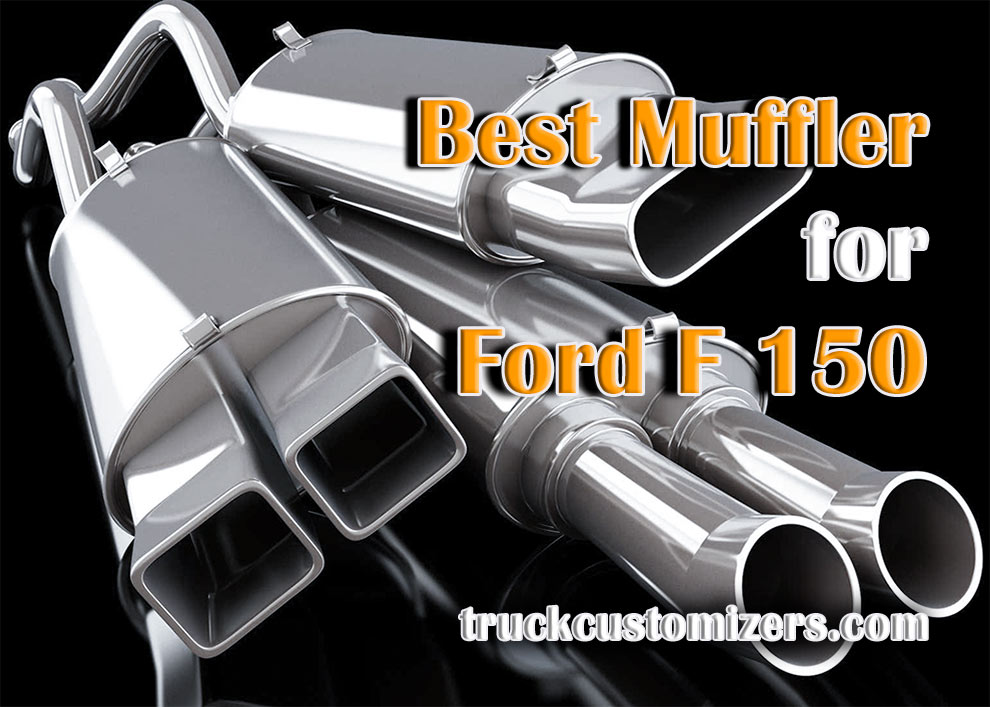 Mufflers – what are they all about? Do you get a performance boost, or just sound dampening? Well, if you replace the restrictive stock gear with the Best Muffler for Ford F150, you'll get all-around gains. Those include extra HP/torque, MPG, and, of course, a more satisfying exhaust tone. And I've got just the right picks right here! Today, we'll check out five market-leading mufflers.
Some are cheap, some are expensive. And then we've got brands that focus on build quality and longevity, while others put efficiency and sound quality first. There's a lot of ground to cover, so, join me, and let's take a look at the finest aftermarket mufflers for America's favorite truck. Even if your factory exhaust system is working flawlessly, a new muffler will be a great investment.
Best Muffler for Ford F150 Review
1. Flowmaster 42543 – Best Muffler for 2007 Ford F150 5.4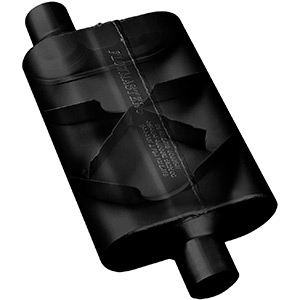 So, you're not happy with the stock muffler and want to get an aftermarket replacement. But what if you're on a tight budget? I've got good news: with Flowmaster, you will be able to get a decent unit for cheap. The 42543 muffler is all-around solid and will be a significant improvement over the factory gear. First of all, it is crafted from durable, 16-gauge aluminized steel. That means it can handle whatever the road has in stores.
On top of that, Flowmaster implements MIG welding which makes it even sturdier and less prone to cracks and leaks. What I didn't like about this product was the quality of the black coating. It tends to come off in a month or two; but, that's not a very big con, as the coating only serves a "decorative" purpose. Besides, the dampened tone and strong performance on and off the road make up for that.
Pros & Cons
Durable, 16-gauge aluminized steel
MIG-welding for extra durability
The cheapest muffler on the list
Poor-quality black coating

You can trust Flowmaster with your replacement muffler. This is one of the most reliable, durable, and capable units for the F150 truck. MIG welding, 16-gauge steel, and steady performance turn it into a must-have. Oh, and it's one of the most affordable options on the market.
2. MagnaFlow D-Fit Muffler Replacement Kit 19532 – Best Muffler for Ford F150 5.0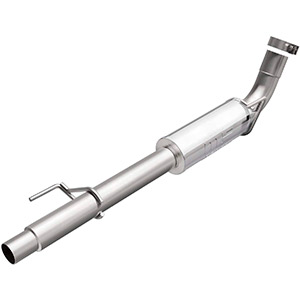 What is MagnaFlow's biggest advantage over its rivals? What's its major selling point? Well, this is the only muffler on the list that arrives as a part of a kit. That's right: the package also includes a set of exhaust pipes. So, if the factory tubes are a bit rusty, D-Fit might be a perfect investment for you. Specifically designed and manufactured with Ford's best-selling truck in mind, it fits like a glove – no need for trimming, drilling, or anything like that.
In addition, with MagnaFlow, you can expect a performance boost in HP, torque, acceleration, and fuel efficiency. On the downside, D-Fit is rather expensive and might not fit your budget. But, if you're looking for an exhaust kit and have some extra bucks to spare, this could be exactly what the doc ordered. Last, but not least, the company backs it up with a limited lifetime construction warranty.
Pros & Cons
Generous package with exhaust pipes
Specifically designed for the F150 truck
Provides a mild performance boost
Expensive, compared to the market average

Despite the steep price, D-Fit carries excellent value and will be money well-spent. The muffler comes packed with a set of pipes and will be an easy, hassle-free replacement for the factory system. On top of that, F150 owners will see modest gains in performance – more reason to go with MagnaFlow.
3. Walker 21752 – Best Muffler for Ford F150 2015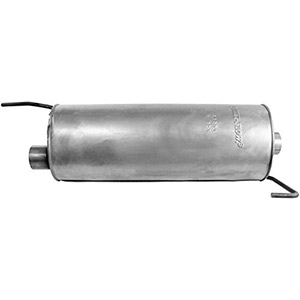 Build quality is one of the most important factors when it comes to mufflers. And the engineers at Walker did an incredible job with this unit. It boasts 100% stainless steel construction and won't crack when hit by debris or tiny rocks. The spot welds and the mechanically-joined pipes, in turn, add to the brick-strong design and ensure a long, leak-free lifespan.
And what about the tone? It's pretty strong and satisfying, but you won't hear any of the noises in the interior. This is achieved thanks to the louvered tubes: they keep the cabin quiet so that you enjoy a long trip in silence. So, yes, Walker is a reliable third-party muffler. Sadly, the company's customer support isn't particularly fast – you might have to wait around a bit to get proper help.
Pros & Cons
Premium-quality, 100% stainless steel construction
Spot welds +mechanically joined tubes for durability
Louvered tubes keep the interior nice and quiet

Premium acoustic control, stainless steel engineering, and impressive structural stability turn Walker into a bargain. Add strong corrosion resistance and decent-quality installation hardware, and you'll see why this muffler is a best-seller. Support is not very fast, though.
4. Dynomax Ultra Flo 17235 – Best Sounding Muffler for 5.4 Triton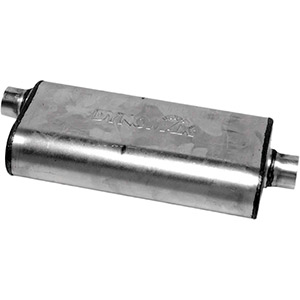 Are you looking for that deep growl, that roaring, aggressive exhaust sound? If the answer is yes, Dynomax could be right up your alley. Ultra Flo features the company's trademark CRF technology (Continuous Roving Fiberglass) that removes interior resonance but keeps the tone intact. As for the installation, as long as the muffler is compatible with your F150's make and model, it will be a hassle-free, straightforward process.
However, this unit isn't a perfect fit for long-bed trucks – keep that in mind. The pipes are just too short. On the bright side, Dynomax is available in a wide range of designs, styles, and sizes. Thus, it shouldn't be hard to ensure compatibility, although you might have to do some welding to make the muffler work with the rest of the exhaust system.
View on Summit Racing Equipment
Pros & Cons
CRF technology ensures a deep, roaring tone
Fast, straightforward, hassle-free installation
Available in various styles and sizes
A bit too short for long-bed trucks

Quick, simple installation, a strong, satisfying exhaust tone, and a customizable design – that's the Dynomax Ultra Flo muffler in a nutshell for you. It fits Ford F150 like a glove; do make sure you get the right design, though. Otherwise, you'll have compatibility issues on your hands.
5. S SIZVER Weld-On Muffler – Best Muffler for 2019 Ford F150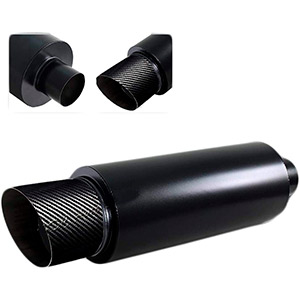 If you're not 100% sure what kind of an exhaust tone you're looking for – roaring or dampened – pay extra attention to Sizver. It comes packed with an easily removable silencer. So, whenever you're in the mood for a growling off-roading trip, go ahead and take the silencer off. And when you head into town, put it back on to keep the exhaust sound controlled. Another big pro is the lightweight, flexible design.
It keeps backpressure to a minimum, which means a longer service life for the exhaust pipes and the engine. Do keep in mind, however, that since this is a weld-on muffler, the installation process might be a bit tricky. If you ask a mechanic to do it, they'll charge extra for additional pipes. Other than that, Sizver is a sure pick for most F150 owners.
Pros & Cons
Keeps backpressure to a minimum
Comes packed with a removable silencer
Lightweight, flexible design
Might take some effort to install

Minimal back pressure, a flexible design, and a bonus silencer to control the exhaust tone make S Sizver one of the best aftermarket mufflers for the Ford F150 truck. Sadly, the installation process isn't particularly easy and will probably be a bit hard to handle manually.
What Muffler Gives the Best Sound?
It depends on your definition of the word "best". Some folks really like the aggressive, growling tone that aftermarket mufflers/exhaust systems have. Others go for a more controlled, "civilized" sound. Factory mufflers usually restrict the engine and the exhaust, making the truck sound a bit dull. For driving to work and back, that's actually good news. However, if you want to conquer the wilderness behind the wheel of the F150, this can get quite boring.
The #1 job of third-party mufflers is to get rid of the stock-gear noise and turn it into a growl. But, you gotta make sure the sound is still contained so that you don't get a disapproving look from fellow riders on a busy highway. Oh, and see that the rumbling/roaring doesn't get into the truck's cabin. So, what muffler gives the best sound? Only you know the answer to that!
A quick note: you can't just go to a local store and ask the managers to let you test-drive a bunch of mufflers. That's why I recommend going to YouTube: there, you'll find dozens of test videos. True, no video will be able to provide a 100% correct representation of the sound, but it's better than nothing!
What is the Most Aggressive-Sounding Muffler for a Truck?
Alright, if you know that you'll only be using the F150 truck for off-roading and want the loudest and meanest exhaust tone, here's what you can do. Try using the YouTube trick I just mentioned. If that's not helping, check out performance mufflers specifically designed for racing. While most of them might not fit F150, some of them will be a perfect match.
You could, of course, type in something like "aggressive mufflers" in a search engine, but that will probably take you nowhere. Instead, pay extra attention to Ultra Flow by Dynomax. While it's not the most aggressive muffler, it sure does have a distinctive, "masculine" tone. Generally, any chambered silencer will do, because they are specifically designed to deliver a deep, rich, in-your-face tone.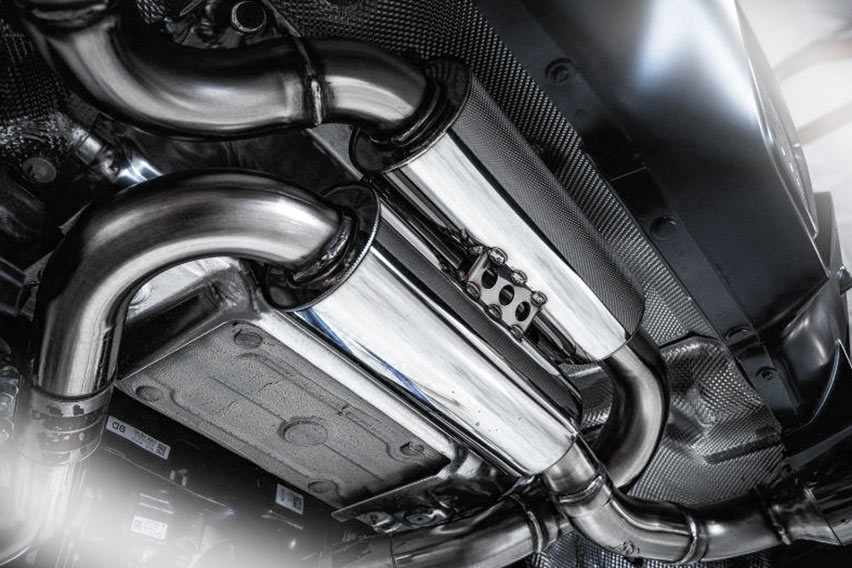 Are Two Mufflers Better Than One?
The short answer – yes, they are. While you won't get double the performance of a single muffler, a dual setup will, indeed, be a superior choice. Even if you switch from a standard muffler to a unit with a larger diameter, that will introduce instant positives changes. Although the primary job of a muffler is to reshape the exhaust sound, it also affects the powertrain. Therefore, two mufflers will be more efficient.
As for the sound, it depends on the manufacturer. With some, you'll get a really deep tone, a low-end rumbling. With a different setup, the exhaust will make a loud, throaty sound. So, while two mufflers are, indeed, better than one, you still gotta think this through and know exactly what you're looking for. Otherwise, your expensive investment might be a bit of a miss.
Buyer's Guide
Sound quality is very important, no doubt about that, especially for an off-road-ready truck like the F150. However, that's not the only thing to keep in mind when navigating through available options online or at a local store. Compatibility, powertrain boost, build + material quality, and pricing also matter, along with the package. Let's talk about all that in more detail right now!
#1: Fitment – Diameters + Inlets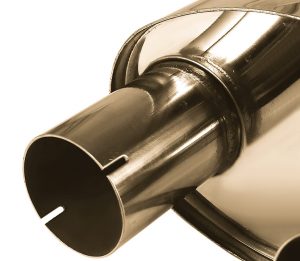 Before you think about the sound, performance gains, or even the price, make sure the muffler is gonna be a perfect fit for your F150. First, check your own exhaust: is it a standard single system, or a dual-pipe configuration? Say, a dual exhaust requires a two-inlet muffler. Otherwise, it simply won't fit. Next, consider the exhaust pipe's diameter. Both the inlets and outlets need to be a match for this to work.
With that out of the way, think about clearance. If the aftermarket muffler is a bit too large, and there isn't enough clearance on the truck, you'll end up with a worn-out muffler with lots of cracks and leaks. Last, but not least, see that the package includes all the necessary installation hardware, especially a set of clamps or hangers.
#2: Performance Gains
Will you get an increase in HP, torque, acceleration, and MPG? If the muffler is a perfect fit and lifts the restrictions of the factory gear, then it will, most definitely, introduce a powertrain boost. But, don't expect the gains to be over the roof. With a complete exhaust system replacement, it is possible to improve fuel efficiency and the power output (horsepower and torque) by up to 8-10%.
A muffler replacement won't be able to make such a big difference, though. On average, the boost is going to be in the 1-2% range, which is still a decent result. Remember: the #1 job of a muffler is to shape the exhaust sound. Powertrain gains are just a nice bonus, nothing else.
#3: Different Muffler Styles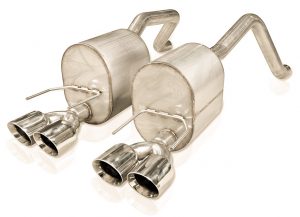 Right now, the market is dominated by three different muffler types. Those include straight-through, chambered, and turbo mufflers. Now, straight-through mufflers are crafted from steel wool or fiberglass. The biggest pro of this design – it's a straight pipe that makes it easy for the toxic gases to escape the exhaust system. These units are made for performance-oriented trucks and are louder than the industry average.
Next, if you're looking for that deep, throaty growl, go with a chambered muffler. With it, the vapors are rushed through multiple chambers. These mufflers are pretty great at echoing the exhaust sounds and deliver an aggressive tone. Owners of street or muscle cars usually go with the chambered design. And what about turbos? They are the golden middle and keep the sound contained, by still growling.
#4: Pricing and Extras
Did you know that a muffler can be as cheap as $50? Yes, this is the entry-level price on a third-party unit, and it will actually be pretty easy to install on your own. A 50-bucks muffler won't be particularly loud; neither will it be crafted from premium materials. But, for that kind of money, it's gonna be a decent deal. For $50-150, you'll get higher engineering and material quality plus a more aggressive, satisfying exhaust tone.
This is the mid-end price range and most F150 drivers order mufflers that cost +/- 100 US dollars. Finally, if you've got some extra bucks to spare, consider investing in a $150-300 muffler. For that kind of money, you can expect premium engineering, a roaring sound, superb dampening for the cabin, and all-around performance gains. Some brands will also include extras like a set of pipes or a silencer.
Conclusion
Alright, that's it for today! A muffler might not look like the most important part of the exhaust system. However, it does play a key role in dialing down the sound and making it satisfying to the human ears. Plus, it can provide a performance boost. Therefore, if the stock gear is failing, or you're getting tired of the boring factory muffler performance, you might want to get an upgrade.
The good news is – you'll be able to get a decent-quality unit at a reasonable price. It all comes down to finding an exhaust tone that you like. Say, with Dynomax, you'll get a deep, growling tone. Walker, in turn, is more controlled and dampened. The other three mufflers on the list also have their unique, likable tones. So, choose wisely!