The 6.7-lit Cummins is a mighty engine. In fact, it's the most powerful unit for the big-bad RAM 2500/3500 trucks. It puts out 400 HP and up to 1000 lb.-ft. of torque. This monster of a motor can handle the steepest climb, muddiest trail, and heaviest load. But, it needs a capable exhaust to handle the "heat". Otherwise, you'll deal with constant breakdowns, limited performance, and worse.
If you've been driving with the stock system for 2-3 years, chances are, it's clogged now. That will dramatically reduce its efficiency, putting the engine at the risk of overheating. Fortunately, with the Best exhaust for 6.7 Cummins, you can stop worrying about that. It will not only get rid of the toxic fumes more efficiently but also boost performance. Here are my top five picks!
Best Exhaust for 6.7 Cummins Review
1. Diamond Eye – Best DPF Back Exhaust for 6.7L Cummins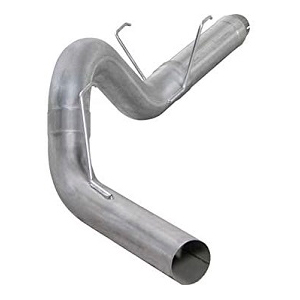 Crafted from stainless steel, the Diamond Eye exhaust system has an extra aluminum layer (coating) that greatly improves its lifespan. But that's not even its biggest selling point. The main focus of this gear is to maximize performance. The Cummins V8 is already a very powerful unit. If you're looking for the best 6.7 cummins upgrades, with this exhaust, you'll get to maximize its fuel efficiency and power output.
On average, it can boost fuel economy by 1-2 miles per gallon, saving you +/- $100 a year. Next, the horsepower and torque will be improved, giving you an edge over the stock exhaust. Easy installation and a mellow tone will be a part of the deal as well. Sadly, the price tag is a bit steep. It's not unreasonably high, but still slightly above the market average.
Pros & Cons
Premium-quality aluminum coating
Greatly improves fuel efficiency
Maximizes performance (HP/torque)
Slightly on the expensive side

Despite the not-so-cheap price, the Diamond Eye exhaust is a bargain. This is especially true if you're looking for a system that can help the 6.7-lit Cummins reach its full potential. I'm talking about a boost in MPG, HP, and torque. The top-notch aluminum coating is even more reason to get it.
2. Colt Exhaust – Best Sounding Exhaust for Dodge Cummins 2005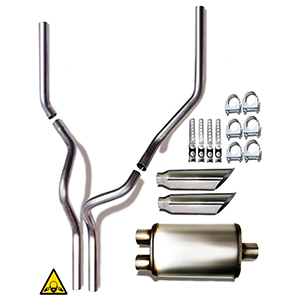 Folks in the market for something a little bit "exotic" will probably like the Colt Exhaust. First of all, this is a dual exhaust, meaning it's got two tailpipes. It sure does look pretty cool, but don't expect any big performance perks. The reason – the package only includes a pair of pipes and tips. You'll only get one muffler and no catalytic converter or anything else. I do want to mention that these pipes tubes one hell of a sound.
It is very aggressive but only in the first 1-2 gears. Crafted from a combination of 304 and 409 steel, they last for a very long time and easily withstand temperature extremes. The same can be said about the installation hardware. The only downside – this is not the direct 6.7 Cummins exhaust. So, you might have to pay a mechanic to have it installed for you. Or, grab your drill, extra bolts, and nuts, and get to work.
Pros & Cons
Manufactured from top-notch stainless steel
Aggressive, roaring engine tones
Rust-/corrosion-free bolts, nuts, and clamps
Not a direct fit: might be a challenge to install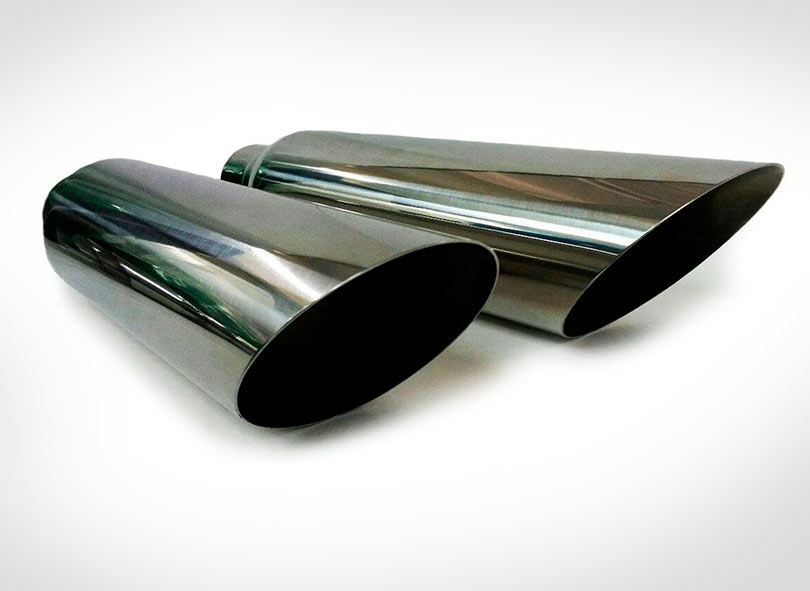 The Colt Exhaust system has a very distinctive, "manly" sound and is manufactured from premium materials. It isn't "afraid" of dust, dirt, rust, or water. And, it features a dual-tailpipe design. The bad news is – it's not a bolt-on direct fit, and some cutting/drilling will probably be involved.
3. MBRP – Best Size Exhaust for 6.7 Cummins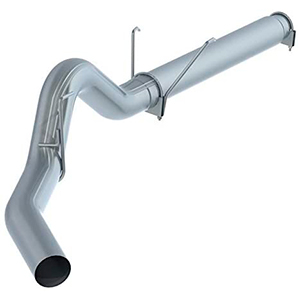 If you're looking for a large exhaust to replace the somewhat limited stock system, pay extra attention to MBRP. The mandrel bends are bigger than what most drivers are used to, and that allows the tubes to be more effective at eliminating the fumes. On top of that, there will be very little backpressure with this exhaust – another big pro. When there's too much pressure, that negatively affects overall engine performance.
Well, it won't be an issue with MBRP. Oh, and unlike all the other products on the list, this one comes with a generous two-year warranty. It should give you some peace of mind, especially in the long run. Switching to the downsides, I wasn't very impressed by the construction and material quality – it's average at best. This isn't a very big con, but still, something to keep in mind.
Pros & Cons
Practically eliminates backpressure
Bigger-than-average mandrel bends
Covered by a two-year warranty
So-so build/material quality

The two-year manufacturer's guarantee, larger-than-average mandrel bends, and the pressure-less design of the MBRP exhaust system are its biggest pros. It's not perfect, though, and doesn't boast a premium construction/build quality. It will still be a safe bet for most RAM owners, though.
4. Banks – Best Exhaust System for 6.7 Cummins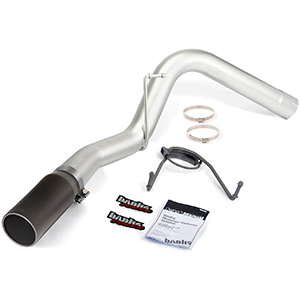 Let me go ahead and highlight this product's biggest pro right from the start: it is rather affordable. I'm not saying it's super cheap, but, compared to the rivals, it is, indeed, a low-priced exhaust. So, what will you get for the low cost? Is this system worth your time (and money)? The short answer – yes, it is. This is a US-made exhaust that was designed and tested (both by the company engineers and third parties) to achieve maximum efficiency.
Along with that, it will be very easy to install, as you'll get not only the necessary bolts and clamps but also a detailed installation manual. As a bonus, the RAM will receive a minor increase in horsepower and torque. As for the sound characteristic, most "civilized" drivers won't like it much, because it's overly loud and noisy. Off-roading enthusiasts, in contrast, might just appreciate it.
Pros & Cons
Includes helpful installation instructions
A US-made product – designed and tested
The cheapest exhaust on the list
Might be a bit too loud for some drivers

Here, we have a 100% US-made exhaust that includes a friendly user manual, decent-quality hardware, and delivers a solid performance. And, it will be a good choice for RAM owners on a tight budget. But, it's much louder than all the other exhausts we reviewed today.
5. aFe – Best 5 Inch Exhaust for 2012 6.7L Cummins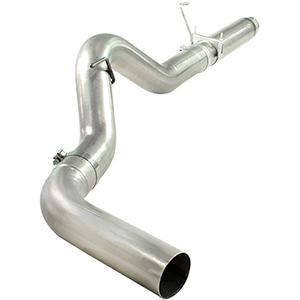 And let's not forget about one of the most trusted brands out there – aFe. Arguably, this is the finest five-inch exhaust the market has to offer. Together with the eight-inch muffler, it's significantly more efficient than the factory RAM gear. Lower exhaust vapor temperature is another big advantage of this exhaust. Now, the Cummins engine is really big, powerful, and needs lots of "breathing room".
That's why the exhaust has to be able to handle the fumes quickly. The installation/mounting process, in turn, won't cause you any trouble. Besides, the package includes bayonet-style hangers that make it very easy to set everything up. The sad part is – buyers report issues with quality control. Some folks get three-inch tubes; others miss a clamp or two. That's partially compensated by aFe's fast and helpful customer service.
Pros & Cons
Eight-inch muffler for best performance
Fast, simple installation routine
Ensures lower-than-average EGT's

With this exhaust, you'll get 5" tailpipes, an 8" muffler, a straightforward, bolt-on installation, and a set of hangers for quick mounting. Don't forget about the quality control issues, though, and make sure you double-check the package.
Buyer's Guide
If you found your perfect exhaust on the list and are 100% happy with it, you can just skip this section. However, if you like all five products, but can't quite put your finger on any of them, this detailed guide will help you make up your mind. What's the best material for exhaust systems? What should you look for in the package? Cat-back or axle-back? Read on, and you'll find all the answers!
What is the Exhaust Crafted From?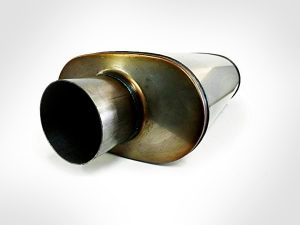 How do you know whether the new exhaust will serve you for a long time, or not? How do you figure out its efficiency against heat and rust? Well, you check what it's made of! For exhaust tubes, steel is the most reliable and durable material. Make sure it's stainless steel, though. If you're on a slightly tight budget, go with 409 steel.
It is pretty great and comes at an affordable price. But, it's not as impressive as 304 – the highest grade when it comes to stainless steel. I would also recommend looking for an exhaust with some kind of coating. Aluminum is the golden standard: it makes the pipes even more resistant to extreme heat and corrosion.
Design and Clearance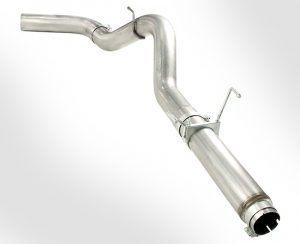 Mandrel-bent tubes – that's what you should go for. Specifically built for maximum efficiency, this design has proven its worth in numerous tests. And, it is pretty easy to mount/install, which is also very important. As for clearance, it describes how much space you've got between the road and the exhaust. If the gap is too small, the pipes will constantly hit the ground, and that's not something that you want.
The mud, snow, debris, and tiny rocks will ruin the gear before you know it. If you only stick to city streets and highways, this shouldn't be a very big concern. However, since the RAM trucks are no strangers to off-roading trails, make sure you get enough clearance with the new exhaust system.
The Sound: The Louder, the Better?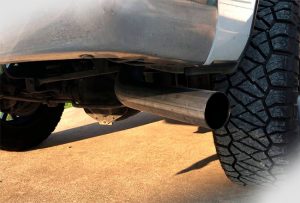 This is how the laws of physics work: the faster air/gas moves through pipes, the more noise it makes. That's why most aftermarket exhaust systems are much louder than the stock gear. However, this can be counter-measured if you get a decent-quality muffler. The vast majority of third-party exhausts include one on the package. Now, I wouldn't recommend removing it, even if you're a big fan of roaring engines.
What you should do is find a system that has an aggressive, yet mild tone. This way, you'll be able to drive on highways without turning heads. Most mufflers dampen that growl once you reach the 2nd or the 3rd gear. Upon acceleration, that roar will, most likely, come through, and that's what most drivers tend to like.
Is Cat-Back the Best Exhaust?
When talking about design, we mostly talked about the shape of the tubes. But there's one more important choice that you'll have to make: I'm talking about the different exhaust types. First, we've got the axle-back system. It is cheap, very easy to install, and has a more "controlled" sound. On the downside, you won't see any big gains in horsepower, torque, acceleration, towing, or mileage.
In contrast, the cat-backs are pretty expensive but do have a couple of big pros. First of all, they upp overall performance. It won't be a game-changing boost, but still better than with an axle-back. Besides, thanks to the brand-new tailpipes and muffler, you'll get a pretty nice upgrade. Installation might be a bit tricky, yet still very much doable. As for the sound, it will be way more aggressive.
The Package: Hardware and Warranty
With some exhausts, you'll only get a couple of tubes, and that's it. Other brands make sure to include all the necessary installation hardware, along with a user manual. The best packages also feature bayonet hangers that make installation a walk in the park. And what about the warranty, you might ask? The best deal would be to get a 2-year guarantee from the manufacturer.
Best Exhaust for 6.7 Cummins
Product
Product Information
View on Amazon

Best Features:
– Aluminized finish for extra durability
– Boosts mileage by 1-2 MPG
– Provides a decent HP and torque boost
Type: DPF Back Single
Material: Aluminized
Fits Models: Dodge 2500/3500 6.7L
Cummins Diesel (2007-2012)

Best Features:
– Crafted from 409 + 304 stainless steel
– Greatly improves the motor's growl
– Includes premium-quality installation hardware
Type: Dual Exhaust Conversion Fits
Material: Stainless Steel
Fits Models: Dodge
Ram 2500 (2002-2005)

Best Features:
– Dramatically reduces backpressure
– Large-radius mandrel bends for efficiency
– Backed by a two-year warranty
Type: DPF Back PLM
Material: Chrome Stainless Steel
Fits Models: Dodge 2500/3500 6.7L
Cummins (2007-2012)

Best Features:
– Comes with a detailed user manual
– Designed and crafted in the States
– Available at a very affordable price
Type: Single Exhaust
Material: Stainless Steel
Fits Models: Dodge Ram 2500/3500 6.7L
Cummins (2009-2018)

Best Features:
– High-flow muffler for sound dampening
– Bayonet hangers for hassle-free installation
– Lower exhaust fume temps
Type: DPF Back
Material: Stainless Steel
Fits Models: Dodge Ram 6.7L Cummins (2007-2012)
Conclusion
The 6.7-lit Turbo Diesel Cummins is unmatched when it comes to towing, and this makes it a go-to engine for industrial and construction work. With a very impressive power output, it's an ideal workhorse that can handle a wide range of tough challenges. And if you get a premium-quality aftermarket exhaust system, the best 6.7 Cummins upgrades, it will greatly increase the motor's lifespan. Today, we checked out five market-leading exhausts.
We've got single exhausts, dual systems, and DPFs. Every single unit will be an easy fit for the RAM 2500/3500, as they were specifically designed and manufactured with these trucks in mind. Still, they do have their differences. Some are cheaper, while others are more efficient. And then you've got exhausts with generous warranties, and more. So, don't rush it, and make sure you're happy with the choice!