Best Truck Bed Mats Review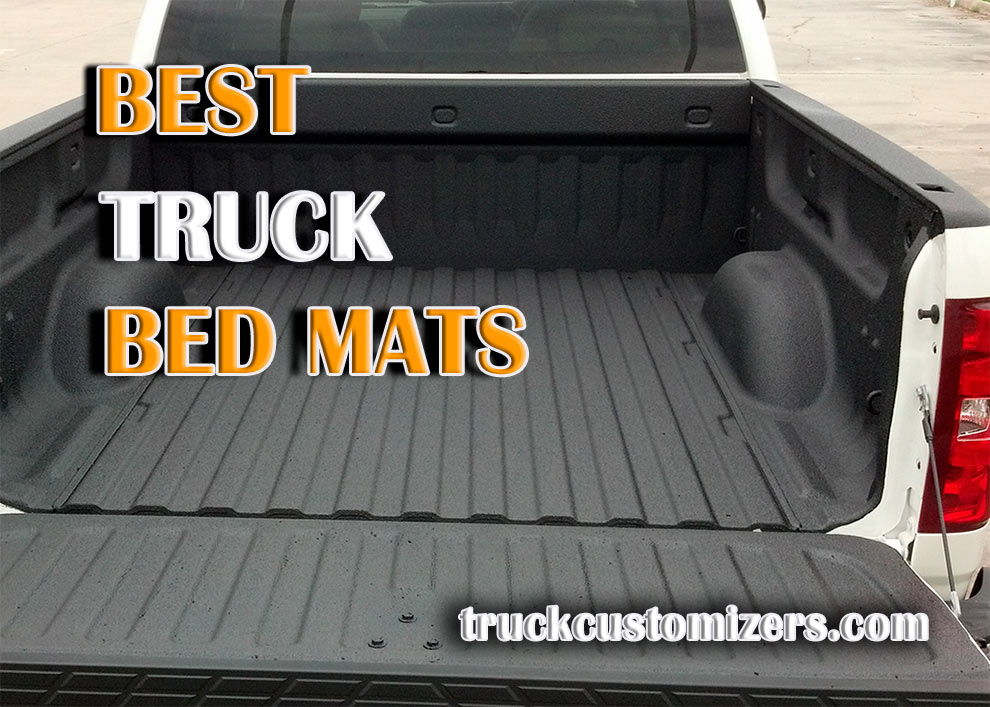 Why would you want to get a mat for the bed? Does the tonneau really need protection? Yes, it does! Even if you're great at maintenance, the bed will still be affected by natural elements – mainly, water/snow, dust, and UV rays. Furthermore, no matter how careful you are, over time, heavy cargo will leave scratches and dents, making the bed look really bad.
All that can be avoided with the Best Truck Bed Mats, though! Available at a reasonable price and effortless to use, these accessories are a must-have for any truck driver. In this post, you'll find a list of best-selling and high-rated mats that will easily fit your trusted truck. After you check out the detailed reviews, don't forget to take a quick look at the FAQ and Buyer's Guide!
Best Truck Bed Mats Review
1. Dee Zee DZ87005 – Best Rated Truck Bed Mats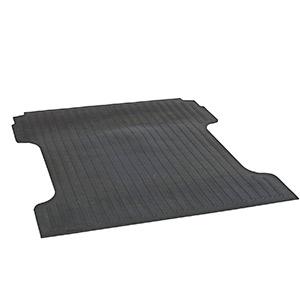 Is this your first time getting a mat for the truck's bed? Then it might be wise to start cheap. Now, Dee Zee is one of the most affordable premium-quality tonneau mats on the US market, and it's a safe bet for the average truck driver. First of all, it only takes seconds to "install" and remove it. Thanks to advanced engineering and contouring, the mat fits the bed like a glove. On top of that, this product is highly resistant to temperature extremes.
So, you won't have to worry when it's steaming-hot or freezing-cold outside – Dee Zee won't crack or break under the pressure. Nor will it rust, by the way, or get ruined by spilled oils or fuel. The only downside is limited compatibility. This mat only fits a rather narrow list of modern-day trucks. However, if it's a match for your four-wheeled friend, that won't be an issue.
Pros & Cons
Easily handles temperature extremes
Takes less than a minute to install/remove
One of the cheapest bed mats on the market
Rather limited compatibility

Dee Zee carries excellent value and appeals to a wide range of American truck drivers. It is very cheap, takes 20-30 seconds to install and remove, and can withstand harsh weather. It works with a small number of vehicles, though; so, make sure it's a match with your truck before making an order!
2. Westin 50-6355 – Best Truck Bed Rubber Mat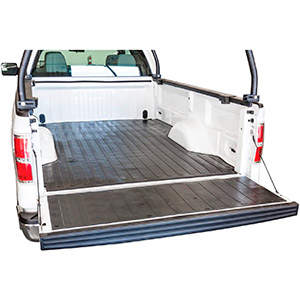 Moving up with the list, let's check out what Westin has to offer. This black rubber bed mat is made from heavy-duty materials and can withstand lots of "abuse" on and off the road. It lines and protects the truck both from natural elements and potential damage from cargo. Plus, it is available in different sizes – three in total – and can fit 5.5", 6.5", and 8" beds. The company, in turn, backs its product with a generous three-year warranty.
Add a ribbed, non-slip surface, easy installation, and enhanced compatibility (this mat fits Dodge, Ford, Chevy, and Toyota vehicles) and you'll get a bargain. Do keep in mind, though, that for some trucks, the Westin mat doesn't always provide 100% coverage. So, again, make sure you've got the measurements right, and only then consider making an order.
Pros & Cons
Crafted from heavy-weight, durable rubber
Available in three different sizes/styles
Covered by a three-year warranty
Might be a bit narrow for your truck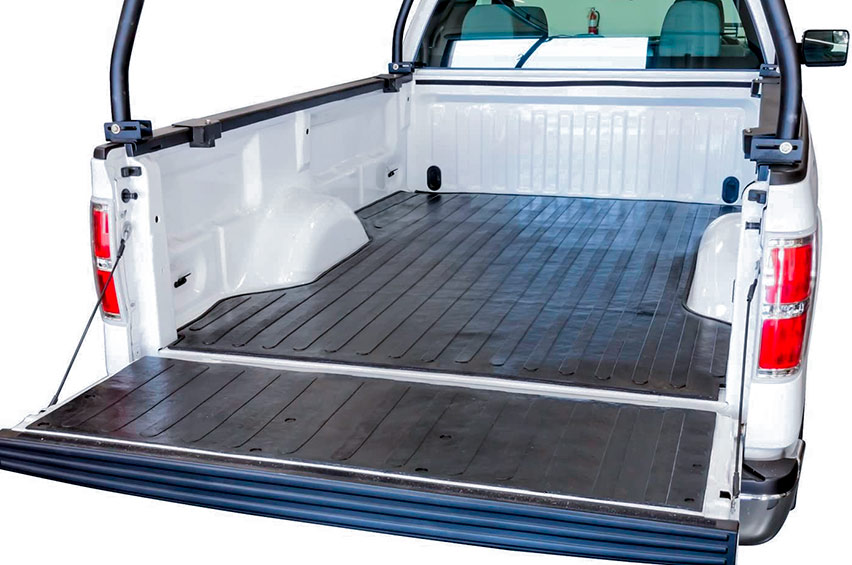 Three different mat sizes to choose from, a three-year warranty deal and a thick, heavy-duty rubber body turn Westin into a must-have. It will serve you for a long time and keep the bed protected. Sadly, it's not a perfect fit for all trucks and might be an inch short for your bed.
3. Husky Liners – Best Truck Bed Mat for F150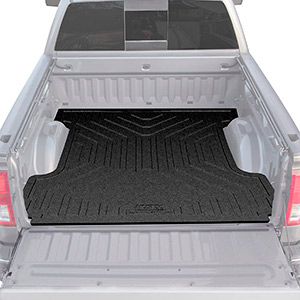 Are you a proud F150 owner looking to get proper protection for the truck's bed? If the answer is yes, pay extra attention to Husky Liners. This accessory fits the 2015-2019 F150s perfectly and looks like a million bucks. It is rough enough to secure the tonneau area while still being soft not to damage the goods. On top of that, the mat features the company's trademark anti-skid surface design (DuraGrip).
Air Dry Nibs are a part of the deal as well. They keep the mat slightly above the bed. That way, the air "squeezes" through and eliminates moisture that might get accumulated down there. Last, but not least, Husky Liners is 100% odorless, which is also great news. Unfortunately, it's not very strong against the sun (UV rays) – keep that in mind.
Pros & Cons
Patented DuraGrip, anti-skid surface
Air Dry Nibs for anti-moisture protection
Odorless design for extra comfort
Poor resistance to UV rays

For a Ford F150 driver, Husky Liners is a great bang for the buck. The anti-slip design and dry nibs for anti-moisture protection turn it into a must-have. This bed mat is also odor-free; however, it struggles a bit with UV rays, which can be a con if you live in a sunny area.
4. BDK M330 – Best Bed Mat for Truck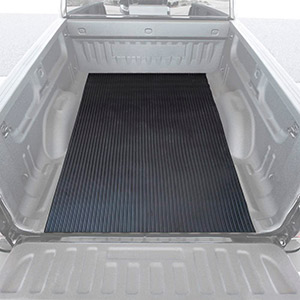 We just talked about the importance of resistance to UV rays, but what about rain, snow, dirt, and mud? Well, the vast majority of bed mats on the market do protect against those elements. But, they're not as efficient as BDK. With this product, you won't have to worry about bad weather at all. Plus, thanks to the high-ridge line design, M330 provides advanced protection against dents and scratches.
And what about the downsides, you might ask? BDK has to be trimmed to fit – it doesn't arrive pre-shaped to match the bed perfectly. You will need a mighty pair of scissors to cut through the thick rubber, that's for sure. On the other hand, the universal design means the mat can also be put in a basement, garage, or anywhere you want, not just a truck's tonneau.
Pros & Cons
Enhanced protection against rain, snow, and mud
High-ridge line design against scratches/dents
Can be used for a garage or a basement floor
Has to be trimmed to fit the bed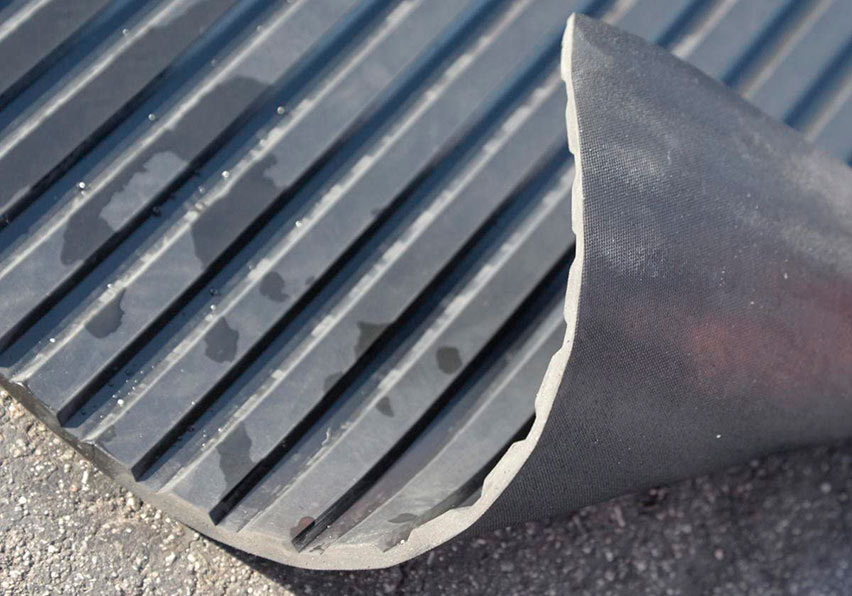 With BDK, you'll get market-leading resistance to natural elements, protection against heavy cargo (dents + scratches), and a highly flexible, versatile design. You will have to cut the mat to fit, of course, and that can pose a minor challenge. Other than that, M330 is a bargain.
5. BedRug BMC07CCD – Best Truck Bed Matts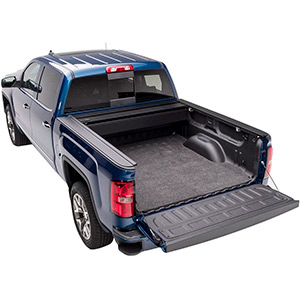 If you carry lots of cargo in the bed of your truck, BedRug might be a great investment. The reason: it features a cushioned surface that keeps the knees from harm's way. Rubber can be quite harsh sometimes, but that won't be an issue with BMC07CCD. Another big pro is the extended resistance to spilled chemicals and stains. Last, but not least, BedRug is compatible with bedliners.
That's right: if you want double-layer protection for the tonneau and are planning on using both a liner and a mat, that can be done with BMC07CCD. Just lay it over the liner, and that's it! As for the cons, this bed mat isn't particularly cheap and will cost you a bit extra. In the long run, this premium-quality product will be worth the investment, though.
Pros & Cons
Cushioned surface: 100% knee-friendly
Resistant against stains and chemicals
Compatible with truck bedliners
The most expensive option on the list

The knee-friendly design, advanced protection against chemicals and stubborn stains, and easy fitment with truck bedliners make BedRub worth your while. And while it is a bit expensive compared to the market average, this mat is still worth every single penny you'll pay for it.
Is a Truck Bed Mat Worth it?
If you carry lots of cargo in the back and want to protect the bed from dents and scratches, a mat will absolutely be worth it. And even if you aren't an avid fan of transporting goods, a decent-quality mat will secure the tonneau area from natural hazards. I'm talking about rain, snow, dirt, dust, debris, and sun rays. Over time, these elements can ruin a bed – make it rusty, peel off the paint, and more.
It will cost you a lot of time, effort, and money to fix that. So, considering how affordable these accessories are right now, I'd highly recommend saving up for a truck bed mat. They last for a really long time and take a minute to "install", which is even more reason to buy one. Just like traction or floor mats, bed mats are one of those can't-go-wrong-with purchases that any truck driver will greatly benefit from.
What is the Best Way to Protect my Truck Bed?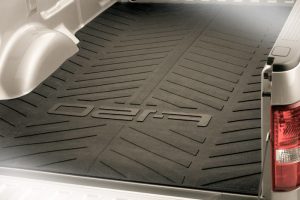 Bed mats do an excellent job of protecting the tonneau – we just learned that. All you have to do is find a mat that is thick enough and fits the bed tightly. Obviously, if there are gaps left in the corners, that's bad news. As for anti-weather protection, premium-quality mats easily handle whatever Mother Nature has in stores. However, if it's a cheaper product, it will only be strong against certain elements.
A tonneau cover can also be a reliable "line of defense" for the truck's bed. Instead of sitting right on top of it, a bed cover attaches to the sides and protects the goods as well. Tonneau covers aren't particularly cheap, though – only consider them if you do, indeed, need to secure the cargo. A bedliner will be a more reasonable investment: it's less expensive and is specifically designed for bed protection. Let's talk about that next.
Which is Better Roll on or Spray on Bedliner?
Roll-on liners are much cheaper, which is a big pro if you're on a limited budget. Plus, roll-ons are available in many different colors, not to mention they take very little effort in maintenance. On top of that, they will be easier to apply – you won't need any extra tools. Do keep in mind, though, that you need to be very careful not to paint the windows. Summing up, as an affordable option, roll-on bedliners are exactly what the doc ordered.
Yet, truck drivers looking for durable, reliable, and high-quality protection for the bed might want to switch to spray liners. They look much better and give the truck that "expensive" look. Secondly, spray-ons are slip-resistant and keep the cargo from tumbling around. Add advanced resistance to elements, and you'll get a winner. Sadly, spray-on bedliners tend to be more expensive and might require a professional for proper application.
Buyer's Guide
What does an ideal bed mat for a truck look like? How much should it cost? What about the material quality, density, and layout? Do you have to worry about natural elements, or not? What's the deal with anti-slip and elevated mats? Is there a tried-and-true way to ensure 100% compatibility with your truck? Here's a look at a mat that will be worth your investment:
#1: Easily Fits in the Bed
There's not much to talk about here: unless the mat is perfectly contoured to fit your bed, it won't provide full coverage/protection. So, the first thing to do is to check the dimensions to make sure it's gonna be the right match. If it's smaller/narrower, nothing will fix that. On the other hand, mats that are slightly larger can be trimmed (like the BDK mat on the list) to work with your vehicle's tonneau.
That might not be a very easy task, though, unless you've got the right tool(s) and can make precise cuts. On the bright side – most brands specify exactly which trucks the mat is designed for. The generation, model year, make, and bed size will define whether the mat's gonna be compatible or not.
#2: Thick + Crack- and Split-Free
Bed mats are crafted from different kinds of rubber, and it needs to be thick enough to handle all the "heat". Cargo tends to be quite heavy; plus, you'll be climbing into the bed a lot, kneeling on it, and even stepping. Therefore, look for a mat that's at least three inches thick. Heavy-duty rubber like that will be split- and crack-resistant.
It's not rare for bed mats to deform under pressure. Before making an order, check the thickness and the sturdiness of the product. Most folks look at anti-weather protection first (we'll get into that in a moment) and pay little attention to the flexibility, durability, and sturdiness of the material. However, it's just as important.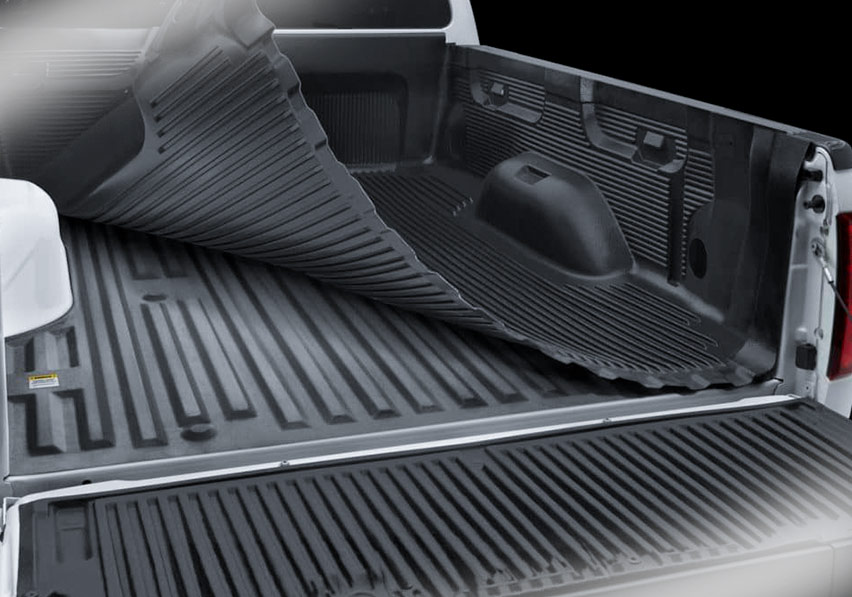 #3: Resistant to Natural Elements
Ok, now let's quickly talk about the elements – water/rain/snow, dirt/mud, debris/dust, and UV rays. No matter where you live, you'll have to deal with at least some of these hazards, and they do have a huge negative effect on the mat. But, as long as it's got strong protection, both the mat and the bed will be secure. Naturally, rubber is a rather durable and resistant material. Still, you gotta check the specs to make sure.
The #1 enemy of any truck is water. Dust and mud come next. The sun is pretty dangerous as well, especially if you leave the truck under its rays for long hours. The finest bed mats are also resistant to spilled oils, fuel, chemicals, and stubborn stains. Always consider the area that you live in. If it rains a lot, pick a mat with strong resistance to that; and if dust and dirt prevail, find a product that's well-protected against those elements.
#4: Anti-skid, Elevated, and Odorless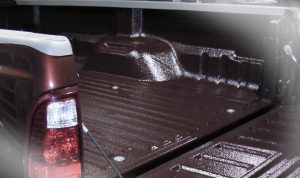 And what about the extras? There are quite a few of those, and they all can make a difference. Say, an anti-skid design means the mat won't slip off the bed. Plus, it will be able to hold the cargo in place. Air Dry Nibs, in turn, keep the mat elevated so that air can get through and get rid of the water particles hiding underneath the mat. Last, but not least, look for an odorless material. Otherwise, you'll have to deal with a strong smell of rubber.
#5: Reasonably Priced
What's the right price for a proper bed mat? Is it 200 dollars? Or maybe 300 bucks? Right now, you can get a decent-quality mat for as low as $80. It will fit the tonneau perfectly, resist most natural hazards, and keep both the cargo and the bed nice and safe. If you want a bit more thickness, anti-slip features, and enhanced compatibility, be ready to pay up to $150. That leaves 100-120 bucks as the golden middle for this product.
Conclusion
There you have it – a detailed review of five outstanding bed mats. If you live in a dusty, windy, or sunny area, a tonneau mat is a must. The same goes for states where it's always raining, snowing, and the temperature constantly drops below zero. Bed mats are one of those accessories that every truck driver will find a use for. Easy to install, durable, and available at an affordable price, they carry excellent value.
If you're on a tight budget, go with Dee Zee – it's pretty cheap. With Westin, you'll get a heavy-duty rubber body. Husky, in turn, is all about a skid- and odor-free ride. Finally, BDK boasts premium protection against elements, while RedRub is bedliner-friendly. Which truck bed mat deserves the #1 spot on the list? Share your opinion in the comments!