Best Fog Lights for Dodge Ram 1500 Review & Buyer's Guide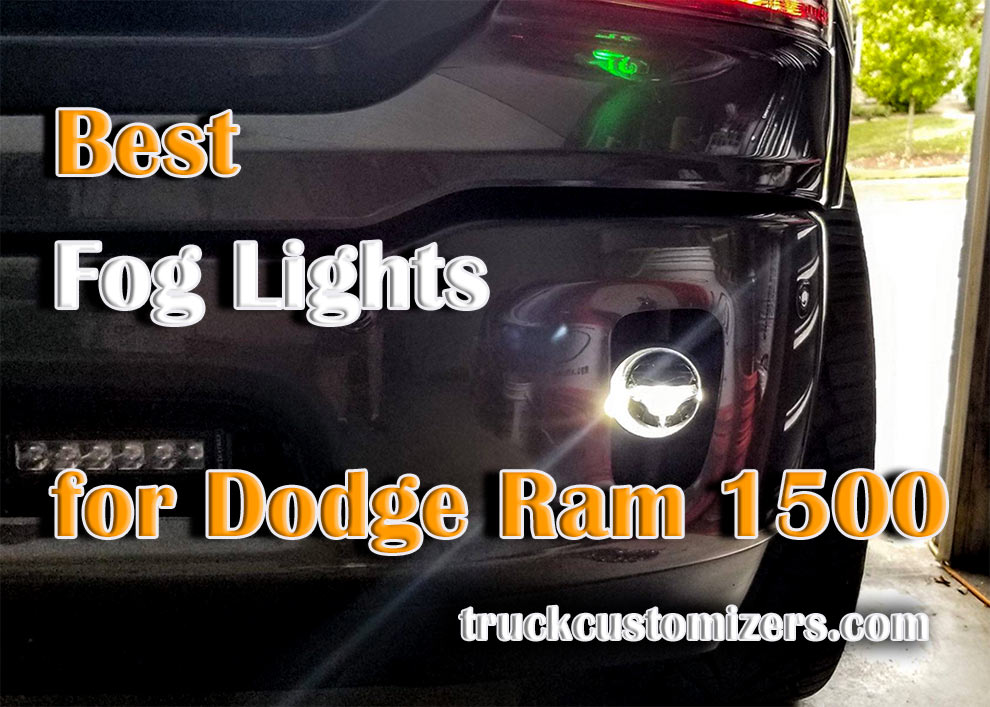 If your view is blinded by rain, fog, or dust, there's very little high or low beams can do. Actually, they'll cause more harm than good – the light will reflect off the particles and blind you. So, does that mean you shouldn't drive when the weather is bad? Of course, not! There's a tried-and-true solution to that – fog lights. They're rather small and not particularly bright, but do get the job done.
So, today, our focus will be on the Best Fog Lights for Dodge Ram 1500. Pay extra attention to the pros, cons, and verdicts to make the right pick! Oh, and don't forget to check out the detailed Buyer's Guide and FAQ section to learn more about fog lights and how to differentiate between average-at-best products and market-leading sets. Let's get to it!
Best Fog Lights for Dodge Ram 1500 Review
1. Z-OFFROAD – Best LED Fog Lights for Dodge Ram 1500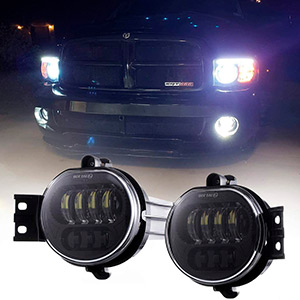 Starting up with the list, we've got one of the most durable and long-lasting fog light sets for RAM 1500. Thanks to the mighty combination of die-cast aluminum housing and a "ribbed" design, Z-Offroad boasts a highly efficient and reliable cooling system. And, as you probably already know, LED lights do require proper heat dissipation to last. In addition, thanks to clever engineering, these lights are very easy to clean.
All you'll need is a cheap rag and a couple of minutes of your time. As for compatibility, this 63W fog lights set fits a long line-up of RAM trucks, including models from 2002. The only downside: depending on how old or new your four-wheeled friend is, you might have to buy a wire harness to get the lights connected. But, that won't cost a fortune; and if you like, you can get a refund through the 30-day money-back guarantee.
Pros & Cons
Die-cast aluminum + ribbed design for cooling
Very easy to clean with a simple rag
Fit a wide range of RAM trucks
Might require a wire harness to work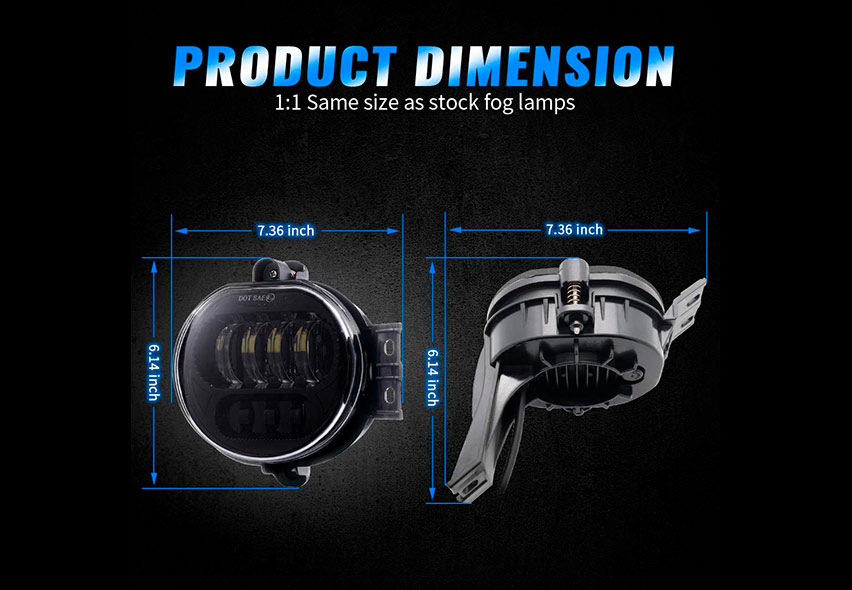 Z-Offroad is a reliable, long-lasting, and all-around solid fog light kit. The premium-quality cooling mechanism, sturdy design, and enhanced compatibility, along with the 30-day MBG turn it into a must-have. Do keep in mind, though, that these lights will probably not work without a third-party harness.
2. 4X4FLSTC – Best LED Fog Lights for 2015 Ram 1500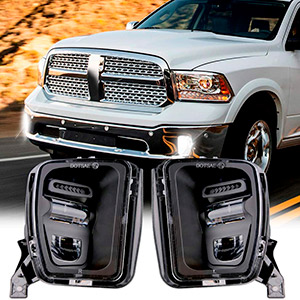 Did you know that the #1 concern for most truck drivers is the installation process? They think only a professional can handle mounting fog lights and getting them connected. Well, that's not the case with 4X4FLSTC! It will only take you ten minutes to remove the factory units and replace them with the new kit. The top-quality LED chips, in turn, produce a very bright, clean, and focused light beam and last for up to 50K hours.
Moving on to the lenses, they're crafted from sturdy materials and can easily handle rust. They're also crash-resistant and aren't afraid of tiny rocks, debris, bushes, or tree branches. So, what about the cons – do these lights have any disadvantages? Only one – a steep price. It's higher than the market average, but that's well compensated by the pros. If you're looking for premium fog lights, this could be it.
Pros & Cons
Premium-quality LED chips emit a clean light beam
Reinforced lenses: rust- and crash-resistant
Fast, simple, plug-and-play installation
The price tag is a bit steep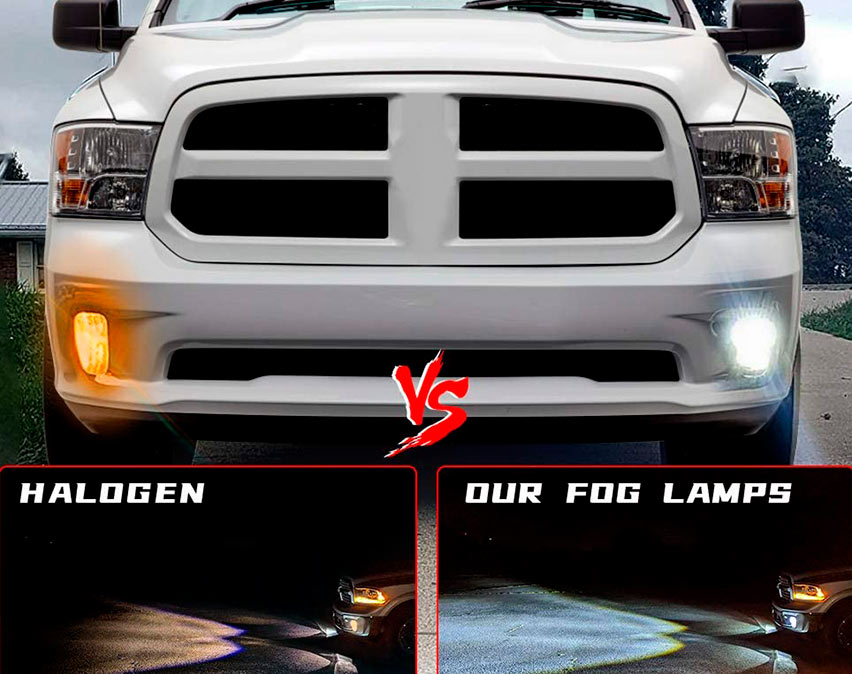 Despite the not-so-cheap price, the 4x4FLSTC fog lights are a bargain for the RAM 1500 truck. They feature top-notch LED chips, reinforced lenses, and can be installed in 5-10 minutes. Besides, they will serve you for +/- 50K hours (10-20 years), which justifies the high cost in the long run.
3. AlltoAuto – Best Fog Lights Assembly for Dodge Ram 1500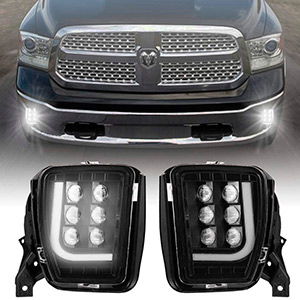 If you're worried that your new fog lights won't be bright enough to cut through water particles, AlltoAuto has got your back. The combined brightness of these bulbs is 6K Lumens, which is a pretty impressive output. And, thanks to the IP68 rating, you'll get strong protection against water, dust, dirt, and sand. That allows the engineers to guarantee a 50K-hour lifespan for this light set.
Last, but not least, the manufacturer includes a two-year limited warranty in the package, along with a 30-day money-back guarantee and 24/7 customer support. The agents are very helpful and quick to respond. What I didn't quite like about AlltoAuto was the build quality. While it's pretty decent, it's still not on par with the factory gear (mostly, I'm talking about the light assembly).
Pros & Cons
Superb brightness: 6K Lumens combined
IP68 – water-, dust-, and sand-proof
Backed by a two-year limited warranty
Average engineering quality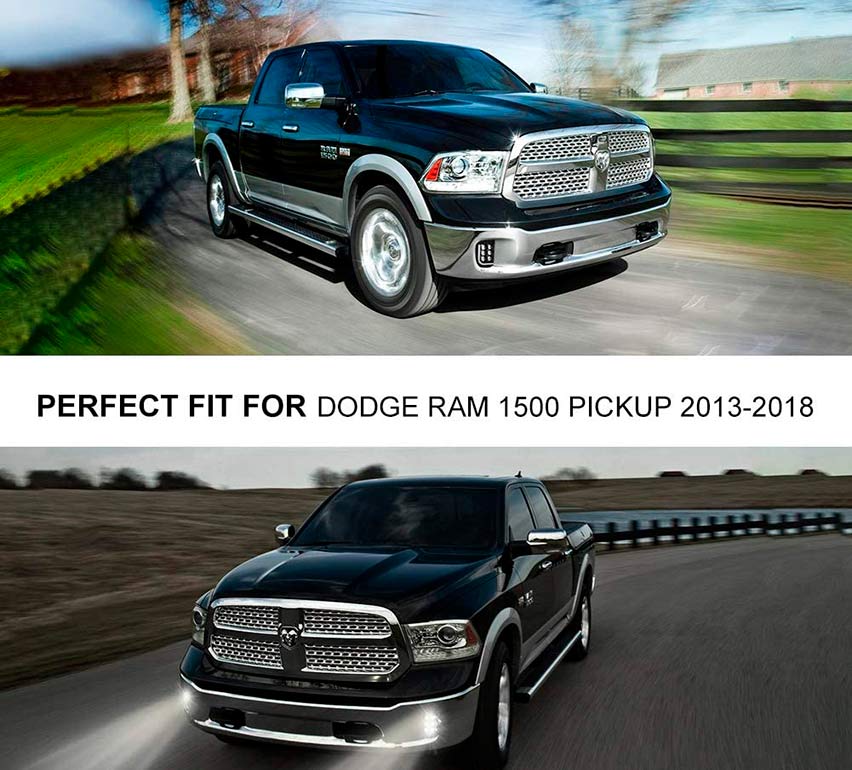 RAM 1500 drivers in the market for a set of bright, weather-proof, and long-lasting fog lights will find AlltoAuto to be right up their alley. Protected by a generous warranty deal and strong support, this kit is, indeed, a sure pick. The materials/construction quality is mediocre, though.
4. AUTOSAVER88 – Best Fog Lights for 2001 Dodge Ram 1500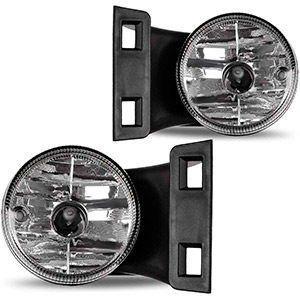 Owners of older-generation RAM 1500s might want to pay extra attention to Autosaver88. Say, if you're driving a 2001 truck, this set of fog lights will fit like a glove. Precision-designed, they take little time and effort to install and function exactly like the stock Dodge lights. Quick, 100% free shipment/delivery across the country is another pro. But that's not even the biggest selling point!
Autosaver88's fog lights are one of the most affordable options on the market, and that's what makes them a crowd-pleaser. Do remember, though, that you won't get LED light bulbs with this kit. Instead, the package comes with halogens. They're pretty solid, of course, but not nearly as long-lasting as Light-Emitting Diodes.
Pros & Cons
Precision-designed to function as OEM lights
One of the cheapest lights for RAM 1500
Fast, charge-free delivery to 50 states
No LEDs in the package – only halogens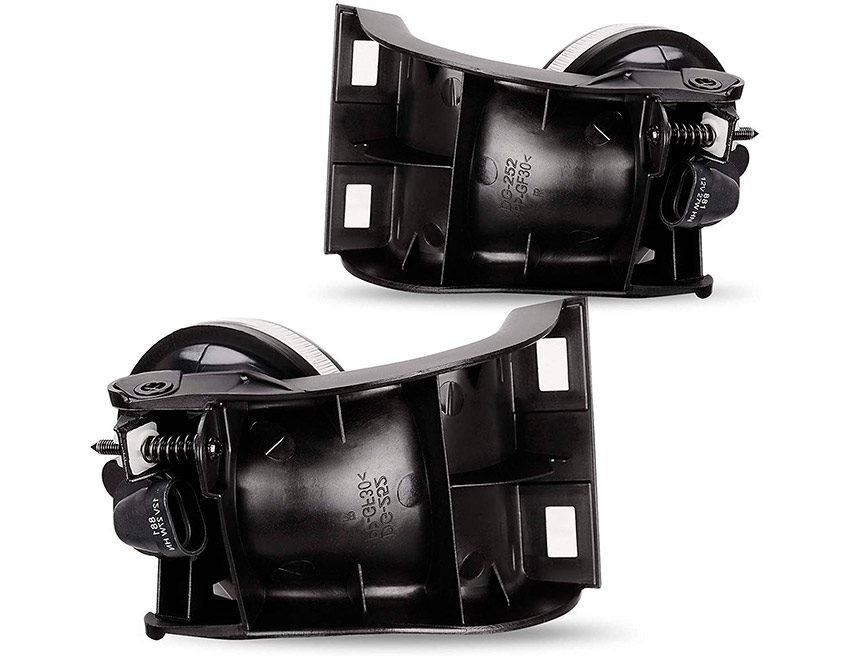 Specifically designed for the older RAM trucks, these fog lights look and operate like factory gear. Plus, they are quick to arrive at your doorstep and won't cost a pretty penny: Autosaver88 is available at a very attractive price. The only downside - the bulbs are halogens, not LEDs.
5. Tecoom – Best LED Fog Lights Assemblies for Dodge Ram 1500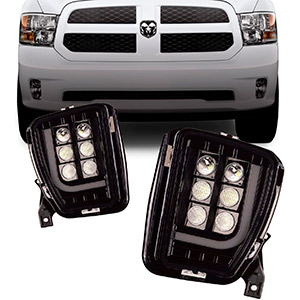 What's the most important thing when it comes to fog lights? Decent build quality and a strong light beam, right? The answer is yes, and you'll get all of that with Tecoom. The material and engineering quality are well above average – this kit will last for many years and won't cause any trouble. The light pattern, in turn, is very wide and does an excellent job of illuminating the road ahead.
Oh, and let's not forget that Tecoom is officially certified and approved by DOE, SAE, and ISO. That means these fog lights are 100% street-legal in the United States. The installation process tends to be a bit challenging, however. Some drivers claim the lights are reversed; others have to cut and splice the connectors for the lights to work.
Pros & Cons
ISO-certified + DOE and SAE approved
Impressive material + build quality
Cast a wide, focused light pattern
Require some tinkering to work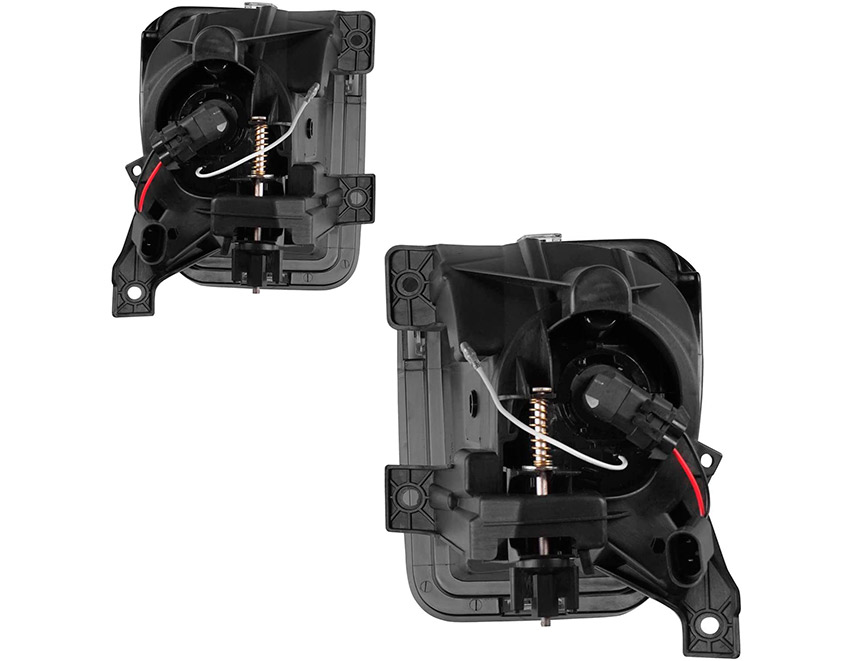 If not for the somewhat tricky installation, the Tecoom fog lights could've been the #1 pick on the list. They're still a very reasonable investment, of course, thanks to the focused, far-reaching light beam, top-notch engineering, and compliance to all three industry standards.
Which Light is Best for Fog?
The most important thing to understand about fog lights is that they shouldn't be compared to headlights. For high and low beams, we go for a high color temperature so that the lights reach as far as possible and, let's say, "cover more ground". But you shouldn't use the same approach with fog lights. To clarify: color temperature and brightness are NOT the same thing. Brightness is measured in Lumens.
Temperature, in contrast, defines how warm the light is. The higher you go, the whiter the beam becomes, and that's a con for fog lights. Blue is also a bad choice. The reason – bright light beams tend to reflect off rain, snow, dust, and fog particles, blinding the driver. So, what should you do? Choose amber and yellow lights instead. Their temperature is much lower, which makes them more effective. I'm not saying white and blue are horrible, but still not as great.
Can I Use LED Fog Lights as Headlights?
No, you shouldn't even try that, because fog lights can never be as bright as the headlights. Technically, they could fit, but, again, from a practical side, they won't do you much good. A decent-quality fog light will be +/- 25-35 watts, while headlight LEDs start at 50-60w and go higher. Besides, in certain areas/states, it's forbidden by the law to use low-brightness bulbs in high or low beam lights.
True, some folks put fog light bulbs in bicycles and they work just fine. But the truth is – even a set of HID or halogen bulbs will probably be brighter than brand-new fog LEDs – that's just how it is. And one more thing: unless you're a professional electric (or, at least, an experienced mechanic), you might end up ruining not only the wire harness and the lights but also the electronic components inside of the truck.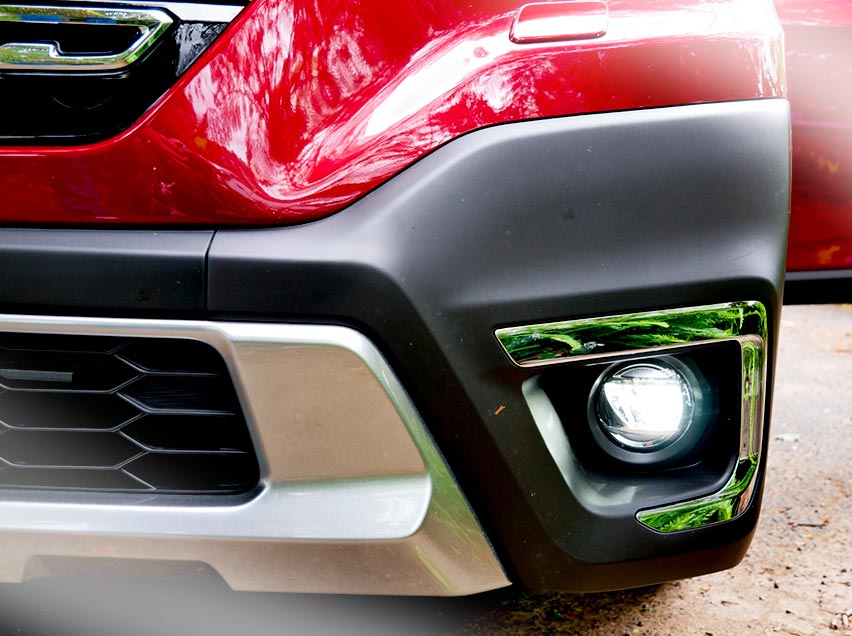 Which is Better Yellow or Amber Fog Lights?
Alright, we just learned that white and blue lights are not a very good choice for fog lights, as their color temperature is way too high to be effective in poor weather conditions. And now let's quickly compare yellow to amber and see which color is best for RAM 1500. At a glance, these two colors are pretty similar to each other, and you'll be in good hands no matter which one you choose. Amber is practically orange, and it's the closest "sibling" to yellow.
So, as long as the bulbs are in the 3.5K-4.5K temperature range, you won't have any trouble on a foggy, low-visibility road. With that said, I would still go with amber, as it's a bit darker and cuts through fog more effectively. Do keep in mind, though, that amber lights require more watts to be as bright (in Lumens) as yellow lights.
Buyer's Guide
Is a 2000-hour lifespan good enough or maybe you should go for something better? Why is a proper cooling system important for a modern-day LED fog light set? What's the right brightness and light beam pattern? How do you make sure the new fog lights will be easy to install and resistant to natural elements? And finally, how much will you have to pay for all that? Read on, and you'll find out!
#1: Build Quality + Cooling
Do you want your fog lights to last? Then pay extra attention to the engineering quality. I recommend die-cast aluminum housing for efficient cooling and long service life. A ribbed design is also preferable, as it makes the heat dissipation system even more efficient. Next, check the lenses: if it says "reinforced", or "shatterproof" in the specs, that's great news for the fog lights.
While they're not as exposed as, say, the high beams, I'd still find a set of fog lights that have at least some sort of impact resistance. Rust can also be a problem, especially if you live in a humid area (this is true for any lenses, by the way). So, yes, the main thing here is to buy a fog lights kit with a decent cooling mechanism and protection against debris and bushes.
#2: Weather Resistance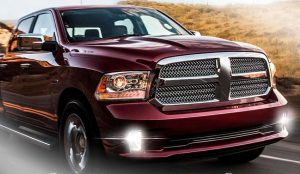 Mother Nature can be quite fierce sometimes, and that's why we need a weather-resistant set of lights. Otherwise, rain, snow, dust, debris, and even the wind will ruin your kit. Do you see "IP67" in the description? That means you won't have to worry about water (rain/snow/moisture). IP68 is a more advanced rating and guarantees protection against a wide range of. As for dust, pollen, dirt, and mud, again, check the specifications.
#3: The Average Lifespan
This greatly depends on the bulbs, of course. If the lights come equipped with HID or halogen bulbs, their lifespan will be fairly modest: up to 2K hours, give or take. LEDs, in contrast, have a dramatically longer service life and can go on for 50K hours (or the life of your RAM 1500 truck). Not all LEDs can go on for so many hours, however; some last for 20-25K hours, which is also a decent deal.
#4: Lumens and Patterns
As we learned earlier, brightness and color temperature are two different things. And light sources are measured in Lumens – the higher the number, the brighter the beam will be. For fog lights, 2K LM (that's short for Lumens) is a great place to start. But, if you want the lights to really shine through, 2.5K LM will be a better choice.
Next, we've got the pattern. While you should, of course, adjust fog lights to get the right angle using the adjusting screw, there's very little one can do to change/fix the pattern. You just get what you buy, which is why it's important to check this before committing. The best pattern is nice and wide, but at the same time focused to pierce through dense layers of fog.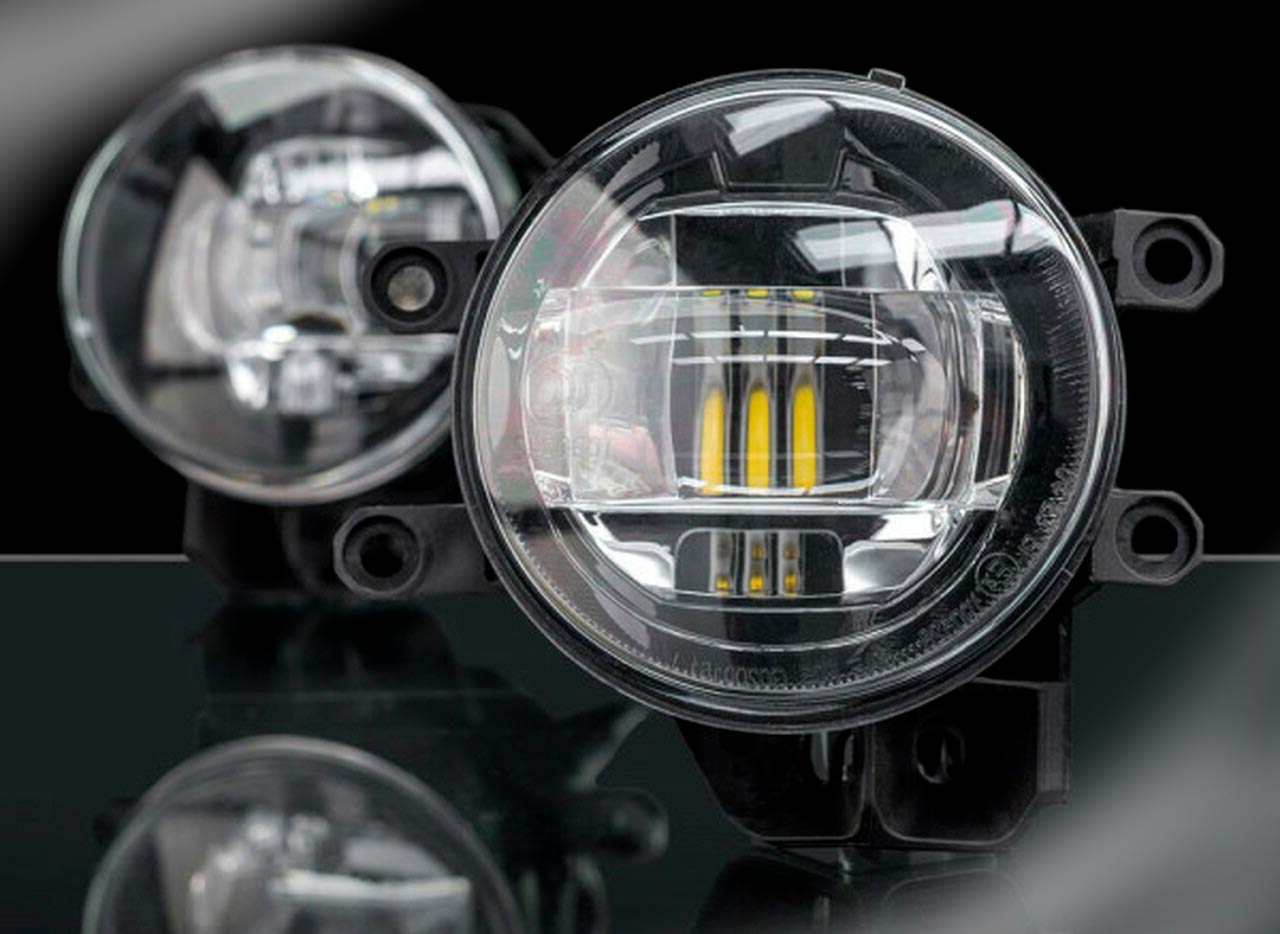 #5: Easy Fitment + Harness
It's not that hard to ensure perfect fitment. All you have to do is order a set of fog lights that were designed for your truck. This can be easily verified when buying at an online store: the manufacturer adds all the necessary info in the specs. But, there's one more thing to keep in mind, and that's how the lights need to be connected.
Premium-quality fog lights don't need any extra wires: you just plug them into the truck's system, and that's it. However, some brands won't work without a wire harness (and it's usually sold separately). So, first, ensure compatibility, but don't forget to verify whether a harness is a requirement, or not.
#6: The Price-Tag
Fog lights these days are incredibly affordable. There are lots of decent sets that cost as little as $30. But, these lights will be equipped with halogen lights. If you want LEDs, be ready to pay twice as much. For 100-120 bucks, the package will also include a warranty and a refund policy. Plus, the build quality and the anti-weather protection will be better.
Conclusion
Alright, there you go – five top-notch fog lights for RAM 1500. These kits are reasonably priced, (mostly) easy to install, and will be of great aid on your next adventure. While it's not illegal to drive without front fog lights, I still encourage you to save some bucks and get a set. Remember: no matter how expensive your headlights are, they can't replace fog lights.
Even if you're on a tight budget, there are still options on the table. For example, Autosaver88 is very cheap but pretty solid. Z-Offroad takes little effort to install, while 4X4FLSTC boasts high-grade LED chips. Looking for the brightest lights? You'll get that with AlltoAuto. Last, but not least, fans of impressive engineering quality will like the Tecoom set. Go ahead and take your pick!