Best Fog Lights for Ford F150 Review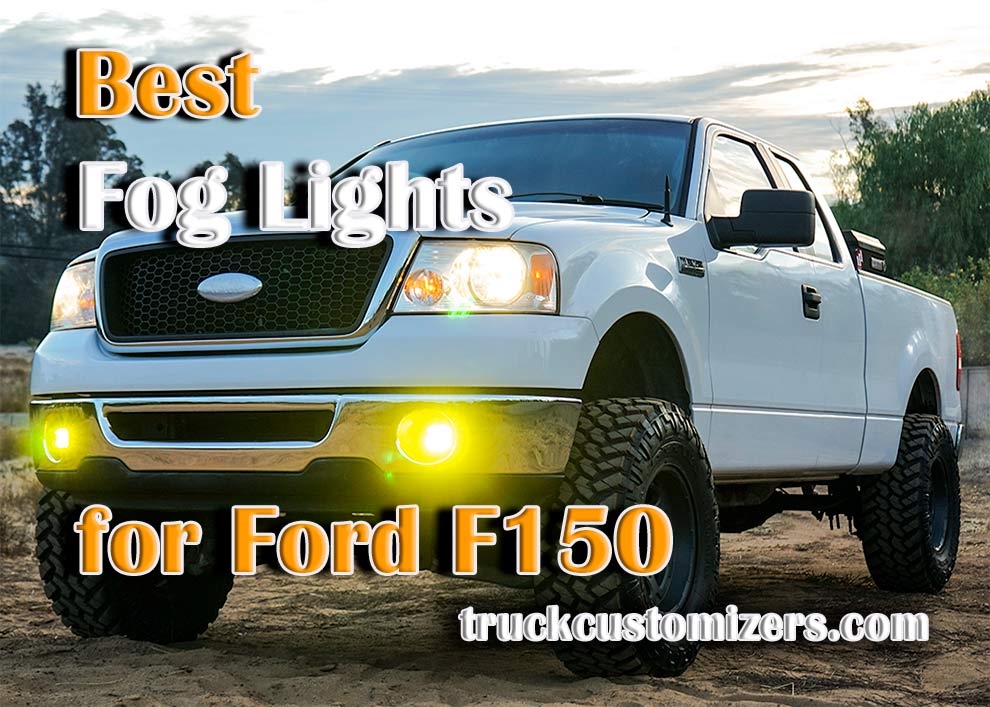 For lights – most of us don't give them much thought. Headlights are a lot more "fun" and talked about. With that said, without proper fog lights, you'll be lost when the road gets rainy, snowy, or, well, foggy. Located in the lower corner of the bumper, they have a very important job of cutting through dense particles and illuminating the road. But what do the Best Fog Lights for Ford F150 look like, actually?
I've got your back on this one! After testing dozens of different kits from internationally known and respected brands, I came up with the following list. The next fog light sets have proven their worth in the toughest tests and can be trusted with your safety on treacherous terrain. So, let's go ahead and take a closer look!
Best Fog Lights for Ford F150 Review
1. BICYACO – Best LED Fog Light Assembly Kit for 2017 Ford F150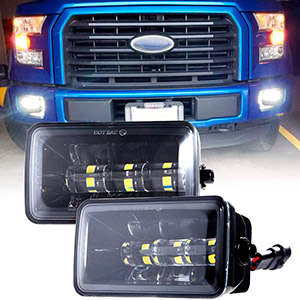 As a replacement set for the F150, BICYACO is a sure pick. First of all, it boasts a top-notch cooling system. Thanks to the premium-grade aluminum alloy and heat-conducting silicone, these fog lights last for up to 50K hours, which is a pretty impressive lifespan. On top of that, there will be no shadows or "dark spots" that tend to blind oncoming drivers and cause a disaster on the road.
Another thing to keep in mind: this fog light kit comes packed with a standard 12-months service warranty. Now, what I didn't like about BICYACO was the pair of adjustment screws, because they're a bit too short for comfort. Secondly, they can't create enough tension to, well, adjust the lights. So, don't throw away the stock screws – use them instead.
Pros & Cons
No dark spots, shadows, or blinding
Premium heat dissipation system
One-year service warranty included
Poor-quality adjustment screws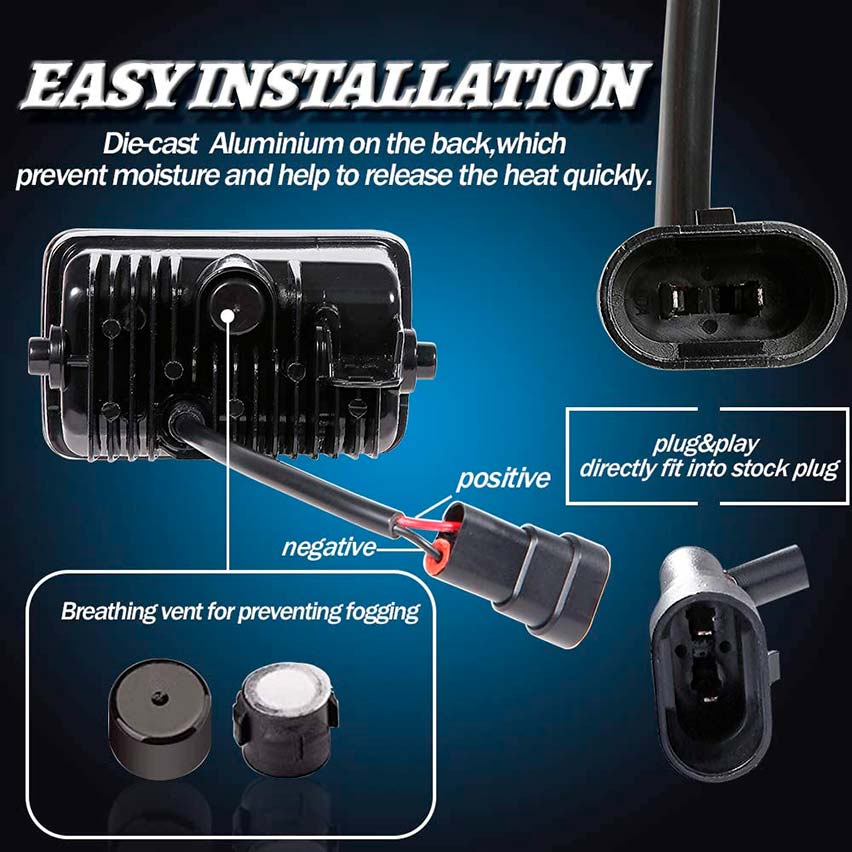 Advanced heat resistance, an extended life cycle (50K hours), and a clever design (no dark spots or anything like that) turn the BICYACO aftermarket fog lights into a must-have. The provided adjustment screws are a piece of junk, but that's compensated by the one-year warranty.
2. LITE-WAY – Best Round Fog Lights for Ford F150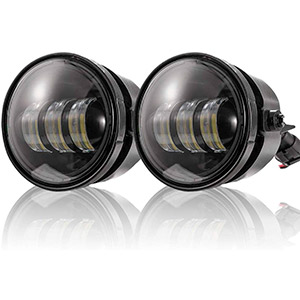 Next up, we've got a high-quality set of fog lights by LITE-WAY. With this set, you'll get market-leading protection against moisture (water), dust, and dirt, thanks to the top-notch sealing that keeps natural elements at bay. Vibration resistance is also very strong, which means you won't experience light scattering. However, it's important to make sure the lights fit snug; otherwise, shaking will be an issue.
That can be avoided by using a tiny washer: just put it in during the installation, and the lights will be as tight as you want. As for the package, it includes all the necessary installation hardware (which isn't always the case with fog lights). Light intensity, the beam pattern, and the lifespan are up to the industry standards as well, along with resistance to natural hazards.
Pros & Cons
Strong resistance to shaking/vibration
Water-, dust-, and dirt-proof sealing
High-grade installation hardware included
Rattle a bit unless perfectly snug

The LITE-WAY aftermarket fog lights are a sure pick for the average Ford F150 driver. This is especially true if you mostly drive on challenging terrain somewhere in dusty deserts or snowy/rainy mountains – the premium sealing will handle it all. The lights do tend to rattle, but only if you don't secure them properly.
3. Z-OFFROAD- Best 2011 F150 LED Fog Lights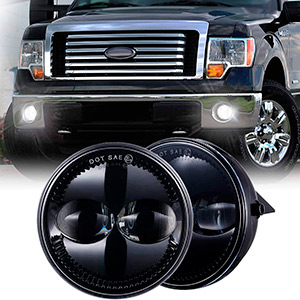 Do you feel like the whole fog light replacement/installation routine is a bit too much and you won't be able to pull it off? Well, don't worry: with Z-OFFROAD, the whole process will take minimal effort and only 15-20 minutes of your time. Along with that, this kit features a "universal" design and easily fits a wide range of vehicles (not only Ford trucks). I also want to mention the reliable, shatterproof design.
The lenses are crafted from polycarbonate and can easily handle whatever the road has in stores. They will, of course, break if you hit a tree or something, but they won't be damaged by bushes, tall grass, or even tiny rocks. The only downside has to do with the delivery: while Z-OFFROAD takes very little time to deliver the fog lights to certain states, in other areas, they are a bit slow. But, this isn't a very big con.
Pros & Cons
Fast, hassle-free installation (in 20 minutes)
Shatterproof polycarbonate lens design
Compatible with a long list of vehicles
Somewhat slow delivery times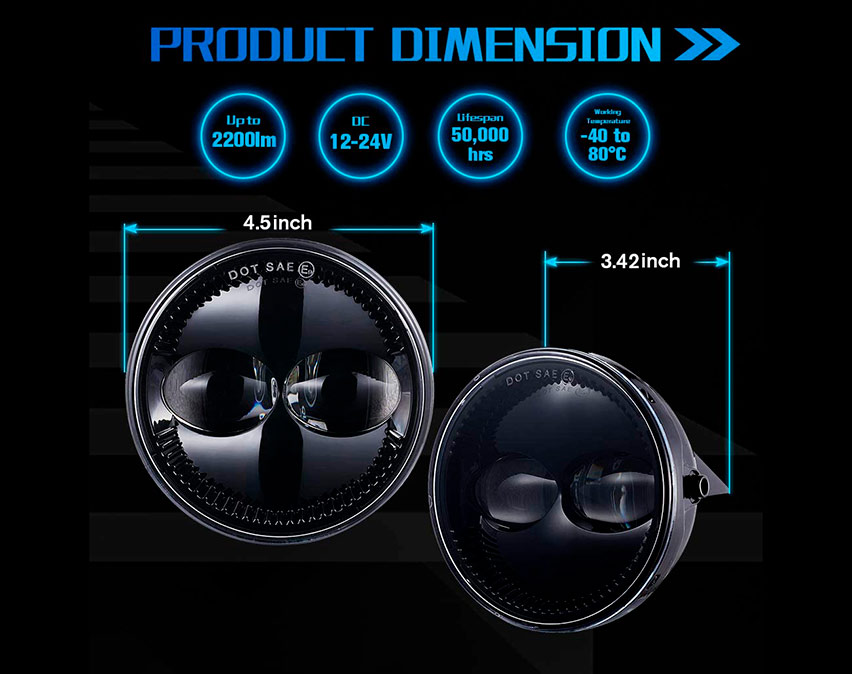 Are you looking for a highly compatible, easy-to-install, and shatter-resistant set of fog lights for the F150 truck? If the answer is yes, then you might've just found the perfect replacement kit for Ford's best-seller. Delivery times can be slow, but that's a small price to pay for the big list of pros.
4. AUTOSAVER88 – Best F-150 Fog Lights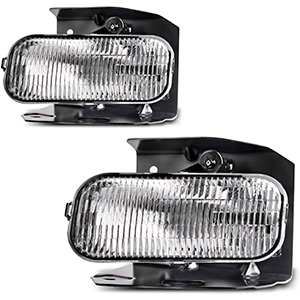 Fog lights need to be crafted from durable, shock-resistant materials. Anti-weather resistance is also a key factor. But, let's not forget about the housing: Autosaver88 features premium-quality black coating, and it serves as an additional layer of protection. Plus, these fog lights meet and exceed SAE and DOT standards – you won't have any trouble with the law, because the lights are 100% street-legal.
The actual bulbs are also up to the task. They cast a wider, farther-reaching light beam compared to the industry average, which equals extended visibility for the driver. Unfortunately, they're not particularly bright or long-lasting, simply because they are halogens (not LEDs). Obviously, you can go ahead and replace the bulbs, but that will cost you extra.
Product Rating
Quality of material
4.9/5
Pros & Cons
Top-notch black housing for extra protection
Meet and exceed tough industry standards
Cast a wide, far-reaching light beam
Come packed with halogen bulbs (not LEDs)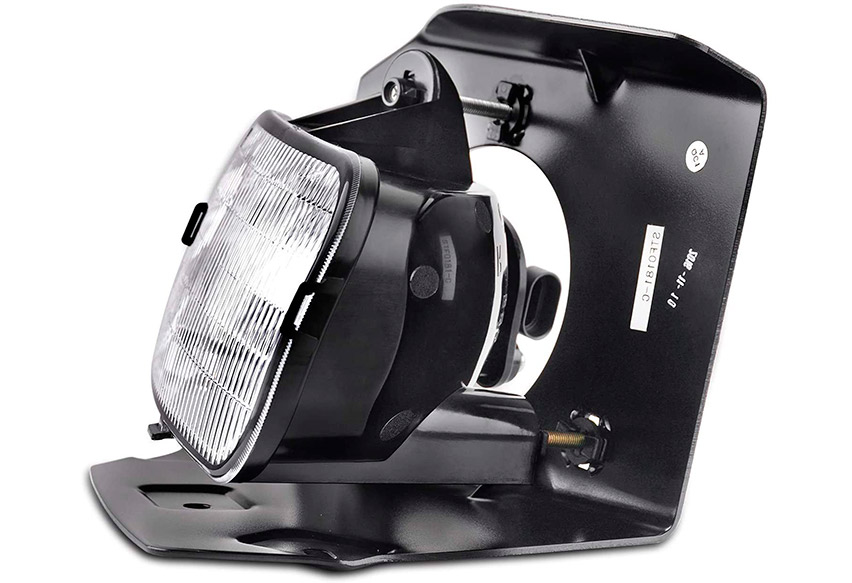 With Autosaver88, you'll get a reliable, far-reaching set of replacement fog lights for the F150. They don't only meet but also exceed industry standards. Black housing is another big pro. However, you'll get a pair of halogen lights with this package, not LEDs, and that's the biggest con.
5. Kiwi Master – Best LED Fog Lights for 2020 Ford F150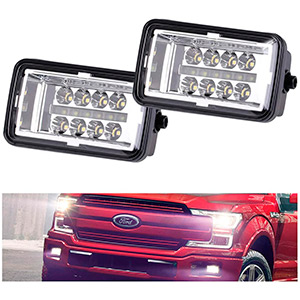 Finishing up with the list of the finest aftermarket fog lights for the F150 truck, we've got Kiwi Master. This is the most expensive set of lights on the list, by the way. However, the steep price is well justified. The package includes a detailed, friendly user guide on how to install the kit. On top of that, the company covers its product with a two-year warranty, which is always great news.
More importantly, these fog lights are manufactured from sturdy, high-density aluminum and will serve you for a very long time. Kiwi Master "fogs" are incredibly bright, feature an efficient cooling system, and take very little time, effort, and knowledge to install. So, if you're ready to invest in a pricey, but worthy set, this could be it.
Product Rating
Quality of material
4.9/5
Pros & Cons
Crafted from high-density aluminum materials
The package features a detailed user manual
Backed by Kiwi Master's two-year warranty
A bit on the expensive side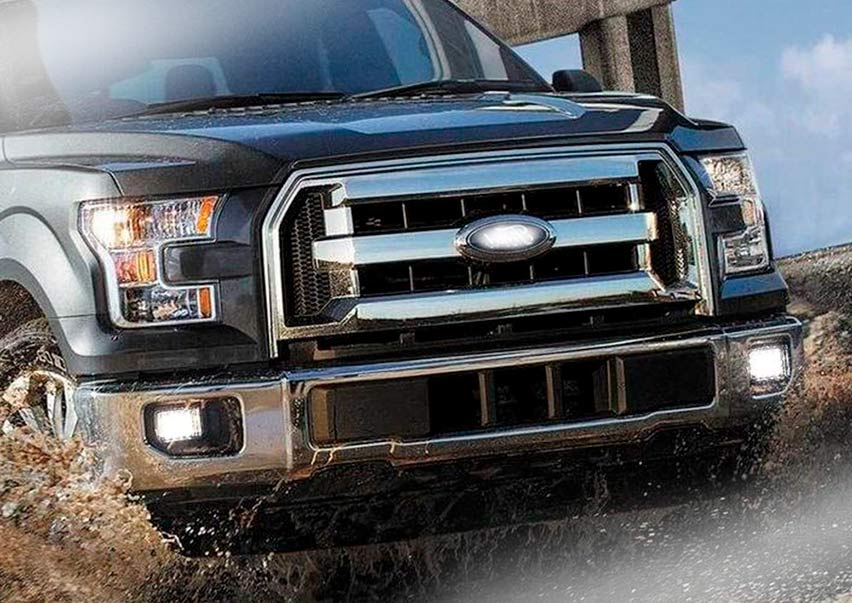 Despite the steep price, Kiwi Master will be a bargain if you've got the budget for it. These fog lights are bright, far-reaching, protected against natural elements, and covered by a generous two-year warranty.
What is the Difference Between Fog Lights and Headlights?
Headlights are pretty big and always sit right in the middle of the front grille. The main purpose of headlights is to cast a wide beam that covers a long range of the road ahead. This way, the driver can notice oncoming traffic, wild animals, fallen trees, etc. In contrast, fog lights are significantly smaller. You'll find them near the bottom of the vehicle, right below the front bumper. But that's not even the biggest difference.
Instead of illuminating what's far ahead of the truck, they cast a very short-reaching light beam. That allows them to cut through natural elements, giving the person behind the wheel extended visibility of the road. Here's the thing: rain, water, snow, and fog consist of tiny water particles, and when headlights shine on them, the light "hits back", blinding the driver. But fog lights are located very low and, again, cut through all that.
Without fog lights, it will be almost impossible to navigate a foggy road, and that can lead to all kinds of accidents. This is important: it's not illegal to drive around without a set of front fog lights (in contrast to headlights). However, if you don't have a pair of rear fog lights, a police officer will stop you and write a ticket. In any case, it's strongly recommended to install them upfront as well, especially in poor weather conditions.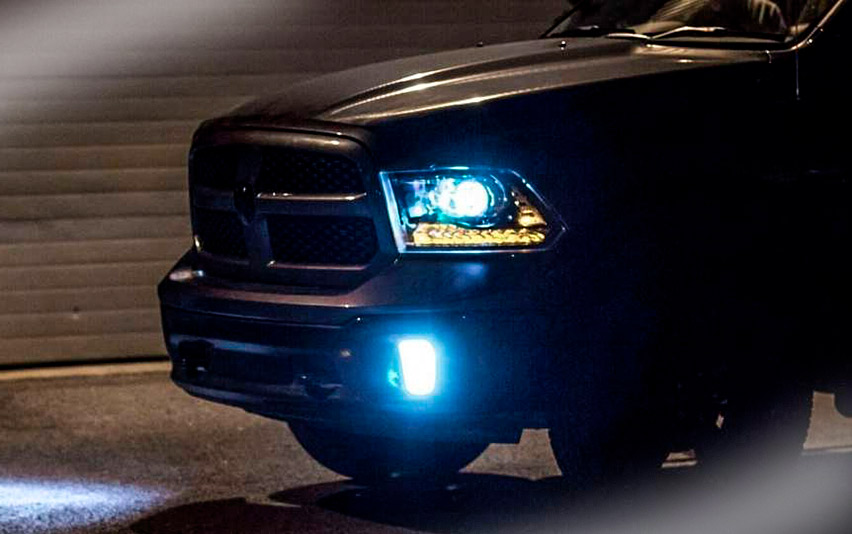 Are Amber Fog Lights Better than White?
The short answer – yes, they definitely are. But let me elaborate a bit. The major difference between amber and white is the color temperature. Amber fog lights (AKA the "yellow" lights) have a relatively low color temperature (2.5K-4K Kelvins). White light, in turn, has a much higher temperature and can go over 6.5K Kelvins. Now, as we just learned, brightness, or, should we say, "whiteness" is a con for fog lights.
It tends to reflect from water particles, making it harder for you to operate the truck. Amber lights have a lower refraction rate; plus, they reach a bit further, allowing the driver to see exactly what's happening right in front of their vehicle. So, that's exactly why you should always choose amber over white when shopping for a new set of fog lights.
How do you Install LED Fog Lights on a Ford F150?
There's nothing hard about this. Most modern-day fog lights come equipped with the necessary installation hardware. Plus, the package features a detailed user manual – it makes the process that much easier. It's a matter of removing the factory lights and replacing them with the new set. Once that's done, carefully connect the wires to the F150's factory wire harness, and that's pretty much it.
To get rid of the stock fog light assembly, find the mounting screws (they're usually located in the back) and remove them. Next, carefully place the brand-new lights and make sure they fit snugly. If you didn't get a hardware kit, re-use the factory screws for tightening. Don't overdo it, though, because that might damage the assembly. Once the wires are connected, go back into the cabin, activate the fog lights, and hit the road!
Buyer's Guide
Alright, now that we know what sets headlights from fog lights, amber from white, and how to install LED fog lights properly, let's check out my guide. Here, we'll talk about the "make it or break it" factors to keep in mind before ordering a fog light kit. The topics include lifespan, brightness, anti-weather protection, compatibility, DOT, SAE, and other certificates, and more. Join me, and let's discuss it all in more detail!
#1: Durability + Lifespan
Build quality plays a big role in how long the lights will last. Compared to headlights, fog lights aren't as prone to damage, but that doesn't mean this shouldn't be a concern. So, look for a set that's crafted from sturdy, durable materials and says "shockproof" or "shatterproof" in the specifications. That way, the lights won't break when you accidentally hit a bush or, say, a tree branch on your journey.
As for the lifespan, go for LED bulbs. In contrast to HIDs and Halogens, they are dramatically more long-lasting. The average life expectancy of Halogens and HIDs is 2K hours; LEDs can go on for up to 50K hours! Even if you see something like "25K lifespan" in the specs, that's still a great choice, as those fog lights will serve for many years, if not decades.
#2: Brightness + Light Beam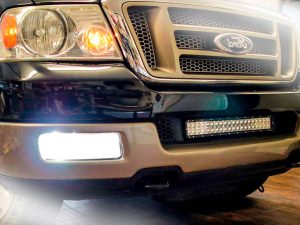 We already talked about brightness earlier when comparing low-temperature amber/yellow to bright and "in-your-face" white. Well, that's still very much true. While you do, of course, want the lights to be bright enough to illuminate the road, make sure they're not over-the-top (like 6-7K Kelvins, or more). Moving on to the light beam, it needs to be wide, and, more importantly, focused.
The more focused the light is, the less dangerous it will be for friendly oncoming traffic. Dark spots and shadows appear with many factory (cheap-quality) fog lights mainly because the light beam is scattered. Summing up, a premium-quality set of fog lights should have the right brightness, temperature, and pattern so that they can cut through rain/dust/fog and still be safe.
#3: Resistance to Natural Elements
Poor weather conditions are dangerous not only for the driver/traffic but for the actual fog lights as well. Unless they are well-protected against natural elements, they won't last for a very long time. First of all, check the specifications for water resistance. Moisture and humidity are bad news for the lenses. The same goes for dust, dirt, UV rays, and temperature extremes. High-grade fog lights are protected against all those hazards.
A less expensive set will only be secured against certain elements. Make sure to check this before ordering. And, consider the area that you live (and drive) in. If it's mostly cold and snowy, pick an appropriate fog light kit. In contrast, if you're used to hot, dusty, and sunny road trips, order a set that's well-protected against that.
#4: Compliance with Industry Standards
DOT, SAE, and ECE are international certificates that define the legality and safety of aftermarket gear. Mostly, they focus on automobile cars. This is important: if a set of fog lights isn't approved by these standards, you'll be in trouble with the law. ECE is a European standard; DOT and SAE mostly work here in the States. Therefore, check to see whether your new fog lights are made in compliance with these legal requirements or not.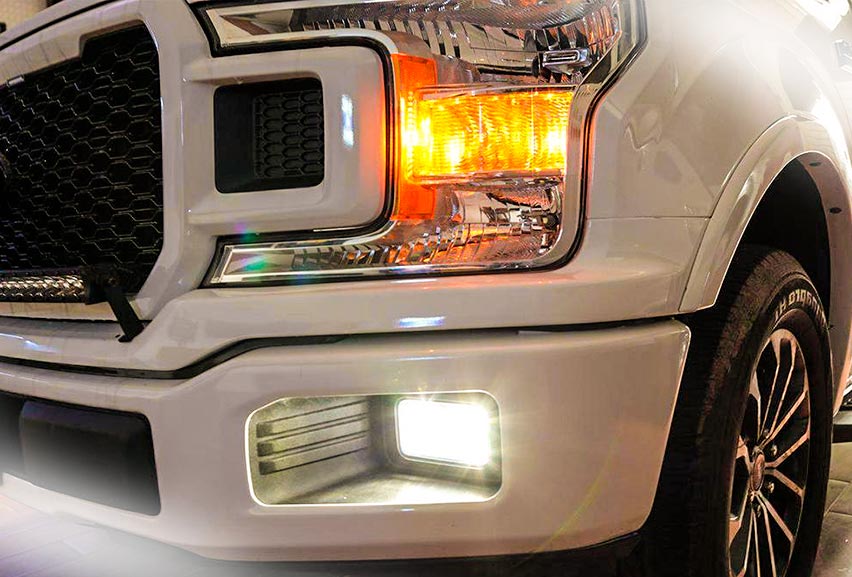 #5: Compatibility/Easy Fitment
Last, but not least, we have compatibility. This is actually very easy to ensure. As long as you see the make, model, and year of your F150 in the specifications, that means it will be a tight fit. While most modern-day vehicles are similar to each other in design, there are still many differences. For example, a fog light assembly that was designed for a Ford truck will probably not fit factory mounting spots of a Chevy SUV, and vice versa.
By contrast, bulbs usually have a universal design and work with 99% assemblies. But, since we're talking about complete kits today (assemblies, mounting gear, bulbs, and more), take a minute to check for compatibility.
Conclusion
Fog lights are much smaller than headlights and not nearly as bright. However, we can't overestimate how important they are, because fog lights can save you from an accident on the road. Wild animals, tiny rocks, bumps on the trail, and oncoming traffic are pretty hard to spot when the truck isn't equipped with fog lights. So, don't go cheap on this upgrade, and make sure you get a decent-quality kit!
Today, we checked out five top-notch fog lights for the F150. They (mostly) fit Ford's truck easily, take little effort to install, and give the driver control over the road. In the FAQ section, you'll find a friendly installation guide, along with detailed comparisons between white, amber, head-, and fog- lights. Oh, and check the Buyer's Guide: it will help make an educated choice.