Do you feel like the factory cooling system fails every time you push the 5.7-lit Hemi hard? Maybe it doesn't have what it takes to keep the engine cool? This is a very common issue among truck drivers, especially the fans of off-roading and competitive racing. So, what are your options here? Replace the radiator? Or maybe go with a more expensive header + exhaust system? Or consider using the best intake manifold for 5.7 hemi ram to further improve engine performance?
You could do that, of course, but an aftermarket CAI will be a better investment. With the Best Dodge RAM 1500 5.7 Hemi Cold Air Intake, you'll get up to 50% more airflow, premium filtration, and even a slight boost to horsepower, torque, and MPG. And the best thing about this upgrade – it won't break the bank. So, here are my top five picks for today!
Best Dodge RAM 1500 5.7 Hemi Cold Air Intake Review
1. K&N Cold Air Intake for Dodge RAM 1500 Hemi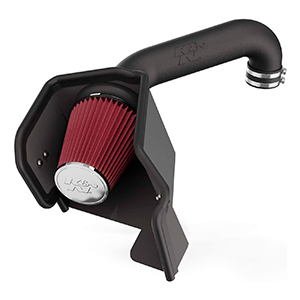 Worried a bit about picking the right CAI system for your Hemi truck? Not sure you'll get your money's worth? If that's the case, K&N might be a great choice for you. First of all, this company has been in the business of aftermarket parts for decades and rarely disappoints. On top of that, you'll get the brand's famous ultra-longevity guarantee that covers the purchase for 10 years or 10 million miles (whichever comes first).
More good news: the K&N air intake kit guarantees horsepower and torque gains. And, drivers should expect a significant boost in airflow (up to 50%). Add a long list of different finishes and styles, and you'll see why this CAI is a safe bet for the average Dodge RAM 1500 driver. The only thing that I didn't like about this product was the included vent fitting. It's crafted from cheap materials and doesn't last long.
Pros & Cons
Strong boost in HP/torque and up to 50% more airflow
Backed by a generous ultra-longevity guarantee
Lots of different configurations to choose from
Poor-quality vent fitting

The market-leading warranty, decent power output, and airflow boost, along with efficient filtering turn K&N into a must-have. Dyno-tested and crafted from top-notch materials, it delivers strong, steady performance no matter the terrain, climate, or the amount of abuse you put on the engine.
2. aFe Power Magnum for Dodge RAM Hemi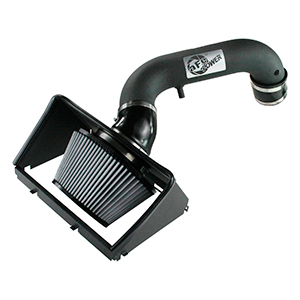 Just like the previous cold air intake by K&N, the aFe unit goes through extensive dyno-testing trials before hitting the market. But, the company engineers take this a step further by putting it through tough tests in the wilderness to further ensure its efficiency. They implement advanced CNC manufacturing, 3D printing/scanning, and CAD design to make the tubes, filter, and housing fit the factory mounting spots like a glove.
Another big pro: the Magnum FORCE intake kit is certified and street-legal in every single American state, which can't be said about many systems. As for the downsides, while the package is pretty secure and arrives shortly, the included user manual is anything but user-friendly. It is not vehicle or engine-specific – keep that in mind. Other than that, aFe definitely deserves a spot on the list.
Pros & Cons
CNC manufacturing + CAD design for perfect fitment
Extensively dyno-tested before hitting the market
Officially certified and legal in all 50 states
The instructions can be misleading

Legal and certified across the country, rigorously tested and engineered to last, the Magnum Force CAI is a keeper. It's available at a reasonable price, takes little effort to mount properly, and is more than decent at maximizing the airflow and keeping the motor nice and cool.
3. AF Cold Air Intake for Dodge RAM 1500 Hemi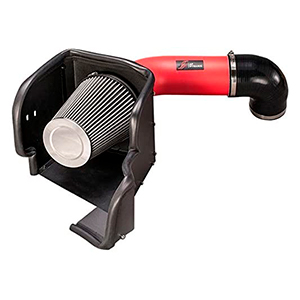 So, by now, we've learned that top-notch aftermarket air intakes are capable of boosting the airflow by quite a lot. Plus, they can introduce a slight increase in horsepower and torque. But what about fuel efficiency? If that's what you're looking for in a CAI system, take a closer look at AF. It was designed and engineered with fuel economy in mind and will increase the MPG ratio by +/- 10%.
The throttle response will see improvements as well. I also want to mention the shielding mat-covered airbox: it's very good at keeping cold air in and hot air out. That's not it for the pros yet! This Dynamic Red Filter kit comes packed with premium-quality hardware for proper installation. However, the hose isn't that great and will probably not fit the stock crankcase. So, you might want to order a new one.
Pros & Cons
Does a great job of boosting acceleration and MPG
Top-quality airbox covered by a heat shield mat
Premium installation hardware included
The hose is rather narrow

Do you like to kill two birds with one shot? Then AF might be right up your alley. Along with increasing the airflow, it also ensures a steady boost in fuel economy and acceleration. The efficient, well-protected airbox and superior quality hardware are even more reasons to buy this product.
4. Mopar OEM Cold Air Intake System Dodge Ram Hemi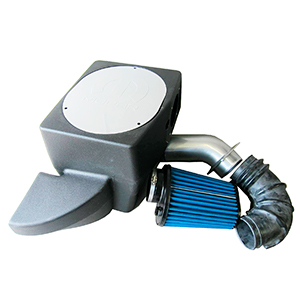 It's safe to say that every single CAI on today's list is very easy to install. But, if you're still a bit hesitant about your own replacing/mounting skills, Mopar will be a reasonable investment. Thanks to the clever, flexible design, it takes +/- an hour and minimal effort to install properly. This is true for the tubing, filter, and airbox. High build and material quality will be a part of the deal as well.
How does the system sound, though? The short answer – it sounds like a million bucks. The intake kit transforms the boring factory noise into a growl. And for a big, capable truck like the RAM 1500 5.7-lit Hemi, this mighty roaring is more than fitting. On the downside, you'll have to pay top dollar for all these pros. That's right: Mopar is the most expensive option on the list.
Pros & Cons
Fast, straightforward installation with basic tools
Fast, straightforward installation with basic tools
Adds a satisfying growl to the engine

RAM 1500 drivers with thick enough wallets will find Mopar's offer to be quite appealing. You can be done with the installation in 40-60 minutes and immediately feel the positive changes, including a stronger sound output. The premium material quality, in turn, means a long service life.
5. Spectre Cold Air Intake Dodge Ram 1500 Hemi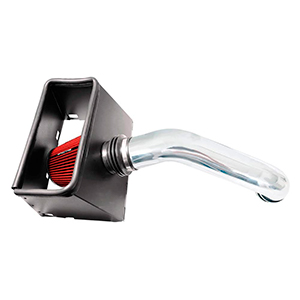 Looking for a cheap, yet effective and efficient replacement for the factory cooling system? Look no further, as Spectre might just have the right offer for you. This product is really cheap (especially compared to Mopar) and boasts a long list of pros. First of all, the included filter keeps up to 99% of the contaminants at bay, protecting the engine from (potential) overheating and premature breakdown.
It's easily washable and reusable, by the way. Secondly, this CAI manages to improve the truck's towing capabilities and uphill performance. So, if you like to haul things around on the weekends, Spectre will be a bargain. Now, this isn't a US-made product (it is manufactured in China), but it's pretty durable and reliable. Besides, you can't beat the price.
Pros & Cons
Top-notch protection against dust, pollen, and debris
Improved towing/hauling + uphill performance
A great pick if you're on a limited budget

Affordability – that's this cold air intake system's biggest selling point. It's a China-made kit, which partially explains the low cost. However, it is quite strong against contaminants (thanks to the high-performance filter), boosts RAM 1500's towing capabilities, and fits a wide range of vehicles.
Does a Cold Air Intake Actually Work? Is It Worth It?
Yes, CAI systems are, indeed, worth it, as they carry excellent value and come at a reasonable price. When properly installed, they're capable of greatly increasing the airflow and safeguarding the engine from contaminants. On top of that, you'll see a comprehensive performance boost. I'm talking about extra horsepower, torque, MPG, acceleration, and towing capacity. While the improvements won't be ground-shaking, they're still worth mentioning.
Cold air intake kits last for a rather long time and require very little maintenance. You just install them once, and they serve for up to ten years (or even more, depending on your driving style and how well you take care of the RAM 1500 truck). Most importantly, air intakes keep the temperatures in the combustion chamber (the manifold, to be exact) within operational levels, helping the motor to avoid problems like overheating and lackluster performance.
How Can I Make My Truck Louder (And Is That Even Legal?)
I've got good news for you: thanks to heated competition, there are lots of different intake systems focusing on different target audiences. Some brands do their best to make sure the CAI is as silent as possible. Others specifically design the individual parts to achieve a throaty, growling tone. Thus, the first thing you should do is check out at least a dozen systems to find the one that's loud enough to your taste.
Another thing you can do is remove the airbox, as it dials the intake down a bit. This is interesting: in most factory systems, the tubes are "hidden away" in the trunk, while in third-party kits, they're always high up. And if you've got the budget for it, investing in an aftermarket exhaust system can also do the trick.
Again, take some time to familiarize yourself with a number of different kits before committing to any of them.  As for the legal side of things, in the US, the noise threshold is 74 decibels. However, in California, you can get as loud as 95 DB. So, always check the local laws to stay out of trouble!
How to Properly Clean my Dodge RAM 1500 CAI Filter?
Don't worry: you won't have to invest in any fancy (or expensive) solutions to effectively clean the filter. It needs to be a washable and reusable unit, of course. The first step would be to pop the hood, locate the CAI system, and remove the filter. That can be done with a standard (flat head) screwdriver. Once the filter is free, take a minute to knock off the big chunks of dust and debris.
If you want to be thorough with this, grab an air filter cleaner. I know I just said no pricy formulas are needed, and I'm sticking to that promise. Say, the K&N aerosol filter cleaner is available for as cheap as $20 and it will last for a long time. Use it to spray the cleaner, then rinse it and give it some time to dry. Once the filter is 100% dry, use the re-oil filter (it's included in the kit) to finish the job.
Installing a Dodge RAM 1500 Cold Air Intake: Step-by-Step Guide
To successfully install a brand-new CAI, you'll have to remove the factory system first. The recommended tools for this routine are a 4mm Allen Key, a ¾" wrench, and of course, a screwdriver (flat blade). Next, make sure the ignition is off and the battery (the negative terminal, to be exact) is unplugged. With that out of the way, pop the hood and get your hands on the stock gear.
Now we can disconnect every single connection that prevents us from removing the factory kit. I'm talking about the air temp sensor connection and the crankcase vent fitting. Do you see a hose clamp that runs from the throttle body to the stock intake? Loosen it up to disconnect the intake tube. To get rid of the factory housing, just pull it up gently. Ok, the old system is gone! All that's left to do is install the new kit. Repeat everything we just did, and that's it!
Buyer's Guide
Cold air intakes have come a long way since the first day they were introduced. Plus, most modern-day systems are very similar to each other. With that said, you can't rely solely on your intuition or the kindness of heart of the folks at your nearest store. There are certain things to keep in mind when shopping for a CAI. I'm talking about efficiency, filtering, performance gains, pricing, and ease of installation. Read on to learn more!
#1: Airflow Efficiency Boost: What to Expect?
As we already learned, big, powerful engines tend to overheat when not cooled down properly. Sadly, most factory cooling systems are average at best and have restrictive airflow. That's where cold air intakes come in. And, you should expect at least a 33% boost in airflow. Or, if you're an avid off-roader or racer, I would recommend only investing in a CAI that delivers a 50% increase.
That way, the engine will be well-protected even on the most challenging terrain. Oh, and see that the air intake kit was dyno-tested before hitting the market. While this isn't a 100% guarantee of its real-world efficiency, you should still pick tested intake systems over the competition.
#2: Protection against Contaminants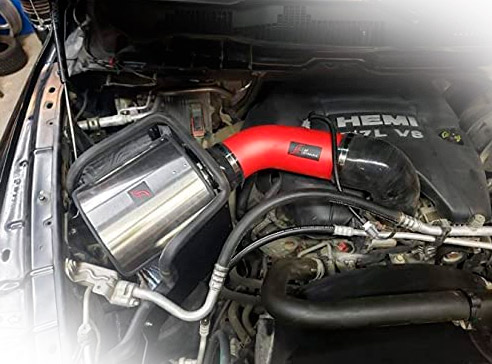 This is the filter's job. Again, stock filters are pretty mediocre (they're crafted from paper) and do a poor job of keeping dust, debris, pollen, and whatnot from damaging the motor. So, look for a performance-oriented filter with at least a 98% efficiency rate. And one more thing: I always go with washable and reusable filters, because in the long run, that allows me to save quite a lot of money.
These filters will serve you for up to a decade, or even more and take very little effort in maintenance. You can clean them with just a bucket of water mixed with some soap.
#3: HP/torque, MPG, and Throttle Gains
My advice to you: don't choose cold air intakes based solely on their performance gains. This should be a nice "bonus" to increased airflow and extended anti-contaminant protection. Still, the finest CAIs do, indeed, maximize the engine's output, which results in a modest all-around boost. On average, you'll get 5-8% extra horsepower and torque. Fuel efficiency will also be improved.
Expect a 1-2MPG boost with a CAI that was specifically designed for the 5.7-lit Hemi. In a year, that will save you $150-250! Acceleration, uphill performance, and towing/hauling will benefit from an aftermarket, non-restrictive air intake system as well. But, the changes will, most likely, be subtle.
#4: The Installation/Replacement Process
How do you make sure the kit will be easy to install? By looking at the specifications, of course! First of all, see that the unit is 100% compatible with your truck. I'm talking about the make, model year, engine, and trim level. Next, check the package: it should include detailed instructions and all the necessary hardware (including hoses) for proper installation. If it's a perfect fit, the replacement/mounting process will only take you 1/1.5 hours, give or take.
#5: Pricing: Cheap vs. Expensive Kits
Entry-level air intake systems are as cheap as 120-150 US dollars. And, while they might not be the most efficient units on the market, you'll still get a significant improvement over the factory gear. If you want a guaranteed performance boost and hassle-free installation, you'll have to pay extra ($250-300 for the whole thing). Finally, top-of-the-line kits are backed by generous warranty deals and boast advanced technology like CNC manufacturing.
Conclusion
Engine repairs tend to cost a lot. Plus, mechanics take time to figure out the problem and fix it, which means a bigger headache for you, a RAM 1500 driver. Now, if you want to avoid all that hassle and ensure the mighty 5.7-lit Hemi is well-protected against overheating, a cold air intake system will be the best solution. Easy to install and reasonably priced, it will be money well spent.
If you have a modest budget, go with Spectre. Drivers that put fuel economy and acceleration first, in turn, might want to pay extra attention to AF. With aFe, you'll get perfect fitment (plus, it's 50-state legal). Mopar is pretty expensive but well worth it. Finally, K&N ensures a solid boost in performance and airflow.