Best Cold Air Intake for Ford Ranger Review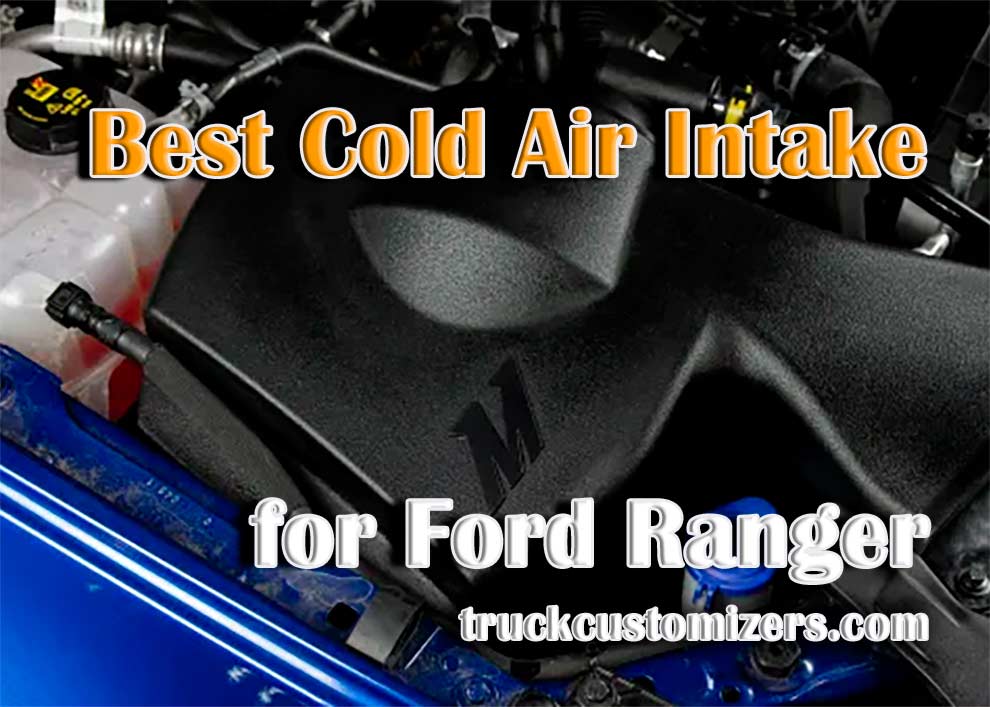 The Ranger is one of the oldest nameplates in the Blue Oval line-up. Introduced back in 1983, it's still a popular light truck. On top of that, the Ford Ranger is quite versatile: you can choose between various engine and transmission options. The gear – manifolds, exhaust pipes, axles, and the driveshaft – won't disappoint you either. However, the cooling system isn't that great.
Primarily, I'm talking about the airflow and filtration, of course. So, in this post, our focus will be on finding the Best Cold Air Intake for Ford Ranger. We've got fine outstanding units to check out. They will not only keep the engine from overheating, but also increase the power output (HP/torque), improve the MPG ratio, and make you feel more in control over the vehicle. Alright, let's get right to it!
Best Cold Air Intake for Ford Ranger Review
1. K&N 57-2560 – Best cold air intake for 2004 Ford Ranger 2.3
If this is your first time investing in an aftermarket intake system, and you want to go safe, K&N might be a reasonable pick. It's one of those "all-around solid" kits that don't have any big downsides. With 57-2560, you'll get a guaranteed increase in the power output: horsepower and torque. The throttle response will also be improved, resulting in stronger and faster acceleration (which is very important for a light truck like the Ranger).
The filter is another big reason to consider this air intake kit over the competition. Crafted from premium materials, it does an incredible job of protecting the engine from 99% contaminants on the road. Don't expect any big gains in fuel efficiency, though – K&N isn't very impressive in that regard. On the bright side, the company covers its product with a market-leading 10-year/million-mile warranty.
Pros & Cons
Guarantees a boost in HP, torque, and acceleration
Strong protection against dust, debris, and rocks
Backed by a generous, client-oriented warranty

Better acceleration, extra HP/torque, and superb protection against road hazards – that's the best way to describe the K&N intake kit. Sadly, it only provides a very slight MPG boost, but that's well-compensated by the reasonable price and generous, ultimate longevity guarantee.
2. Mishimoto MMAI-RGR-19 – Best cold air intake for 2019Ford Ranger 2.3L EcoBoost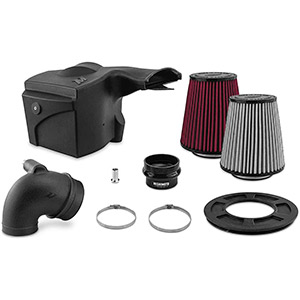 Moving up to Mishimoto, we've got another world-famous brand that specializes in cooling gear. As for the RGR-19 intake, it's one of the most efficient and effective units out there. In real-world tests, it ensures up to 50% more airflow compared to the factory Ranger system. That means you can rely on it to keep the engine cool even in the toughest situations. Next, the installation won't take much effort, time, or expensive tools.
It's a very straightforward process and you'll be done in +/- an hour. Now, while Mishimoto's guarantee isn't as impressive as the K&N deal, you will get a limited warranty. And what about the downsides, you might ask? Well, RGR-19 has a very specific design that fits a rather narrow list of Ranger trucks. And, it's a bit on the expensive side. Still, this intake is a bargain.
Pros & Cons
Improves the airflow by up to 50% (compared to stock)
Can be installed in an hour with a basic toolset
Covered by the company's lifetime warranty
Only fits a tiny list of Rangers

Ford Ranger drivers looking to maximize their airflow should pay extra attention to Mishimoto. While it can't boast extended compatibility, you won't have any problems with the installation on supported trucks. Besides, if something goes wrong, the lifetime warranty will back you up.
3. INTAKE KAI – Best cold air intake for 1994 FORD RANGER 4.0L V6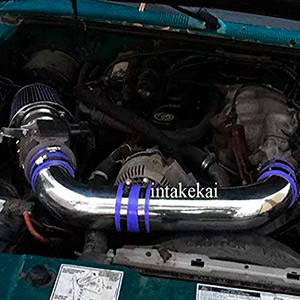 Sometimes, you want to upgrade your stock intake system, but the aftermarket options are just too expensive. Fortunately, there are some really decent units out there that will meet the tightest budgets. That's exactly what Intake Kai is all about: this product is available at a very affordable price and yet delivers a solid performance. The most significant difference that you'll notice after the installation is going to be the roaring engine tone.
It makes the Ranger sound bigger and "meaner", which is a good thing. The overall build/material quality is quite alright as well, along with the airflow and filtration efficiency. Do keep in mind, though, that at first, Intake Kai won't be at all impressive, especially at lower RPMs. The onboard computer will require some time to re-calibrate itself. After that, the truck will run much smoother.
Pros & Cons
Does a great job of improving the engine's tone
Impressive engineering quality for the price
One of the cheapest air kits on the market
Feels a bit sluggish at first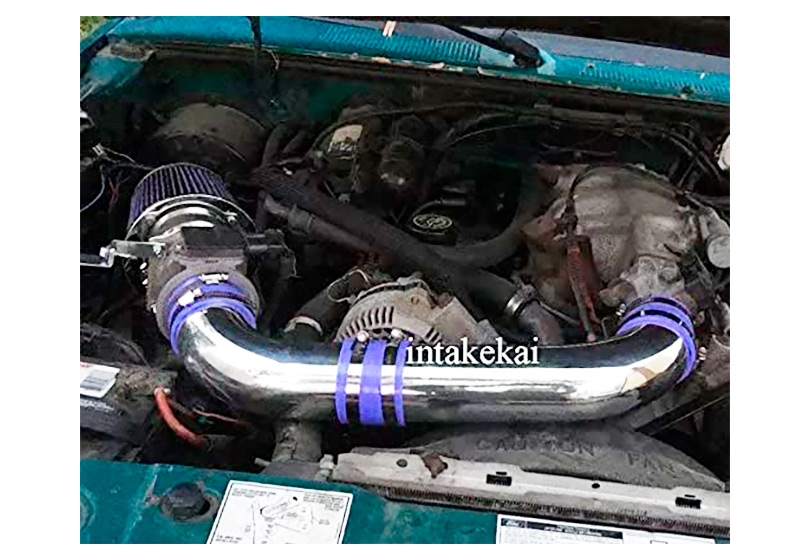 Are you in the market for a cheap, yet reliable third-party air intake system? Then Intake Kai might be just the right pick for you. It completely changes the engine tone, making it more aggressive and satisfying. Plus, it boasts premium engineering (for the price) and lasts for a long time.
4. R&L Racing – Best cold air intake for 2010 Ford Ranger 4.0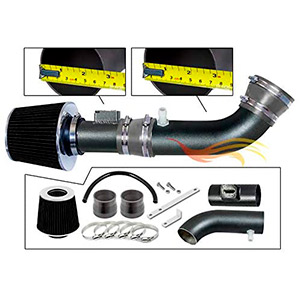 If you're the proud owner of a Ranger truck equipped with a 4.0-lit engine, R&L Racing's air intake kit will fit it like a glove. And, you'll see a big increase in hauling and towing efficiency. The uphill performance will also be improved, making the Ranger a lot more capable against bumpy trails and steep climbs. Next, just like all the other systems on the list, R&L is very easy to install manually, without paying a mechanic.
The package includes all the necessary hardware, by the way, and it is of the highest quality – no need to buy any extra parts. Add a 30-day refund slash money-back guarantee, and you'll see why this air intake system deserves our attention. Shipment/delivery isn't its strongest suit, though; so, you might have to wait for an extra day or two for it to arrive at your doorstep.
Pros & Cons
A great choice for towing/hauling and uphill performance
Comes packed with all the necessary hardware
Covered by a 30-day refund/MBG guarantee
Tends to take a while to arrive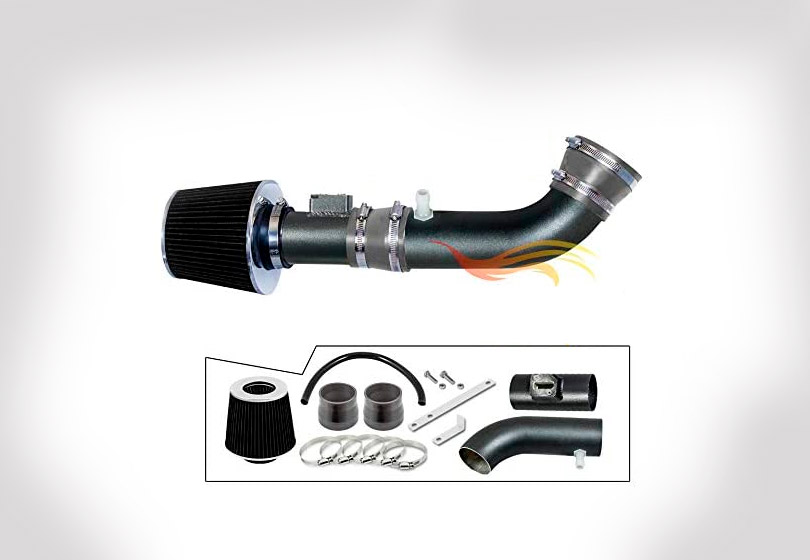 Despite the somewhat slow delivery times, R&L Racing is a bargain for a Ford Ranger driver. It boosts the airflow, protects the motor from contaminants, and improves its towing capabilities. More importantly, it comes with premium installation hardware and a 30-day refund policy.
5. Rtunes Racing – Best cold air intake for 2002 Ford Ranger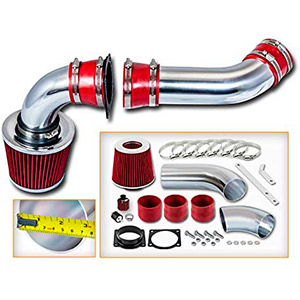 The last stop for us today is Rtunes Racing with its user-friendly air intake system. It's best-suited for older-generation Rangers (the 2001-2004 editions, to be exact). Its biggest selling point is, of course, the fuel efficiency boost. With this intake kit, you'll get an extra 1-2MPG, or even more, depending on your driving style, the exhaust tubes, manifold, and other gear.
Another pro is the versatility: Rtunes Racing delivers its near-maximum performance right from the box. So, while a tuner might improve it a bit, there's absolutely no need for it (in contrast to many aftermarket intakes). A low-maintenance filter is also part of the deal. The only downside has to do with regulations: this unit is not available in the state of California.
Pros & Cons
Strong performance from the box: no tuning required
Designed to maximize Ranger's fuel economy
Features a low-maintenance filter design
Not on sale in California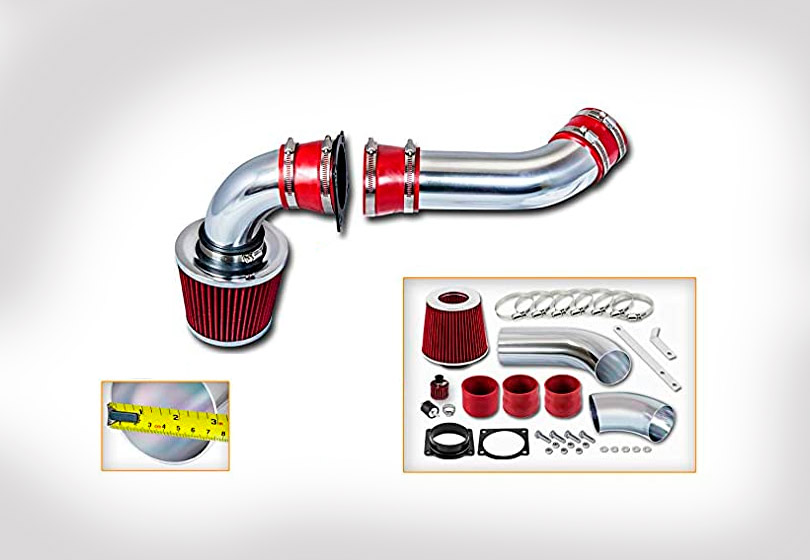 If you're not a big fan of the Ranger's MPG ratio, Rtunes Racing can help improve that. And, you won't have to buy any extra gear/accessories like a tuner to achieve that. The filter is decent as well and it lasts for a long time without maintenance. Sadly, this air kit is not legally available in California.
Do Cold Air Intake Systems Shorten Engine Life?
The short answer – no, they don't. In fact, air intakes are known to significantly increase the lifespan of the motor by preventing it from overheating. Besides, even if you buy the cheapest aftermarket intake available, it will still do a better job of keeping the engine "healthy". This is true for the intake tube that's responsible for boosting the airflow and the filter that keeps contaminants at bay.
You gotta always keep your eye on the intake kit, of course. If the pipes get all rusty and let air escape, that can lead to undesired consequences. The same is true for the filter: if it's of low quality, the individual layers will get clogged pretty soon, which will lead to a drop in efficiency. The filter won't be able to handle the dust, debris, and whatnot, which can (eventually) result in engine breakdown.
Furthermore, keep in mind that some custom-made and performance-oriented turbocharged engines do suffer from aftermarket filters because they let bigger particles through. Summing up, as long as you handle the installation properly, get everything connected, and perform regular maintenance checks, a new cold air intake system will NOT shorten the lifespan of a naturally-aspirated Ranger engine.
Is it Dangerous to Use a Cold Air Intake in the Winter?
There's a common misconception that intake kits are only required when it's really hot outside, and when it gets cold, they're not good. However, that's not true: this gear is equally reliable and effective 365 days a year. Yes, it will be more useful and efficient during the hot days when the engine needs that extra bit of cold air to function properly. But, again, you won't have to remove it during the winter.
No matter how cold it gets, your motor won't freeze over because of the air intake kit – that just doesn't happen. Some experts claim that since motors need more time to start/warm-up when it's cold outside, an air intake will cause more harm than good. But, no scientific facts are backing up these claims. The only thing that could be an issue is winter salt. It has a tendency of clogging the filter. Thankfully, that's nothing regular maintenance can't fix.
What's the Right Choice for me: a Short Ram or a Cold Air Intake?
These two terms are often used interchangeably, but in fact, short rams and CAI systems aren't the same thing. So, which gear should you get for the Ranger truck? Here are the facts: a short ram aims at lifting the restrictions of the factory system. You might already know that in many vehicles, the air in the intake manifold flows through a silencer + a resonator. They have only one goal: to keep the noise to a minimum.
On the downside, these units have a negative effect on overall performance and airflow. Now, an SRI removes both the silencer and the resonator from the chain, thus increasing the HP/torque output. Yet, it mostly gets air from the engine bay, which tends to be warm. A CAI, in contrast, feeds the motor with air from outside the engine bay (hence the name). Outside air is denser, cooler, and holds more oxygen – that means more power.
Therefore, a cold air intake system is a more preferable choice for pretty much any vehicle, driving style, or climate. With that said, on lower RPMs (below 3K), an SRI will perform slightly better. But, once you go over that mark, the CAI will "shine through" and do a better job of cooling the engine.
Do Cold Air Intakes really make a Difference?
When properly installed, an air intake system can, indeed, introduce significant changes to the powertrain. Even if you're not a pro racer or off-roading enthusiast, a premium-quality intake kit will deliver instant powertrain gains. And while most folks look at the horsepower and torque gains, I would recommend checking its effect on the fuel economy rating. Say, a decent-quality air intake can boost it by 2-4MPG.
In 12 months, that will save you 200-300 US dollars on fuel, which is quite a lot. Another thing to keep in mind is acceleration. For conquering the wilderness, you sometimes desperately need that push, that "oomph" to make it out of a muddy trail or a snowy path. Well, the improved throttle response will be of great help. You should also expect a nice boost in towing/hauling and uphill performance – more reasons to consider a CAI.
Going back to the powertrain, on average, air intakes give you an extra 10-20 HP and a bit more torque. The finest units ensure a bigger increase (up to 40HP/torque), but they usually cost more. So, to answer the question – do intakes make a difference – yes, they do. Of all the available upgrades for the engine/cooling system, a CAI is definitely one to consider, especially if you don't have a huge budget.
For drivers that want the Ranger and its motor to serve for many years (or even decades), a third-party air intake system is a must. It won't boost the "horses" by 100 or turn Ford's light truck into a Tesla, but the positive changes are too significant to ignore. Oh, and as a bonus, aftermarket intakes usually look pretty cool with those big, shiny tubes and protective housing.
How to install a Cold Air Intake on a Ford Ranger: Detailed Guide
There's nothing hard about this. In contrast to exhaust systems, control arms, and, say, tires that take lots of time and effort, air intakes are very easy to install. As long as you bought the right fit for your truck (learn more about that in the Buyer's Guide), it will just be a matter of following instructions. Here's my user-friendly, detailed guide on how to properly mount an aftermarket air intake on a Ford Ranger:
First, park the truck on an even surface, switch the engine off, and put a set of blockers so that the Ranger doesn't start rolling away while you're busy with the CAI. Next, arm yourself with a set of protective gloves. Eye goggles would also be great. Ok, now open the hood, and let's get to work. If you do everything right, you'll complete the installation in an hour max.
To remove the factory system, you gotta pop a pair of tabs in the back of the air box/housing. On the right side, it will be secured by ten-millimeter bolts. Undo those carefully and remove both the housing and the stock filter. But, before doing that, don't forget to unplug the intake and condenser sensors. Moving on to the tube, loosen the clamps on both ends. It shouldn't be hard to remove it after that.
With that done, grab the new airbox, carefully place it in the factory mounting spot, and bolt it down. Does your kit include a sensor? Then go ahead and put it into the new intake tube. Or, you can just use the stock one. Connect the filter to the tube and slide it into the housing. Once everything's aligned, secure the intake tube, and that's pretty much it!
Plug the sensors back, make sure everything's nice and tight, and close the hood. Start the engine, and take your brand-new CAI for a spin!
Can a Cold Air Intake Cause Problems?
As I said earlier when talking about potential damage to the engine, there's nothing to worry about. The very nature of air intakes is liberating, not restrictive. By improving the airflow and filtration, they ensure a longer life cycle not only for the engine but also the entire powertrain. That doesn't mean there are no issues with CAIs systems, though.
For example, have you heard the term "hydro locking"? It's commonly used to describe a situation when the system gets filled with water. In contrast to factory intakes, aftermarket units (the filters, to be precise) are often located rather close to the ground and are more likely to pull in water. That, in turn, can lead to catastrophic consequences and maybe even render the engine unusable.
Another big issue has to do with the intake tube. If it has a 90-degree bend, that might mess up the idle of the Ranger. The last thing you want is air being sucked into the motor, but that's exactly what happens in this situation. On top of that, the mass air sensor/meter tends to get the wrong readings and the onboard computer sets a miscalculated air-to-fuel mixture.
Earlier, we talked about short rams. Well, you won't have this problem with them, because no rams feature any kinds of bends.
Troubleshooting: How do I know if my Cold Air Intake is Faulty?
Intake kits don't last forever and do break down every now and then. How do you diagnose them, though, or, rather, what are the most common signs of a malfunctioning system? Yes, you could always ask a mechanic to run diagnostics, but that can cost quite a lot. So, here's a list of the "usual suspects" – common symptoms and side effects of a faulty air intake. The sooner you recognize these signs, the easier it will be to fix them. Check them out:
Poor engine performance. Do you feel like the Ranger's motor isn't performing like it used to? Chances are, it's the CAI's fault. This mostly refers to the filter, because the tube is usually brick-strong. So, check the filter to see whether it's clogged or dirty. If it is, that will result in poor fuel economy, weak acceleration, and an all-around drop in power. The best way to battle this is to perform regular checks.

The "Check Engine" light. True, this warning light comes up for dozens of reasons, but it can be associated with the intake system. Malfunctioning sensors, vacuum leaks, and loose bolts – that's what causes the light to come up. Don't postpone this: the second you see the Check Engine symbol on the dashboard, stop the truck, pop the hood, and give it a quick look. If you're lucky, the signs will be obvious. If not, visit a mechanic.

Misfires and noises. There's nothing more frustrating than a motor that doesn't want to start. The spark plugs, ignition coils, headers, and air intake kit are usually to blame for this. Don't rush yourself: take some time inspecting all four systems/parts. If the other three are doing fine, then it is the air intake's fault. As for the noises, they appear when the air/fuel ratio is all wrong. Again, the CAI is commonly responsible for that.
The Biggest Pros and Cons of Cold Air Intakes
Like any other gear, intake systems have a long list of pros and a couple of cons. Let's talk about these next to have a better understanding of what we can expect:
Well, the obvious pro of an upgraded CAI is, of course, an improved airflow. The better the flow, the more efficient the system will be at keeping the motor from overheating. As a positive side effect, you get a stronger, more aggressive output tone. The filter, in turn, keeps contaminants from causing harm to the motor. As a result, you get a double layer of protection, which saves you an expensive visit to the closest repair shop.
These two perks – more airflow and better filtering – are actually what made cold air intakes so popular. I already mentioned the potential gains in horsepower, torque, acceleration, and the MPG ratio. So, now it is time to check out the most significant cons. This might come as a surprise, but the #1 con is the price tag.
Air intake systems aren't unreasonably expensive, but they do cost a lot. And if you ask a mechanic to have it installed, that will cost you even more (like 70-80% of the gear's price or so). Another downside is the much louder sound output. As we'll learn soon from the guide, some brands do a great job of keeping the intake tone "civilized". But, this can still be a problem if you got the wrong kit and have to settle for it.
Buyer's Guide
Alright, with the FAQ section out of the way, it's time for us to talk about the key features, or, rather, characteristics of aftermarket air intake systems. How do you find a kit that fits your truck perfectly? How efficient should it be to justify the price? What about the build/material quality? Do you go for a subtle tone, or an aggressive, in-your-face growl? Join me, and let's find answers to those questions together!
#1: Perfect Fitment
Compatibility should always be your #1 concern. Unless the gear fits your truck perfectly, you'll have a hard time making it work. So, before discovering the intake system's efficiency, build quality, and everything else, take a close look at the specs. Don't worry: this isn't rocket science. All you gotta do is check whether the list of compatible vehicles includes the Ranger or not.
And by that, I mean your exact generation/model year. Some units only fit the latest-gen trucks, while others were built with older models in mind. Speaking of fitment, it would be best if the package included all the necessary installation hardware. First of all, this way, you'll know that they come from the manufacturer. Secondly, you won't have to pay extra to get all the bolts, nuts, clamps, and whatnot.
#2: Strong Performance
As I already mentioned, air intake systems are designed to improve the air filtration and flow in the engine bay (the manifold, to be exact). So, once you're 100% confident that the aftermarket intake kit is compatible with your truck, check the efficiency rating. Modern brands usually indicate this is %; for example, you'll see something like "35% more airflow compared to stock". And that's a pretty great achievement.
The ultimate airflow increase that you can get with a brand-new intake is 50%. That will ensure much stronger (and reliable) performance and secure the motor from breakdown/overheating. Next, we've got the filter that keeps contaminants – dust, debris, pollen – at bay. Again, you can learn about its efficiency in the specifications. I always go for a filter that guarantees 98-99% protection.
#3: Material Quality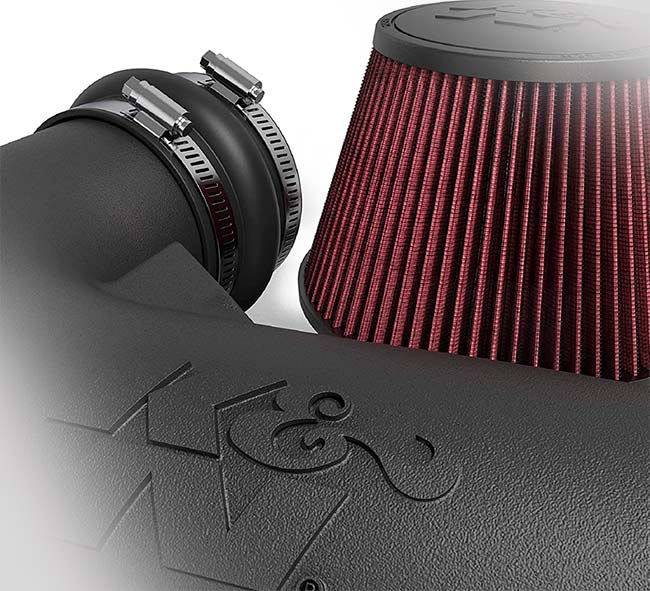 You've probably read somewhere about mandrel-bent tubes. Well, that's the best option on the table for air kits. The tubes do most of the work, so you need to make sure they're not restricted in any way. Now, stainless steel is a decent material for the "pipes", but I would recommend aluminum instead. It's more resistant to temperature extremes (especially heat) and is practically immune to corrosion.
A quick note: don't go for the cheap paper filters. They do a poor job of eliminating contaminants. Performance-oriented filters, in turn, are the right pick. Generally speaking, the more layers in the filter, the more effective it will be. Right now, five layers are the golden standard for air intake systems. Oh, and see that the filter is easily removable, washable, and reusable.
#4: Loud vs. Subtle
An air kit doesn't affect the engine's tone the same way as the manifold/header, exhaust tubes, or turbochargers. It will still have a big impact on the way the Ranger sounds, though. So, before making an order, think about what kind of a tone you'd like to hear. An increase in airflow will always result in a louder, more aggressive exhaust output/tone.
But, there are lots of air intakes that "dial down" the sound, making it more controlled and not as provoking. Again, it comes down to your own preferences and driving style. For off-roading, the louder the engine, the better. That's not the case with regular driving on highways and city streets, however.
#5: How Much for the Gear?
The average price tag on a premium-quality intake is $500. For that kind of money, you'll get superb filtering, a 45-50% boost in airflow, and a strong increase in HP, torque, and MPG. The package will also include top-notch hardware, instructions, and a generous warranty. Systems that cost 300-400 dollars are almost just as good, yet slightly less impressive in terms of the powertrain gains.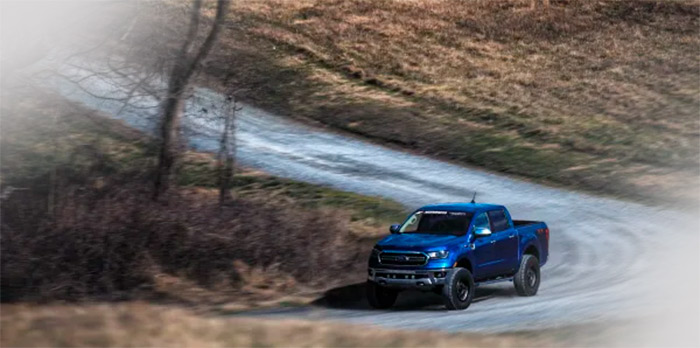 For most drivers, this price range is the "sweet spot". But if you're on a limited budget, consider an intake kit that costs 150-200 bucks. It probably won't feature a protective box/housing; still, the overall performance won't disappoint you. As for the cheapest units (<$100), they won't have any extras. Essentially, you'll just get a tube and maybe a filter with average efficiency.
Conclusion
And that concludes my review of the best third-party intake systems for the Ranger. We just checked out five top-of-the-line options from the likes of K&N, Mishimoto, Rtunes, and more. These air intakes have been on the market for quite some time and have proven their worth. So, if you were planning on updating the factory system, but couldn't find the right pick, now you've got a whole list!
Also, don't forget to check out the FAQ and Buyer's Guide! There, you'll master the art of getting the best bang for the buck. Plus, you'll learn about the biggest pros/cons, potential gains, how to install a CAI system on your own, and the best way to recognize the side effects of a failing system. Get your read on, and I will see you next time!