Aftermarket CAI systems, new exhaust pipes, and fancy headers – that's what most drivers go for in their quest for power. Now, while these upgrades are, indeed, worth the time and money, I want you to also think about investing in a tuner. AKA a programmer, this device does an amazing job of bringing all the individual gear/components together. On top of that, it can recalibrate the air-to-fuel ratio, tire pressure, and clear error codes.
If you pay a bit extra and get the Best Tuner for GMC Sierra, you'll get a strong line-up of monitoring features as well, along with factory-designed tunes for maximum gains in towing/acceleration/fuel economy. Sounds pretty cool, right? Well, how about you join me, and we take a quick look at five market-leading tuners for the legendary Sierra?
Best Tuner for GMC Sierra Review
1. DiabloSport – Best Tuner for 2017 GMC Sierra 1500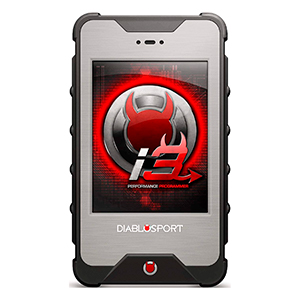 What is it that you're looking for in a programmer? Is it a compact size? Or maybe it's a durable design that can take a beating? And then you've got folks that put enhanced compatibility first. Well, you'll get all that with DiabloSport! Specifically designed with mobility and flexibility in mind, this device features a brick-strong body that protects it from sudden hits and drops. Plus, it is incredibly lightweight and fits in one's pocket.
As for compatibility, it works with a wide range of GMC-produced trucks, SUVs, and muscle cars, including, of course, Sierra 1500. The list of monitoring, calibrating, and tuning features is pretty decent and it takes less than a minute to scroll through the available modules. On the downside, this tuner is pretty expensive compared to the market average. So, only consider it if you're ready to commit big time and benefit in the long run.
Pros & Cons
Compact, lightweight, and mobile design
Market-leading build quality/durability
Fits a long list of GMC vehicles
A bit too expensive for some drivers

DiabloSport is easily one of the finest tuners for the Sierra 1500 truck. Thanks to the reinforced body and lightweight design, it's highly mobile and versatile. Extended compatibility, a solid feature set, and customization options make it an even better pick. The price tag is steep, though.
2. Superchips – Best Tuner for 2014 GMC Sierra 1500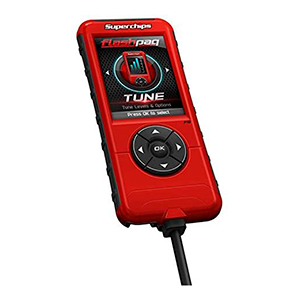 Next up, we've got Superchips with an all-around solid programmer for the 1999-2016 Sierra. One of its biggest selling points – it works both with diesel and gasoline engines. On top of that, this tuner comes packed with a wide range of factory tunes. You can quickly switch between them and maximize economy, towing/hauling, uphill performance, or, say, MPG, which adds to this unit's value.
The UI (user interface) also deserves our attention. It is really fast, straightforward, and only takes seconds to navigate through the factory options. On the downside, customer service leaves a lot to be desired. The support agents tend to take quite a while to respond. Furthermore, the refund policy isn't very client-friendly, and you might have to pay a percentage of the shipping fees.
Pros & Cons
Works both with gasoline and diesel GM engines
Lots of pre-engineered tunes to choose from
Fast, easy-to-navigate user interface

The advanced, intuitive user interface, impressive line-up of stock tunes, and full support of diesel engines (along with gasoline motors) turn Superchips into a must-have. Sadly, customer support isn't this company's strongest suit – it's somewhat slow and not very helpful.
3. Bully Dog – Best Performance Tuner for GMC Sierra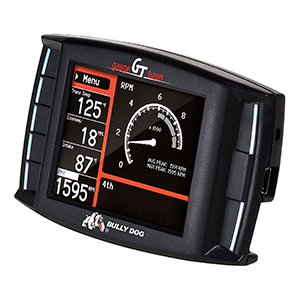 If you're not a big fan of smaller GMC tuners like the ones we just checked out, you might like what Bully Dog has to offer. The 40417 GT unit looks like a portable gaming console (like Steam Deck or Nintendo Switch) and features a bigger screen with swift access to the most important menus. Oh, and it can be easily mounted on the dashboard, the window, or on a pillar, as long as there's space in the cabin.
Speaking of that, this tuner arrives in a generous package. With it, you should expect to get a windshield mount, an adapter, SD card + reader, all the necessary cables, and instructions. So, does that mean Bully Dog is an ideal pick? Well, it would've been if not for the QA/QC problems. These include slow response times, issues with establishing a connection, and even damage to the AC. This happens very rarely, of course, but can still be an issue.
Pros & Cons
Features a large, LCD display (easily mountable)
An excellent choice for a towing/hauling truck
Generous package with many extra items

This tuner is a sure pick if you do lots of towing and hauling with your truck. And, it's got a nice LCD screen for effortless navigation. Unfortunately, Bully Dog's quality control isn't always great, and you might have some trouble with it. But, that's compensated by a package full of extras.
4. Innovative Performance Chip – Power Programmer for GMC Sierra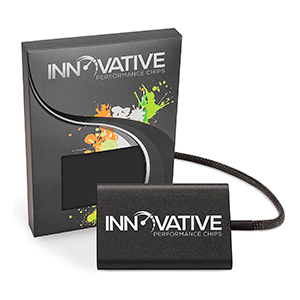 Alright, with the tuners out of the way, let's see what this chip by Innovative Performance is all about. First of all, it's incredibly cheap; you'll be able to afford it even if you're on a really tight budget. Secondly, it is covered by the company's lifetime warranty and an MBG (Money-Back Guarantee). So, if you receive a defective unit, a dented package, or have any other issues, don't hesitate to take advantage of the refund.
I also want to mention that this module is pretty impressive at improving fuel economy. Even if you get 2 extra MPG, that'll save you up to $200 a year (or even more, depending on your driving style). As for the cons, don't expect a big performance boost (towing capacity, uphill performance, or HP gains_. If that sounds ok to you, Innovative Performance might just be right up your alley.
Pros & Cons
Does a great job of maximizing fuel efficiency
Backed by a 100% MBG + lifetime warranty
The cheapest programmer on the list
Mediocre performance gains

What's the biggest selling point of this chip? The affordable price, of course. In addition, it was designed to increase the truck's fuel efficiency and is protected by a lifetime warranty and money-back guarantee. The overall performance increase isn't very impressive, but that's a minor con.
5. Jet 15008 Performance Programmer for GMC Sierra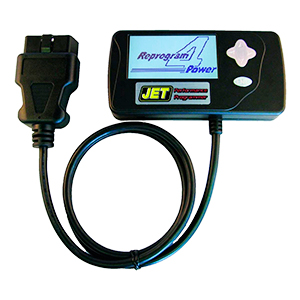 Finishing up, we've got Jet's 15008 unit to check out. Again, it's a relatively cheap device but one that is capable of boosting performance and taking Sierra to the next level. During my test drive, I was pleased by how much smoother and more controlled the truck was after a few quick calibrations. The feature set is pretty decent, too, and includes all the necessary modules to get you started.
Strangely enough, torque adjustment isn't a part of the picture. Going back to the pros, it will only take you 5-10 minutes to connect Jet to your vehicle's onboard computer and get to business. With three different performance tunes, a useful code scanner, and a (relatively) low price, 15008 is one of the finest options on the market right now. Oh, and this is a US-made product, by the way.
Pros & Cons
Makes the vehicle feel smoother and more controlled
Comes packed with a long list of settings/modules
Takes less than five minutes to install/connect
No torque adjustment options

Many drivers believe that programmers take a mechanical degree to use correctly. Well, that definitely doesn't apply to Jet, because it's very easy to install and fire up. It can't work with torque settings but does have an impressive list of modules. In addition, it improves Sierra's ride quality.
What is a Truck Programmer?
Also known as a tuner (yes, these terms are 100% interchangeable), it's a relatively small device used to manage, adjust, and optimize various systems on diesel and gasoline trucks. Originally, they were built for engine performance optimization, but these days, they can also work with the tires, the exhaust pipes, air intake kits, and more. If you're looking for specific tuning capabilities for your GMC Sierra, you might want to look into the best programmer for gmc sierra 1500, tailored to enhance the performance of that particular model. Programmers connect to the onboard computer and go beyond the firmware.
With the right tune (a specifically designed factory setting), you'll be able to achieve pretty impressive results: an MPG boost, HP/torque increase, or stronger throttle response. Some tuners take quite a long time to "work their magic" – keep that in mind. On the bright side, they're almost fully automated. All the user has to do is plug it into the right input (you'll find it right underneath the dashboard), select the appropriate command, and the device will do the rest.
Tuners vs. Chips: Pros and Cons
Before making a purchase, there's one very important thing to understand: tuners and chips are NOT the same. Tuners = programmers, while chips = modules. While they do, indeed, have similar goals/applications (to maximize performance, clear codes, and monitor the vehicle), they're still pretty different. Chips are much cheaper, but they have a rather limited set of features and settings.
A tuner, in contrast, usually includes a long list of settings that the driver can switch between with a push of a button. On top of that, chips/modules tend to be harder to install, as you will, most likely, have to plug them directly into the system instead of establishing a connection through a USB cable. This doesn't apply to all modern-day chips, but can still be a thing.
So, if you're on a low budget, but need the engine optimized, a chip might be a good deal. However, I would recommend saving a bit to get a proper tuner. Believe me: in the long run, it will be money well spent, and you won't have to worry about efficiency, compatibility, or anything else.
How do I Add Extra Power to my 1500 Sierra?
The quickest and cheapest way to maximize the power output of your Sierra truck is to buy a tuner with a strong focus on HP/torque gains. As mentioned, it takes zero effort to switch between various tunes, but there aren't any "one-man-band" types of tunes out there. That is exactly why it's important to find a device that specializes in improving horsepower and torque. If you do, that will guarantee a 50-60HP/torque boost.
After that, it's just a matter of selecting the right tune, letting the programmer load it up, and waiting for the system to re-calibrate. And if you want to take it a step further, consider investing in extra gear. I already talked about the most common upgrades among truck owners – cold air intakes, exhaust systems, and headers. Well, these have proven to be great at adding extra power and providing a noticeable boost to the vehicle.
Can Performance Chips Ruin my Engine?
The short answer: no, they won't, but only if they're designed, manufactured, and tested by a known and respected brand. The thing is – while tuners are considered external devices, chips are more "internal", meaning they slide right into the electronic system of the Sierra truck. So, yes, there is a chance that the chip (or module) will have a negative effect on overall performance and even cause damage to the motor.
Therefore, be very careful, thorough, and don't ever buy cheap stuff from someone on eBay. The only chips that you should consider buying are the ones made in the States that meet local safety standards. Modules that are built outside of the country shouldn't even be on the menu. And one more thing: don't play around with the system once the chip is installed. You have to be a pro to make sense of it all and not ruin the truck while you're at it.
Buyer's Guide
Do you know how to choose between dozens of different tuners? Can you set a premium-quality unit apart from a waste of money? If the answer is yes, you can skip this guide! And if you're a bit hesitant, join me, and let's talk about the key factors to look for in an aftermarket programmer. We'll go over the most essential features, efficiency, ease of use, pricing, and more.
#1: Easy To Connect/Use
Remember: there are no universally-compatible tuners out there: they all fit a rather narrow list of cars. Besides, you won't be able to find a programmer that works with every single generation of the same truck. Why is that, anyway? Well, this approach allows engineers to achieve maximum efficiency with specific vehicles. So, before making an order, make sure that the unit is 100% compatible with your Sierra (the make, model, year, and even engine).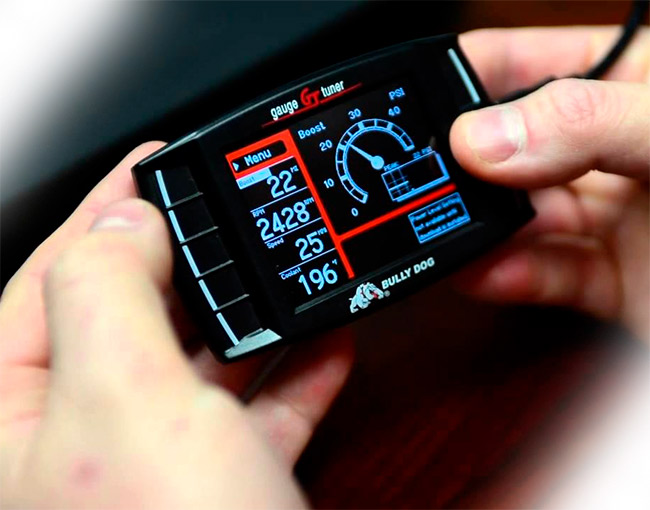 The specs will help you with that. Next, see that there's no wire splicing, panel removal, or time-consuming adjustment involved. The best tuners only take five minutes to connect to the ECM (engine control module) and deliver results. Last, but not least, it should be internet updatable. That way, it will be much easier to get all the latest fixes and tunes without having to plug the device into a computer.
#2: The Feature/Module Set
Is a tuner as good as its feature set, or is that a myth? Well, there is a lot of truth to that. As I mentioned briefly in the intro, a decent-quality tuner is a Jack of all trades. It allows you to monitor various parameters/systems in the vehicle and fixes minor issues, preventing them from growing into something bigger. Next, we've got the calibration modules. They can be used for setting the perfect air-to-fuel ratio, compressing the tires, or, say, disabling the factory limiter.
Code clearing is also a part of the deal. And if the programmer comes with built-in, pre-set tunes, it will be more efficient. Here's the thing: factory-calibrated tunes are focused on solving different tasks and prevail at providing an MPG boost, towing might increase, or HP gains, among other things. So, yes, you'll have to choose between various tunes, as you can't have them all working simultaneously.
#3: Real-World Efficiency
No matter how easy it is to use the programmer, and how many tunes, calibration settings, and monitoring options it has, if the efficiency is low, it's not even worth your attention. How do you figure this one out, though? Companies always claim their product is the best fit for your truck. The answer is simple: customer feedback. Reading unbiased reviews is the most effective way of figuring out whether the tuner is worth your attention, or not.
You can, of course, choose one of the five units from today's list, and call it a day. However, if you prefer to do your own picking, trusting the specs isn't always a good idea (unless the company has a stellar reputation). If the tuner is designed with fuel efficiency in mind, it should at least improve it by 2 MPG. A towing-oriented programmer, in turn, must make the truck run smoother and struggle less for you to consider it.
#4: Pricing, Packaging, Warranties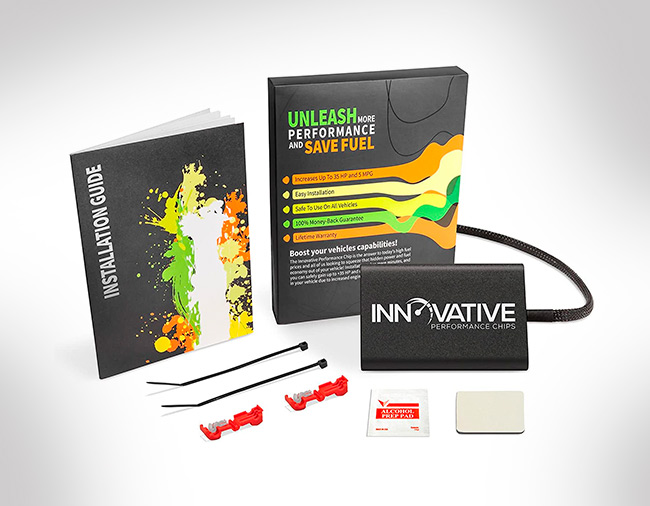 In the FAQ, we learned all the ins, outs, and differences between tuners and chips, including the price. Yet, we didn't talk specifics. So, here they are: a decent-quality chip can be yours for less than $100 (starting at 70-80 US dollars). An entry-level tuner, in turn, will be available for $250-350, give or take. For $350-450, you'll get extra features, more factory presets, and a compact, durable body/design.
The package will also greatly affect the price. See that it includes an SD card, an SD reader, a USB cable + a power cable, an adapter, and a windshield mount. A warranty might also be a part of the picture. If you're lucky, you'll get a lifetime guarantee, a refund policy (like an MBG), and charge-free return shipping.
Conclusion
Tuners/programmers are among the least risky investments for a modern-day driver. If you own a big, powerful truck like GMC Sierra and have lots of upgrades installed, this unit will be an even better purchase. As we already learned from the FAQ section and the Buyer's Guide, when picked correctly, a tuner can introduce lots of positive improvements to performance, mileage, and stability.
If you're in the market for a cheap solution, go with Innovative Performance. DiabloSport, in turn, is the most expensive option on today's list, but it's also quite powerful. Jet boasts fast, straightforward installation, while Bully dog comes packed with lots of extras. Finally, with Superchips, you'll get a fast UI and diesel/gasoline support. Take your time with the reviews, and share your pick in the comments!