Just like exhaust pipes, headers, and radiators, cold intakes have one very important job: to keep the motor from overheating. Now, the exhaust does that by eliminating the toxic fumes, while the rad cools down the antifreeze. Air intake kits, in turn, boost the airflow and make sure the temperature is always within operational levels. With the Best Cold Air Intake for Ford F150, you'll also get a more aggressive, in-your-face engine tone.
That's not it for the pros yet! A premium intake (with a decent-quality filter and tube) can also boost the powertrain (HP, torque, MPG, and acceleration) and protect the motor from contaminants. Yes, the list of benefits is pretty impressive. And in this post, we'll go over the most reliable, efficient, and user-friendly intakes on the market. Let's get to it!
Best Cold Air Intake for Ford F150 Review
1. K&N 57-2583 – Best cold air intake for 2011 ford f150 3.5L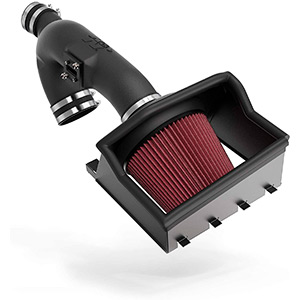 You can't go wrong with K&N. It's one of the biggest aftermarket air intake manufacturers out there and has a very good reputation. As for the 57-2583 kit, it's a great example of the company's high standards of quality. With it, you'll see a guaranteed powertrain improvement. I'm talking about extra horsepower and torque. The throttle response will also get a boost, resulting in quicker, stronger acceleration.
There is one downside, though, and it has to do with the hose clamps: they're a bit too large for the F150 and might not fit. On the bright side, K&N covers its air intake kit with a generous 10-year/million-mile warranty – don't hesitate to take advantage of it if need be. This kit is a 100% US-designed and made product, by the way, which is another big pro for most American drivers.
Pros & Cons
Decent boost in HP/torque and acceleration
Manufactured and tested in the States
Protected by a generous warranty
The hose clamps are a bit too big

F150 drivers looking for a top-quality intake kit should pay extra attention to K&N. Built in the States and backed by a market-leading warranty, it provides an impressive performance boost, making the truck feel stronger on and off the road. The hose clamp will probably not fit, though.
2. aFe Power 54-12192 – Best cold air intake for ford f150 Ecoboost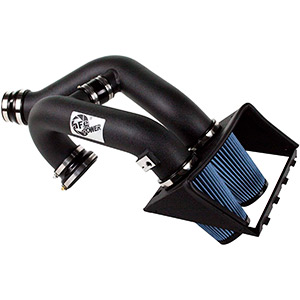 aFe is another large-scale company that focuses on premium-quality intake systems. And with the Magnum FORCE kit, you won't have to worry about engine overheating, because it dramatically improves the airflow and filtration. The dual-pipe design with an H-pipe boosts not only the flow but also the velocity of the air, resulting in a steady, all-around solid performance in the most challenging situations.
The filter deserves our attention as well. It's a five-layer, progressively oiled, and 100% washable unit that keeps all the dust, pollen, and debris at bay. Last, but not least, aFe is street-legal in every single state (which can't be said about most intake kits). The only con has to do with the price: this product is significantly pricier than the competition. But, in the long run, it will be well worth the investment.
Pros & Cons
Impressive airflow thanks to clever pipe design
Features a five-layer, washable filter
50-state legal (including California)
Pricy, compared to the market average

Despite the steep price tag, the Magnum FORCE air intake system is a bargain. It does an incredible job of maximizing the airflow, keeping the motor nice and cool. The five-layer filter, in turn, prevents contaminants from clogging up the engine. Plus, this kit is 100% legal across the country.
3. Spectre Performance SPE-9034 – Best cold air intake for 2019 ford f150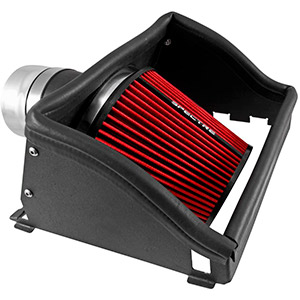 This right here is the least expensive cold air intake on the list, and that is its biggest selling point. You will be able to afford it even if you've got a very limited budget. But wait – is this kit on par with the competition, or not? The answer is yes, it's quite a decent product. SPE-9034 ensures better towing and uphill performance. This is great news for the fans of off-roading and folks that do hauling for a living.
Extended compatibility is another pro. Specter features a flexible design that fits a number of Ford trucks and SUVs. And what about the downsides, you might ask? There is one, but it's nothing major: SPE is designed, crafted, and tested in China. However, the build quality and real-world performance don't only meet but also exceed most US standards.
Pros & Cons
Improves up-hill performance and towing/hauling
Compatible with a wide range of Ford vehicles
One of the cheapest aftermarket intake kits
Designed and built in China

Spectre offers a great bang for the buck. It's available at a very attractive price and delivers solid performance, boosting the airflow, towing, and acceleration. And, while it's not a US-made product, it fits a long list of nameplates and helps increase the engine's lifespan.
4. Roush 422089 – Best cold air intake for 2018 ford f 150 3.5 Ecoboost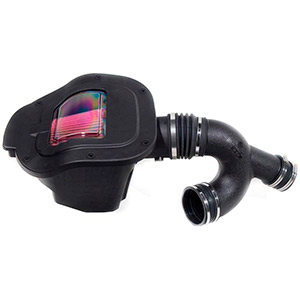 Air intake systems aren't at all complicated: they're specifically designed to be easy to install. With that said, if you're still not sure you can replace the factory system manually, put Roush on the list. This kit was engineered using OEM CAD data, which ensures ideal fitment. It's only compatible with a limited number of F150 trucks, though, but that's a minor con.
Besides, the package includes all the necessary hardware. A detailed user guide is also a part of the deal. What I really like about this unit is that you won't have to tune it. This is true for most intakes, but, sometimes, to squeeze out all the "juices", you'll have to buy a programmer/calibrator. Well, that's not the case here.
Pros & Cons
Delivers maximum performance with no calibration
Crafted using OEM CAD data for perfect fitment
Installation hardware and instructions included

The best way to describe Roush is "user-friendly". The package includes all the necessary bolts and nuts plus a helpful, detailed manual. The installation process is very simple, too, thanks to precise engineering. And you won't have to do any tuning for this intake to work properly.
5. AEM 21-8129DC – Best cold air intake for 2015 ford f150 5.0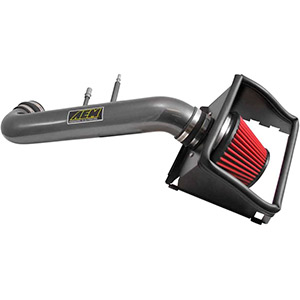 As we'll learn soon from the FAQ section, cold air intakes can have a rather big impact on how the engine sounds. By maximizing the airflow, they change the tone, make it aggressive, and more in your face. Now, with AEM, the motor will not only get loud but obtain a growling touch. This is achieved thanks to the low-restriction aluminum tube that replaces the factory system.
It lifts all the limitations and delivers a believable, satisfying tone. Next, the included weather stripping is great at keeping the cold air from escaping and the hot air from soaking in. The installation process is mostly straightforward; yet, it might take longer than you expect. The reason: the kit doesn't arrive assembled, and the user manual isn't very clear.
View on Summit Racing Equipment
Pros & Cons
Weather stripping for keeping the cold air inside
Low-restriction, mandrel-bent aluminum tube
Adds a satisfying roar to the engine's growl
The installation can take a while

The mandrel-bent aluminum tube, decent-quality filter, and weather stripping/housing turn the AEM air intake system into a must-have. Another big reason to consider buying it is the strong, roaring tone that it brings into the picture. Do prepare yourself for a long installation, however.
Do Cold Air Intakes really make a Difference?
Let's go over the facts. While you shouldn't expect any ground-breaking improvements in terms of performance, you'll still get an all-around decent boost. On average, an aftermarket intake adds an extra 25-35HP and torque. Depending on the manufacturer, you can also expect gains in the MPG ratio – up to 2-3 extra miles per gallon. In the long run (like in a year), that will save you $150-300.
Up-hill performance, towing, and throttle response/acceleration will see an improvement as well. Again, these won't be any dramatic changes, but still good enough to pay for. And let's not forget that the #1 job of any cold air intake system is to improve the airflow to keep the engine cool. Numerous tests have proven that air kits significantly increase the life cycle of the motor.
Another big pro is the filter that protects the combustion chamber from dust, debris, tiny rocks, and whatnot. As a result, the filter ensures a longer lifespan for the entire powertrain. So, summing up, air intake kits do, indeed, make a difference and are well worth the investment.
Does a Cold Air Intake make your Car Louder?
The answer is yes, they most certainly do. This has to do with physics: air intakes notably increase the airflow, which, in turn, boosts the "volume level". Besides, cold air is denser than hot air and holds more oxygen, which is a good thing. On top of that, third-party intakes are more exposed and sit right on top of everything, instead of being hidden away like the factory system. Now, I'm happy to say that an aftermarket intake won't just make a loud noise.
Instead, you'll get a satisfying, aggressive tone that helps the F150 sound like a bigger, stronger truck. There are all kinds of different options on the market, of course. So, if you don't necessarily like that roaring sound characteristic, it shouldn't be hard to find an intake kit with a more controlled sound. Make sure that the dampening isn't at the expense of performance, though (yes, that can happen).
Do you have to Tune your Car after Installing Cold Air Intake?
Let me start by saying that programmers/tuners are almost always worth the investment, even if you're just a regular truck driver. For the F150, they can do a lot of good, including troubleshooting, error code cleaning, and calibration. The main purpose of such a device is to bring all the separate systems together and maximize their performance. So, every time you replace the stock gear with an aftermarket alternative, a tuner will come in handy.
At the same time, you absolutely do NOT have to tune your new air intake. The vast majority of intake kits (including the ones on the list) work just fine without any programming. True, some expensive units that were specifically designed for racing or extreme towing might require calibration to run properly. But, again, that's not the case with consumer-level kits like K&N, aFe, and such.
Buyer's Guide
Cold air intakes come in all shapes and sizes, while the main concept is always the same. In this guide, we'll talk about efficiency, filtration, sound quality, engineering + materials, installation, and, of course, pricing. I broke everything down into five sections so that it's easier to make sense of everything. It will only take you three minutes to read through it, but you'll become a pro at picking intake systems for the F150!
#1: Efficiency, Airflow, and Filtration
This is important: the F150 already has a built-in air intake system. So, the only reason to buy an aftermarket replacement (apart from the fact that the stock gear broke down) is to improve the airflow. Therefore, check this first before moving on to the next aspects. A decent-quality intake will boost the airflow by 25-30%; a premium-quality kit can be up to 50% more efficient, which is a great result.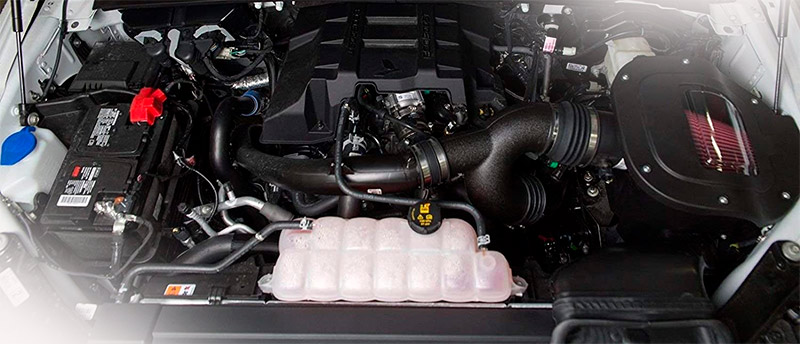 Next, we've got the filter. Again, it needs to be more effective at "beating" contaminants than whatever the F150 truck is working with. Most Ford vehicles feature average-at-best paper filters. So, as long as the new kit has a high-flow, high-performance unit, it will be able to keep 98-99% of the contaminants at bay.
#2: The Tone: Loud or Controlled?
Third-party cold intakes are much louder than restrictive factory systems. We already talked about that in the FAQ. And for a rough-tough, off-road-friendly truck like the F150, that's a good thing. But, no two intakes are the same. They all have their own, unique tones. Some are more pronounced and aggressive. Others have extra roaring but aren't much louder than the stock gear. It all comes down to what you're looking for, actually.
#3: Engineering and Material Quality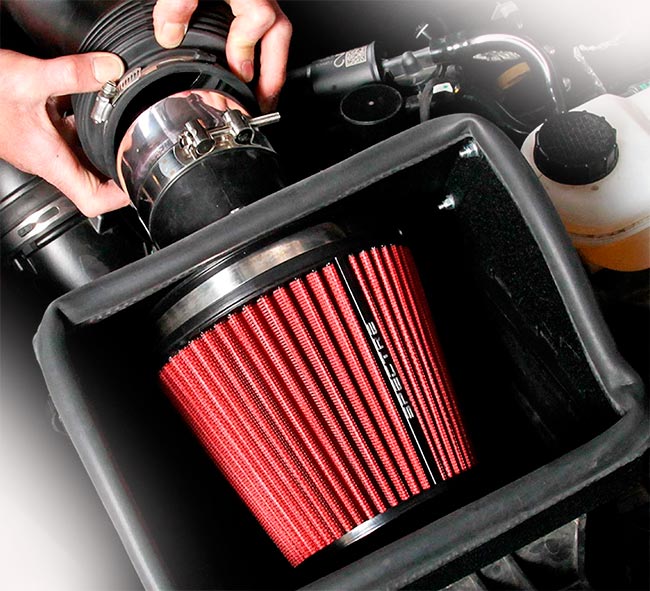 An intake kit is as good (or bad) as its build and material quality. As I just said, high-performance filters are the best offer on the market. Look for a filter with multiple layers crafted from cotton gauze. This material has proven to be incredibly reliable and efficient against contaminants. The tube, in turn, needs to feature an aerodynamic, mandrel-bent design for the best results.
The biggest downside of stock intakes is the restrictive tubing – that's why this part is so important. Now, like with most automobile gear, stainless steel and aluminum are the best options. You can go with plastic, but I strongly recommend against it, because this material isn't at all heat-resistant or durable.
#4: Easy Fitment for the F150
Finding the right fit for your truck is a very easy talk – just check the specifications! If you see the name, make, model, and trim level there – say, a 2011 F150 with the 3.5-lit V6 – that means compatibility won't be an issue. It would be best if the package includes the hardware and a friendly user guide, of course.
#5: Pricing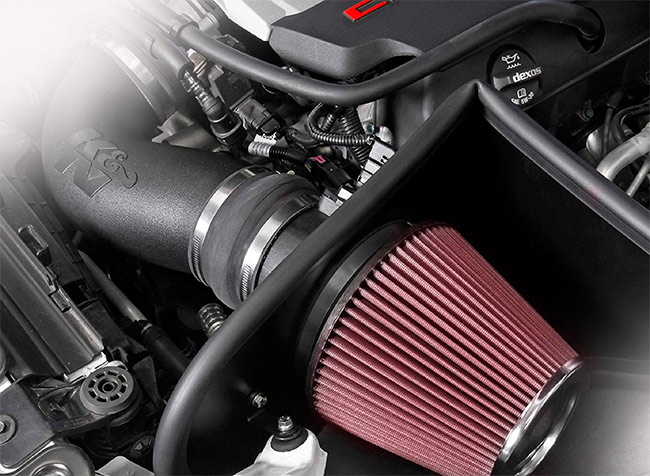 How much will you have to pay for a new air intake kit? This depends on many things, including everything that we just discussed. On top of that, I want you to be very careful when scrolling through the available options, because if it says "intake system" in the specs, and not "air intake kit", chances are, it doesn't include a filter.
At the same time, a solid-quality kit with a tube, filter, and protective housing won't cost you much. An entry-level price for such a package will be in the $150-200 range. Moving up the "price ladder", you'll see cold air intake kits for 300, 400, and 500 dollars. These products will be protected by warranties, crafted from premium materials, and provide a strong performance boost./p>
Conclusion
For the F150, an aftermarket cold air intake kit can do so much more than just improve the airflow. A stronger throttle response, better fuel economy, and gains in HP and torque make it one of the finest upgrades for any truck driver. The installation process, in turn, is very straightforward and doesn't take the whole day. If you do lots of off-roading, towing, or racing, a cold intake is a must.
Without it, you'll constantly run the risk of overheating the motor, no matter how great the exhaust and cooling systems are. So, even if you can't afford an intake kit right now, do put one on the list of must-haves. The top-five units from today's list will be worth every single penny and serve for many years. Take your pick!