Best Tuners and Programmers for 3.0, 6.0, 6.4, 6.7, 7.3L Powerstroke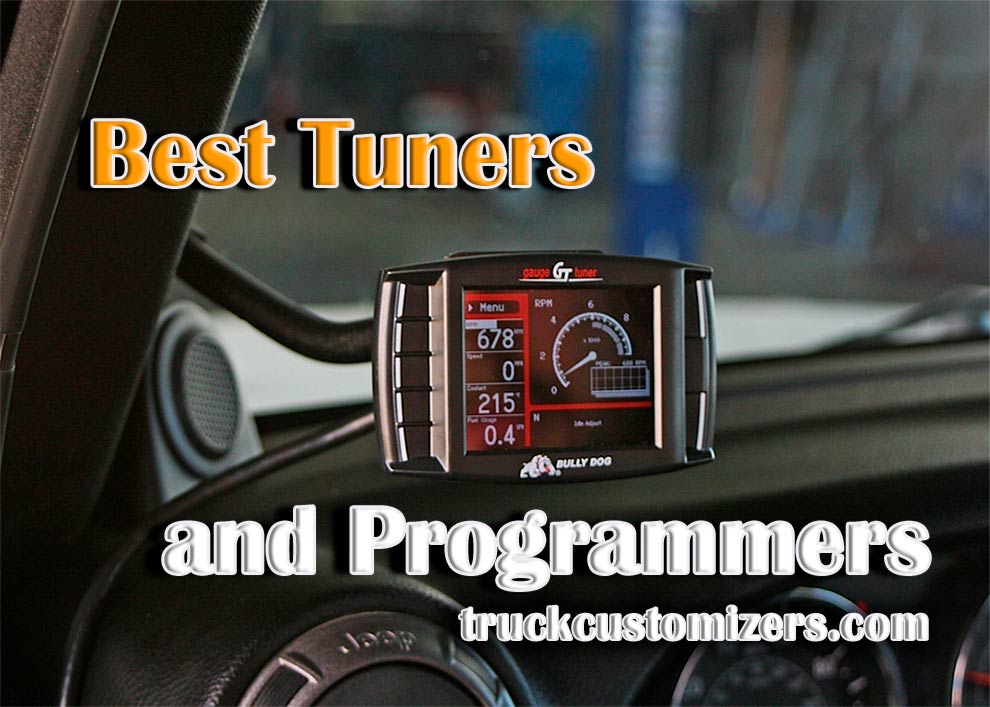 If you're not ready to invest in an aftermarket air intake system, exhaust tubes, or, say, headers, but still want to maximize the performance of a Powerstroke engine, a tuner might be exactly what you need. AKA programmers, these devices are specifically engineered to help the motor reach its full potential. You'll get an all-around powertrain boost, including an HP/torque increase, improvements in acceleration, and MPG.
That's right: today, our focus will be on the Best Tuners and Programmers for 3.0, 6.0, 6.4, 6.7, 7.3L Powerstroke engines. They come from different brands and have different pros and cons. So, let's get right to it and see which tuner is best for your vehicle. Overall, we've got five units to check out. Next, we'll talk about actual gains, warranties, key features, and more. Stay tuned!
Best Tuners and Programmers for 3.0, 6.0, 6.4, 6.7, 7.3L Powerstroke Review
1. Bully Dog 40420 – Best Tuner for 2003 Powerstroke 6.0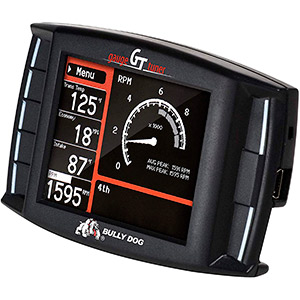 If this is your first time buying a programmer for your Ford truck, you might want to pay extra attention to Bully Dog. The reason: it's got a fast, intuitive, and user-friendly interface. You won't have to wait forever for the tuner to get things done. On top of that, it features a long list of monitoring features (more than a dozen) that help keep track of all the vital systems in your vehicle and prevent premature failure.
The package also deserves our attention. Along with the tuner, you'll get all the necessary cables, an SD card + reader, an adapter plug, and even a windshield, among other things. On the downside, the price for the Bully Dog kit is a bit above the average. Still, it's definitely among the best tuners for 6.0 Powerstroke. So, if you're ready to pay extra for a premium product, this could be it.
Pros & Cons
Excellent monitoring features (15+ parameters)
User-friendly, quick-to-respond interface
Generous package with lots of extras
The most expensive tuner on the list

Bully Dog is one of the most feature-packed tuners for the Powerstroke. It's got an outstanding set of monitoring options and boasts a lightning-fast, easy-to-operate interface. Add a rich package with all the right add-ons, and you'll see why this device deserves a spot on the list.
2. DiabloSport 8145 – Best Programmer for 6.4 Ford Powerstroke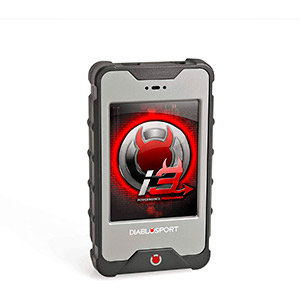 Next up, we've got DiabloSport with a premium-quality tuner. It features a very compact, miniature design, and that's one of its biggest pros. It easily fits in the glove box or even one of your pockets. At the same time, thanks to advanced engineering and high-quality, sturdy materials, this device is quite durable and can survive a drop on the floor. On the performance side of things, the 8145 programmer is also quite alright.
In fact, it provides a very impressive horsepower and torque boost for this engine, which puts it in the same category as the best programmers and tuners for 6.4 Powerstroke. So, if one of the main reasons for you to invest in a tuner is to see big gains, DiabloSport is a must-have. Do keep in mind, however, that it's only compatible with a limited line-up of vehicles.
Pros & Cons
Crafted from sturdy, durable materials
Miniature design: can fit in your pocket
Delivers a strong HP/torque boost
Somewhat limited compatibility

In many ways, this is the finest tuner for a Ford vehicle, because it's small, easy to carry around, and can take a beating. More importantly, with this unit, you can expect a noticeable improvement in HP and torque. Just make sure it's a fit before making a purchase!
3. Edge Products 16040 – Best Programmer for 6.7 Powerstroke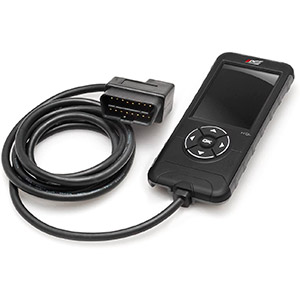 Some tuners aim at maximizing performance. Others focus on providing the driver with a wide range of features and options. With Edge Products, you won't get a very impressive HP/torque boost, and that's its biggest downside. Fortunately, the pros strongly outweigh this one con. First of all, it's pretty great at improving the engine's fuel efficiency: you'll get an extra 2-3MPG – quite an excellent result.
Besides, with the 16040 programmer, you'll instantly feel that the vehicle shifts through gears smoother. I also want to mention the company's customer support agents. They don't take forever to respond and are quite helpful in solving any potential issues (missing parts, slow shipment – that kind of stuff). Overall, Edge Products is easily one of the best tuners for 6.7 Powerstroke.
Pros & Cons
Makes the vehicle run and shift much smoother
Does a great job of maximizing the MPG ratio

Fuel economy isn't the strongest suit of the 6.7-lit Powerstroke. But, with the Edge tuner, you'll be able to significantly improve that. Plus, you'll get to enjoy a smooth, even performance from the truck and customer-oriented support. Don't expect any huge HP gains, though.
4. Tuner SCT X4 7015 – Best Performance Programmer for Ford 6.0L Diesel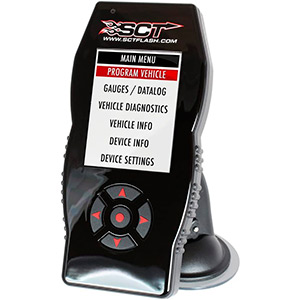 One of the first things that will grab your attention in the SCT tuner is gonna be the LCD display. The high-definition screen makes it very easy to read all the commands and navigate through the menus and options. And if you want to download the latest updates or install new tunes, you can do that through the included Wi-Fi feature. X4 holds up to ten custom tunes, by the way – keep that in mind.
And all these pros are available at a very affordable price. This tuner is slightly cheaper than the industry average, which makes it an attractive deal for the average Ford owner. I do have to also say that while the display is HD and the Wi-Fi is fast, the software/interface isn't very quick to respond. Sometimes, it takes a second to switch between different options, and that can be a bit frustrating.
Pros & Cons
High-definition, easy-to-read LCD display
Built-in Wi-Fi support for fast, easy updates
A good choice if you're on a tight budget
Not the fastest tuner out there

Despite the somewhat sluggish UI (user interface), Tuner's SCT programmer is a safe bet. You can get it for a very reasonable price and enjoy a high-definition, premium-quality display, and fully integrated Wi-Fi support. If that sounds like a decent deal, X4 might be the best bang for your buck.
5. SUPERCHIPS FLASHCAL F5 – Best Tuner for Ford 7.3 Powerstroke Diesel Engine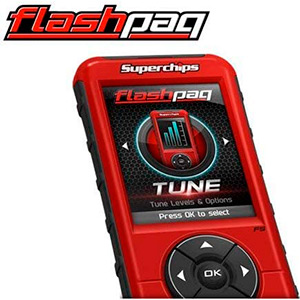 Some experts claim that a tuner is as good as the pre-loaded tunes, and there's a lot of truth to that. Well, with Superchips, you'll get quite a generous pack of pre-set, factory tunes. You can quickly switch between them and pick the one that suits your driving style best. The list of available options is quite large as well. Flashcal F5 has several correction and calibration features and easily clears error codes.
Enhanced compatibility is another big reason to consider this programmer over the competition. It works with the 1999-2019 diesel and gasoline Ford motors, including, of course, the 7.3-lit Powerstroke – one of the most popular Blue Oval engines. Sadly, quality control and assurance aren't Southwest Speed's strongest sides. Some buyers (a small percentage) complain about dented packages, issues with the tuner, etc.
Pros & Cons
Comes packed with a long list of pre-set tunes
Lots of calibration, correction, and clearing features
Compatible with a wide range of Ford vehicles
Minor issues with quality assurance

The wide range of pre-loaded tunes, as well as the calibration and correction features, put Superchips on top of the best tuners for 7.3 Powerstroke list. QC/QA can be a problem, but that's compensated by F5's extended compatibility: it fits dozens of Ford vehicles and engines.
How much HP will my Tuned 6.0 Powerstroke have?
In contrast to the 6.4-lit Powerstroke, the 6.0-lit version isn't very impressive in terms of the powertrain. It replaced the 7.3-lit motor in 2003 and can put out 325 horsepower and 570 lb.-ft. of torque. But, despite some issues with the CPS, oil cooler, and the EGR system, it's still a decent engine. More importantly, it will greatly benefit from a tuner that can re-calibrate everything and boost the maximum HP.
So, how big of a boost can you expect? Here are the facts: on average, solid-quality programmers can provide "extra" 50-60 HP and 40-50 pound-feet of torque. And if you take some time and find a tuner that was specifically designed for powertrain gains, it's very well possible to increase the 6.0-lit motor's performance by up to 80 HP and 60-70 torque, which will have an immediate effect on how the vehicle behaves on the road.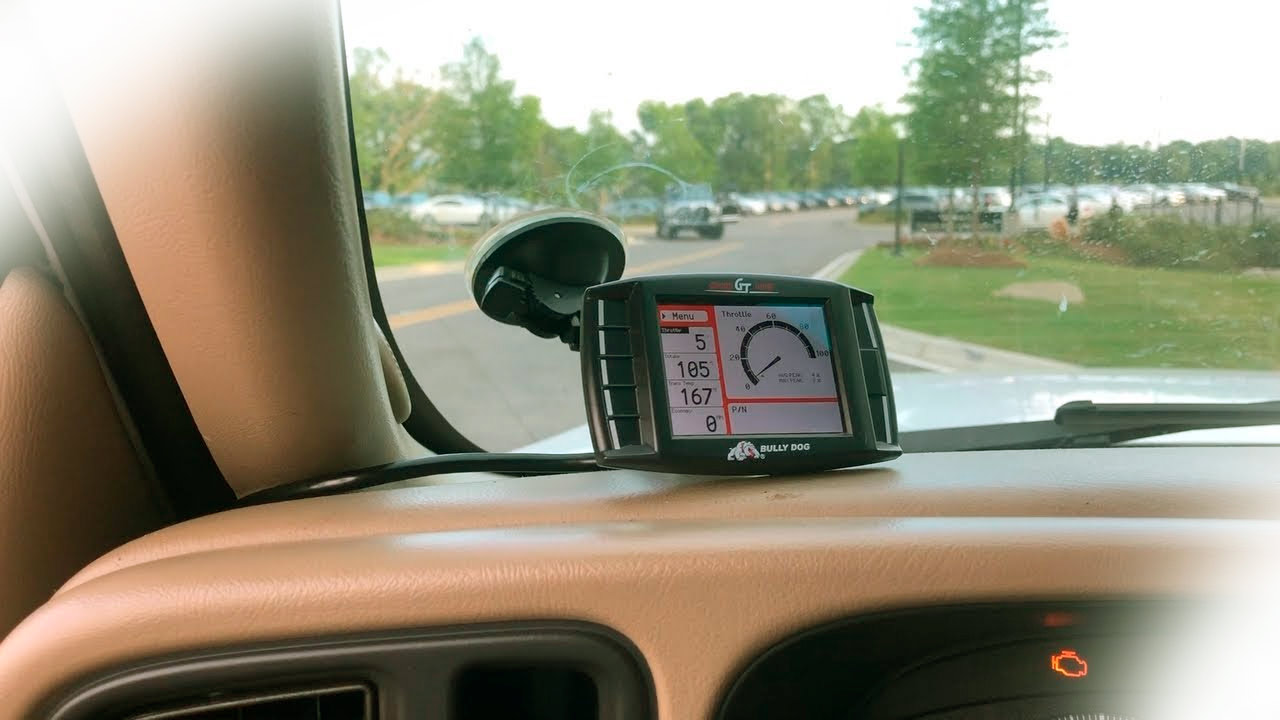 That's roughly a 25% boost! This way, the 6.0 engine will top the 7.3 and 6.4 units. And if you want to take this to another level, consider investing in an aftermarket exhaust system and air intake kit. Together, these upgrades will ensure an even bigger improvement (and not only in HP/torque, but also fuel economy, towing, and acceleration).
Got some extra money? A brand-new fuel regular, head studs, + a set of injectors with a larger-than-average turbocharger can also help this somewhat slow motor reach its full potential. If you do everything right, you'll be able to squeeze out 500HP from the 6.0-lit Powerstroke. When installing so much aftermarket gear, the role of a tuner becomes even more critical. It serves as "glue" that brings all these separate systems together.
Will The Performance Boost be Noticeable Or Subtle?
The short answer – it will be significant enough to justify the cost of a tuner. Along with turbochargers, air intake systems, and brand-new exhaust tubes, tuners deliver the biggest performance boost. This depends on the actual vehicle as well, of course. Say, if you're driving a really old F150 truck (like one from the 70s), you'll have a hard time connecting the tuner (because that truck probably doesn't have a proper onboard computer).
Furthermore, even if you do establish a connection, the general rule here is – the older the vehicle, the less of a difference the programmer will be able to make. On the bright side – owners of current-gen trucks and SUVs will be impressed by the positive changes after they run full diagnostics, re-calibration, and launch powertrain-specific tunes that maximize the motor's efficiency.
A quick note: for the most part, if you don't know the truck like the back of your hand, you probably won't immediately feel the performance gains. That is unless you followed my advice with the upgrades and managed to get at least +60-70HP. Statistically, most drivers start to appreciate the improvements after at least a couple of days. The same is true for fuel efficiency, by the way (we'll talk more about that in a moment).
Do Aftermarket Tuners Have Any Assurance/Warranty?
Do third-party tuners come with an assurance – a guarantee that they will work? This is a very popular question online, and to answer that, let's dig a bit deeper. First of all, no manufacturer provides 100% guarantees that you'll get a specific boost in performance, because that's very hard to do. It all depends on the engine, transmission, intake system, exhaust pipes, and even the suspension and the tires.
With that said, if you get the right tuner for your truck (one that fits it perfectly), you will, most certainly, see improvements. It might not be an all-consuming boost, but the tuner won't be a waste of money, that's for sure. I still want you to look for a programmer that's backed by a warranty. This could take some time, though, because not all brands back their devices with any sort of warranties.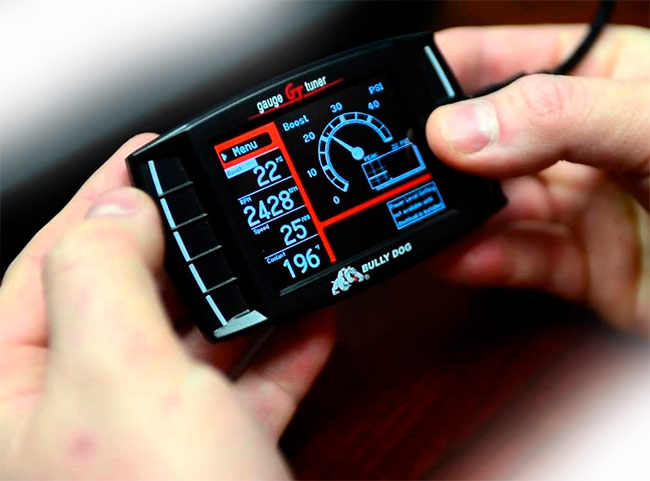 The best deal would be a two-year satisfaction guarantee or a 30-day replacement/refund policy. Pay attention to customer support as well. Check the reviews for that: if the agents are slow to respond and not very client-oriented, I'd think twice before ordering that tuner. As we'll learn soon, the installation process is usually straightforward, but it tends to be a bit tricky for the average Ford driver.
Downloading the latest updates, getting custom tunes, and connecting the programmer to different vehicles can, indeed, be a bit daunting. If customer support is too slow, go to the official website for instructions. It shouldn't be hard to find a user manual for your specific engine. Or, better yet, check out my detailed guides on how to get a tuner connected properly and start using it even if you're an amateur.
Tips for Picking the Right Tuner for your Truck
While at the core, most programmers are essentially the same, you still gotta consider some factors. The features set, ease of navigation, display, and even engineering – it all matters very much. That's exactly what we're going to talk about next. You can use this info as a "cheat sheet" next time you're scrolling through the available devices online or at a local store:
The modules come first. The feature set plays a huge role in how useful (and expensive) the tuner is. Thus, after checking its efficiency/real-world performance gains, the next thing to inspect should be the available features. Now, tuners that work with the Powerstroke engine tend to have at least ten modules to get started. I'm talking about speedometer correction, tire size/gear ratio calibration, rev limiter adjustment, and TO management.
Code clearing and calibration are the most commonly used modules, by the way. So, take some time to study the specifications and make sure you'll get at least a minimal set of features for that.
The software/UI follows. When the user interface is too sluggish and slow to load up that's bad news. Besides, some tuners aren't at all intuitive and take some time to figure out how to access certain menus and options. Sadly, it's not that easy to know in advance whether the UI is decent or not before taking it for a spin. Contacting customer support could help, though, as well as checking the latest software updates on the official website.

LCD vs. Touchscreen. Even if you get the cheapest tuner on the market, it will still come with a display. Entry-level tuners have a low-resolution display that's a bit hard to make sense of. Moving up to the more expensive options, they're got HD LCD displays with clear, defined visuals. And if you've saved extra bucks for the programmer, consider investing in a device with a touchscreen.

Durability – why does it matter? It's pretty obvious: no matter how careful you are, you may end up grazing or hitting the tuner once or twice. So, check the build/material quality: ideally, it should be impact-resistant to survive a hit. For example, DiabloSport from the list is a great choice in this regard.
What Kind Of an MPG and Acceleration Boost can you Expect?
Horsepower and torque is arguably the first thing that people think about when it comes to the powertrain. However, you can get a much broader performance boost with the right tuner. I'm talking about an increase in fuel efficiency and throttle response, of course. Let's start by checking realistic MPG ratio gains and then move on to acceleration. Mostly, this depends on what the tuner was designed for.
True, most gadgets are universal and provide a comprehensive boost. They have pre-set tunes for different tasks (to get maximum HP/torque or fuel economy, for example). Still, take a minute to check the specs. There, you'll learn what the tuner was initially made for. An economy-focused device can give you a 3-4MPG boost. In a year, that will save to $300, which is quite a big sum.
A standard-issue tuner will only be able to improve fuel efficiency by 1-2 miles per gallon, and that's still a nice achievement. The actual gains depend on a long list of things, including the trails you mostly take, your driving style, and other things. The same is true for the throttle response. As you probably already know, by boosting this parameter, you get faster acceleration, plus an overall smoother ride quality.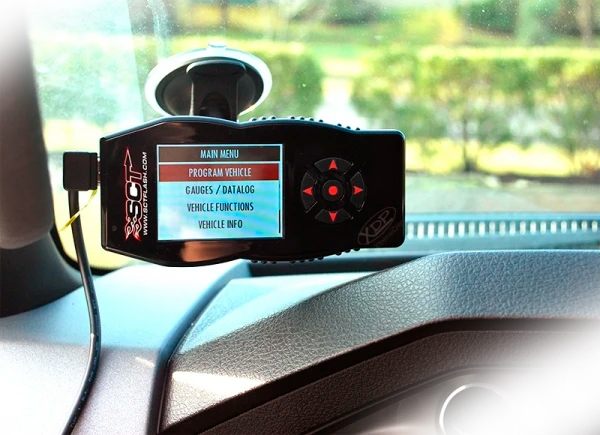 Don't expect your big, heavy Ford truck to go from zero to 60 in 5 seconds or anything like that. But, acceleration will, indeed, be improved. And it will become very evident when you hit the off-road. On a muddy, snowy, or slushy road, the throttle response is everything: if the vehicle doesn't have a decent starting speed, you probably won't be able to make it very far into the wilderness.
So, while the MPG gains are much easier to calculate (along with your yearly savings on the fuel), with the throttle response, you gotta test it in real-world conditions. The uphill performance will also be improved, by the way, along with your truck's hauling and towing capacity. Again, it won't be a game-changing improvement, but, combined, all these gains will definitely make a big difference.
Installing a 7.3 Powerstroke Tuner: Step-by-Step Guide
Before we get into this, let me just say real quick that while tuners and programmers are essentially the same thing, chips/modules are different. In contrast to tuners, you can't just connect them to your vehicle's computer system (onboard computer) and start it up. Chips take quite a while to install, and if you don't follow the instructions closely, you may end up ruining the actual chip or even damage the Powerstroke-run truck's electronics.
The reason: you connect the module directly into the electrical system. Next, it gathers all the necessary info and offers you a calibration/optimization. However, unless it's a 100% perfect fit with your vehicle, it won't do much good. Alright, with that out of the way, let's focus on installing a tuner on the 7.3 Powerstroke.
With tuners, it's all about the wires; so, make sure that the package includes a power cable and a mini USB cable. You won't have to open the hood or use a screwdriver to access any panels. Under the dashboard, you'll find an input – plug the USB cable in, connect it to the tuner, and it will "light up". Sometimes, you might have to download a PCM update through the manufacturer's official website for it to work.
If the tuner has Wi-Fi support, this will only take 5-10 minutes. And if it doesn't, plug the programmer into your computer with an Internet connection, download all the necessary files, and install them that way. Or, if you've got no mini UBS cable around, use a micro SD card instead. You put it into an adapter and connect that adapter to the computer (again, via the USB interface). Once the update is copied to the card, put it into the tuner and hit "install".
That's pretty much it for the installation. The best thing about tuners – the installation process is pretty much the same, no matter what vehicle or engine you're dealing with. Again, that's not the case with chips/modules!
How To Use Your 3.0, 6.0, 6.4, 6.7, 7.3 Powerstroke Tuner
Ok, now that we've learned how to properly connect (and update) a tuner to re-calibrate the Powerstroke engine, let's talk about a bit about using it. With these devices, it all comes down to scrolling through the available options and letting the tuner do its thing. You should always look for a programmer with a long list of pre-set tunes, as that makes it much easier to get the best results from the motor.
Now, the interface/software needs to be fast, responsive, and easy to use. Some older models take forever to load up the feature you need. Newer tuners are very straightforward and all the different menus – calibration, code clearing, monitoring, and custom tunes – can be accessed within a couple of seconds. A touchscreen makes navigation better, but a good-old gadget with buttons will also do.
Do keep in mind, though, that the whole calibration/optimization process usually takes at least 30 minutes and can go on for hours. The first thing that I would recommend running is the monitoring systems. This way, you'll always be on top of things and be able to avoid costly repairs by diagnosing a flaw at an early stage. Calibration comes next. If you've got an aftermarket exhaust system or air intake kit installed, a tuner will be of great help.
Programmers do a great job of "befriending" different systems and making them work like one mechanism, thus improving overall performance. Going back to preloaded tunes, they're usually specifically designed for different purposes. Some tunes focus on improving fuel economy, while others aim at maximizing the HP/torque output.
You could try to do that on your own, but it usually takes lots of time and expertise. And even then, you won't be able to achieve similarly impressive results (unless you're a pro mechanic that knows the tuner and the engine very well). On the downside, I want to stress once again that most tunes (especially custom ones) cost quite a lot.
Buyer's Guide
In the FAQ, we covered several topics, including potential performance gains, the right way to install and use a programmer, and, of course, some of the defining aspects to keep in mind. So, now, in this guide, I want to talk to you about the average price for a decent tuner, the importance of getting the right package, and fitment. It might be a bit challenging to remember all this info. But, once you master it, you'll become a pro at picking tuners!
#1: Pricing – how much for a Tuner?
When treated properly, programmers last for a really long time. That's why it could be a reasonable idea to pay a bit more for it than you initially thought to get a premium-quality unit. Now, an entry-level tuner can be yours for $200-300. It will include a basic feature set and a decent UI. For 400 bucks, you can expect a faster, more advanced user interface and more modules to choose from.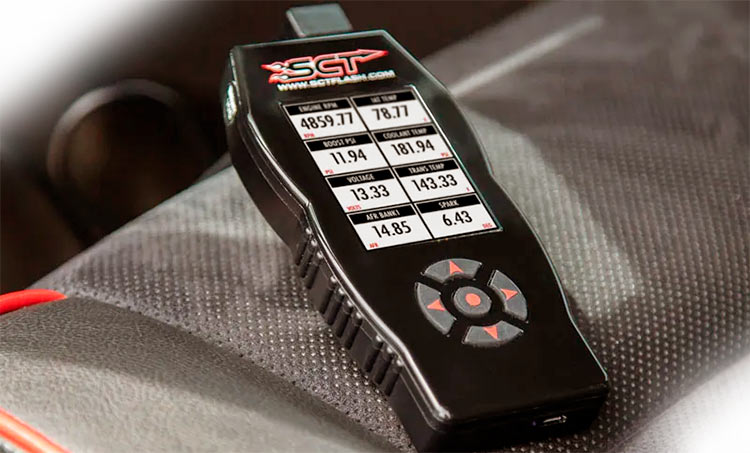 And if you want to get a big touchscreen, that's gonna cost $500+. And I mentioned tunes earlier – they're not free. On average, a new tune for your vehicle will cost 40-50 dollars or even more, depending on how specific it is. Oh, and do remember that most manufacturers allow the owner to use the same programmer only on three different vehicles. If you go over that limit, you'll have to pay extra.
#2: The Package: Instructions and Extras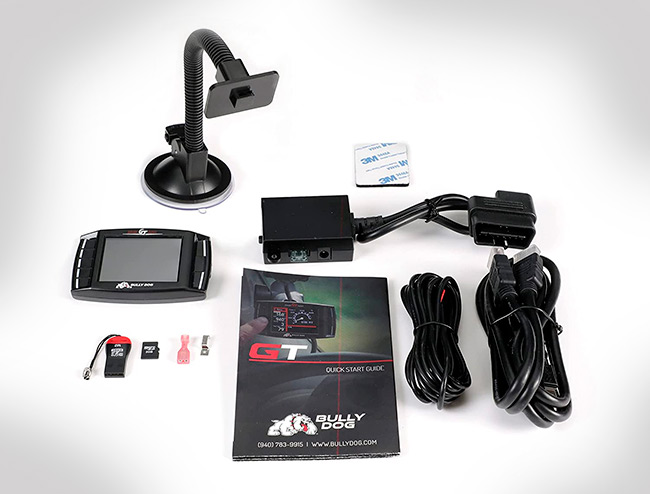 Speaking of the price, it will be greatly affected by the package. Some tuners arrive "solo" and you don't get any extras. However, I strongly recommend investing in a kit that includes at least a pair of cables (USB and power) and a detailed installation guide. True, you can always download it online (like I mentioned), but it will still be better this way.
An SD card + card reader will come in handy as well (for downloading the latest updates). The Best Tuners and Programmers for 3.0L Powerstroke (or the newer editions) will also feature a windshield mount for a complete set. Mounts are very handy when you want to keep the tuner around but are running a bit short of space for it in the glove compartment or anywhere else in the cabin.
#3: Enhanced Compatibility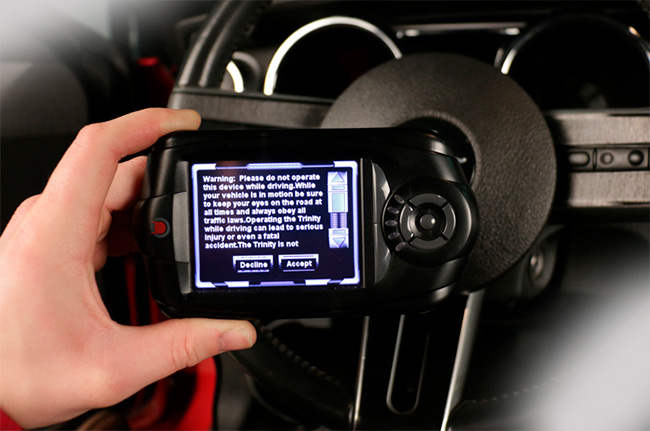 Most tuners don't have any issues with fitment, because they work with a rather wide range of vehicles. With that said, certain programmers don't run well on older cars (more about that in the FAQ section). Besides, compatibility can still be an issue if you're driving, say, a 2020 F150 truck. Now, remembering what we discussed earlier about limitations, it would be ideal to buy a tuner that fits every single vehicle in your garage.
That will partially compensate for its price. To see the full list of supported motors and trucks/SUVs, go to the official website. Online stores don't always provide the right or complete information. The same is true for "offline" stores: the staff members might not be aware of every single vehicle supported by a tuner you want to buy.
Conclusion
Alright, that's all I had to share with you on this topic! Tuners are, without a doubt, one of the best upgrades for any modern-day vehicle. And if you're driving a big, strong Ford truck with the Powerstroke engine, a programmer will help achieve maximum efficiency without even breaking a sweat. As mentioned, the best tuners are almost fully automated. You just choose the right option/feature, and the device does the rest!
If you want a tuner with a fast, intuitive interface, go with Bully Dog. DiabloSport, in turn, boasts brick-strong engineering and can take a beating. Drivers on a tight budget will like Tuner SCT's affordable price. Finally, Edge Products delivers big MPG gains, while Superchips is all about enhanced compatibility. What's your favorite pick? Share it in the comments!