US-made trucks are pretty tough – there's no denying that. Crafted from durable materials, they can withstand the harshest conditions. However, all the dirt, mud, snow, slush, and dust on the road do wear even the mightiest vehicles over time. This is especially true for the beds. If you haul heavy stuff around regularly and drive through challenging terrain, best believe the tonneau will be ruined before long.
No matter how careful you are, you won't be able to avoid dents, scratches/scuffs, and peeled-off paint. Well, that's where truck mats swoop in to save the day. Designed specifically to protect the bed from "outside threats", they do a pretty great job of keeping it in good shape. Tonneau mats aren't perfect, though, and in this guide, we'll talk about both truck bed mats pros and cons.
Strong Sides
First of all, bed mats serve as a protective layer and prevent natural hazards from taking over the bed. The vast majority of mats are crafted from premium-quality rubber – a material with strong resistance to weather elements. Some brands go with recycled rubber and mix it with nylon. Others implement a carpet-like design for better fitment and a more attractive look. In any case, rubber has proven to be an excellent protector for the truck's bed.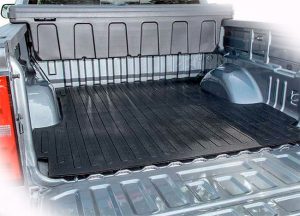 Secondly, with a proper mat, the cargo won't be able to damage the surface. This is achieved through the tear-resistant nature of the bed mats. You won't have to worry about abrasion either. The best bed mats are pretty tough on the bottom to protect the bed, and a bit softer on the upper side to secure the cargo and not damage fragile and sensitive goods. Another great fact about tonneau mats – they can be installed in less than a minute.
If you got the measurements right for your truck, it will be just a matter of laying the mat over the bed, and that's it! The same is true for removing it (when you decide to clean it, for example). Personally, I highly recommend a mat that comes with the so-called "air dry nibs". They elevate the mat a bit, which allows air to "squeeze" through. That, in turn, prevents moisture from ruining the bed.
So, summing up, here are the bed mat pros:
Strong protection against weather elements
Superb resistance to scratches and abrasion
Very easy to clean with a hose
Only takes a minute to install and remove
Lots of vehicle-specific options available
Pretty affordable
Disadvantages
Alright, now that we've discussed all the pros, let's talk about the cons in more detail. Most importantly, bed mats solely cover the actual bed and not the sides. That's not a very big deal if you only need protection for the bed. However, if the cargo you're carrying is pretty bulky and fills up the entire bed, best believe the sides will get scratched and scuffed over time. Another big concern is the fact that mats tend to slip off.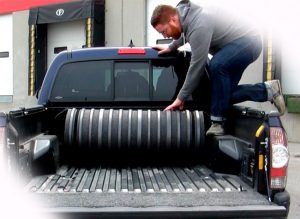 Even if you aligned them properly during the installation, there's still a small chance that they will move while you're on the road. This is especially true for challenging terrains with lots of ups, downs, bumps, and steep climbs on rocky hills. So, unless you're super careful, you might lose all of that precious cargo before you make it to the destination. Some drivers solve this by drilling holes into the bed and securing the mat with screws or bolts.
But, that kinda ruins the bed. Again, this happens very rarely; yet, I still had to warn you. Last, but not least, bed mats don't last forever. True, they're highly resistant to scratches and rain/snow/mud/debris, but they do wear out pretty soon, compared, to, say, bed liners.
And here's a summary of the cons of using bed mats:
The cargo might fall off if the mat slips
Most bed mats have a short lifespan
No protection for the bed's sides
What's the Alternative?
As I briefly mentioned just now, bed liners have a longer lifespan. So, does that mean they're better than bed mats? Well, let's figure that out! With bed liners, there's a choice between drop-in and spray-in designs. The drop-ins are very similar to truck bed mats and are usually crafted from plastic. They're the cheaper option and can be installed manually. However, they're not vehicle-specific, which means you might have to do some cutting to make them fit.
Plus, drop-in liners wear out in two to three years, and, just like bed mats, they tend to move around when the wind is strong and there are a lot of bumps on the path. Spray-in bed liners, in contrast, are pretty expensive. But, they do compensate that with a sleek design that fits pretty much any truck. On top of that, spray-in liners can cover not only the bed but also the sides, providing extra protection.
More importantly, this product prevents the cargo from slipping and falling off, which makes it the superior choice when compared to drop-ins and bed mats. Add a market-leading lifespan, and you'll see the appeal. As for the cons, along with the steep price tag, spray-ins require professional installation. Plus, since it's a more "intrusive" customization, you'll probably lose the warranty on your truck (it depends on the brand, the dealership, and other factors).