Best Performance Exhaust for Silverado Review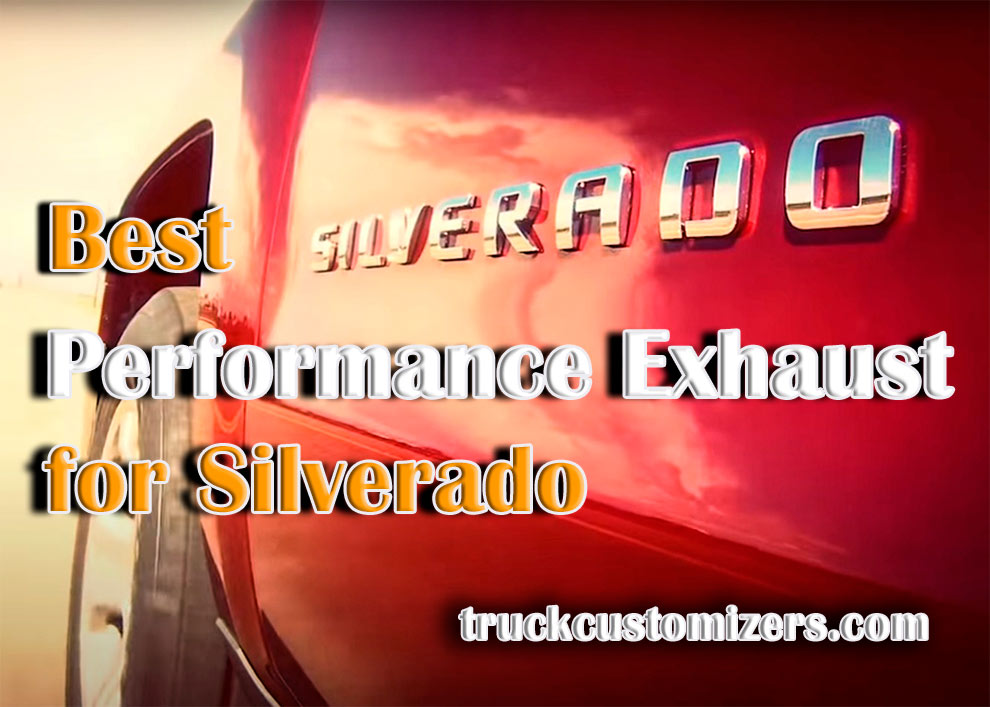 First introduced back in 1999, Silverado is one of the best-selling and most fan-favored Chevy nameplates. As a big, powerful truck, there's very little that it can't do. Off-roading? Check. Towing? Double-check! This is achieved thanks to the impressive powertrain, the suspension system, and the brick-strong body. There's always room for perfection, of course, especially for a champ like the Silverado.
And while the motor, driveshaft, and the cooling system are quite alright, the exhaust is a bit "sluggish". When pushed to the limit, it might give up on you, putting extra pressure on the motor. Luckily, there's a solution to that. If you invest in the Best Performance Exhaust for Silverado, you will not only get steady performance, but also extra HP/torque, better acceleration, and more MPG. Here are my top five picks!
Best Performance Exhaust for Silverado Review
1. Borla 140537 – Best Performance Exhaust for 2015 Silverado 5.3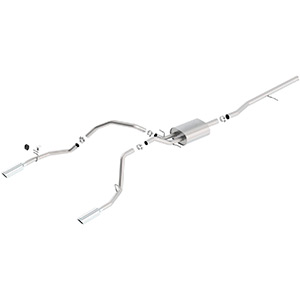 Sometimes, no matter how well-designed and made an aftermarket exhaust system is, it just doesn't fit your truck. Fortunately, that won't be an issue with Borla, because it boasts CNC manufacturing that ensures a tight, reliable, perfect fit. On the performance side of things, this gear doesn't disappoint either. Thanks to the mighty combination of a straight-through design and a patented multi-core technology, it delivers excellent results.
You can expect improvements in horsepower, torque, and even fuel efficiency. The boost won't be ground-breaking, but still decent enough to make a slight difference. On top of that, this product is covered by a million-mile warranty. As for the downsides, you won't get an aggressive, in-your-face growl. Instead, it's more of a controlled, steady tone. But, for Silverado owners that mostly stick to highways and city streets, this will actually be a pro.
Pros & Cons
Straight-through + multi-core technology
CNC manufacturing for a perfect fit
Backed by a million-mile warranty
The sound is a bit too "civilized"

In many ways, the Borla exhaust system is a bargain for the Silverado truck. It is durable, reliable, fits Chevy's heavy-lifter perfectly, and is protected by a generous warranty. Off the road, Borla performs steadily and with confidence. It doesn't roar, though, but that's not necessarily a bad thing.
2. Flowmaster Super 44 – Best Performance Exhaust for 5.3 Silverado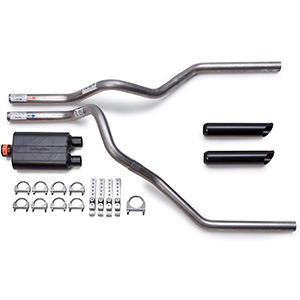 In contrast to the Borla unit, Super 44 by Flowmaster sounds like a million bucks. So, if you've been looking for that aggressive, growling tone, you'll get it with this exhaust system. Oh, and the package includes high-grade installation hardware (crafted from stainless steel) that lasts for ages. Available in three different configurations, Super 44 will be a great replacement for the restrictive factory gear.
More good news: you won't have to pay a fortune to get it. In fact, it's the cheapest option on the list and costs two, or even three times less than the industry average. Flowmaster might be a bit challenging during the installation. The spare tire will have to be removed; plus, the clamps probably won't fit, and you'll have to compress them. But that shouldn't be hard to handle.
Pros & Cons
Delivers a rich, satisfying engine growl
Premium-quality installation hardware included
Available at an incredibly affordable price
Minor issues with the installation

Affordable, packed with top-notch installation hardware, and all-around solid – that's the best way to describe Super 44. It completely changes the way the engine sounds, turning it into a strong, ground-shaking roar. The installation won't be a plug-and-play routine, but still very much doable.
3. MagnaFlow 15268 – Best Cat-back Exhaust for Silverado 1500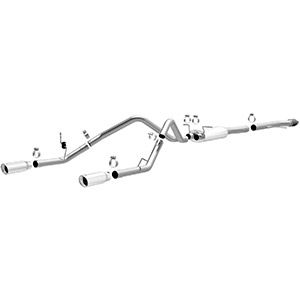 Here, we have another reliable and well-respected manufacturer with a strong focus on exhaust systems. What can you expect with this product, though? Is it worth the investment? It most certainly is if you're looking to maximize Silverado's fuel economy. With MagnaFlow, you can expect a 2-3MPG boost, and that's gonna save you +/- $200 a year – a pretty decent deal, right?
Dyno-tested for efficiency, this exhaust has gone through dozens of tough trials and is "combat-ready" for the most challenging off-roading journeys. Along with that, it is street-legal across the country and can be ordered to any area/state you want. Unfortunately, the 15268 system might take an extra day or two to arrive. But, that's the only significant con.
Pros & Cons
Significantly improves the MPG ratio
Dyno-tested for optimal performance
Street-legal in all 50 American states
Might take a while to arrive

MagnaFlow can greatly improve the fuel efficiency of Silverado 1500 and save you big bucks in the long run. Dyno-tested for off-roading trips, it will be a noticeable improvement over the stock gear. Sadly, while it's official 50-state legal, shipment/delivery isn't always very fast.
4. MBRP S5084409 – Best Performance Exhaust for 2018 Silverado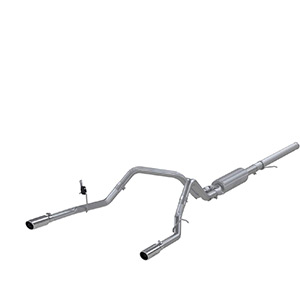 As far as the finest third-party performance exhausts go, MBRP is definitely among the leaders. This is especially true if you own one of the latest editions of the Chevy Silverado truck. First of all, this exhaust is crafted from heavy-duty, sturdy materials. That means it won't break, crack, or start leaking when hit by tiny rocks (it happens all the time on off-roading trips). And if something does happen, friendly customer support will help out.
MBRP has one of the fastest and client-oriented customer service agents out there. Last, but not least, it includes a lifetime warranty with the package, which is always a pro. What I didn't like about this otherwise excellent product was the set of hanger clamps. They're of poor quality and will probably not fit the Silverado.
Pros & Cons
Heavy-duty construction; can take a beating
Covered by a generous MBRP warranty
Fast, helpful customer support
Poor-quality hanger clamps

MBRP boasts heavy-duty, crack-free construction and is backed by a lifetime warranty deal. Plus, you can always reach out to the helpful support team. And, despite the low-quality clamps, the installation process is straightforward and intuitive. That makes this exhaust a sure pick for most drivers.
5. CORSA 14873BLK – Best Performance Exhaust for Chevy Silverado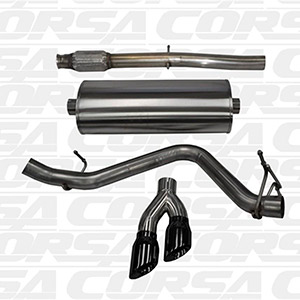 Designed, crafted, and manufactured in the States, CORSA is another worthy pick for Chevy's world-famous truck. Custom-tuned, it delivers a strong, satisfying tone. But that's not even its biggest selling point. With 14873BLK, you'll get a mighty boost in horsepower and torque, pushing Silverado's powertrain to the limit (in a good way). The engineering and material quality is also top-notch.
Thanks to the 304 stainless steel construction, CORSA isn't "afraid" of corrosion or any other natural hazards. Add a patented, no-drone RSC (Reflective Sound Cancelation) technology, and you'll see why this exhaust system deserves a spot on the list. On the downside, it's not particularly cheap. In the long run, it will be money well spent, but only if you're ready to commit.
View on Summit Racing Equipment
Pros & Cons
Provides a decent HP and torque boost
Exceptional material and build quality
Trademark no-drone RSC technology
The most expensive kit on the list

CORSA is arguably the best cat-back exhaust system for the Silverado. It does an excellent job of maximizing engine performance and ensures solid HP/torque gains. The build quality, RSC technology, and hassle-free installation are even more reasons to consider it over the rivals.
Does a Performance Exhaust Increase Horsepower?
Yes, it most definitely does. An all-around boost in performance is one of the biggest pros of aftermarket exhaust systems. While you shouldn't expect any life-changing gains in HP, a decent-quality unit will help the engine delivers its a-game. In most modern-day trucks (or any other vehicles, for that matter), the factory pipes tend to be restrictive.
They aren't always capable of handling the hot fumes produced by the engine. In other cases, the exhaust gets tiny cracks here and there that the driver doesn't notice, which leads to leaks. As a result, the motor's performance drops, and it might even overheat. A third-market exhaust, in contrast, will be a lot more effective at removing the vapors and keeping the temperature in the exhaust tubes and the combustion chamber low.
That, in turn, removes the limitations from the engine, allowing it to work as hard as it can. So, technically, a new exhaust doesn't add extra HP or torque per se. Instead, it keeps the toxic fumes from "piling up" in the tubes and preventing the powertrain from reaching its factory potential.
How much Horsepower does a High-Performance Exhaust Add?
It depends on the actual exhaust system, your truck, and whether you have any third-party gear installed, or not. As we'll learn soon from the Buyer's Guide, cat-back systems provide the biggest gains. And, the most impressive results can only be achieved if you also upgrade the air intake system and use a tuner/programmer to re-adjust the truck to the new gear. With that out of the way, let's take a quick look at average gains.
With a brand-new exhaust, the maximum gains in HP and torque can be as high as 10%. This isn't, of course, guaranteed by any manufacturer. More realistically, you can expect a 2-6% boost, which is also quite nice. The same is true for fuel efficiency: the average increase is usually in the 2-7% range. Keep this in mind so that you don't get disappointed with the real-life gains on your Silverado.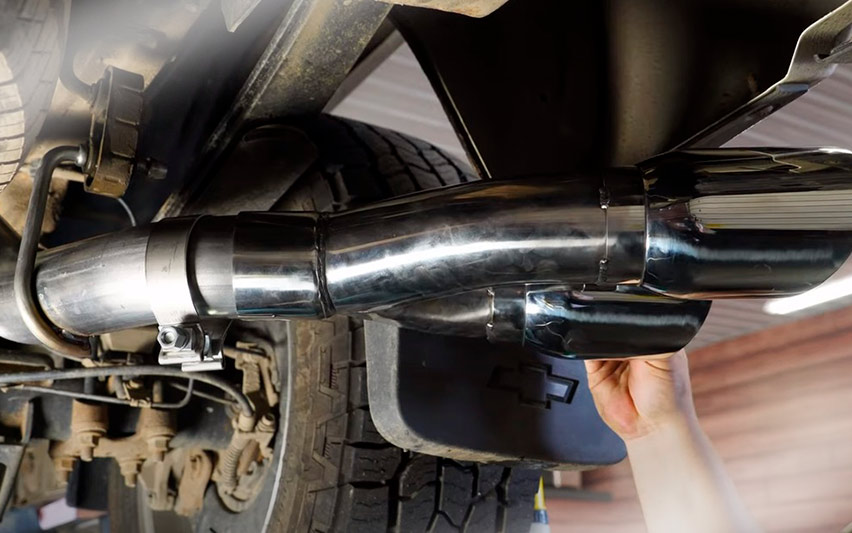 What is the Best Dual Exhaust for Silverado?
There are no 100% right or wrong answers here. To get the best bang for your buck, you gotta check the specifications. One of the biggest benefits of a premium dual-exhaust system is a more defined, aggressive sound. Plus, it should reduce exhaust backpressure, thus increasing the engine's lifespan. On top of everything else, look for a dual-pipe exhaust that can help you squeeze all the juices out of the factory powertrain.
Do remember, though, that you will have to pay more for the extra set of pipes. It's also important to mention that dual-exhaust systems have limited compatibility and might not fit your truck. This is why it's vital to find aftermarket gear that fits your ride like a glove. To read more about the ins and outs and learn how to pick the right exhaust for the Silverado, check the following guide.
Buyer's Guide
What's the right sound for an aftermarket exhaust? Will an axle-back design be better for your truck, or not? Should you go with aluminum, or maybe stainless steel is a better option? These are some of the questions that we're gonna discuss here, along with clearance, the importance of a sturdy build, etc. The more you know, the easier it will be to find the perfect exhaust!
#1: Choosing Between Axle-Back and Cat-Back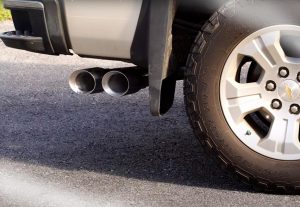 This is the first thing that you gotta think about before making a purchase. Both axle- and cat-back systems have their pros and cons. Axle-back exhausts are cheaper and take less time and effort to install. Plus, they are much louder. However, you won't get any noticeable gains in HP/torque, acceleration, or the MPG ratio, simply because you'll only be replacing a couple of tubes – that's it.
However, since it's usually the exhaust pipes that take most of the "beating" on off-roading journeys, axle-backs are still a worthy investment. Moving on to cat-back exhausts, they are much more expensive. But, as you've probably guessed, the package will include more gear, which is why the boost will be bigger. As for the sound, with "cats", it's more refined, especially when you're gaining RPMs.
#2: Going for a Mild or Growling Exhaust Tone
Ok, so, we know what to expect from both systems in terms of the sound output. But what should you go for – a roaring tone, or something more controlled? This largely depends on where you live and how much off-roading you do with the Silverado. Folks that live in busy neighborhoods (like a project area, for example), might want a milder exhaust sound because a growl will not be appreciated by the neighbors.
The same is true for when you make constant stops at local stores, shops, or, say, take the kids from school. An aggressive tone won't be appropriate, to say the least. Besides, there are certain laws regulating how loud a vehicle can be in the city. But, if the Chevy truck is only used for enjoying the wilderness, the "masculine" tone will be right up the alley.
#3: Aluminum vs. Different types of Steel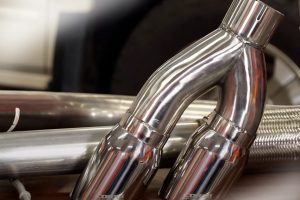 With exhaust systems, heat is a major concern. Over time, it can make the pipes crack and start leaking. This is why you gotta pay extra attention to the material quality. Aluminum is the best choice for this because it has a much higher thermal conductivity compared to steel. And, it is more resistant to temperature extremes. Last, but not least, pipes/tubes crafted from aluminum are practically immune to corrosion.
Stainless steel is also quite impressive, but still not as good as aluminum. However, if you go with 304 steel (the finest kind), it will last for a long time and easily handle all the heat, rust, weather elements, and debris on the road. A quick note: 409 steel is a decent choice as well; it's more reliable than aluminized or mild steel.
#4: Clearance and Build Quality
Compared to sedans, trucks have a lot more clearance, which is great news for exhaust systems. When there's very little room between the bottom of the vehicle and the road, the exhaust will not survive for long. Off the road, there are lots of bumps, ups, downs, tiny rocks, and grass that can damage it. Therefore, look for an exhaust with enough clearance so that it doesn't get ruined in a couple of months.
The build quality also matters, of course. Say, Borla implements its trademark multi-core design with the straight-through technology for maximum efficiency. More importantly, if the exhaust was crafted using a computerized manufacturing process, it will be durable, long-lasting, and fit the factory mounting spots perfectly.
Conclusion
The exhaust is one of the most important systems in any vehicle, especially a full-size truck like Silverado. It's got one purpose: to get rid of the toxic fumes generated in the combustion chamber. When this mechanism fails, the heated vapors put unnecessary strain on the motor. That can lead to engine breakdown and expensive repairs. Besides, if there's a leak, the toxins will make their way into the cabin.
Even if the factory exhaust system is working flawlessly, but you feel like it's really struggling, an aftermarket replacement will be a reasonable investment. Do you prefer to pick your third-party gear/equipment "by hand"? Then use the FAQ section and the Buyer's Guide for help. Or, just go ahead and order one of the market-leading exhausts from the list. It's up to you!