Best Cold Air Intake for Chevy Cruze Review & Buyer's Guide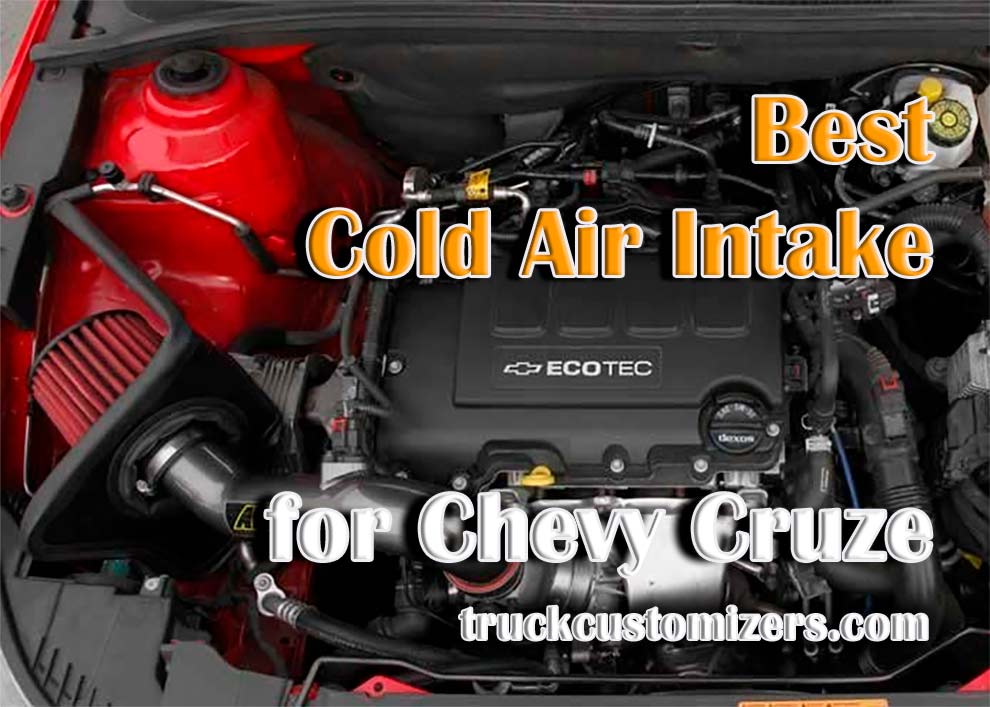 Chevrolet's Cruze is one of the most popular "everyday vehicles" in the US. It doesn't have a very impressive powertrain, of course. But, it packs a pretty decent engine that easily handles bumpy, rocky, and icy roads, along with steep climbs. What the motor lacks is a proper cooling system. If you've been driving the Cruze for a while, I bet the factory gear is slowly degrading.
To fix that, you might want to invest in the Best Cold Air Intake for Chevy Cruze. There are lots of third-party options available on the market, and for the sake of this guide, I made a list of my top five picks. These units will significantly increase the airflow, do a better job of filtering contaminants, and even add extra HP, torque, and MPG. Take a look!
Best Cold Air Intake for Chevy Cruze Review
1. K&N Cold Air Intake Kit for Chevy Cruze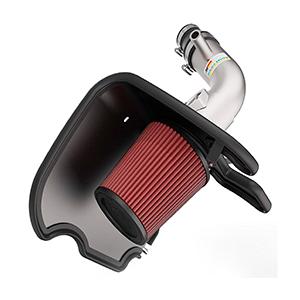 Improving the airflow in the combustion chamber and filtering out contaminants – that's what a high-quality CAI does. And, you'll get exactly that with this K&N system. Designed with the 2017-2019 Cruze in mind, it ensures a 50% boost compared to stock gear. Reliable and consistent in the most demanding and challenging situations, K&N is a significant improvement over the restrictive box air filter.
The included filter also deserves our attention. It requires very little maintenance and goes on for up to 100K miles without any cleaning. More importantly, the oiled cotton filter with molded rubber flanges eliminates 99% of dirt, dust, debris, and pollen particles. The installation process will take you a while (the heat shield is a bit bulky, while the intake tube could be longer), but that's compensated by a market-leading 10 years/million-mile warranty.
Pros & Cons
Ensures a 50% increase in airflow for extra efficiency
Premium-quality filtering for engine protection
Covered by an ultimate longevity guarantee
Might be tricky to install

K&N is a leader in the market of CAIs, and this kit is a clear example of that. It is backed by a client-oriented warranty, provides a big airflow boost, and ensures world-class protection against contaminants. Do keep in mind, though, that the installation requires some DIY skills.
2. AEM 21-744C Best Cold Air Intake for Chevy Cruze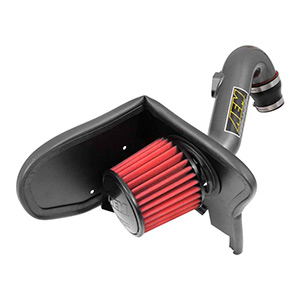 This right here is a 100% US-made product. On top of that, it was rigorously dyno-tested to ensure proper fitment and extra efficiency for the Cruze sedan. As a result, it improves the vehicle's performance in towing, hauling, and even uphill driving. If you tend to carry lots of cargo in the trunk, you'll definitely feel the boost. Another big pro is the heat shield: It's compact and can fit in the tightest spot.
With that, thanks to the premium weather stripping, it keeps cool air in, while blocking hot air from finding its way into the system. What I didn't like about this otherwise excellent product was the installation package: the screws and bolts are made from cheap materials. Furthermore, they're not long enough and can't hold the washer properly. So, it would be best to get a new set to make sure everything is secure.
Pros & Cons
Provides a big boost in towing and uphill performance
Top-notch heat shield/airbox with weather stripping
Made in the US + dyno-tested for the Cruze
Poor-quality bolts and screws

Chevy Cruze drivers in the market for a US-made air intake will get the best bang for the buck with AEM. With it, you'll enjoy more airflow, better filtration, and stronger all-around performance (especially in towing). As for the cons, the included hardware isn't at all reliable.
3. Spectre Performance Air Intake Kit for Chevy Cruze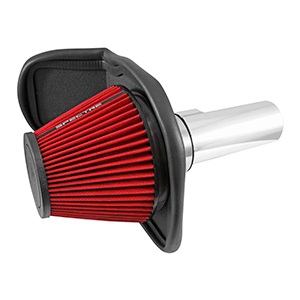 If this is your first time getting an aftermarket CAI system, and you're looking for a safe bet, Spectre will probably be right up the alley. First of all, it takes little effort, time, and knowledge/experience to install. With a basic toolset, you'll be done in 30-60 minutes at a slow pace. Strangely enough, the included instructions aren't very helpful; so, you might want to check out a YouTube guide or two. On the bright side, this cold air intake is pretty cheap.
Compared to the market average, it's available at a very attractive price and appeals to a wide range of drivers on a limited budget. In addition, you should expect a decent improvement in performance. I'm talking about an increase in horsepower and torque, of course. For a 2011-2015 Cruze, that will be a +/- 5% boost, which is quite nice. Add above-average material quality and easy maintenance, and you'll see why Spectre is a bargain.
Pros & Cons
Fast, straightforward installation (takes +/- an hour)
Specifically designed for HP and torque gains
Available at a very affordable price
Vague, confusing instructions

The Spectre Performance cold air intake system carries excellent value for Chevrolet's Cruze. It is inexpensive, won't be hard to install on your own (despite the not-very-helpful user manual), and does a great job of maximizing the HP and torque. A worthy pick for the average driver.
What does the Best Cold Air Intake for Chevy Cruze look like?
There are two factors that you need to always consider – compatibility and efficiency. Here's a more detailed look:
Easy Fitment. The title says it all. Don't rush into buying the first CAI you like. Take some time and check the specifications, make sure it's a 100% fit for your vehicle. This won't be hard to do, by the way. Manufacturers indicate exactly which sedans, trucks, or SUVs the system is compatible with, specifying generations, model years, and even trim levels. As long as you get this part right, installation shouldn't be a problem.

Strong Performance. Why even bother investing in an aftermarket air intake if it's not very effective, right? Again, refer to the specs. What you should look for is a boost in airflow. On average, third-party units ensure a 20-30% increase, which is quite alright. A more advanced kit, however, will be 50% more efficient.
What Parts/Accessories do you need for a CAI System?
An air intake system consists of tubes, a filter, and housing. To secure it, you'll need a pack of bolts/screws (usually included with the kit). That's pretty much it. Now, if you want to maximize the gains, consider buying a tuner. These devices are pretty great at squeezing all the juices out of aftermarket gear and bringing it all together. Don't worry: a programmer is very easy to use.
You just choose the right tune/module, and the gadget does the rest. You'll also find a list of monitoring, calibration, and troubleshoot options, along with the ability to clear error codes. For an even stronger power output, get your hands on a third-party exhaust system. It will be more efficient at eliminating the toxic fumes; plus, it will change the engine's tone for the better. Together, a new CAI, exhaust, and tuner are capable of making a pretty significant difference.
Tips for Picking the Right Intake Kit for Chevy Cruze
Earlier, we learned that compatibility and real-world efficiency set a premium CAI from an average-at-best product. While that's very much true, I gotta also stress that low-quality engineering and poor filtering will make you regret the purchase sooner or later. Here's how you can tell whether a cold air intake is reliable or not:
Build/Material Quality. For the intake tube, aluminum is the best the market has to offer. It's more heat and rust-resistant than stainless steel. Besides, thanks to its flexible nature, aluminum lasts longer. The so-called mandrel-bent design aids to the intake's efficiency as well. Next, for the filter, you should go with cotton-gauze media. In contrast to the cheap paper filters, it will be a lot more reliable.

Filtering Efficiency. I just mentioned the finest material for filters. On top of that, I highly recommend finding a CAI with a filter that has at least three layers; a five-layer unit will be even more effective. Also, it needs to be a reusable, performance-oriented filter with 98-99% efficiency against contaminants.
How Much Horsepower Can a Cold Air Intake Add to a Chevy Cruze?
Please remember that the biggest gains are only possible with V8-powered trucks and muscle cars. With an everyday vehicle like Chevy's sedan, you'll see a (relatively) minor boost. On average, a premium-quality cold air intake system with a focus on performance will add 5-10 HP and torque (15 tops). Now, Cruze comes packed with a 153HP-strong engine. Therefore, the improvements will have a slight effect.
More importantly, check the specs for gains in towing/hauling, uphill driving, and fuel economy. A decent-quality CAI is capable of improving fuel efficiency by 1-2MPG, saving +/- $100 a year. As for towing, for entry-level engines, that extra "push" can make quite a difference. So, while the actual HP increase might not be game-changing, the cumulative powertrain boost will, most certainly, be worth your while.
Buyer's Guide
In the FAQ, we already covered the most important tips/tricks for finding the best bang for your buck. But, there are still some things to keep in mind, like how the new air intake system sounds, what kind of a heat shield it includes, and how generous the package is. Let's start by discussing the different sound tones, and go from there!
#1: The Sound Output
The faster the air flows through the tubes, and the more oxygen it has, the louder the sound output will be. This is a rule of thumb that should help you get at least a sense of what to expect from the new intake system. However, do also keep in mind that modern-day manufacturers use different dampeners that greatly affect the tone. You'll find these in most factory systems, as regular sedan owners tend to like their intakes nice and noise-free.
In contrast, aftermarket units usually sit pretty high up in the hood and deliver a throaty, in-your-face roar. So, it's always a compromise between an off-the-top loud output and a more controlled, dampened tone. For the Cruze, I would recommend a less aggressive sound, as a roaring tone doesn't suit sedans that much.
#2: The Airbox/Heat Shield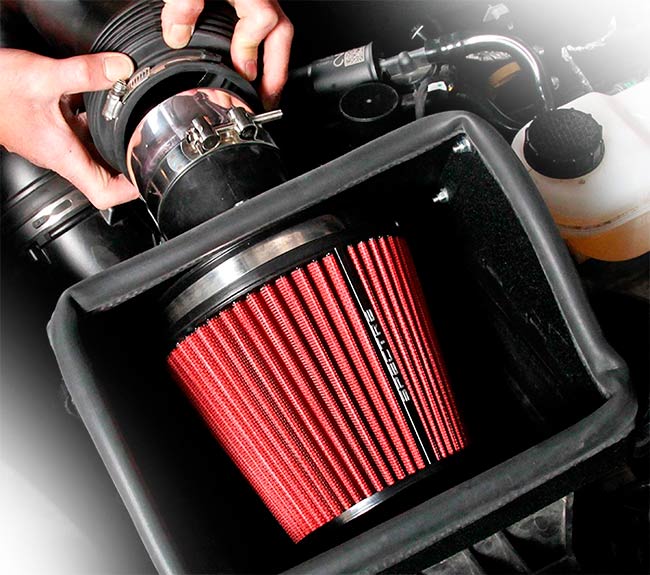 Most drivers pay a lot of attention to the tubing and filter but forget about the housing. Yet, it's a vital part of the kit, because it keeps the cold air inside while preventing the hot air from slowing down the flow and causing engine overheating. With the airbox, the size is the defining factor. Larger boxes are generally more effective; they might not fit, though. So, make sure of this before committing.
This is important: most heat shields these days are crafted from plastic (not aluminum or steel). All you gotta check is whether it's got weather stripping or not. It would be best if the box had powder coating as an extra layer of protection. The housing is placed on top of the kit and it's very important to secure it properly to avoid any performance issues, Check Engine warning lights, and vibration on a bumpy road.
#3: The Package + Warranty
Last, but not least, we've got the package. Now, the cheapest cold air intakes only consist of tubing. A more expensive set will also come packed with a performance filter and a heat shield. The more gear the kit includes, the pricier it will be. Also, see that the manufacturer ships all the necessary installation hardware. I'm talking about the bolts, nuts, washers, and screws.
The warranty matters as well, of course. Good news: most CAI systems these days are covered by at least some sort of a guarantee. It can be a standard 12-month limited warranty or a satisfaction guarantee. With K&N, drivers get a 10-year slash 10-million-mile deal. A refund policy/MBG, in turn, isn't very common among cold intakes, but can still be an option.
Conclusion
Alright, that pretty much covers it! Right now, cold air intakes are one of the most fan-favored upgrades for the engine. The reason: as long as you make the right pick and install the gear properly, it will introduce a long list of benefits. An aftermarket CAI system can maximize the airflow, protecting the motor from a sudden breakdown/overheating. The filter, in turn, will keep dirt and dust at bay.
As a bonus, you should expect a more aggressive, satisfying engine growl, along with performance gains. If you're on a tight budget, Spectre might be the right choice. It is easy to install and guarantees an HP boost. AEM is all about towing/hauling + premium heat insulation. Finally, with K&N, you'll get the best warranty deal and a 50% boost in airflow.