Best Battery for Ford F150, F250, F350 Diesel Review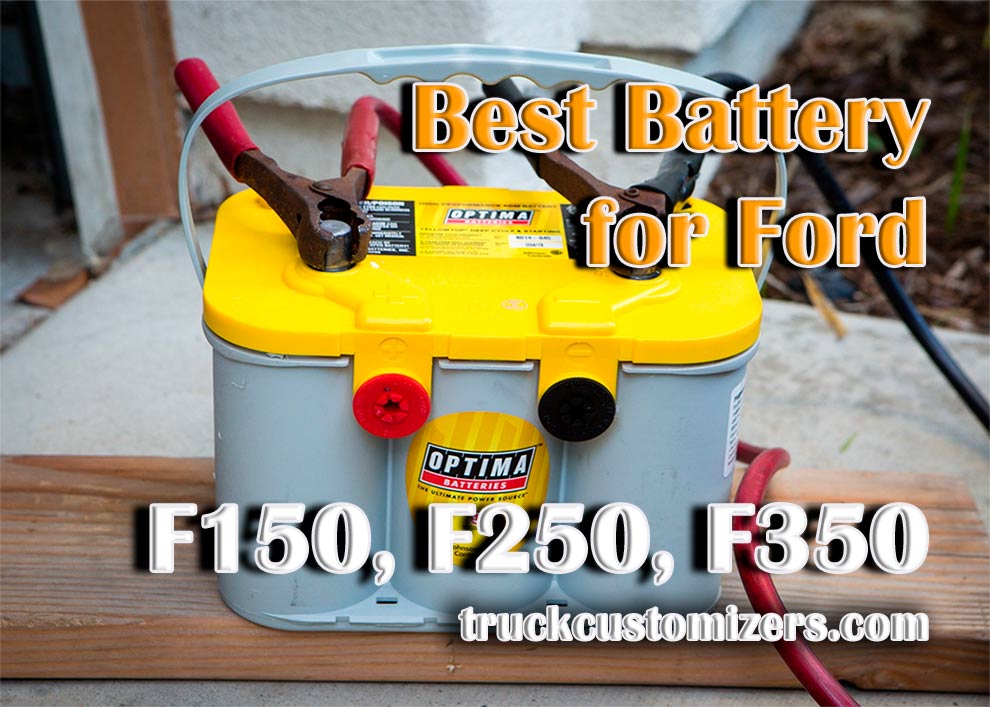 Best Battery for Ford F150
The role of a battery can't ever be overestimated, because, without it, your truck simply won't start. On top of that, it delivers just the right amount of energy to power up the electrical components (the radio, navigation system, headlights – you name it). Unfortunately, batteries don't last forever, and when they break down, that calls for a replacement. This is especially true for a heavy-duty truck from the Ford F-Series.
In this post, we'll take a look at the finest aftermarket units for the F150, F250, and F350 diesel trucks. They've all been meticulously tested in demanding real-world situations and won't disappoint you in the long run. Which one(s) do you choose, though? Let us start by finding the Best battery for Ford F150 and then move on to the "big brothers". Here goes!
Product
Product Information
View on Amazon

Best Features:
– Lightweight, yet durable design
– Highly resistant to vibrations on the road
– Impressive starting power in any weather
Voltage: 12 Volts
Weight: 5 Kilograms
Dimensions: 10 x 6.88 x 7.8 inches
Fits Models: Ford F150 (1987-2010)

Best Features:
– Above-average performance and lifespan
– Leak-resistant cap design for safety
– Three-year free replacement guarantee
Voltage: 12 Volts
Weight: 51.5 Pounds
Dimensions: 12.4 x 6.9 x 7.5 inches
Fits Models: Ford F150 (2018-2019)

Best Features:
– Takes very little time to recharge
– Compatible with a wide range of F150 trucks
– Designed and engineered in the States
Voltage: 12 Volts
Weight: 49.8 Pounds
Dimensions: 11.83 x 7.18 x 7.38 inches
Fits Models: Ford F150 (1987-2014)
Best Battery for Ford F150 Review
1. Optima – Best Battery for Gas Truck Ford F150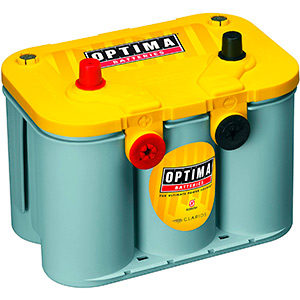 Let's kick the list off with Optima – one of the safest bets for the F150. It's a lightweight, compact battery that can easily fit in the tightest corner. In addition, it features market-leading protection against vibrations. The starting power also deserves our attention: it's just right for this truck and won't make you feel like the engine is dragging.
On the downside, on some units (a very small percentage), the negative post is defective and breaks down when you apply pressure with a wrench. Other than that, the Optima engineers did a great job with this battery and it will serve you for a long time, justifying the investment.
Pros & Cons
Features a compact, lightweight design
Well-protected against shaking/vibrations
Optimal starting power for the F150

The miniature design, strong anti-vibration protection, and decent power turn Optima into a must-have. With 750 CCA and a 120-minute RC, it will be a perfect match for the F150.
2. ACDelco – Best Battery for Ford F150 EcoBoost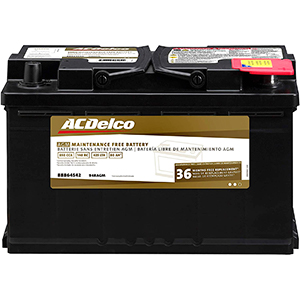 Should you pick this battery over the competition? Is it on par with the rivals? ACDelco boasts an extended lifespan, and that's its biggest selling point. Plus, it features a high-quality vent cap that is practically 100% leak-resistant. So, if you were worried about acid spilling, that won't be an issue here. I also want to mention that the manufacturer protects its product with a generous three-year replacement guarantee.
On the downside, this battery isn't very flexible or versatile in terms of compatibility: it only fits a limited number of F150 models. That's not a very big con, of course.
Pros & Cons
Extended life cycle: serves for a long time
Premium-quality vent cap – acid leak-resistant
Backed by a 36-months replacement guarantee

With ACDelco, you'll get an impressive lifespan, a premium cap against leaks, and a 36-year replacement warranty. And while compatibility isn't its strong side, this battery is still a must-have for Ford's famous truck.
3. Odyssey – Best Battery for 1999 Ford F150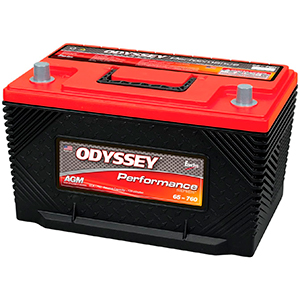 Most batteries take quite a long time to recharge, even if they're fresh out of the factory. That's not the case with Odyssey. To recharge it fully, you'll only need four hours (six hours max) – a very impressive result. Besides, in contrast to the previous unit, it has a universal design and fits several generations of the F150. This is a US-made battery, by the way: designed, manufactured, and tested.
So, what's its most significant disadvantage? The price tag: Odyssey isn't particularly cheap, and that can be a "turn-off" for drivers on a tight budget. It's still a very solid battery, though.
Pros & Cons
Fast recharge: only takes 4-6 hours
Easily fits a long list of F150 trucks
A 100% US-made product
Slightly on the expensive side

If you're in the market for a universally compatible battery crafted in the States, Odyssey might be right up your alley. It takes very little time to recharge and has a pretty long service life. Sadly, it's a bit pricey.
Best Battery for Ford F250
In contrast to the more "civilized" F150, the F250 truck is a super-duty vehicle. In many ways, it was specifically designed for hard construction/industrial work. The built-in engine, transmission, and suspension system are highly reliable and easily handle whatever your throw their way. That also puts lots of pressure on the battery, though, which is why it might break down a bit sooner than you'd expect.
Thankfully, that won't happen if you invest in the Best battery for Ford F250. The following units successfully passed the toughest international tests and are engineered with heavy-duty use in mind. Take a look!
Product
Product Information
View on Amazon

Best Features:
– Compact size: very easy to fit
– Fast shipping across the country
– Drop-in replacement for the F250 truck
Voltage: 12 Volts
Weight: 58 Pounds
Dimensions: 6.56 x 7.19 x 7.56 inches
Fits Models: Ford F250, F250 Super Duty (1987-2017)

Best Features:
– Incredibly low self-discharge rate
– SpiralCell technology for a clean power source
– One of the cheapest options on the market
Voltage: 12 Volts
Weight: 43.5 Pounds
Dimensions: 10 x 6.88 x 7.8 inches
Fits Models: Ford F250, F250 Super Duty (1983-2018)

Best Features:
– Designed for high-performance equipment
– Easily handles off-roading trails
– Electrolyte suspension + glass mats
Voltage: 12 Volts
Weight: 50 Pounds
Dimensions: 12 x 7.375 x 7.625 inches
Fits Models: Ford F250, F250 Super Duty (1987-2013)

Best Features:
– Passed industry tests with flying colors
– Features fortified straps and welds
– Market-leading vibration resistance
Voltage: 12 Volts
Weight: 47.5 Pounds
Dimensions: 10.6 x 10.4 x 8.2 inches
Fits Models: Ford F250, F250 Super Duty (1987-2019)

Best Features:
– Cycles 900+ times at a 50% charge
– Made in the US using domestic materials
– Backed by fast customer support
Voltage: 12 Volts
Weight: 65 Pounds
Dimensions: 11.8 x 7.32 x 7.44 inches
Fits Models: Ford F250, F250 Super Duty (1987-2018)
Best Battery for Ford F250 Review
1. Odyssey – Best Battery for Ford F250 Diesel Truck
If you're a proud owner of the F250 truck and want to replace the factory battery with a compact unit, that will be possible with Odyssey. It's not tiny, but still small compared to the market average. And, it will take very little time, effort, and knowledge to install it manually (30 minutes tops). Add fast, charge-free delivery across the country, and you'll see why this battery deserves a spot on the list.
But, it's not the most durable or reliable unit. Some drivers complain about it breaking down in two years or even 18-20 months.
Pros & Cons
One of the smallest batteries for the F250
Quick delivery/shipment across the States
Straightforward, hassle-free installation
Durability/longevity issues

Despite the problems with the lifespan, Odyssey can be a reasonable investment for the F250. It is very easy to install, fast to arrive at your doorstep and features one of the most compact designs for an aftermarket battery.
2. Optima – Best Battery for Ford F250 Super Duty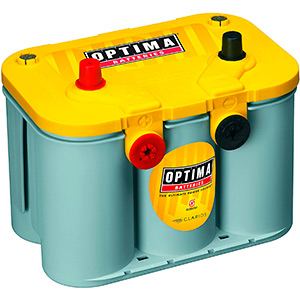 Did you know that batteries lose their charge when they're not in use for a long time? That's true, but it won't be a big issue with Optima: this unit has one of the lowest self-discharge rates on the market. Besides, it is manufactured using Optima's patented SpiralCell technology and delivers a safe, clean, strong power output. More importantly, it's a really affordable option for the F250.
You can get it for cheap and still enjoy an above-average performance. Unfortunately, QA/QC can be an issue. I'm talking about slow deliveries, dented packages – things like that.
Pros & Cons
Boasts low self-discharge rate: can last a winter
Crafted using a trademark SpiralCell technology
Available at a very affordable price
Minor problems with quality control

There's very little not to like about the Optima battery except for the QA issues. It is non-expensive, can last for a really long time without losing its charge, and it's built with the SpiralCell technology for optimal efficiency.
3. Deka – Best Battery for 1990 Ford F250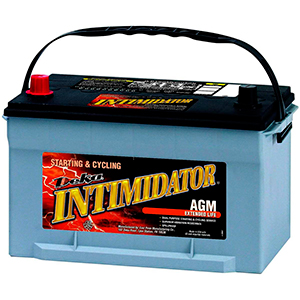 Moving up with the list, let's see what Deka has to offer. The manufacturer claims this battery is specifically built to work with high-performance equipment, and it does, indeed, handle heavy-duty tools easily. It's also quite a decent unit for racing and off-roading. The electrolyte suspension system, in turn, along with the glass mats, ensures extended durability and lifespan.
On the downside, customer support leaves a lot to be desired. The service agents aren't very quick to respond and you won't always get proper help with a replacement.
Pros & Cons
Strong enough for high-performance tools
A great pick if you do lots of off-roading
Advanced electrolyte suspension system
Poor-quality customer support

Deka is one of the most versatile third-party batteries for the F250 truck, especially for the older generations. It is equally reliable for off-roading and powering up heavy-duty equipment. Customer service is average at best, but that's compensated by the excellent build quality.
4. Delphi – Best Battery for Ford Super Duty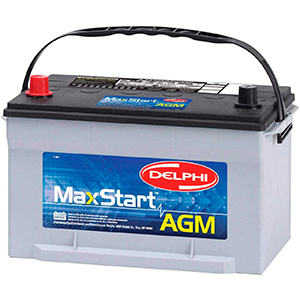 Delphi is an incredibly tough and sturdy battery for the Super Duty truck. It's 20 times more resistant to vibrations compared to standard-issue units. On top of that, it features fortified posts, welds, and straps, which make it even harder to shake. Another big pro is its performance in the most demanding safety and quality tests.
As for the disadvantages, Delphi isn't very good at holding the charge. So, if you were planning on parking the Ford in the garage for the winter and getting back to it in the spring, the battery will, most likely, be half-drained, if not worse. Other than that, it's a keeper.
Pros & Cons
Easily passed tough US quality/safety standards
Fortified straps, welds, and posts for a bumpy road
Twenty times more vibration-resistant
Doesn't hold the charge for very long

If you do lots of driving on off-roading trails, Delphi deserves your attention. It is well-fortified and doesn't vibrate even on the most challenging roads or conditions. Sadly, its charge-holding capacity is below average.
5. Northstar – Best Battery for Ford F-Series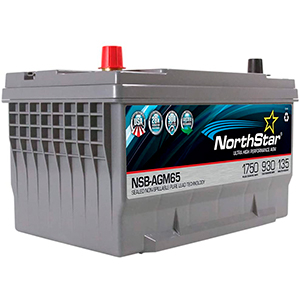 This right here is the heaviest aftermarket battery for the F250 Super Duty, and that's its biggest con. The pros, in turn, are quite impressive. First, I want to mention the helpful, client-oriented customer support. This is a 100% US-made battery, and customer service within the States is, indeed, pretty great. Performance-wise, Northstar is a no-brainer.
It delivers 900+ cycles at only 50% depth of discharge – that's a strong result by any standard. The overall power output is also very decent.
Pros & Cons
Over 900 cycles at 50% depth of discharge
Crafted in the US from domestic materials
Covered by a helpful customer support
Heavier than the industry average

Are you worried that your new battery won't have enough CCA to handle the job? Then Northstar could be a reasonable investment. With 900+ cycles at ½ discharge, it is a safe bet for the average F-Series driver.
Best Battery for Ford F350 Diesel
The F350 is an even bigger, stronger, and meaner truck than the previous two. It's not particularly fast or anything like that, but it is an excellent choice for towing/hauling and conquering the off-road. The stock battery is pretty decent as well, but it does have a limited lifespan. So, if you feel like it's failing at doing its job, the following candidates for the title of the Best battery for Ford F350 diesel will be a worthy investment.
Product
Product Information
View on Amazon

Best Features:
– Extended plate surface area
– Delivers 400 cycles at 80% discharge
– Corrosion-resistant brass terminals
Voltage: 12 Volts
Weight: 58 Pounds
Dimensions: 6.56 x 7.19 x 7.56 inches
Fits Models: Ford F350 (1999-2019)

Best Features:
– Sealed, valve-regulated and spill-proof
– Perfectly fit for off-roading and boat racing
– One of the most powerful third-party batteries
Voltage: 12 Volts
Weight: 53.8 Pounds
Dimensions: 11.8 x 7.2 x 6.8 inches
Fits Models: Ford F350 (1999-2019)
Best Battery for Ford F350 Diesel Review
1. Optima – Best Battery for Diesel Truck Ford F350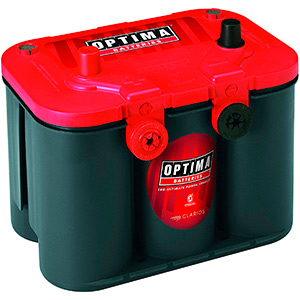 As a leader in the industry, Optima has excellent options not only for the F150 and F250 but also for the bigger and more powerful F350. This particular battery features a universal design: you can mount it anywhere (and in any position) that you want, thanks to the spill-/leak-free construction. The engineers also did a great job of making it highly resistant to hard launches and power spikes.
And you won't have to spend a fortune to get this battery: it's available at an affordable price (lower than the market average). Sadly, the RC (reserve capacity) isn't very impressive (only 100 minutes).
Pros & Cons
Easy to mount in any position you like
Resistance to energy spikes and hard launches
Cheap, compared to the market average

With Optima, you'll get a decent-quality battery at a very attractive price. It is leak-free, strong against vibrations, and protected from sudden spikes in power/energy. The RC capacity isn't very impressive, but still ok.
2. Odyssey – Best Battery for Ford PowerStroke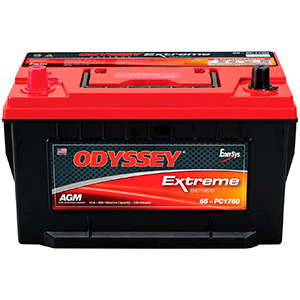 Just like Optima, Odyssey has a long line-up of batteries that fit different F-Series trucks. Here, we've got an all-around solid unit. It features an extended plate surface area, which means more power and higher efficiency. It easily delivers 400 cycles at an 80% discharge and won't disappoint you in the long run.
This battery is expensive, but, again, delivers strong performance and will be worth the investment. Besides, it comes with corrosion-resistant brass terminals that don't lose their integrity over the years.
Pros & Cons
Enhanced plate surface area for extra power
Good for 400 cycles at 80% discharge
Well-protected against rust/corrosion

What is it that you're looking for in a new battery? If it's extra efficiency, strong performance on a low charge, and rust resistance, Odyssey has got your back. It's slightly on the expensive side, but a bargain nonetheless.
3. XS Power – Best Battery for 1999 Ford F350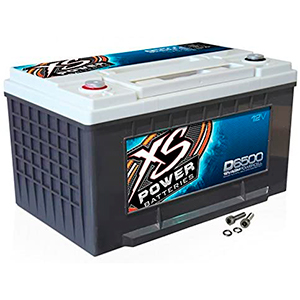 The last stop for us today is XS Power – a battery that fits older F350 trucks perfectly. It is sealed, valve-regulated, and won't spill acid even if the vehicle gets into an accident. Crafted for off-roading journeys and racing, it can definitely take a beating. The installation process isn't always very straightforward on newer F350 editions, though – keep that in mind.
But, that's compensated by the real-world efficiency. XS Power boasts 3.9K amp and 1070 CA, which puts most of the competition behind.
Pros & Cons
Brick-strong design: sealed and regulated
Engineered with off-roading and racing in mind
Pretty powerful: up to 3.9K amp
Might take some effort to install

The right way to describe this battery is "unbreakable". It is designed to handle extreme conditions on the road and has a highly reliable, durable body. The power output is quite impressive as well.
What is the Best Battery for Ford F150?
There's no shortage of aftermarket batteries out there – that's the good news. The bad news is – with so many different options, it can be quite hard to find a perfect fit for your trusted F150. Essentially, it all comes down to knowing what you want in advance instead of blinding navigating through the market. So, here are the most important aspects to keep in mind:
Size + fitment. If the battery doesn't fit your F-Series truck, it's gonna be a waste of money. On the bright side – compatibility is very easy to check in the specifications. If you see your truck's nameplate (and generation/year) in there, that means it's most likely going to be a perfect fit. As for the size, refer to your vehicle's manual for that.
Certain F150/250/350 trucks have more space for the battery than others. So, it would be wise to measure the size of your factory unit (the length, width, and height) before ordering a new one. And one more thing: pay extra attention to the terminals (especially the positive one). Sometimes, when they're in the wrong spots, you'll have a hard time routing the cables.
What about the weight? Does the weight really matter? Yes, it does. Heavy batteries are harder to carry around and (usually) take lots of space. More importantly, the bulkier the unit, the trickier it will be to eliminate vibration. On average, modern-day batteries for big trucks weigh around 40-50 pounds.

RC – why is it important? RC is short for reserve capacity, and it describes the battery's ability to run in a completely standalone state, without the motor constantly charging it. This parameter is usually specified in minutes, and 120M is a decent place to start. In contrast, 100 minutes might not always be enough, while 150M is what you should aim for.
What does the Best Battery for a Pickup Truck look like?
In many ways, it's the one that you can afford. We just went over the key factors that turn an average-at-best unit into a must-have. However, if you don't have the budget for it, that's just not gonna happen. So, here's another thing that I want you to consider: the budget. This should be the #1 thing you figure out before looking at the size, weight, voltage, and whatnot. These days, a decent-quality battery won't cost you a fortune.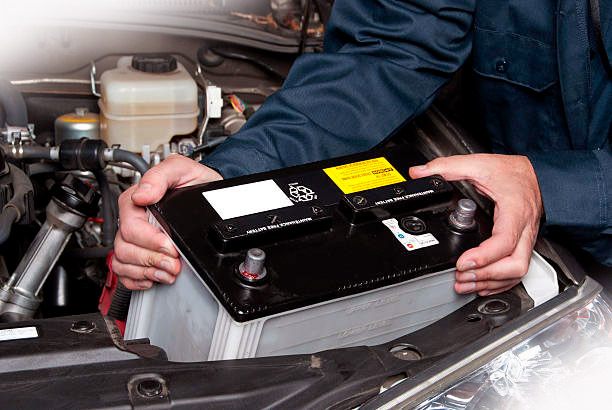 There are lots of well-respected brands that specialize in building highly durable, reliable, and all-around solid batteries for the average pickup truck driver. Now, the entry-level price for a worthy unit starts at +/- $150-200.  Moving up to the next price range, we've got 300+ dollar units. For this kind of money, you'll get extra safety features, a longer lifespan, and fast recharge, among other things
And don't forget about the warranty. For pickups, it's very important to have some sort of guarantee. The reason: they constantly push the battery to the limit (in off-roading, racing, or construction work). So, if you see a manufacturer that backs its product with a 2- or 3-year warranty, it might be worth checking out. However, you might have to pay 400 or more US dollars for that, or even more.
How to Pick the Right Battery for your Ford Vehicle?
I can't stress enough how important it is to find the right match when it comes to the battery. And I hope that this guide will help you with that. So, here are some extra tips and tricks:
Always go for the newest battery. With batteries, the data of manufacturing plays a key role. Examine your stock unit first: you should see a code on it. The letter stands for the month (A for January, and so on), while the number stands for the year. Say, D21 means the unit was built in April 2021. Always check the production date and buy the "freshest" battery they've got.

Does the brand matter? It does if this is your first time buying an aftermarket battery. Manufacturers like Optima, Odyssey, and ACDelco are some of the biggest names in the industry. And, while they're not always perfect (in terms of customer support, shipment, and replacement policies), you'll be in better hands than with a less-known company. Besides, brands that focus on large-scale production will have a wider choice of batteries.
How to change a Ford battery: Step-by-Step Guide
Battery replacement/installation is a very straightforward process, as long as you followed my guide and picked the right unit for your truck. Before we jump into it, here are some things you can do to make sure that the battery does, indeed, have to be replaced:
Look for any residue around the terminals. It's gonna be white or blue-ish residue, and removing it tends to "magically" bring the battery back to life. Don't touch it with bare hands, though, as it's toxic and can leave you with burns. Put some protective gloves on!

Give it some time to charge. Chances are, the battery is just out of charge. So, start the engine and drive around the block for +/- 30 seconds, with all the electronics (including the conditioner) off.

Check on the alternator unit. Maybe it's the alternator malfunctioning and not the battery? If your Ford truck has a battery meter, it will help figure this one out. The alternator's job is to keep the charge in the 13.8-14.2 range. Do you see different numbers on the meter? That means the alternator is to blame.
Alright, if none of that seems to help, that means the battery is dead. Here's how you replace it:
Start by parking the truck on a safe, even surface. Activate the parking brake and put those gloves I mentioned on (eye goggles would also be great). Next, locate the battery. It will be hidden somewhere in the frame with easy access. Essentially, it's a big box with cables connected to it. You'll probably find it sitting behind the headlights, on the passenger side.
Go ahead and disconnect the negative terminal (it's got a minus sign on it). Loosen the clamp with a standard wrench. Do the same with the positive terminal. Now just remove the stock battery and put the new one in its place. Reconnect the terminals, but this time around, start with the positive one. Tighten the clamps, close the hood, and take the new battery for a spin!
Buyer's Guide
Wanna learn some more about batteries? We just talked about the importance of buying a new unit and going with the right brand. But wait: what's the average lifespan? What about the power/efficiency? And will you have to take care of the battery, or not? These things need to also be considered if you want to get the best bang for the buck.
#1: Lifespan: How long does it last?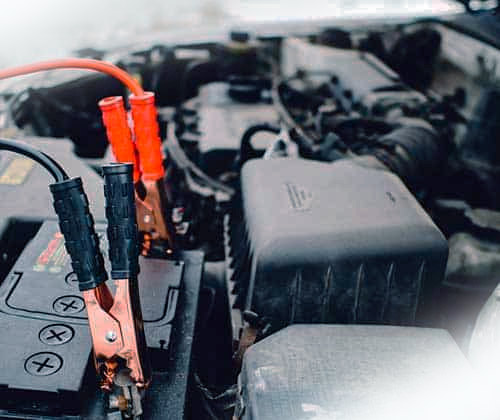 On average, car batteries work for about 3-4 years. On a small crossover SUV or a compact sedan, the life cycle might reach up to 6 years. On a rough-tough truck like the F350, in contrast, the lifespan could be as short as 2-3 years. Yes, for the most part, it comes down to your vehicle and how much "abuse" you put the battery through. The driving habits, electronic devices/components in the vehicle, and even the climate also affect life expectancy.
My advice to you: have the battery inspected by a mechanic once you reach the three-year threshold. They'll tell about its condition and roughly how much longer it will last. To make the unit run longer, don't leave it inactive even for a week, and make sure not to remove the key from the ignition and turn the interior/headlights off for the night.
#2: Real-World Efficiency
For a super-duty truck like the 250 or the 350, it's vital for the battery to always be ready to work. Extreme temperatures can have quite an impact on batteries. That's why you gotta find a unit with enough CCA (cold cranking amps). The higher this number, the easier it will be for the battery to work in harsh conditions. Say, 500 CCA means perfect operation at 0 degrees F (-18 C).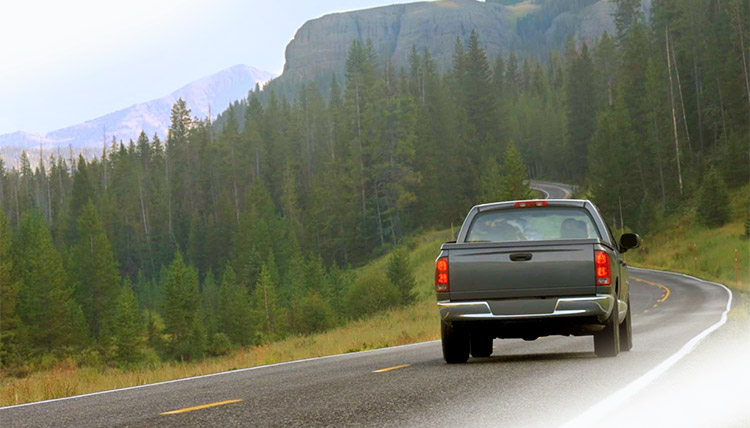 For optimal performance, find a battery with 750 CCA. As for voltage, modern-day units work at 12 volts. Another thing to keep in mind is safety precautions. I'm talking about resistance to power spikes, vibrations, and, of course, spillage. A battery that's protected against all that and has a decent CCA should be put on the list.
#3: Maintenance
Do batteries really need maintenance? Well, it depends on what kind of a unit you've got your hands on. Most drivers go for maintenance-free products, of course, but these usually cost more. On the bright side, you just install the battery and forget about it – no need for constant monitoring.
Conclusion
Alright, that is it! Today, we checked out the best aftermarket batteries for the F-series trucks (11 in total). While the F150 is the best-selling nameplate in the line-up, F250 and F350 are also quite popular. That's why I decided to break the list down into three different sections – for easy navigation. And if you're still not 100% sure about any of the batteries on the list, that's very much ok.
It can be pretty hard to take a pick, especially if this is your first time. So, refer to the FAQ section and the Buyer's Guide to help yourself with the choice. There, you'll learn about the size, weight, efficiency, warranties, lifespan, and other factors that define the quality of a battery unit. Drive safely, and I'll see you next time!