Best Cold Air Intake for Ford Focus Review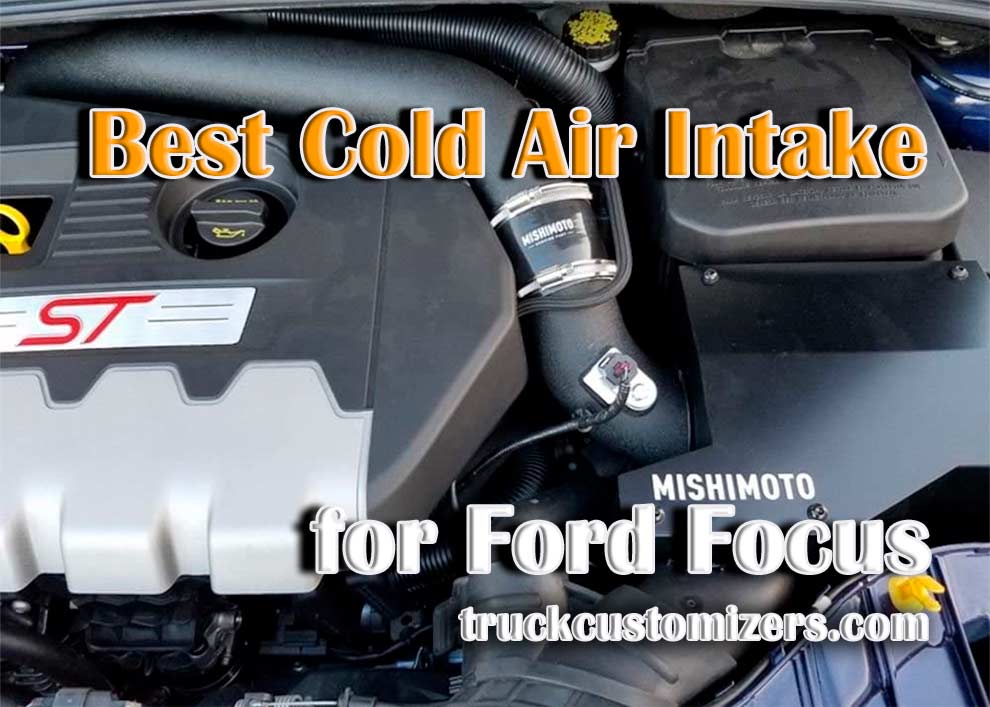 Ford Focus is one of the most popular US-made and "family-friendly" sedans. It's been around for decades and is a best-selling nameplate. Performance-wise, it's not very impressive: you get a rather boring engine with a modest potential. However, the same can't be said about the ST and RS editions. These hatchbacks were designed for competitive racing.
And, they pack a mean powertrain with lots of room for improvement. But, there's a catch. While the motor is, indeed, quite powerful, the cooling system isn't always up to the task. So, to ensure proper cooling for the engine, you gotta invest in the Best Cold Air Intake for Ford Focus. It will improve the airflow, filter the contaminants, and give the vehicle an edge. Here are my top picks for the entire Focus line-up!
Best Cold Air Intake for Ford Focus Review
1. K&N 69-3517TS – Best Cold Air Intake for 2018 Ford Focus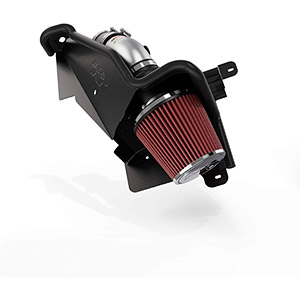 For most Focus owners, ease of use is the #1 concern: they want an air intake system that's quick to install and requires little maintenance. Well, that's exactly what they'll get with K&N. Thanks to the premium engineering, the filter can last for up to 100K miles without washing. And, it's a reusable filter, meaning you can put it right back after you clean it. K&N is a US-made kit, by the way, and can easily handle a wide range of climates.
What about the performance boost, though – will you get any? The answer is yes, you most certainly will. In fact, this is one of the most powertrain-focused intake systems on the market and provides an above-average increase in the HP and torque output. The only downside: while the overall material quality is more than decent, the filter does have plastic parts that are rather fragile. But, if you're careful during the installation, this won't be an issue.
Pros & Cons
Easy filter maintenance: serves for up to 100K miles
Delivers a strong boost to horsepower and torque
Designed, built, and tested in the States
Cheap, brittle plastic parts

Easy maintenance, significant performance improvements, and impressive real-world efficiency turn the K&N CAI into a must-have. Designed and made in America, it will serve you for a very long time, justifying every single penny you pay for it. The filter is a bit delicate, though – keep that in mind.
2. ROUSH 422065 – Best Cold Air Intake for Ford Focus RS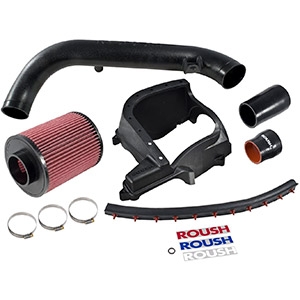 Moving on with the list, let's take a quick look at what Roush has to offer. Specifically designed for the performance-oriented Focus hatchbacks, it does a great job of maximizing their real-world efficiency. This is achieved thanks to the superb-quality induction tube and air filter. Together, they protect the motor from overheating and contaminants, allowing it to deliver its a-game. That's right: This CAI is compatible both with the RS and the ST models.
On top of that, it is 100% street-legal across the country. So, you won't have any issues with the law outside of a race track. However, you will have to pay a pretty penny for Roush. While it's not unreasonably expensive, the price is still a bit steep compared to the market average. On the bright side, the OE-quality finish, free-flowing design, and reinforced coupler make it all worth your while.
Pros & Cons
Premium-quality filter + induction tube for efficiency
Enhanced compatibility: fits both the RS and ST
Street-legal in 50 states (including California)
The most expensive CAI on the list

With the Roush cold air intake system, you'll get a top-of-the-line filter and an induction tube. They ensure well-above-average performance for a long list of Focus vehicles. Plus, this CAI is 50-state legal, which can't be said about most similar products. Sadly, it's a bit on the expensive side.
3. AF Dynamic – Best Cold Air intake for 2016 ford Focus ST 2.0L Turbo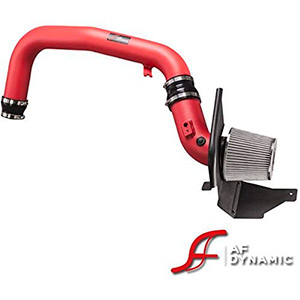 In contrast to the previous air intake kit, the AF Dynamic system is quite affordable. Compared to the market average, it is significantly cheaper and will fit the tightest budget. But wait – does that matter it falls behind the competition in terms of efficiency? Not quite: with this CAI, you can expect a growling, in-your-face exhaust tone that makes the ST feel like a true race-track-ready hatch.
The filter also deserves our praise: it easily handles the most challenging contaminants and prevents them from damaging the 2.0-lit motor. What I didn't like about this otherwise excellent air intake kit was the lack of QC and QA. Some buyers complain about returned packages. Others claim missing installation hardware and the wrong grommets/bolts. Thankfully, the company provides a 60-day factory warranty for that.
Pros & Cons
Adds a roaring, aggressive tone to the Focus ST engine
Premium-quality filter: keeps contaminants at bay
Available at a very affordable price

What will you get with the AF Dynamic air intake system? Will it be a worthy investment for an ST owner? It will if you're in a market for a budget-friendly CAI that turns the boring hiss into a roaring tone. The filter is quite alright as well. QA can be an issue, but it's not a very big deal.
4. Mishimoto MMAI-FOST-13P – Best Cold Air intake for Ford focus ST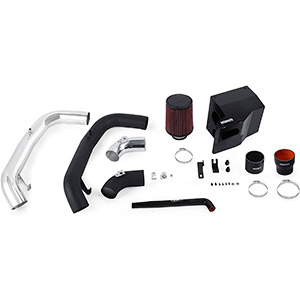 This next company is all about taking fuel economy to the next level. With Mishimoto, you'll get a 2-3MPG boost to the engine's efficiency, saving you fuel money in the long run. And, this unit was thoroughly dyno-tested before hitting the market. That means it fits the Focus ST perfectly and doesn't require any tuning/calibration to work properly. You just mount the CAI, get it connected, and hit the road.
Speaking of that, Mishimoto comes packed with excellent installation hardware. Mostly crafted from stainless steel, it won't break or get overwhelmed by corrosion. The airbox, in turn, is pretty big and improves the intake's effectiveness. This kit was designed and manufactured in China. For some drivers, that's a con. However, the engineering quality meets (and even exceeds) the US standards.
Pros & Cons
Superb-quality installation hardware + airbox/housing
Dyno-tested for the Focus: no tuning required
Helps maximize the fuel economy/efficiency

Mishimoto is, without a doubt, one of the best aftermarket air intake systems for the Focus ST hatchback. It features top-notch installation hardware, fits the vehicle easily, and does a decent job of boosting the MPG ratio. If that sounds good to you, put this CAI on your list of must-haves.
5. BLUE FIT – Best Cold air Intake Ford Focus SE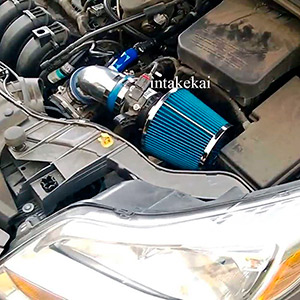 Do you feel like a third-party intake system installation is a bit too much to handle manually? Then Blue Fit could be a perfect pick for you. This kit takes very little effort to install. Unfortunately, the included user manual/guide isn't at all clear and could confuse you instead of helping. So, you might want to put it aside. Besides, as long as you've got a standard toolset, the whole thing will take 30-40 minutes tops.
Once you're done, drive around the block for 10-15 minutes, and you'll start to notice the performance benefits. Most importantly, this kit maximizes the throttle response. That, in turn, results in better (faster) acceleration, which is great news for the Focus SE. Another big pro: the company boasts fast, 100% charge-free deliveries/shipment across the United States.
Pros & Cons
Fast, straightforward installation with a basic toolset
Significantly improves the throttle response
Charge-free delivery within the States
The instructions are rather vague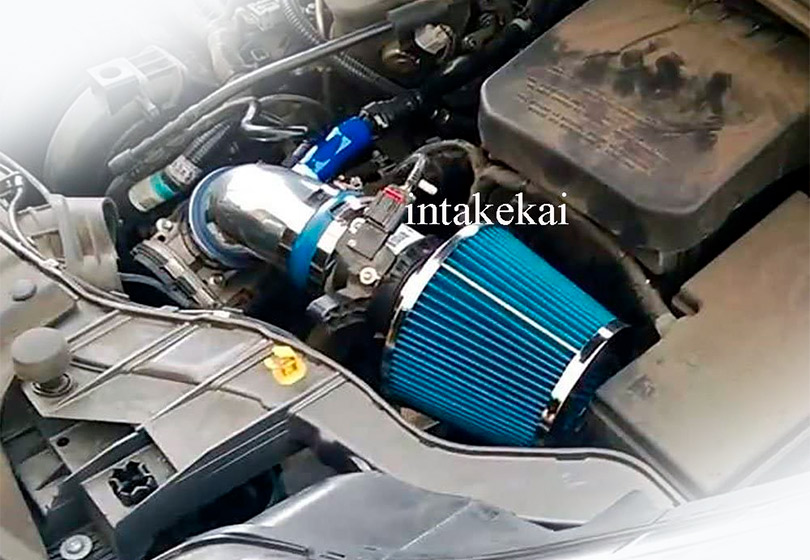 Quick, free shipment, straightforward, hassle-free installation, and a strong acceleration boost – that's what you should expect from the Blue Fit cold air intake. Horsepower/torque gains, a stronger exhaust tone, and a reasonable price tag will be a part of the deal as well.
Can you put a Cold Air Intake on a Ford Focus?
Of course, you can. Unless it's a heavily customized, full-size truck with a unique, one-of-a-kind engine, CAIs can work with pretty much any vehicle you own. As for the Focus, it's incredibly flexible in design and can "house" a wide range of different air intakes. The best thing about this gear – it doesn't change anything fundamental and takes little time and effort to install and get connected.
Just follow the included installation instructions, and you'll be done in no time. So, even if you're driving a regular "civilized" Focus (as opposed to the ST and RS hatchbacks), you won't have any issues with updating the intake system. The gains will not be very impressive for an older-generation vehicle, of course, but the improved airflow, better filtration, and modest improvements in the powertrain (or, rather, power output) will make it worth the while.
Sometimes, depending on the actual car, you might have to use a tuner to bring out its true potential. Otherwise, it won't do much good and you'll pretty much be wasting your money. Yet, this happens very rarely, especially on a vehicle like the Focus. So, summing up, yes, you most certainly can (and should) put a CAI in the Focus.
How much Horsepower should a Cold Air Intake Add?
You'll be hearing this a lot, but the actual gains depend on a long list of factors, including your driving style, the local climate, and even how much extra weight you're carrying. The engine, transmission (manual or automatic), and exhaust system also greatly affect the real-world performance of a cold air intake system. With that said, on average, CAI systems boost the engine's power output by 10-15HP.
This isn't a ground-breaking improvement, but as a bonus to better airflow/filtration, it's quite alright. Besides, if the Focus engine is putting out +/-200HP, this will land you with a 5-8% boost. The torque gains are almost always a bit bigger compared to horsepower, by the way (around 15-20) – keep that in mind. If you're not satisfied with these somewhat modest gains, you'll have to pay more for a more sophisticated cold air intake.
The most advanced systems can provide an extra 20-30HP (40 "horses" if you're really lucky). That still won't turn the Focus into a spaceship, but the improvements will be more noticeable. As a general rule, the stronger the engine, the bigger the increase will be, because of the growth potential.
Tuning a Cold Air Intake: Step-by-Step Guide
Why would you want to tune an intake kit in the first place? For many reasons, actually. First of all, pretty much any third-party gear benefits from a tuner. These devices are known to help aftermarket upgrades deliver their best possible performance. In addition, as I mentioned earlier, in some rare cases, a CAI will be almost worthless without a tuner to, well, tune it and get it in sync with the motor.
On top of that, programmers do a great job of bringing these individual parts together, making them work better, and ensuring a smooth, controlled ride quality. And, I'm happy to say that you won't need any mechanical or programming skills to use a tuner to the fullest. These devices are almost 100% automated. All that's left for the driver to do is get it connected (usually, through a mini USB cable that plugs into the onboard computer) and start it up.
This is important: on the screen, you'll see lots of different menus and modules. Don't get intimidated by all these options, though – they're usually labeled and self-explanatory. If the tuner has an LCD, you'll need to use physical buttons to choose the right features. And if it's a more expensive unit with a touchscreen, it will be easier to navigate. Now, the first thing that I want you to do is run full system diagnostics.
That may take a while, but do give the programmer as much time as it needs. This feature is great at revealing potential issues with the installed gear, allowing you to fix it quickly and at a much lower cost. Code clearing is another highly useful feature. For example, it can get rid of the annoying "Check Engine" light on the dashboard.
Next, you could launch some monitoring modules to, say, check how the exhaust system is doing, what's the current engine temperature, and more. And to get a performance boost, select one of the calibration options. In modern-day vehicles, the built-in computer handles the vast majority of the systems/mechanisms. For the cold air intake, the tuner will help the computer set the perfect air-to-fuel ratio.
It can also regulate the airflow, correct the speedometer, the tire size, adjust the rev limiter, and so on. A quick note: to get the biggest performance gains, I recommend using the factory-set tunes. These are specifically designed for one purpose: to maximize the MPG ratio, HP/torque, or acceleration. Yes, you'll have to choose between different options, but they will provide the most impressive improvements.
What are the Benefits of Installing a CAI System?
Statistically, most drivers think that cold air intakes only boost the horsepower and torque ratings. However, it's safe to say that they're a lot more capable. Along with increasing the "raw power", CAIs also affect the MPG ratio and acceleration (in a positive way, of course). We already discussed what you can expect in terms of horsepower and torque improvements. So, now let's focus on the improvements in fuel economy.
Here are the facts: an aftermarket air intake kit with a filter, decent-quality tube, and an airbox has the potential of boosting fuel efficiency by 2-3MPG. I use the word "potential", because, like with everything else, you can't predict the actual gains. First of all, the CAI needs to be a perfect fit for the Focus (the engine, to be more specific). Secondly, you will, most likely, have to use a tuner as we discussed for the most impressive results.
The good news is – even if you get an extra MPG or two, that will still be a significant boost. This is achieved by improving the airflow, keeping the temperature in the combustion chamber from going up, and, again, perfecting the air-to-fuel ratio. And what about the throttle response, you might ask? It all comes down to the same thing: more cold air, fewer contaminants, and stronger output.
For the standard-issue Focus, the boost in acceleration isn't always very noticeable. In contrast, if you drive the ST or RS editions, even the slightest improvements will be quite evident. So, there you have it – more benefits of investing in an aftermarket cold air intake kit and installing it on the Focus.
Air Intake Kits: What are they used for?
The #1 job of CAIs is to increase the airflow inside of the combustion chamber and keep the engine cool. And if the kit includes a premium-quality filter, it will protect the motor from contaminants. So, yes, the primary reason for investing in a system like this is to avoid overheating. I do want to also say that you don't necessarily HAVE to buy a CAI if you're only using the Focus for daily commutes (say, to get to work or buy some groceries).
The stock gear is usually well-equipped to handle such tasks. In contrast, if you do lots of off-roading, racing, or just tend to push the powertrain to the limit, a cold air intake kit will, most likely, be necessary. The ST and RS hatchbacks come packed with ready-steady motors that can compete with muscle cars, trucks, and even some sports vehicles. However, the intake system in these "hotshots" still leaves a lot to be desired.
And that's what justifies investing in an aftermarket unit. Engine overheating happens a lot more often than you probably think, and repairs cost a lot and take some time. The price tag on a decent-quality CAI is significantly lower. Even for a slow, generic family sedan like the Focus SE, an intake kit can be a reasonable investment, as long as you know what to expect in advance.
Cold Air Intakes vs. Stock Gear: The Pros of Upgrading
Summing up everything that we already learned, the pros of switching from a factory intake system to a proper cold air intake are quite significant. First of all, you'll get a noticeable increase in the airflow. That, in turn, will lift all the limitations slash restrictions from the engine. On top of that, it will prevent premature motor breakdown and overheating. As for the stock filters, they're not very impressive.
To cut the production cost, most manufacturers put cheap, low-quality paper filters that do a poor job of securing the combustion chamber from contaminants. That's why a high-flow, performance filter from a third-party intake kit is so important. Depending on how many layers it has and the material(s), it will be able to handle almost every single dust and pollen particle. This will save you a long and expensive trip to the closest repair shop.
The performance gains are even more reason to consider this purchase. Extra HP and torque (15-20 on average), better fuel economy (+1-3MPG; that'll save you more than $100 in a year), and faster acceleration will maximize the potential of even the slowest and weakest Focus model. Now, you might consider going with a short ram instead, but I strongly recommend against that.
The reason: rams are less efficient compared to air intake kits, because they draw hot air from the engine, while CAIs get the air/oxygen from the outside. Besides, to install a ram system, you'll have to remove the factory resonator and silencer. Without those parts, the exhaust sound will be pretty loud, which most Focus drivers don't really like.
Buyer's Guide
In the FAQ, we learned about the actual HP gains, the best way to tune an air intake system, the biggest pros of switching from a stock system to an aftermarket kit, and more. Now it's time to dig deeper and see what CAIs are all about. We'll go over the price, warranty deals, and the best materials for the filter and the intake tube. I broke the guide down into four different sections so that it's easier to master it. Let's get to it!
#1: Don't go Cheap with the Filter
As the name suggests, the filter does exactly that: it lets air pass but keeps contaminants at bay. Without a proper filter, the motor will get overwhelmed by all the dust, debris, pollen, and dirt from the road. So, even if your budget is very modest, don't EVER buy an air intake kit with a paper filter, because it won't do you much good. In contrast, performance-oriented units are your best bet.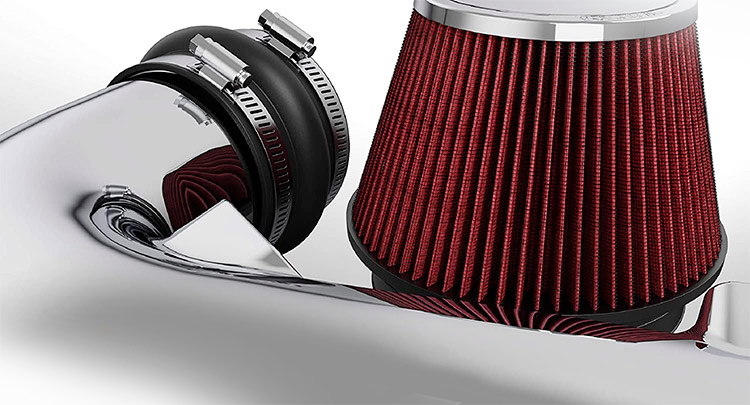 Washable and reusable filters last for a long time and boast up to 99% efficiency (in contrast to their dry counterparts). Cotton-fiber, layered, and oiled filters shield the engine and greatly increase its lifespan. Also, make sure that it says "high-flow" in the specifications. Otherwise, it will have a (minor) negative effect on overall performance, especially the throttle response.
#2: Consider the Intake Tube's Build Quality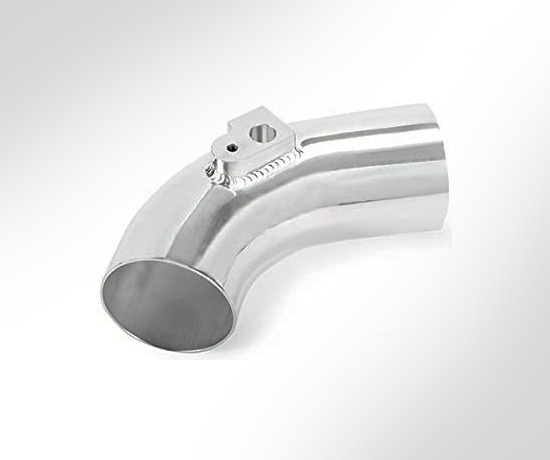 The intake tube looks and acts pretty much how you expect it to. It's a wide, bent pipe that aids the cooling system in keeping the temperature in the combustion chamber within a safe, operational range. Right now, the market is dominated by stainless steel and aluminum tubes. If your budget isn't particularly big, steel tubes will do just fine. Still, they're not a match for aluminum.
This material has a longer life cycle, easily handles humidity, heat, and corrosion, and is more flexible by nature (which is also vital for an air intake tube). Now, some experts claim that the larger the tube, the more efficient it will be. However, the expression "the bigger, the better" doesn't apply here. Overly-wide tubes are just as ineffective as narrow ones. The golden middle is 3-4 inches.
#3: Check Real-World Performance Gains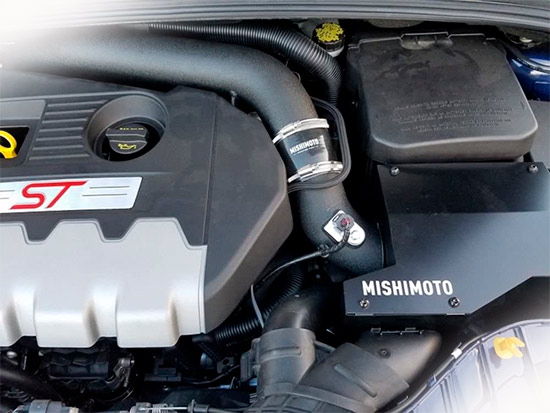 With air intake systems, it's important to understand that the potential boost that you see in the specifications isn't necessarily what you'll get in real life. Manufacturers always indicate the maximum gains that are only possible in a perfect setup. Say, some CAIs won't be able to deliver their best performance unless you pair them up with a decent-quality exhaust system and a header.
Other kits greatly benefit from a tuner/programmer. The engine, transmission, and even suspension also play key roles in this. That's why I want you to lower your expectations a bit so that you're not disappointed with the actual improvements. For more accurate gains, check my detailed reviews or take some time to read real, unbiased customer feedback. Say, if it says "up to 30HP added", you'll probably get 20-25 extra horses at best.
#4: Pricing, Hardware, Warranty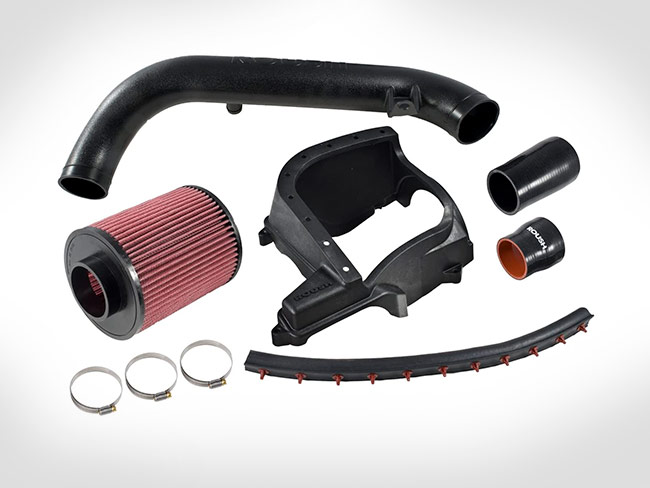 How much should you pay for a brand-new cold air intake system? Only you can answer this question! There's no shortage of intake kits on the market, and they each fit and appeal to specific customers. For the Focus, you'll be able to buy a solid-quality system for $150. That's a very fair price for gear that will not only boost the airflow and filtration but also provide a modest performance boost.
For bigger gains, you'll have to pay 50-80% more. As for kits that cost $350-450, they're the premium-quality options. While for some drivers, that price might be a bit steep, the pros are quite big. I'm talking about generous warranties, superb-quality hardware, detailed instructions, and extended compatibility, along with more impressive powertrain improvements.
Conclusion
Some drivers swear by cold air intakes; others claim they're a waste of money. The truth, as always, is somewhere in the middle. If you get the right fit for your vehicle, it will be worth every single penny. No factory intake system can be as reliable or efficient as an aftermarket unit. This is especially true for the performance-oriented Focus RS and ST that push the engine to the limit.
Which third-party CAI should you choose, though? There are so many options available! Well, you'll be in great hands with one of the five kits from today. They fit the Focus perfectly and do a great job of maximizing the airflow/filtration, HP, and MPG. Plus, check out my FAQ and Buyer's Guide to learn about the benefits, key aspects, and more. Enjoy the road!