Best Leveling Kits for Silverado Review & Buyer's Guide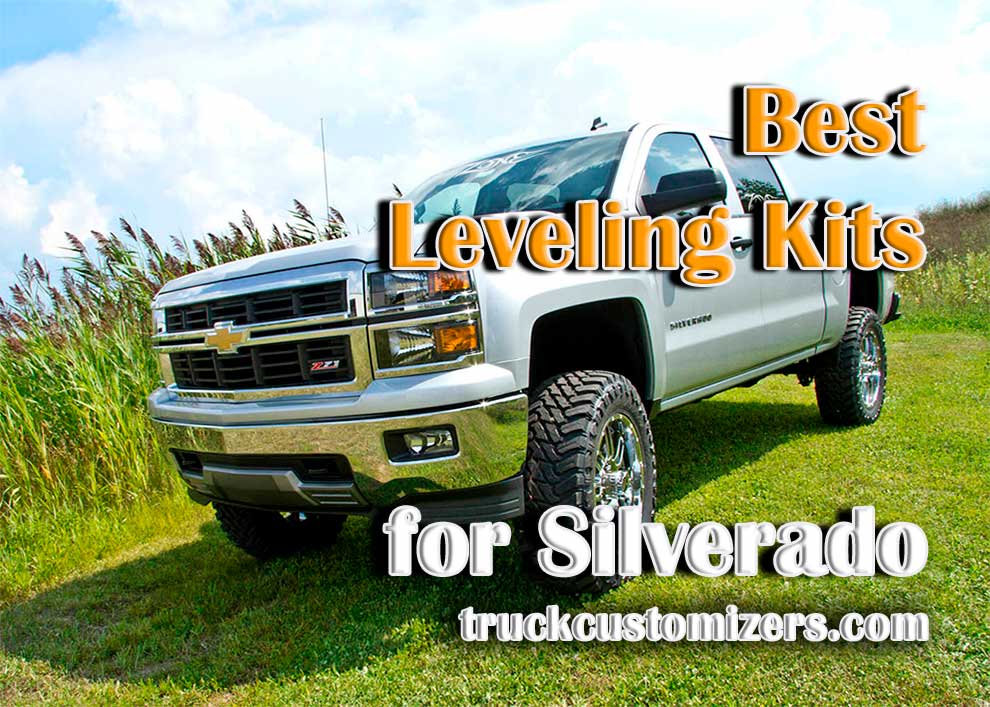 Silverado's suspension system is a tough beast. It is flexible, easily adapts to the terrain, and has an extended lifespan. However, it's not perfect for off-roading. The reason – it doesn't have enough clearance for that. While you can, of course, drive into the wilderness behind the wheel of this truck, it won't be protected against all the tiny rocks, debris, and bushes.
On the bright side, with the best leveling kits for Silverado, that won't be an issue anymore. Compared to lift kits, they're more affordable, easier to install, and do a great job of keeping the vehicle safe from rough and rocky roads. So, without further ado, let us check out my top-five picks. These kits are reliable, efficient, and fit Chevy's famous truck perfectly. Here they are!
Best Leveling Kits for Silverado Review
1. MOTOFAB LIFTS Leveling Lift Kit That Is Compatible With Chevy Silverado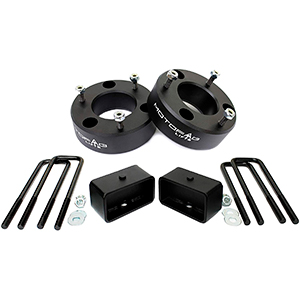 The #1 thing that's probably keeping you from investing in a leveling kit is the installation process. Most drivers believe that only a mechanic can handle it, and they famously charge quite a lot. However, I'm happy to say that if you go with MotoFab, the installation won't take much time or effort. Everything is straightforward and you'll be done in one hour (two hours max). The included user manual is a bit misleading, though.
So, you might be better off on your own (or check a YouTube video or two). This is a US-made product – designed, manufactured, and tested. That means it's 100% ready for the tough American trails. In addition, the company ensures fast, charge-free deliveries to all 50 states. That makes MotoFab an all-around solid leveling kit for the Silverado. It boosts the front by three inches and keeps the truck steady.
Pros & Cons
Fast, no-hassle installation (two hours tops)
Designed and built in the United States
Quick, charge-free delivery/shipment
The instructions are a bit vague

Straightforward installation, fast shipment (at no extra cost), and a 3" lift turn MotoFab into a sure pick. The included guide isn't very helpful, but you'll still be able to handle the installation manually. Built in the States, this kit is a perfect fit for the Silverado and is backed by a lifetime warranty.
2. Rough Country – Best Leveling Kits for Silverado 1500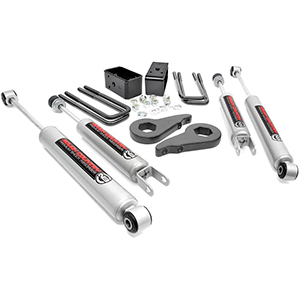 A leveling kit gotta be able to take a beating – that's one of the first things to check before committing. And with Rough Country, you'll get sturdy, impact-resistant gear that's well-protected against shocks, cracks, and natural hazards. The extra ground clearance adds greatly to the suspension's safety and longevity. Now, this right here is not just a set of spacers and a couple of bolts, but a pretty big pack.
With it, you'll get torsion keys, premium-quality installation hardware (again, crafted from durable materials), and, most importantly, a set of shocks – four in total. Rough Country is famous for its market-leading shock absorbers: they boast ten-stage valving, high resistance to heat, and hardened pistons. So, for drivers looking to give their 99-06 Silverado's suspension a nice upgrade, this could be it. The package is pretty expensive, of course, but well worth it.
Pros & Cons
Manufactured from durable, long-lasting materials
Ten-stage variable valving for extra smoothness
A generous package with premium hardware

The fans of extreme off-roading will like what Rough Country has to offer with this kit. The spacers, torsion keys, and absorbers improve performance on any terrain, and the gear is built from premium-quality materials. However, you'll have to pay a bit extra for this package.
3. Rough Country – Best Leveling Kit for 2020 Silverado 1500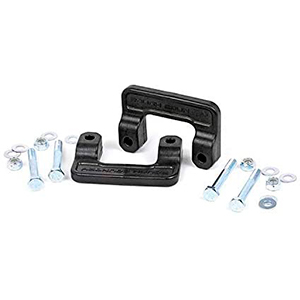 Here, we have another candidate for the title of the best leveling kit for Silverado 1500 by Rough Country. This one was specifically designed for the latest-gen Silverado 1500 trucks. The main body of the spacers is manufactured from fiberglass nylon (reinforced) – quite a reliable and sturdy material. If you want premium treatment, red anodized aluminum is also an option. In any case, you'll enjoy a smooth, OEM-like ride quality.
On top of that, this kit does a great job of "beefing up" Chevy's famous truck, giving it an aggressive, in-your-face look. The installation process is steady and intuitive for the most part. But, it might take a while and require basic DIY skills to get everything aligned. Ideally, you should ask a friend to help out, especially when dealing with the bolts. To prevent them from rubbing against the axle, try grinding them off a bit.
Pros & Cons
Provides a refined, OEM-like ride quality
Built from reinforced, fiberglass nylon
Gives the truck a beefed-up look
Might take some effort to install

Despite the minor challenges with the installation, Rough Country's brand-new leveling kit can be a great pick for a Silverado owner. It preserves the factory ride quality and gives the driver more control. Plus, it is available at a reasonable price and improves the truck's stance.
4. Maxracing 2″ Leveling Lift Kit Compatible With 2007-2021 Silverado 1500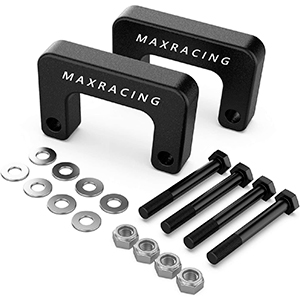 I just said that Rough Country's 2020 Silverado kit is fairly-priced, and that's very much true. Still, if you're on a really limited budget, MaxRacing will be a better pick. This is one of the cheapest offers on the market – you'll definitely be able to afford it. The company offers three different sizes to pick from (1.5", 2", and 2.5"). Obviously, the higher the lift, the more the kit will cost, with the 2-inch option being the golden middle.
Another big pro is extended compatibility: this gear fits a long list of Chevrolet trucks and SUVs, including, of course, the Silverado (the 2007-2021 models). I also want to mention that MaxRacing was precision-machined (CNC) from billet aluminum. That ensures not only perfect fitment but strong performance and an impressive lifespan. Sadly, the included hardware – nuts, bolts, and washers – are of average-at-best quality.
Pros & Cons
CNC-machined from billet aluminum for extra durability
Compatible with a wide range of Silverado trucks
A great choice if you're on a tight budget
Low-quality bolts and nuts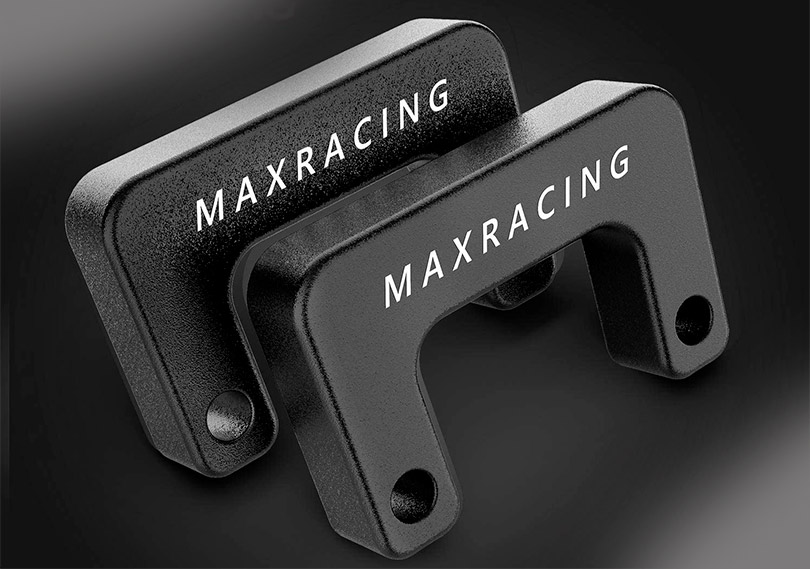 Superior strength, CNC manufacturing, and easy fitment turn MaxRacing into arguably the best leveling kit for 2021 Silverado 1500. It fits a wide range of vehicles and comes at an attractive price. Add a choice between three lift sizes, and you'll see why this kit deserves a spot on the list.
5. KSP PERFORMANCE – Best Leveling Kit for 2018 Silverado 1500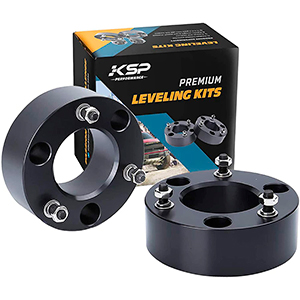 Moving up with our list, let us check out what KSP is all about. Now, just like MaxRacing, it's also available in three sizes: 2", 2.5", and 3". On top of that, you can choose between two different colors – black and red. No matter which size and color you end up with, the spacers will be protected by premium powder-coating that keeps rust at bay and ensures a longer lifespan for the kit. The included hardware is quite alright as well.
More good news: KSP covers its product with a generous 30-day refund policy and client-oriented, 24-hour customer support. So, if you find any cracks, signs of wear, or if the spacers don't fit your Chevy properly, don't hesitate to reach out to support and/or to take advantage of the money-back guarantee. The kit is manufactured in China, but it is well-packed and doesn't take long to arrive.
Pros & Cons
High-quality powder coating against rust/corrosion
Backed by a 30-day refund policy + 24H support
Different sizes and colors to choose from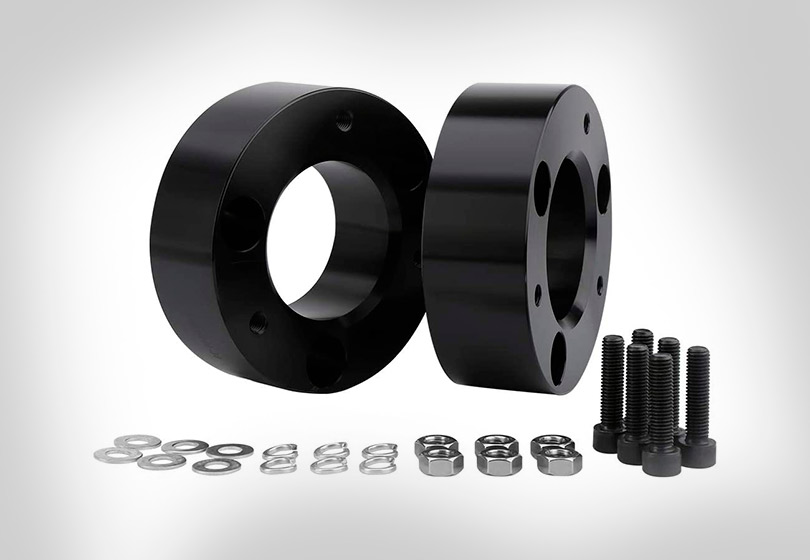 There's very little not to like about the SKP Performance leveling kit. It features reliable powder coating against natural elements and is available in different sizes/colors. In addition, it is protected by a 30-day refund warranty and friendly customer service. This isn't a US-made product, though.
Can I Install Larger Tires after Leveling my Silverado?
The answer is yes, thanks to the increase in clearance. While you won't be able to install monster tires (like 39" or bigger), the leveling kit will, indeed, allow you to rock bigger-than-average wheels. With a two-inch leveling kit, the Silverado can accommodate up to 35-inch tires, which is quite an improvement over the stock gear with a max limit of only 33 inches. A three-inch boost, in turn, "handles" a set of 37-inch tires.
This is true both for the front and the rear, of course. So, on top of protection against rough terrain, a proper leveling kit helps save money on a more expensive lift or suspension kit (read more about that in the Buyer's Guide). You might see a slight drop in fuel efficiency, though, because bigger tires usually weigh more. The increased road force also has a negative effect on mileage. Fortunately, the decrease won't be at all significant.
The Pros Of Buying A Chevy Silverado Leveling Kit
Rough Performance. Most drivers think that by adding a leveling kit, you'll worsen the ride quality and control. However, that's not 100% true. Yes, the overall performance will get rougher, but body roll will also be decreased. I'm talking about a stiffer, less flexible suspension system. So, it depends on your driving style and how you want the suspension to behave. For off-roading, decreased suspension downtravel is actually a big pro.

Extra Clearance. It's safe to say that there can never be too much of a gap between a truck and the road. And with a proper-quality leveling kit Silverado will get a decent "boost" to clearance. That, in turn, will dramatically improve its off-the-road performance. You never know how dangerous the bumps will be; the same is true for the rocks. This is exactly why the added height is so important. Plus, again, you'll be able to install bigger tires.
Shopping for Silverado Leveling Kits: What to Look for
Perfect Fitment. The rule of thumb is – a leveling kit has to be 100% compatible with the truck. Otherwise, you'll have a really hard time trying to make it work. You'll probably end up damaging the factory gear or, at the very least, get disappointing results from the upgrade. Therefore, always make sure the kit was designed for your Silverado (the make, model, trim level, and even cab size). Also, see that the package includes all the nuts and bolts. 

Build/Material Quality. The suspension system always takes most of the abuse, especially on an off-roading vehicle. Fortunately, most modern-day leveling kits are crafted from durable, weather-resistant materials that withstand harsh conditions. Billet aluminum, stainless steel, and fiberglass iron – that's what you should go with. CNC manufacturing would also be great, along with powder coating against rust and humidity.
Will a Leveling Kit Void the Silverado Warranty?
The short answer is no, the stock warranty will not be voided after you install a leveling kit. However, if something in the truck brakes because of the kit (a part of the suspension system, that is), Chevrolet won't cover it in any way. The official explanation – spacers put extra pressure on the factory-approved suspension systems. This is true for the vast majority of aftermarket upgrades, including shocks, sway bars, and control arms, to name a few.
At the same time, these days, lots of dealers do sell pre-leveled/lifted trucks simply because they're very popular. So, if you buy a Silverado with pre-installed modifications, they will sweeten the deal with a warranty. The actual coverage that you get will vary depending on the dealer, but it will be roughly the same. But if you, say, install a set of third-party struts, and they cause a malfunction, that will still void the warranty.
Buyer's Guide
Easy fitment and premium engineering + material quality – that's what we talked about earlier in the FAQ. There's more to keep in mind when picking between different leveling kits, though. For example, what sets them apart from lift kits? What's the right lift height for the Silverado? Will you have to pay big bucks for that? And let's not forget about the package, hardware, and warranty. Ready to learn more? Let's get to it!
#1: Leveling Kit vs. Lift Kit
Leveling kits are the cheapest option on the market – let's start with that. You might've noticed that modern-day trucks sit lower in the front, and higher in the back. It's a slight difference, but it's still there. What a leveling kit does is "even the odds" – eliminate that front dip. If you compare a 2020 Silverado leveling kit before and after, you'll see that the truck sits evenly after the upgrade. This is achieved with a set of front spacers.
A lift kit, in contrast, aims at providing an all-around lift, which means even more clearance and the ability to install larger wheels. And if you're serious about modifying Chevy's truck and have a thick wallet, consider investing in a suspension kit. These include not only a set of spacers for all four wheels, but also control arms, sway bars, stabilizers, and shocks. They cost a lot, of course, but introduce many positive changes.
#2: The Lift Height
Before making an order, take a minute to think about how big of a lift you're looking for. This might be a bit hard to figure out for an inexperienced driver. So, just remember that for highways and city streets, the default height is more than enough. An off-roading path with lots of ups and downs, in turn, will greatly benefit even from a one-inch lift. As for rocky trails, the higher the clearance, the better (two or three inches).
#3: How Much for the Kit?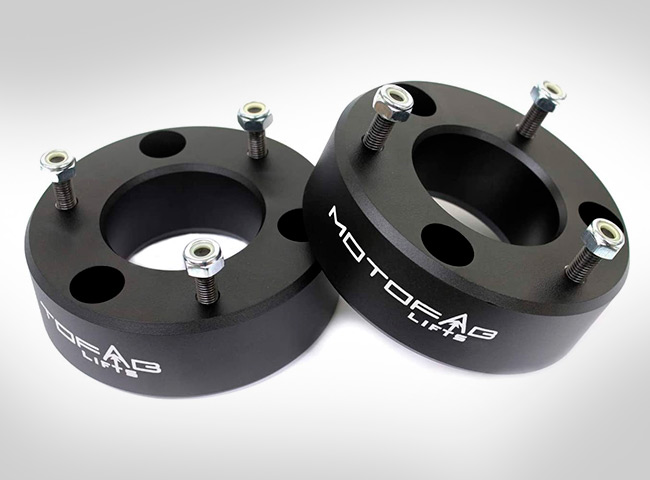 With the Silverado being an incredibly popular choice for off-roading, there's no shortage of leveling kits for it. And, the higher the competition, the cheaper the product. A set of entry-level spacers + nuts/bolts can be yours for as low as $30-35. For a more significant lift, be ready to pay twice as much. The materials also affect the price, of course. If you want premium quality, that'll cost north of 100 bucks.
#4: The Package + Warranty
We just talked about pricing. Well, it's largely shaped by how generous or modest the package is. If it only includes a set of spacers, it will be cheap. A more expensive kit, in contrast, will come with all the necessary hardware plus extras, like torsion keys, lift blocks, and spacers. The same is true for the warranty. The good news is – most leveling kits have it. This can be a manufacturing warranty, a replacement guarantee, or a 30-day refund.
Conclusion
Chevrolet Silverado is one of the finest US-made trucks. Still, there's always room for improvement, and for an avid off-roading fan, a leveling kit might be the best investment. With it, you'll get peace of mind, extra protection against road hazards, and the ability to install bigger tires. Beefed-up looks will be a part of the picture as well. Folks on a low budget should pay extra attention to MaxRacing.
With KSP, they'll get excellent support and a client-oriented refund policy. MotoFab, in turn, is very easy to install on the Silverado and boasts fast deliveries. Last, but not least, the Rough Country kits are tough, can take a beating, and will be worth every single penny. What's the best leveling kit in your opinion? Share your favorite pick in the comments!