Best Sounding Muffler for 4 Cylinder Review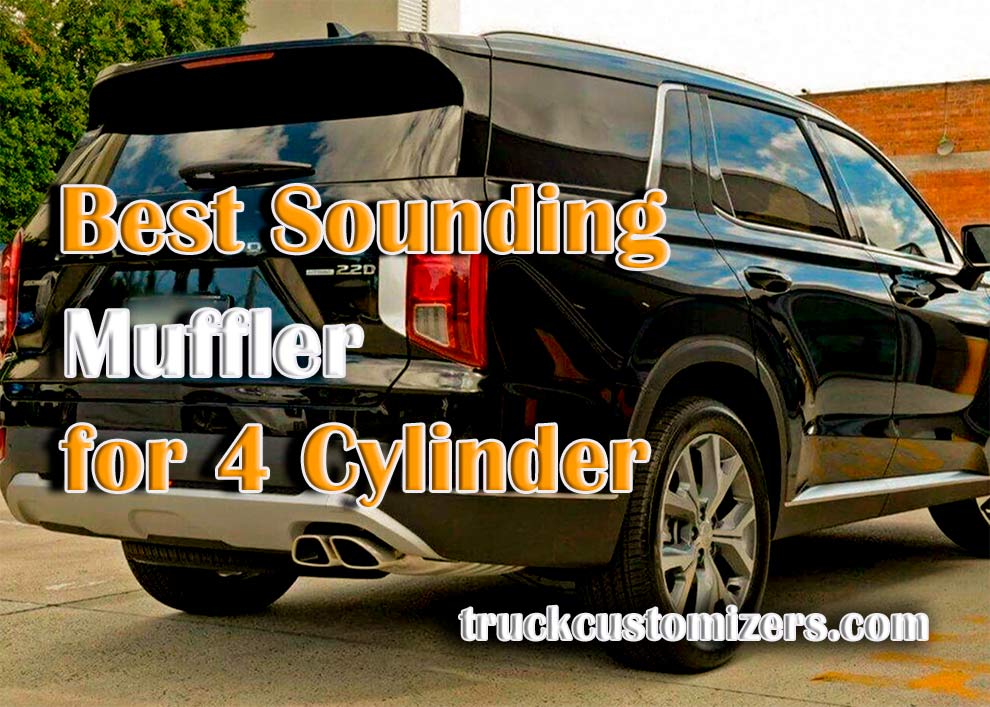 Four-cylinder engines might not be as powerful as V6 or V8 motors, but they're still quite capable. Besides, they're cheaper, easier to maintain, and have a better fuel economy. Still, the power output isn't as impressive. The same goes for the exhaust sound: it's a bit dampened and boring. Lucky for us, that can be changed. All we'll have to do is save some money and get the Best Sounding Muffler for 4 Cylinder.
Mufflers are a key component of the exhaust system. Depending on the size, design, and feature set, they deliver a mild, smoothing tone, or an aggressive, roaring growl. A premium-quality unit can also provide an all-around performance boost. So, without further ado, let's see what the market has to offer – we've got eight top-notch mufflers to check out!
Best Sounding Muffler for 4 Cylinder Review
1. EVIL ENERGY – Best Muffler for a 4 Cylinder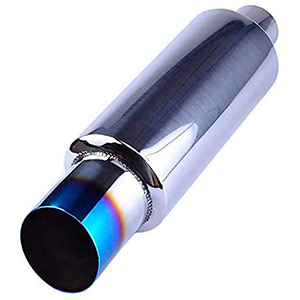 If this is your first time upgrading the exhaust system, it might be a good idea to go slow. And by that I mean invest in a cheap muffler to get started. With Evil Energy, you'll get one of the most affordable deals on the market, and it's a rather decent product for a four-cylinder engine. Along with the attractive price, it's also covered by a 60-day warranty and fast, client-oriented customer support.
Another big pro: Evil Energy is available in many different sizes and colors. You've got 2" + 3", 2.5" + 4", and other configurations. What I didn't like about this gear was the build quality. While it's almost on par with your average truck's factory muffler, it's still not as reliable or long-lasting as the more expensive units. That's a small price to pay for the low cost, though. As a straight-through muffler, it is still a great option.
Pros & Cons
Different sizes and colors to choose from
Available at a highly affordable price
Backed by a two-month warranty
Average-at-best build quality

Drivers on a limited budget that want to replace the restrictive stock muffler should pay Evil Energy extra attention. It is cheap, backed by a decent warranty, and available in various sizes for easy fitment. The engineering quality isn't very impressive, but that's not a deal-breaker in any way.
2. Flowmaster 842515 – Best Sounding Muffler for a 4 Cylinder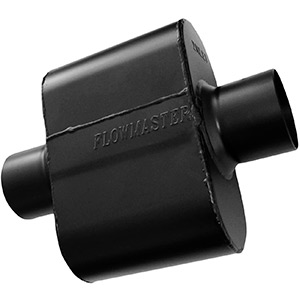 Flowmaster is arguably the most popular and favored manufacturer of aftermarket gear for trucks and SUVs. And this muffler is excellent proof of the company's ability to appeal to a wide range of potential customers. First of all, it is built from high-quality materials. That means it won't crack or start leaking after a trip or two into the wilderness. Plus, the pipes easily handle temperature extremes.
As for the sound output, the fans of aggressive, growling tones will definitely like what this muffler has to offer. Thanks to the company's Chambered design, the roaring is very convincing and pleasing to the human ears. The muffler can get slightly raspy when it's below zero degrees outside, though – keep that in mind. On the bright side, the installation process is very fast and straightforward.
Pros & Cons
Flowmaster's trademark Chambered technology
Crafted from premium-quality materials
Fast, simple, hassle-free installation
A bit raspy when it's cold outside

Top-notch build quality, fast, trouble-free installation, and a mighty growl to scare away the birds – that's the Flowmaster muffler in a nutshell for you. It brings out the best even in the least impressive straight-four engines, and that's a very good reason to pick it over the competition.
3. Cherry Bomb 87522 – Best Muffler Sound on 4 Cylinder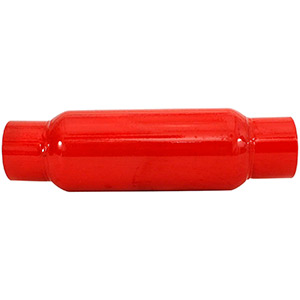 This is one of the most compact yet effective mufflers for a four-cylinder motor. Cherry Bomb is highly efficient against toxic vapors and helps the engine "breathe". Along with that, it also improves the vehicle's fuel economy, which isn't something you see every day. And, like the Flowmaster unit, it takes little effort to install, mainly because the muffler features a trademark reversible design.
That makes it easier to mount Cherry Bomb and make it a part of the exhaust system. The tone is pretty great as well. It's not very aggressive, yet still quite loud and definitely not as boring as the factory gear. You might hear droning sounds while gaining speed (at low-mid RPMs), but they go away pretty quickly. Overall, as a replacement muffler for a straight-four engine, this product is a sure pick.
Product Rating
Quality of material
4.9/5
Pros & Cons
Incredibly efficient at removing toxic fumes
Unique reversible design for easy mounting
Provides a decent boost in MPG ratio

Are you looking for an efficient, user-friendly, and decent-sounding muffler? Cherry Bomb might be exactly what you're in the market for. It aids the exhaust system in eliminating the fumes and features a flexible design for a quick install. As a bonus, the muffler provides an MPG boost.
4. Thrush Welded 17651 – Best Aggressive Sounding Muffler for a 4 Cylinder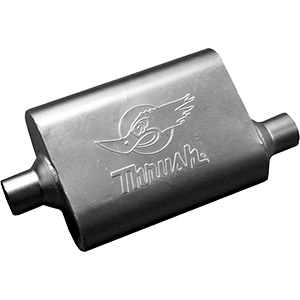 Here, we have another affordable, reliable, and good-looking replacement muffler. It features a two-chamber design and delivers a very aggressive, in-your-face sound that can't be mistaken for anything else. If you're a fan of that tone, Thrush will be a worthy pick. It features superb-quality aluminized steel construction and a scratch-resistant finish (silver). So, you won't have to worry about wear, tear, corrosion, or anything like that.
Next, the directional, non-reversible flow ensures steady performance and helps the exhaust system reach its full potential. One thing to keep in mind: upon acceleration, the sound is a bit too loud, and while that's great news for off-roading or racing, you might want to go for something less "flashy" in busy highways, city streets, and parking lots.
Product Rating
Quality of material
4.9/5
Pros & Cons
Directional, non-reversible exhaust flow
Top-quality, scratch-resistant silver finish
Premium aluminized-steel construction
Can be too loud for daily driving

Thrush is one of the finest aftermarket mufflers for any four-cylinder engine. It boasts premium build quality (aluminized steel + silver finish) and a non-reversible, non-restrictive flow. The exhaust tone is quite distinctive and likable but might be overly loud for "civilized", on-road routes.
5. Borla 40358 – Best Muffler for 4 Cylinder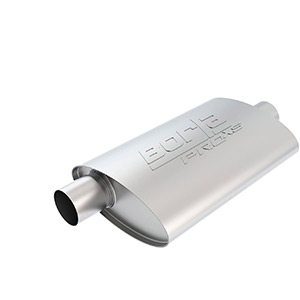 So, most drivers (especially truckers) usually go for that aggressive tone, and there's more than enough of it on this list. But what about a more controlled, smoother exhaust sound that won't give you judging looks in a public place? That's where Borla comes in. With the 40358 muffler, you'll get a dampened, satisfying tone that's significantly better than any stock gear.
This is achieved thanks to the CCF acoustic control technology. And, it's compatible with a big line-up of straight-four engines – there won't be any issues with fitment/installation. Add premium, T-304 steel engineering, and a polished finish, and you'll see why Borla is a worthy pick. Now, even though this is a Chinese product, you can fully rely on it in the most demanding situations.
Product Rating
Quality of material
4.9/5
Pros & Cons
High-temperature continuous-filament fiber
Delivers a satisfying, smooth exhaust tone
Fits a wide range of 4-cylinder vehicles

Borla's exhaust tone is soothing and smooth – perfect for driving in cities and on highways. Plus, it is highly compatible with a long list of straight-four motors and is crafted from top-notch materials. Built in China, it is just as reliable as the finest US-made aftermarket mufflers.
6. DC Sports EX-5016 – Best Universal Muffler for 4 Cylinders with Good Sound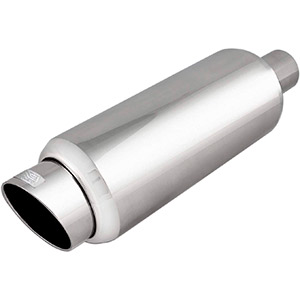 As the title suggests, this is one of the finest universal mufflers out there. Specifically designed for 4-cylinder engines, it takes little time and effort to install. The package comes with a set of clamps and adapters for hanging the muffler instead of welding it. Strangely enough, you won't find a user guide or hardware in the kit. And by hardware, I mean bolts, nuts, and washers.
On the bright side, DC Sports greatly reduces backpressure. That means the tubes, the manifold/header, and the actual motor will last longer. The premium-quality mirror polish finish, in turn, adds extra protection. The exhaust tone is nice – deep, resonating, and "fine-tuned" both for off-roading and regular driving. So, all in all, DC Sports can be a reasonable investment as an aftermarket muffler.
Product Rating
Quality of material
4.8/5
Pros & Cons
Reduces backpressure in the exhaust tubes
Features a high-quality mirror polish finish
Comes packed with clamps and adapters
Hardware/instructions not included

The DC Sports muffler doesn't have any big cons. As for the pros, it can dramatically reduce the pressure, delivers a strong, rich growl, and is crafted from decent-quality steel with a polished finish. You won't get installation hardware, but clamps/adapters are a part of the deal.
7. Dynomax 17748 – Best Sounding Turbo Muffler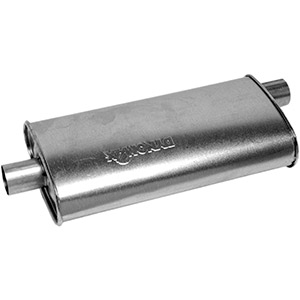 Worried that you might get a defective muffler? Well, that shouldn't be much of a problem with Dynomax, because it's protected by a 3-month manufacturing defects warranty. Another big pro has to do with the tubes. They're larger than the industry average, and that allows them to be slightly more effective at removing the fumes. On top of that, wider pipes equal a deeper, more "expensive" exhaust sound.
Fiberglass matting, in turn, gets rid of the unwanted resonance, resulting in a mellow, smooth tone. Precision-design, Dynomax features a trademark flow-director technology. It reduces turbulence for even better overall performance. The only downside – the company's delivery times aren't particularly lightning-fast: you might have to wait for an extra day or two.
Product Rating
Quality of material
4.7/5
Pros & Cons
Large-diameter internal tubes for strong performance
Fiberglass matting + flow-director technology
90-day manufacturing defects warranty

If you don't might waiting for a brand-new muffler, Dynomax could be a perfect pick. It is protected by a generous 90-day defects warranty and tops most of the competition. This is achieved through large-diameter tubes, premium fiberglass matting, and a unique flow-director design.
8. MagnaFlow 11226 – Best Deep Sounding Muffler for 4 Cylinder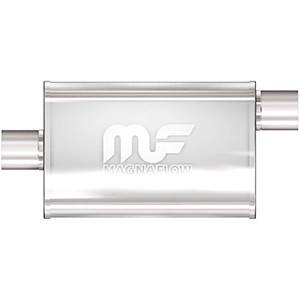 The final stop for us today is MagnaFlow with 11226. So, is it the best option for a straight-four engine? Well, it is one of the finest offers on the table, that's for sure! With it, you'll get a very solid boost in HP, torque, and acceleration, which isn't a common treat among mufflers. And, it fits like a glove, thanks to CNC precision robotic manufacturing. The company claims this unit is built to last the lifetime of the vehicle, and it certainly is a reliable muffler.
Now, if something does happen to it, you can always take advantage of the limited lifetime construction warranty. What sets MagnaFlow a bit back from the competition is the steep price. This is the priciest muffler on today's list. But, as I always like to say, for someone who puts quality first, it will be money well spent.
Product Rating
Quality of material
4.8/5
expert_review Pros & Cons


Despite the high price, the MagnaFlow muffler is a bargain. It fits pretty much any four-cylinder engine perfectly (thanks to CNC manufacturing) and delivers a steady boost to the powertrain (horsepower, torque, and throttle). The limited lifetime warranty is even more reason to consider it.
Can a 4 Cylinder Sound Good?
The answer is yes, it most certainly can – with the help of the right muffler, of course. Now, if you just blindly pick the first muffler you see and expect it to completely change a four-cylinder's tone, you'll be disappointed. It doesn't work like that. Most drivers think that the louder the exhaust sound, the better. Again, that's a misconception. With a 4-cylinder motor, the key is to find an exhaust system that complements it, not takes away from it.
And, since the tone is mostly dictated by the muffler, you need to learn as much about it as you can before making a purchase. Sometimes, removing the stock muffler helps to improve the exhaust tone, bring it forward. However, in most cases, you'll just end up with an overly loud and aggressive output. The same is true for air intakes, by the way: switching to an aftermarket unit doesn't always guarantee a positive change.
The biggest issue with most 4-cylinder motors is the rattling, vibrating characteristic. A decent-quality muffler is more than capable of changing that into a much smoother, satisfying tone. So, can you make a straight-four engine sound good? With a little bit of luck, it's very much possible.
Can you make a 4 Cylinder Sound like a V8?
Technically, no, because you'll still have four cylinders, not eight. But, there are still some ways to dramatically improve the sound of a 4-cylinder motor. Turbos play a big role in that. Have them installed properly, and you'll instantly see a change towards a more aggressive, in-your-face tone. The lengths of the inlet manifold and the entire exhaust system also affect the way the engine sounds.
Here, you want to go with slightly longer tubes/pipes than the market average, because that will land you with a deeper tone, which is what V8s are known for. The cross-plane design is another powerful tool in our hands. It's widely used in V8s, but can also be implemented in a straight-four motor. Basically, it's when every single port in the manifold (on each bank of the individual cylinders) is merged into a joint exit.
That creates a very specific exhaust tone that's quite similar to that of a V8. A great example of this is Subaru's engines that sound nothing like regular straight-fours yet do, indeed, only have four cylinders.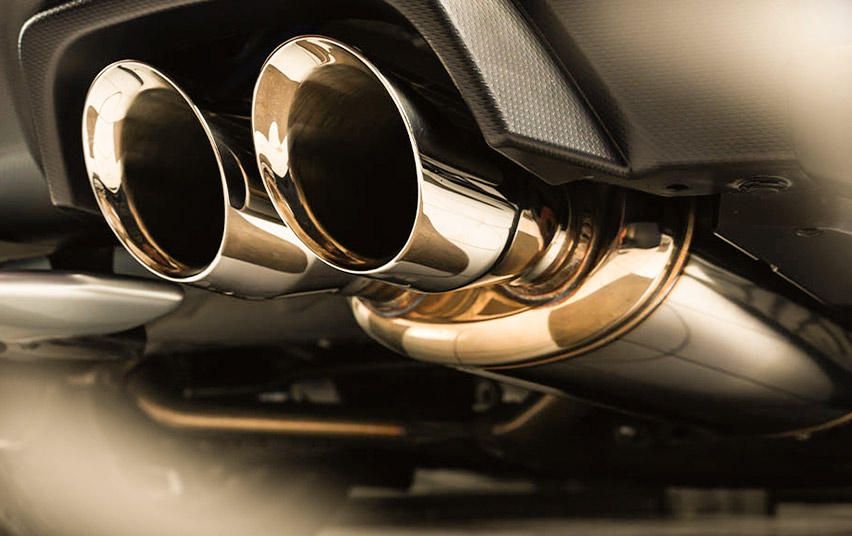 What Muffler has the Deepest Tone?
Let's admit it: nobody likes the "squeaking" sound that some exhaust systems/mufflers make. And then there's a very thin, "cheap" tone that doesn't bring a smile to any driver's face either. What we're looking for is a deep, "expensive" roar that puts your vehicle on the spot. If that's what you're in the market for, the Flowmaster muffler (#2 on the list) will be a great investment. Thanks to the chambered design, the tone is very strong and even a bit aggressive.
Thrush has a similarly pleasant exhaust tone, while Borla is all about a smooth, controlled sound. Dynomax is another name that can be trusted. Now, drivers that want to take this a step further might consider investing in an aftermarket cold air intake, a brand-new header (to replace the restrictive manifold), and a tuner. If you get this gear/equipment right, it will be of great help in shaping the tone.
Buyer's Guide
Alright, now that we've talked about different muffler tones, the key to making a four-cylinder engine sound beefier, and more, it's time to take a deeper dive. Say, do you know what sets a market-leading muffler from a mediocre unit? Is it enhanced compatibility and easy fitment? Or maybe it's the build quality? Then we've got different exhaust flow technologies, various sizes, styles, and designs. Ready to learn more? Let's get to it!
#1: Flexible Design + Easy Installation
Arguably the best thing about modern-day mufflers is the versatile, universal design. As long as it's crafted for straight-four engines and its dimensions (diameter, to be exact) matches that of your exhaust pipes, you're good to go. With that said, it's still important to check for compatibility. Some mufflers can only be welded, while others give you the option of hanging them using a set of clamps.
And one more thing: if you seem to like a certain muffler, but it's not compatible with your engine or exhaust system, don't skip it just yet. Thanks to the customizable design of this gear, it's most likely offered in a wide variety of styles, inlet + outlet sizes, and configurations. So, check this first with the manufacturer to make sure.
#2: Stainless vs. Aluminized Steel
With steel, we've got four options. Mild steel is the "entry-level" pick: it's cheap, but not very long-lasting. The 409 steel, in turn, is more durable and reliable, while 304 is the industry standard and serves for many years, if not decades. And what about aluminized steel? Well, just as the name suggests, it is steel covered in aluminum. Mufflers are always "one-on-one" with the road, especially on trips into the wilderness.
That's exactly why it needs to be protected against water, snow, mud, dirt, and debris. When not treated properly, the muffler will get overwhelmed by corrosion, and that's something that we do NOT want. Aluminum is practically immune to rust and can easily handle pretty much all the natural elements. Steel, in turn, is very strong against tiny rocks and bumpy terrain.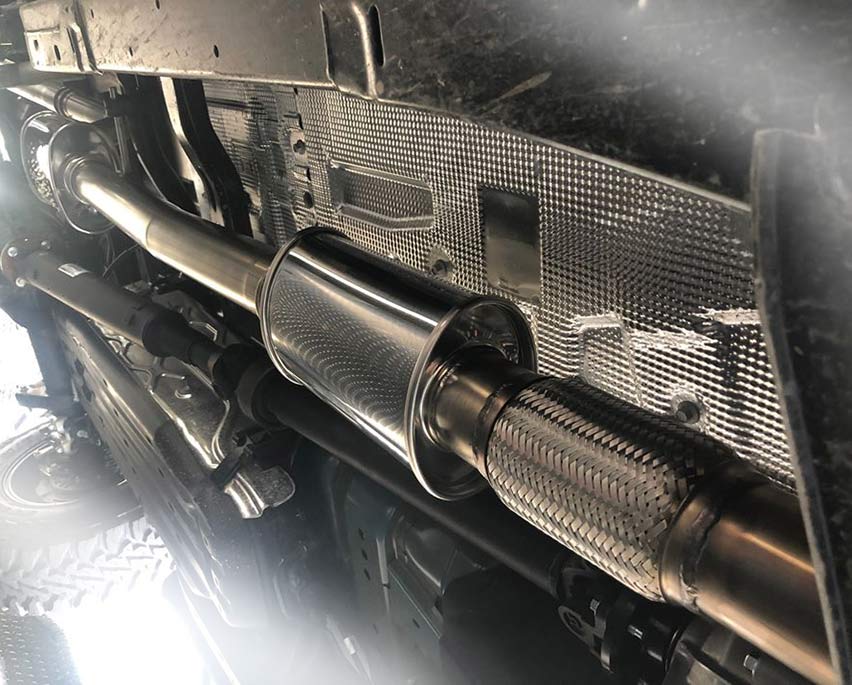 #3: Chambered, Straight-Through, or Turbo?
We already discussed different muffler designs in the FAQ section, but let me elaborate a bit. Essentially, there are three types of mufflers out there, each with its own, unique sound. Right now, the market is dominated by straight-through units. They've been around for many years and fit a wide range of vehicles. One of their biggest selling points is, of course, the low price: you can get one for really cheap.
Plus, straight-through mufflers (AKA glass-packs) have a unique, pronounced exhaust tone. It's not very loud, but still strong and aggressive enough. However, if you want the, let's say, ultimate growl, you'll need to go with a chambered muffler. This gear is a bit expensive but it does deliver a highly satisfying sound. On top of that, chambered units provide a decent performance boost. Finally, turbos are the golden middle between these two options.
#4: Pricing, Warranty, Support
Mufflers don't have to be expensive! Right now, you can get an all-around solid unit for as cheap as $30-40. While it might not be the most capable muffler on the market, it will, most definitely, be a great improvement over the stock gear. And what can 60-70 US dollars get you? For that kind of money, the material quality will be higher; plus, the muffler will be better protected against corrosion.
Performance gains, robotic manufacturing, fiberglass matting, and large-diameter tubes, in turn, will become available if you're ready to pay $100+. Now, warranty deals come with mufflers of all shapes, sizes, and prices. So, take your time and scroll through different offers: I'm confident that you'll be able to find a decent-quality option that's cheap and covered by a manufacturer's guarantee. The same goes for strong customer support.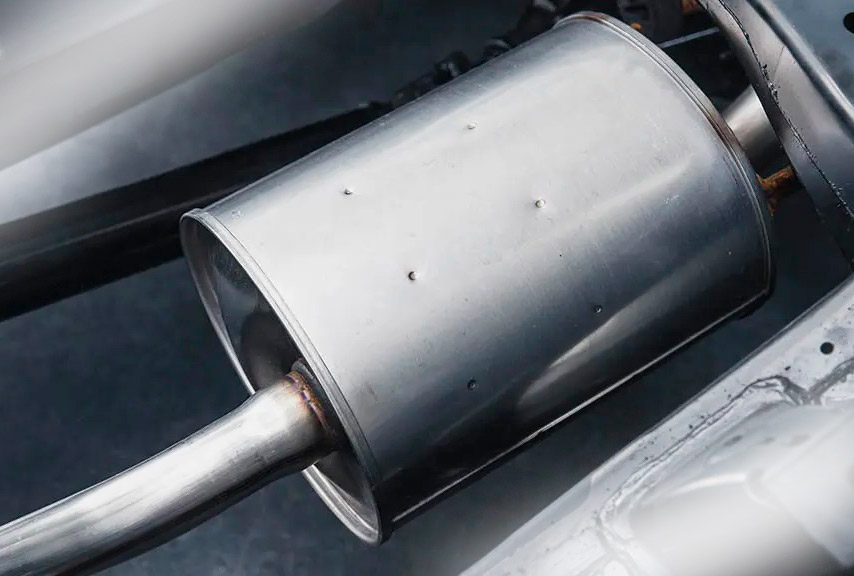 Conclusion
Are mufflers the most important part of the exhaust system? Well, they might as well be, along with the pipes, catalytic converter, the manifold. Without a proper-quality muffler, you won't be at all satisfied with the exhaust tone. It will either be too "dull" or overly loud, which is bad news. An aftermarket unit, in contrast, can bring a four-cylinder engine forward, make it more aggressive or "soothing".
It all depends on what you're looking for. Off-roading enthusiasts will probably go with a roaring growl, while day-to-day drivers prefer a smoother sound. You'll get all kinds of different tones with today's top picks. Plus, some of these mufflers are capable of boosting the powertrain, adding extra HP/torque and MPG. If you've got a favorite muffler, share your choice in the comments!