Best Cold Air Intake for Ford F250 Diesel Review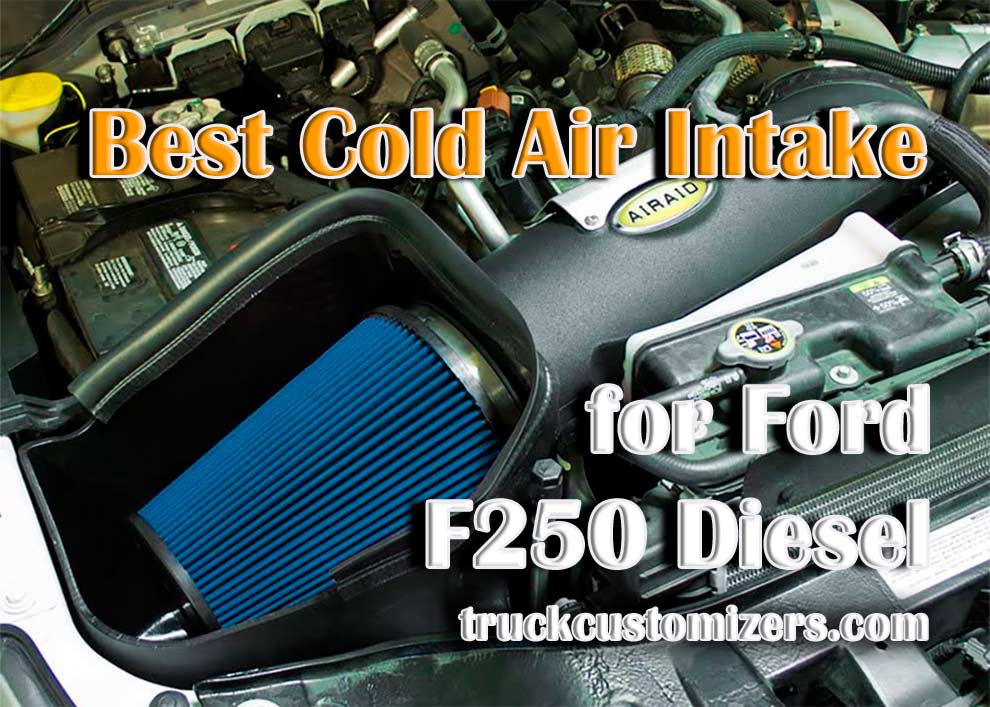 As far as the most capable and reliable heavy-duty trucks go, Ford's F250 is right there on top of the list. It is equally great at towing, off-roading, and daily commutes. This is achieved thanks to the premium-quality engine, transmission, and flexible suspension, along with the brick-strong tires. Now, what could really use an upgrade is the cooling system – the air intake, to be exact.
The factory gear is only engineered to handle the American countryside, not off-the-road terrain or muddy trails. So, unless you want the truck to break down prematurely, start saving for the Best Cold Air Intake for Ford F250 Diesel. With it, you'll get more airflow, better filtration, and a boost in HP/torque and MPG. Ready to check out my top picks? Let's get to it!
Best Cold Air Intake for Ford F250 Diesel Review
1. aFe Power 51-41262 – Best Cold Air Intake for 2009 F250 6.4 Diesel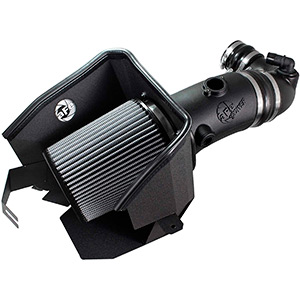 Are you driving a 08-10 F250 powered by the 6.4-lit diesel V8? Then aFe might have just the right offer for you. This cold intake system was specifically designed for older-generation trucks. So, you won't have to worry about the installation process, because it will be very fast, simple, and intuitive. Just follow the included instructions, and it will only take 40-60 minutes. The design of the intake kit also deserves our attention.
The one-piece airbox (AKA the housing) does a great job of keeping the hot air out and the cold air in. Powder-coated, it easily handles temperature extremes and lasts for a long time. Another big pro: with aFe, you'll get to greatly improve the motor's exhaust sound – it becomes stronger and deeper. There is one minor downside, though: the intake tube is engineered from cheap, fragile plastic.
Pros & Cons
Fast, straightforward installation for a diesel engine
One-piece, coated housing for max efficiency
Improves the engine's exhaust tone
Poor intake tube material quality

F250 owners in the market for an efficient, easy-to-install third-party cold air intake will be pleased by what aFe has to offer. One-piece housing, a deep engine growl, and all-around solid performance turn it into a must-have. Sadly, the kit's air intake tube isn't very reliable (as it's crafted from plastic).
2. K&N 63-2597 – Best Cold Air Intake for f250 6.7 Powerstroke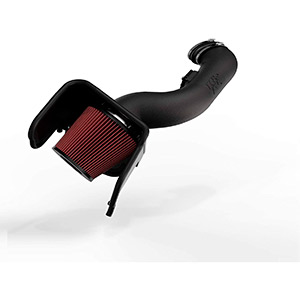 If you're a big fan of aftermarket CAI systems that focus on boosting the engine's performance, K&N should be on your list of must-haves. First of all, it maximizes the truck's towing and hauling capabilities. You'll also see improvements in uphill performance, which is very important for off-roading and racing. On top of that, this kit was rigorously dyno-tested to maximize the power output of the 6.7-lit V8.
As a result, you'll get a significant increase in horsepower and torque. On the downside, the fuel efficiency gains aren't at all impressive (compared to the market average). To compensate for that, K&N covers its product with the famous longevity guarantee (10 years/million miles). So, don't hesitate to reach out to company officials if you get the wrong fit, missing parts, or anything like that.
Pros & Cons
Does a great job of boosting towing and uphill performance
Dyno-tested for a guaranteed increase in HP and torque
Backed by a generous ultimate longevity guarantee

You can't go wrong with K&N, because it's one of the most trusted and reliable cold air intake manufacturers on the market. And this particular kit does a wonderful job of boosting the engine's HP/torque and towing, along with increasing the airflow. Plus, it is protected by the best warranty out there.
3. Sinister Diesel – Best Cold Air Intake for 2018 Ford F250 Diesel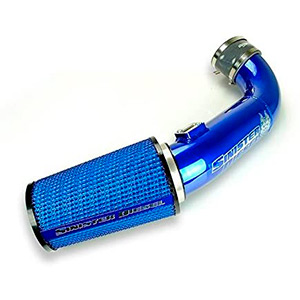 Moving on with the list, let us take a quick look at what Sinister Diesel has in stores for us. Well, it's not particularly cheap: you'll have to pay a pretty penny for this CAI. However, the steep price is justified by a long list of pros. Most importantly, the kit was built using CNC engineering. That means the intake tube was designed with ultimate precision. Mandrel-bent, it ensures an ideal fit for the F250 diesel.
The built-in filter is also top-notch. It's much bigger than the standard aftermarket filters and is highly effective against dust, debris, and pollen (it boasts 99% efficiency). And, while the warranty deal isn't as impressive as with K&N, you'll still get a satisfaction guarantee combined with an MBG (money-back guarantee). If you don't like the kit, Sinister Diesel will send you a refund.
Pros & Cons
CNC-engineered, mandrel-bent tube ensures a perfect fit
Premium-quality filter eliminates 99% of contaminants
Covered by a satisfaction guarantee/refund deal
Expensive, compared to the market average

The air intake tube and the filter are the heart and soul of any cold intake tube. And with Sinister Diesel, you'll get premium-quality parts, specifically designed to handle tough situations. This is an expensive CAI, but it's backed by a client-oriented warranty to sweeten the deal.
4. Spectre Performance 9972 – Best Cold Air Intake for Ford F250 Diesel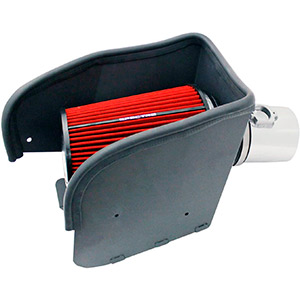 Some truck drivers want their new CIA to provide a hefty HP/torque boost. Others look for improvements in acceleration. And then you've got folks that are only ready to pay for an intake kit that provides MPG gains. If you're just like that, then Spectre might interest you with its 9972 system. With it, one can expect 2 extra miles per gallon (an impressive result for a heavy-duty truck like the F250).
You won't have to empty the wallet to get it, by the way. This unit is available at a very affordable price and appeals to a wide range of potential clients. Oh, and Spectre is 50-state legal, even in California. The only thing that I didn't like was the included user guide. It's a bit vague and does a poor job of explaining the installation process. That's a rather minor con, though.
View on Summit Racing Equipment
Pros & Cons
Provides a decent boost to fuel economy (MPG)
Officially street-legal in 50 American states
Available at a very attractive price

For the F250 diesel truck, the Spectre Performance air intake is a sure pick. First of all, it's the least expensive option on the list. Secondly, it's street-legal across the States – also a big advantage. And, while the installation instructions aren't particularly helpful, that's compensated by the big MPG gains.
5. Airaid 403-278 – Best Cold Air Intake for F250 Super Duty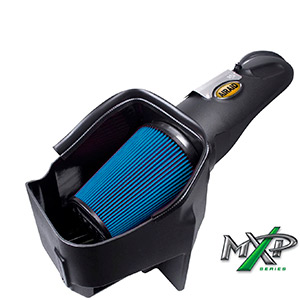 This right here is a performance intake system. That means it was built with MPG and HP gains in mind. Now, the powertrain boost won't be as impressive as with K&N; but, you'll still feel the improvements if you've been driving the F250 for quite a while. That's not even this CIA's biggest selling point. It's all about reliability and durability, which is achieved through the roto-molded airbox and intake tube.
Plus, Airaid easily fits a wide range of Ford diesel trucks (including the heavy-duty F350 and F450 models). However, although this is a US-designed and engineered cold air intake, sometimes, delivery can take quite a while. Are you ready to wait for a bit longer than usual? Then this unit will be a very reasonable investment.
View on Summit Racing Equipment
Pros & Cons
Roto-molded intake tube + housing for durability
Compatible with a long list of diesel vehicles
Produced and designed in the States

With Airaid, you'll get premium build quality, enhanced compatibility with Ford trucks, and fast, straightforward installation. In addition, it's a 100% US-made product. On the downside, depending on the area that you live in, the company might take an extra day or two to deliver/ship the CAI.
Are Cold Air Intakes good for Diesels?
There's a common misconception that CAIs don't do any good for diesel-powered engines. Some experts even claim that aftermarket cooling systems can damage the motor unless it's gas-powered. Well, I'm happy to say that you shouldn't worry about any of that, because it's simply not true. Air intake kits are equally great for both systems. It all comes down to how much "abuse" you put the powertrain through and whether it needs extra cooling or not.
By boosting the airflow and filtering out harmful contaminants, this gear is capable of significantly increasing the efficiency and the lifespan of any modern-day engine. It helps the onboard computer set the right air-to-fuel ratio, which results not only in steadier, more controlled performance, but also fuel efficiency gains.
So, summing up, CAI systems will, most definitely, be a reasonable investment for a super-duty truck like the F250 diesel. If you want to learn more about the immediate benefits of switching from a stock air intake to a third-party unit, you can read all about it further down this review.
Can a Cold Air Intake Damage your Engine?
When you invest in aftermarket gear, you expect it to improve performance and keep the truck safe, not the other way around. And that's exactly what you'll get with pretty much any third-party CAI that was designed with your vehicle in mind. With that said, there are still some things to keep in mind. First, you gotta pay extra attention to the filter. It needs to be crafted from sturdy materials (more about that in the Buyer's Guide).
If it's fragile, tiny particles might tear off and end up in the motor. Plus, if you've swapped the factory engine with a turbocharged alternative, chances are, a standard-issue filter is too big for it. As a result, it will let more contaminants through than on a stock V6 or V8. Next, we've got hydro locking. This term describes a situation when the filter gets filled with water and causes big damage to the pistons and rods.
That mostly happens with aftermarket CAIs, as they've got the filter located lower than usual. How can an F250 driver avoid this? Only via regular maintenance. Finally, be aware of air rolls. This is an intake tube problem and disrupts the mass air sensor, forcing it to get faulty air-to-fuel ratios.  Do you feel like the truck is consuming more air than it should? That could be a clear sign of rolling air.
How much Horsepower does a Cold Air Intake add to a 6.7 PowerStroke?
The 6.7-lit PowerStroke is a pretty mighty engine, and it's the first one in the line-up designed and manufactured by Ford. With a total power output of 475 HP and 1050 pound-feet of torque, it's more than enough to run a big, bulky truck like the F250. And with a brand-new air intake kit, you'll be able to add 5-7% of extra horses and torque. That's gonna be + 25/35 HP, helping the engine go over the 500HP mark.
You might not even get a boost like that, though: it's the maximum that a driver can "squeeze" out of a CAI system. Will that make a big difference? Well, no, it won't, because, again, the 6.7-liter unit is already quite capable. On the other hand, as a nice bonus to improved airflow, the added "horses" will come in handy. In addition, if you haul heavy cargo behind the wheel of Ford's workhorse or like to drive in the wilderness, you might actually feel the boost in power.
The Biggest Benefits of using a CAI system
What's the most significant reason for spending your hard-earned bucks on a cold air intake? The answer is simple: better airflow! Without proper airflow in the combustion chamber, your engine will constantly be at the risk of breaking down. Even if it does not overheat, its lifespan will be shorter because of the stress and pressure. With the right aftermarket CAI, it's very well possible to get 50% more air compared to the stock gear.
On average, you'll get a 20-30% boost; to get more than that, you will have to look for a while (and pay more). Another big pro is hidden in the name: I'm talking about the "cold", of course. In contrast to the factory cooling system, with a third-party air kit, you'll get cold air flowing into the intake manifold, not warm. And cold air is known to flow faster and to be richer in oxygen.
The more oxygen in the mix, the higher the MPG ratio will be – that means big bucks saved on fuel for the F250. Therefore, even if you do lots of competitive racing, mud driving, or off-roading, that won't be a problem with a premium-quality CAI. The filter comes next. By only letting air through and blocking contaminants (like tiny rocks, dust, and whatnot), it also aids in prolonging the engine's lifespan.
Pollutants can do quite a number on the motor. Without a reliable filter, they'll ruin it in a couple of months. So, if it's not just an air intake with a tube and an airbox, but a kit with a filter, it will be a significant improvement over the limited paper filter that's not nearly as effective or efficient.
Things to Consider Before Ordering a Cold Air Intake
How do you know which CAI to pick? There's no shortage of options on the market, that's for sure. And while that's great news, the question remains: which one should you choose? Thankfully, there are some factors that can help you set poor-quality offers from a reasonable investment. Join me, and let's talk about all that in more detail:
Like with any other aftermarket gear, you gotta know in advance how much you're willing to pay. Otherwise, you'll end up paying more for a CAI that you don't need, or not paying enough for a decent-quality product. So, the starting price on a brand-new cold air intake for the F250 diesel is $200. A unit like that will be better than the stock system in more than one way (the airflow, filtering, and performance).
For 300-350 dollars, you'll get better material quality, reliable engineering, and easy fitment. To get a generous warranty, extras in the package, and a bigger HP and MPG boost, you'll need to pay $50-100 more. In the long run, that will be worth it, especially for a heavy-duty truck.
Real-world efficiency. I already mentioned the average airflow boost that an F250 driver can expect from a new CAI. And, this is usually the first thing that most manufacturers indicate in the specifications. Therefore, it shouldn't be hard to compare a dozen different systems to find the right one. If you mostly stick to city streets and highways, even a 20-25% increase will be more than enough.

Air intake kits require very little care. All you gotta do is check on them every once in a while and look for signs of wear, tear, cracks, and leaks. Also, learn about the filter to see how long it can go on without cleaning. The best units don't need any maintenance for 100K miles straight.
The most common Sings of a Bad/Faulty Air Intake
Statistically, intake kits are among the most durable and long-lasting systems in any vehicle. But, they do fail sometimes, which is why it's very important to recognize the symptoms and signs as soon as possible. That way, you can avoid costly repairs and keep the vehicle running 24/7. Alright, here are the most common symptoms of a failing CAI:
The Check Engine Warning. If you're driving a relatively newer edition of the F250 diesel truck, then you'll see different lights come up on the dashboard now and then. The Check Engine is, without a doubt, the most popular warning that pops on the dash. Sometimes, it's very informative; in other cases, it can be pretty hard to decipher it. Here's a quick trick: if you know that the engine, coils, and transmission are working fine, it's probably the intake.
The first thing that I would check is the mass air sensor. Vacuum leaks are another known problem, along with loose connections (like the EVAP vent line, for example). You checked everything, and the light is still not going away? Then a mechanic might be the only solution for you.
Lackluster Performance. Misfires, slow starts, and strange noises – all this can be caused by a bad cold air intake. Poor fuel economy is another big downside/side effect of a faulty intake. True, this could also be caused by the motor, ignition coils/plugs, the cables, or even the radiator. So, again, take some time, and inspect the "regular suspects". This will help narrow down the list and see whether the CIA is to blame or not.
Will an Aftermarket Intake Kit be worth it for the 6.7 PowerStroke?
Are you one of those drivers that want to take their trucks to the limit, help them reach their true potential? If the answer is yes, a new cold air intake kit will, indeed, be worth it. A proper-quality CAI can introduce lots of positive changes without forcing you to invest thousands of dollars on expensive aftermarket upgrades. Now, the airflow boost and top-notch filtering are its biggest pros.
But, let's not forget that with a new intake kit, you'll get a long list of perks. As we learned earlier, HP gains will be a part of the picture, along with an increase in the torque output. Depending on the edition of your F250 diesel truck, the towing/hauling and uphill performance will also see improvements.
And what about mileage, you might ask – should I expect significant gains? Fuel efficiency is what saves you money in the long run. Even 1-2 extra MPG results in $100-150 saved in a year, which is quite a nice deal. Use that extra fuel money on upgrading the radiator or the exhaust system!
Buyer's Guide
Earlier in the FAQ, we discussed some of the most important things to keep in mind while shopping for a new CAI. And while all those factors do, of course, matter, there's more to learn if you want to get the ultimate bang for the buck. For example, do you know what the best filter for an aftermarket air intake kit looks like? Should you go with metal tubes or plastic? Does the housing play a key role in performance, or not? Read on, and you'll find out!
#1: Filters: Paper vs. Cotton
You probably don't think about this much, but the road can be quite dangerous for the engine. All the water/snow, dirt/mud, dust, and debris tend to get into the combustion chamber, and that can have a big negative effect not only on the performance but the lifespan of the motor as well. To avoid that, engineers invented filters. Even the cheapest vehicles nowadays have them; however, their quality leaves a lot to be desired.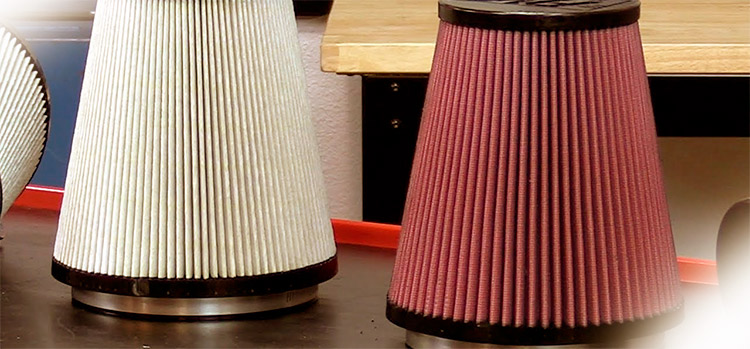 Most trucks feature the so-called "paper" filters, and their efficiency isn't at all impressive. On the bright side, if you get the right aftermarket air intake kit, it will come packed with a premium performance filter. Crafted from cotton-gauze media, it will keep most of the contaminants at bay. And if it's a three- or five-layer filter, you'll be able to secure the F250 truck from up to 99% pollutants.
#2: Tubes: Plastic vs. Metal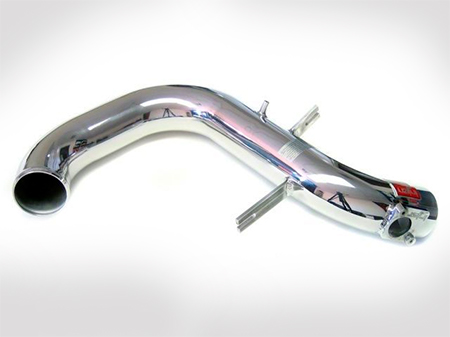 For the air intake tube, material quality is everything. To cut the production cost and keep the price to a minimum, some brands use plastic for the tube. Now, it's not a horrible solution, but still not very reliable or long-lasting, especially if you constantly push the motor (and the entire powertrain) to the limit. In contrast, you can rely on metal to keep the tube well-protected and to ensure maximum efficiency.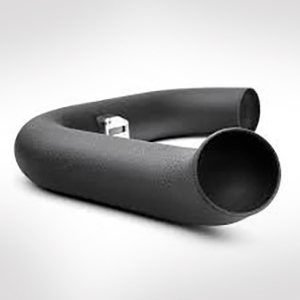 But wait – should you go with steel or aluminum? Steel is a significantly better choice than plastic. First of all, it has higher conductivity. Secondly, stainless steel is very strong against rust and cracks. If the intake tube is crafted from 409 or, better yet, 304 steel, there will be very little to worry about. With that said, aluminum is still the preferred option: it's more resistant to heat, corrosion, and tear.
#3: The Housing/Airbox
Yes, the housing matters as well, even though it might just look like a big box. The #1 job of the airbox is to keep hot air out and cold air in. That way, it helps sustain the temperature in the engine bay within operational levels. Now, in contrast to the tube, plastic housing is pretty common even in premium-quality CAI systems. If you've got some extra bucks to spare, metal will be a better pick, of course.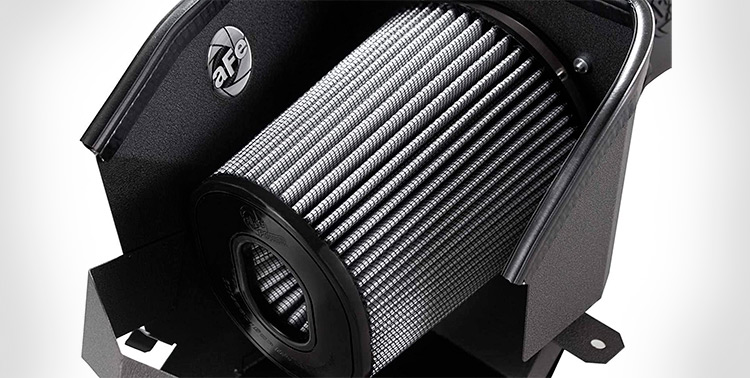 Also, see that it's powder-coated. That way, it will serve longer and be more efficient at containing the cold air. Another important factor is the size of the airbox. It should be compact enough to fit in the engine compartment (which tends to be overcrowded). At the same time, large boxes do a better job of boosting the airflow/preserving the precious oxygen-rich cold air.
#4: Warranties and Regulations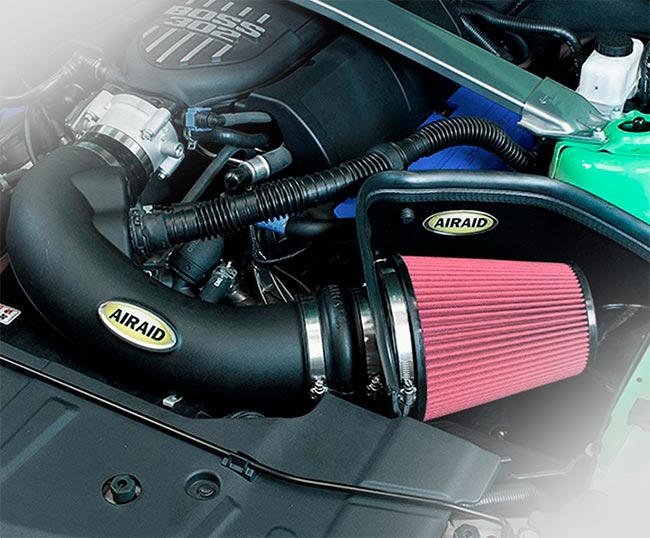 The last stop for us today – warranties. The best thing about aftermarket cold air intakes is that most of them are protected by at least some sort of a warranty. It can be a 60-day factory guarantee or a standard one-year warranty. And if it's a 30-day refund policy/MPG, that's a big enough reason to consider that CAI over the competition. With K&N, you'll get a generous 10-year/million-mile deal, which "beats" all the other offers.
As for regulations, in certain states, the emission standards are harsher than elsewhere. So, before making a purchase, make sure that the intake kit complies with CARB laws in your area. Otherwise, it will be illegal to drive around with that system installed, and you'll have trouble with police officers. Mostly, this refers to California, but do keep in mind that several states have adopted its strict emission rules.
Conclusion
Air intake systems are often looked down upon, but they're actually one of the most important upgrades. And if you're driving a super-duty truck like the F250 diesel, this should be one of your top priorities. Overheating is a serious matter: it can damage not only the coils, plugs, and pistons, but also the V8 engine. To repair it, the mechanics will charge you quite a lot.
The good news is – all that hassle can be avoided with a solid-quality aftermarket CAI system. So, go ahead and pick the one you like. I'm confident that you'll find the perfect fit for your truck on the list. And if not, the FAQ and Buyer's Guide will help make the right, educated choice on your own. Take care of your motor, and I'll see you next time!