Ford Explorer is the golden middle between the big, powerful F150 and the more "civilized" Focus. It's pretty great at off-roading, thanks to the capable engine and strong suspension, and delivers a refined, enjoyable ride quality. So, what's the right upgrade for this crossover? Well, how about an air intake kit? If you like to drive through mud and camp out in the wilderness, it will be a great investment.
CAI systems can keep the engine cool, filter out dust and debris, and even help the motor reach its ultimate potential. And I'm happy to say that the Best Cold Air Intake for Ford Explorer won't cost you a pretty penny. This gear is (relatively) affordable and easy to install. So, join me, and let's check out my top-five intakes for the Explorer!
Best Cold Air Intake for Ford Explorer
1. K&N 77-2575KS – Best Cold Air Intake for 2017 Ford Explorer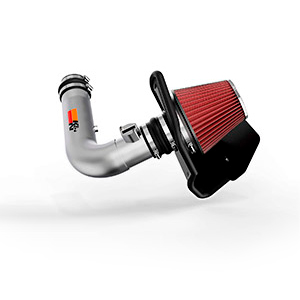 The #1 reason for investing in an aftermarket CAI system is to improve the airflow and prevent premature engine failure. And in that regard, K&N is a sure pick. With this cold air intake, you'll get a 50% boost in airflow – that's a market-leading achievement. You won't have to worry about overheating, misfires, or poor fuel economy. The high-flow, performance-oriented filter is another big pro of this kit.
It easily handles up to 99% of the contaminants on the road, protecting the combustion chamber from dust, dirt, and tiny rocks. On top of that, it features a low-maintenance design and can go on for 100K miles straight. After that, it would be wise to wash/clean it to increase the lifespan. As for the downsides, K&N is a bit expensive, but, given all these pros, the slightly high price is worth it.
Pros & Cons
Provides up to 50% more airflow compared to stock
Easy maintenance: can be done with basic tools
Unmatched high-flow filter efficiency
Expensive (but well worth it)

K&N is one of the best aftermarket CAIs for Explorer, especially the current-gen models. It does a great job of maximizing the airflow and keeping contaminants at bay. Low maintenance and a decent all-around performance boost are even more reasons to consider it, despite the steep rice.
2. Ares Motorsports – Best Cold Air Intake for Ford Explorer 3.5 V6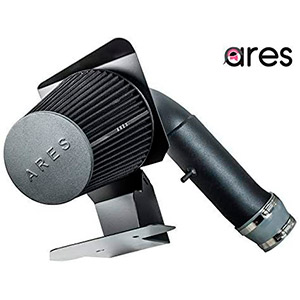 Next up, we've got another top-of-the-line third-party air intake kit. It fits the 3.5-lit V6 engine like a glove and helps the motor reach its true potential. The installation process, in turn, is very simple and intuitive. Even if this is your first time replacing the factory CAI, the whole thing will take 60 minutes tops. And, thanks to the Explorer-oriented design, Ares delivers rather noticeable gains in fuel efficiency.
On average, you can expect an extra 1-3MPG. The increased economy will allow you to "recoup" your investment in +/- a year. That sounds pretty great, doesn't it? In addition to all these benefits, Ares Motorsports improves uphill performance and ensures fast, charge-free delivery across the States. The only thing that I didn't like about this cold intake was the horsepower and torque boost: it's not very big.
Pros & Cons
Easy, straightforward installation (takes 30-60 minutes)
Significant gains in MPG and uphill performance
Fast delivery from US-based facilities
Rather modest gains in HP/torque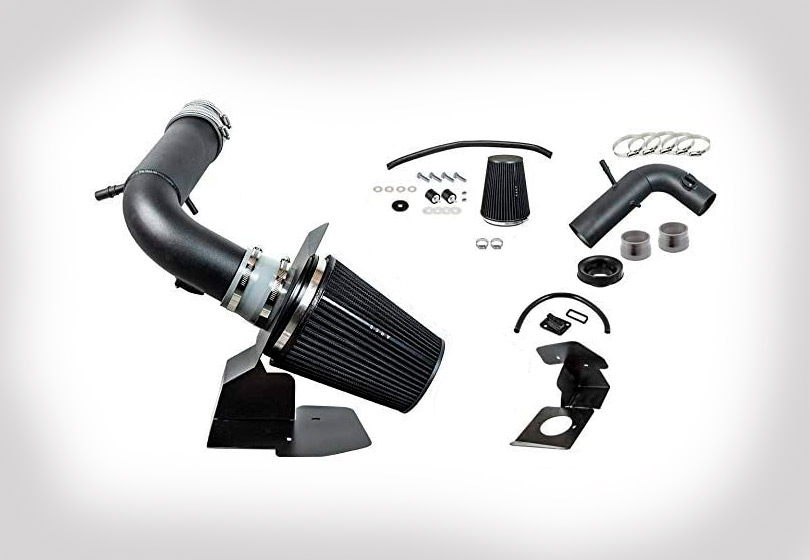 If you're looking for a CAI that can maximize the fuel efficiency of your Explorer SUV, Ares can be a perfect pick. With it, you will not only get MPG gains but also better uphill performance. And while the increase in HP is insignificant, that's compensated by quick deliveries.
3. INTAKE KAI – Best Cold Air Intake for Ford Explorer 4.0L
xplorer 4.0L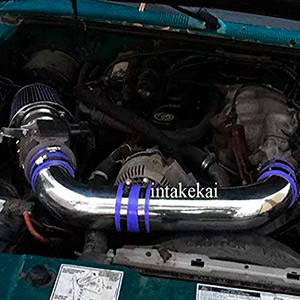 In contrast to the previous two intake systems that aren't very strong in terms of powertrain gains, Intake Kai is all about boosting the HP and torque. With it, you'll get what's known as an "explosive horsepower output" – better performance in all kinds of terrain, including up, downs, bumps, and climbs. Plus, this CAI is available at a very attractive price and won't break your bank.
It's actually one of the least expensive options for Ford's best-selling SUV. Last, but not least, Intake Kai offers customers three different colors to pick from: red, blue, and black. With the hood popped, all these colors look pretty cool. Do keep in mind, though, that this kit has rather limited compatibility and only fits a narrow range of Explorers. But, that's the only significant con.
Pros & Cons
Provides a comprehensive powertrain boost
Three different colors to choose from
Available at a very affordable price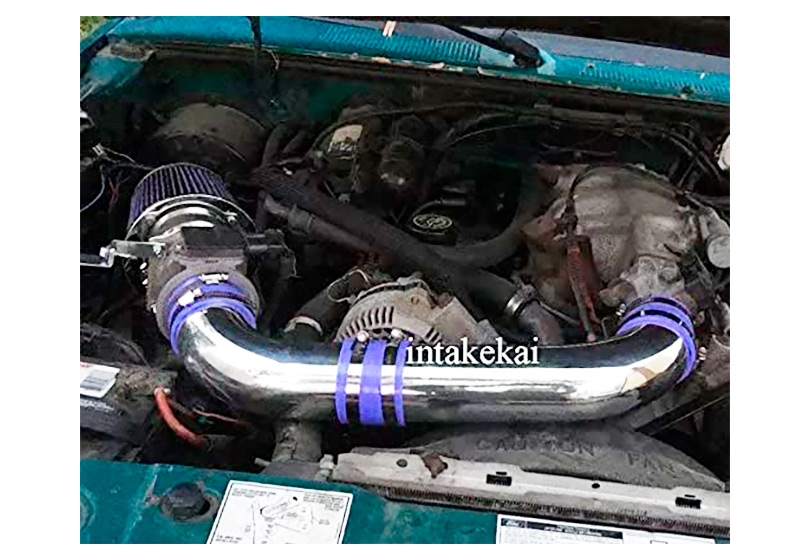 Intake Kai is very cheap, yet ensures a big boost in horsepower and torque. If that's exactly the kind of an aftermarket intake kit that you're looking for, put it on your list of must-haves. It's not very versatile, however (only works with a limited line-up of Explorers), despite the different color choices.
4. S & T Racing – Best Cold Air Intake for 2015 Ford Explorer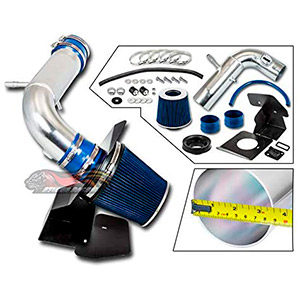 For an off-road-friendly SUV like the Explorer, the throttle response is a very important factor. When it's weak, you won't get to enjoy your adventures in the wilderness. The reason – the slower the acceleration, the harder it will be to easily make it out slush, mud, and deep rivers. That won't be an issue with S & T Racing, however, because it helps the motor increase its 0-to-60MPH efficiency.
Extended compatibility will also be a part of the deal: this CAI fits a wide range of Ford vehicles. Unfortunately, depending on the trim level, the engine, and other factors, the installation process might take 2-3 hours. On the bright side, this cold air intake system is backed by customer-oriented support. So, if you've got some questions, don't hesitate to reach out.
Pros & Cons
Maximizes the throttle response for better acceleration
Compatible with a long list of Explorer SUVs
Backed by fast, client-oriented support
Might take some effort to install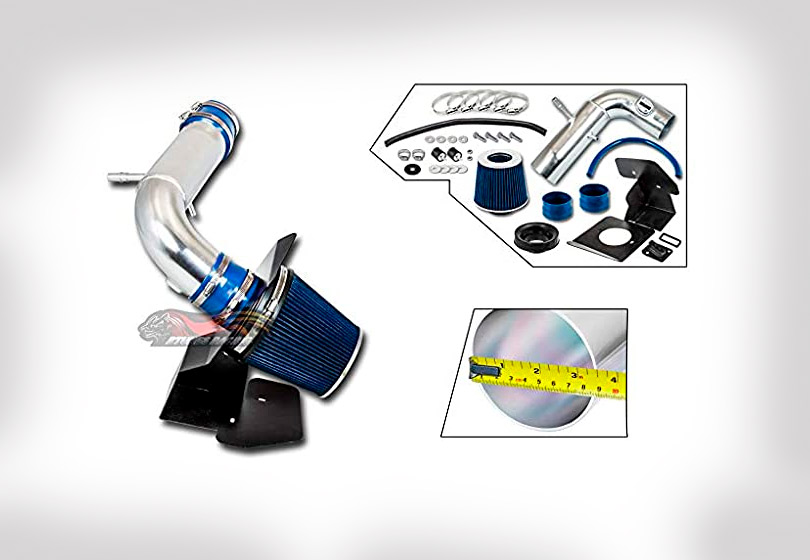 Covered by excellent customer support, compatible with many Explorer models/generations, and strong on the acceleration – that's the best way to describe the S & T Racing CAI. On older SUVs, it usually takes a long time to install. That's not the case with the 2015+ Explorers, though.
5. Rtunes Racing – Best Cold Air Intake for 2003 Ford Explorer 4.0 V6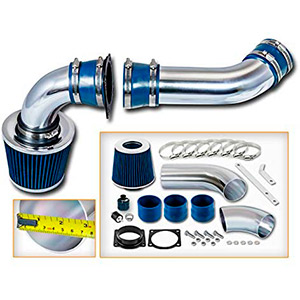 One of the best side effects of aftermarket air intake systems is an improved exhaust tone. Obviously, you won't get a strong, aggressive sound with every single CAI out there, but the Rtunes Racing tone is definitely worth our attention. It's really deep, throaty, and makes the Explorer sound like an off-roading beast. The powertrain gains are pretty nice as well and do make a difference.
Along with the cold air intake system, you'll receive top-notch installation hardware. Crafted from durable materials, they last for a long time and won't rust or crack. The package also includes a user-friendly, helpful installation manual. Sadly, while the hardware quality is, indeed, very high, the same can't be said about the kit's build quality. It's not horrible, of course, but not premium either.
Pros & Cons
Adds a deep, throaty growl to the engine's exhaust tone
Comes packed with premium-quality hardware
Includes detailed, helpful instructions
Average-at-best build quality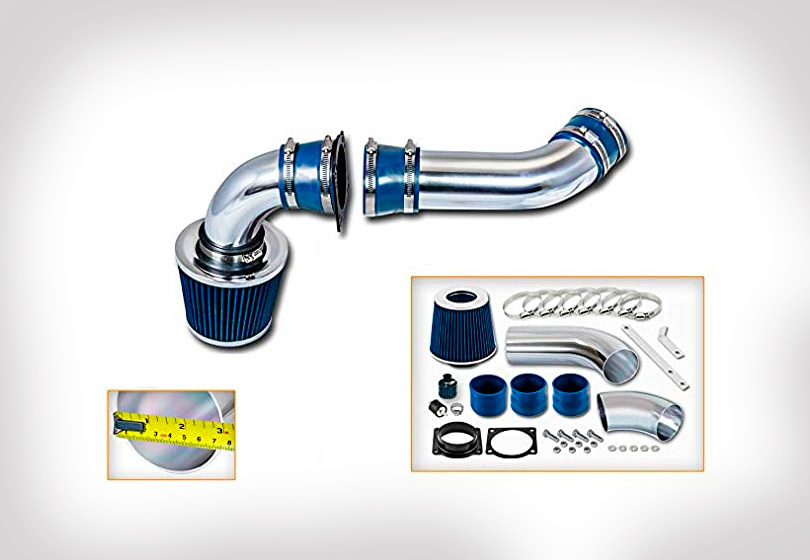 Despite the slightly disappointing engineering quality, the Rtunes Racing CAI system is still a bargain. First of all, it changes the "generic" factory tone into a deep, roaring growl. Plus, it arrives in a generous package that includes superb hardware and a user-friendly installation guide.
What is the Best Cold Air Intake for Performance?
The one that was specifically designed that way. While most brands do their best to make their CAI systems universally efficient, you still gotta check the specs to see what each specific air intake is all about. Some engineers go with average-quality filters and intake tubes to cut the production cost. Others only use premium materials that last for a really long time and resistant natural elements, but those units usually cost a lot.
The same is true for the performance aspect. Take some time to read the official description. If you see that the focus is, say, on maximizing fuel efficiency and making the vehicle faster, then that's exactly what you'll get. And if the manufacturer boasts big gains in horsepower, torque, towing/hauling, and uphill performance, that could very well be the right pick.
Another thing to keep in mind is the brand. See that it's a large-scale, respected manufacturer. The reason: there are lots of different companies that specialize in CAIs, but not all of them can be trusted. In contrast, when it's a brand with a good reputation (and great reviews), that means the specifications will be very close to what you'll get in real life.
Oh, and make sure that you are, indeed, ordering a cold air intake, not a short ram, because CAI systems are better in terms of powertrain improvements. I would also recommend ordering a kit that includes not only an intake tube and a filter but a proper airbox as well. It will keep the hot air away and prevent the cold air/oxygen from escaping the combustion chamber, resulting in big performance gains.
What is a Cold Air Intake and what Does Cold Air Intake do?
At its core, a CAI is an advanced cooling/air filtration system that is built to increase the airflow and keep the temperature in the intake manifold at "comfortable" levels. Compared to the limited and restrictive factory system, it's significantly better when it's really hot and humid outside, or when the driver is pushing the powertrain to the limit. This is achieved through the boost in airflow, of course.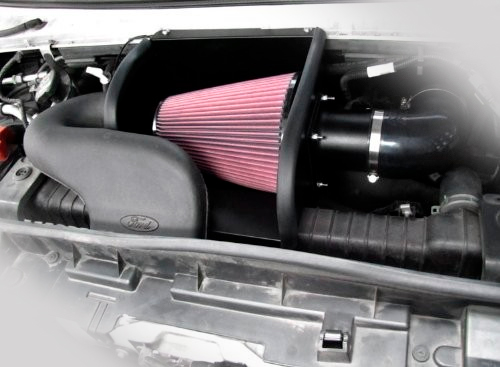 Plus, cold air intakes come packed with advanced filters that, well, filter out pollutants and stop them from "messing up" the engine. We'll talk about filters in more detail further down this review. Now let's focus on the bonuses, the positive side effects of aftermarket air intake kits. First and foremost, a CAI that is crafted from premium materials and fits your Explorer perfectly will increase the MPG ratio.
How is this possible, though? Well, let's think about the combustion chamber as if it's a pair of lungs. The cylinders need air to work (to generate an explosion that produces HP and torque, to be exact). The more air they get, the stronger the power output becomes. On top of that, higher air volumes allow the motor to burn the fuel more sparingly, resulting in a better economy.
So, the big question here is – how big of a boost you will get? Will it even be worth all the effort, or not? Of course, it will. Even one single extra MPG (mile per gallon) will save $70-80, depending on your driving style and other factors. And a decent CAI can give you up to 3 extra MPG, which equals +/- 250 dollars saved on fuel!
Do Cold Air Intakes Shorten Engine Life?
No, CAI systems don't, in any way, shorten the lifespan of engines, no matter how old or new they are. All cold air intakes do is boost the airflow and protect the motor against dust, debris, and whatnot. So, instead of damaging the gear, they make it last longer. As long as you perform regular maintenance and make sure the intake tube is not leaking, all the plugs are connected properly, and the bolts are secure, there's nothing to worry about.
There are, however, some things to keep in mind when switching from a restrictive factory cooling system to a CAI. For example, there's hydro locking. It's when the filter is filled with water instead of air. Now, this can, indeed, cause damage to the engine, as it will render the intake useless; all that water will be sucked into the engine, which is NOT something that you want.
How does this happen? It's pretty simple: filters on CAI systems sit much lower in the engine bay and are closer to the ground. Thus, if you do lots of off-roading behind the wheel of the Explorer, make a habit of constantly checking on the intake kit. Otherwise, the water will find its way into the combustion chamber and damage the pistons. The so-called "air rolls" can also be an issue.
It's when the intake tube has a 90-degree bend, and the air literally rolls while flowing into the motor. It messes up the air sensor's readings, resulting in a far-from-perfect air-to-fuel ratio. This one might be a bit hard to fix on your own. So, have a mechanic check it for you.
How to Install a CAI System on a Ford Explorer? Step-by-Step Guide
So, you checked out every single one of the top-five intake kits from the list and made your pick. Now it's time to install it. For this, you'll need a pair of protective gloves, eye goggles, and a basic toolset. These include a 10mm wrench, 3 and 4mm Allen wrenches, a pair of sockets (8 and 10mm), an extension, and a standard screwdriver. Begin by parking the Explorer in your garage or somewhere outside and turn the engine off.
Next, disconnect the negative terminal on the battery. With that out of the way, open the hood, and let's get rid of the factory system. Do you see the mass air sensor connector? Go ahead and unplug it. Do the same with the crankcase vent tube. You'll find it attached to the stock intake tube. The tube, in turn, will be secured with a hose clamp. Loosen that clamp, and then disconnect the EVAP vent line.
Finally, release the clips in the top corner, and that should free the airbox/housing and the stock intake tube. Remove the whole construction and put it away. To remove the lower airbox, get rid of the pair of bolts sitting on top of it. Ok, now we can move on to the installation. The new CAI should include a set of rubber-mounted studs and washers. Install them onto the mounting bracket for the airbox.
Grab the filter adapter from the package and carefully place it into the heat shield. Use the provided hardware – nuts and bolts – to secure it. As you've probably guessed, the heat shield assembly goes onto the mounting bracket. Everything's looking good? Then connect the high-flow filter to the heat shield. Secure it with a hose clamp. For a tight, secure grip, install the provided silicone pump hoses onto the filter adapter and the throttle body.
Alright, we're almost there! What you should do next is release the fresh air intake scoop from the stock airbox and feed it into the heat shield. Oh, and don't forget about the air sensor! It will be secured with a set of screws – go ahead and remove them. Install the sensor into the new air tube for proper readings. All that's left to do now is grab that intake tube and connect it to the throttle and the adapter.
Secure it on both ends with hose clamps. Remember how we disconnected the air sensor connector, crankcase tube, and EVAP vent line? Well, you need to connect them to the new CAI, reconnect the battery's negative cable, and that's it. Double-check everything before hitting the road!
How does a Cold Air Intake Work? Breaking It Down
A cold air intake is a system that consists of three major components. First, we've got the intake tube that has one important job: to boost the airflow and to keep the engine safe from overheating. The filter, in turn, protects against contaminants (which also increases the motor's lifespan). And then there's the airbox/housing. It sits right on top of the filter and maximizes the kit's efficiency.
A quick note: in most vehicles, the factory cooling systems are warm intakes, not cold. The difference is pretty big. They work with the warm air inside the engine bay/compartment. Now, while there's nothing wrong with this air, it's not as oxygen-rich as the cold one. Oxygen plays a key role in establishing the right air-to-fuel ratio and travels faster, ensuring more effective cooling compared to stock gear.
When you add more oxygen to a fire, it gets stronger. The same mechanism applies to the combustion chamber. In addition, as I mentioned earlier, extra air gives the Explorer extra power (horsepower and torque). And let's not forget that higher oxygen levels also mean the exhaust tone will be louder and more "throaty".
For most drivers, that's a big pro, as the factory sound is pretty dialed down and boring. Going back to cold air intakes, they have a bigger intake tube that collects air from the outside (not from the engine compartment). Usually, the tube goes through the vehicle's grille where there's always lots of cold air. This is one of the most noticeable differences between stock and aftermarket systems, and it introduces significant improvements.
How much Horsepower does a Cold Air Intake Add to the Ford Explorer?
Let me say right from the start that the HP gains won't be game-changing. The Explorer isn't particularly slow or weak (like a Prius, or, say, Focus). However, it's not a race-track-ready muscle car or a sports car. Air intakes systems rely heavily on the powertrain. If the engine is outdated and barely hits 200HP, you will not be very impressed by the performance boost. On the other hand, a Ford Mustang will greatly benefit from a new CAI.
To get the biggest possible gains, you'll also need to change the exhaust pipes, replace the restrictive manifold with a header, and maybe even add new ignition coils and spark plugs. A tuner/programmer will come in handy as well. It can introduce a pretty significant, all-around increase not only in HP, but also in torque, acceleration, and fuel efficiency.
On its own, a cold intake kit is capable of boosting the Explorer's power output by 15-20 horses. The entry-level 2.3-lit EcoBoost motor is good for 300HP. So, with the intake, you'll get a 5-7% boost. Explorer ST, in turn (the most expensive trim), puts out 400HP. With it, the gains will be slightly higher, as it's a stronger engine (25-30HP). In both cases, you'll get a bigger boost in torque.
Buyer's Guide
Ok, now that we've learned about the biggest pros of CAI systems, how they work, potential gains, and how to install them, it's time to check out key factors that set top-notch kits from poor-quality products. How do you ensure perfect compatibility? What's the right filter for the Explorer? Is steel better than plastic? These are just some of the questions that we'll discuss in this guide. Let's get right to it!
#1: Get the Right Fit for the Explorer
The first choice that you gotta make is one between universal- and direct-fit intake systems. Now, as the name suggests, universal CAIs fit a wide range of vehicles and motors, which is a good thing. However, the installation process is usually longer and takes more effort (and maybe some trimming and drilling as well). Plus, you will probably have to use a tuner to make it work with your car. In contrast, direct-fit cold air intakes are all about limited compatibility.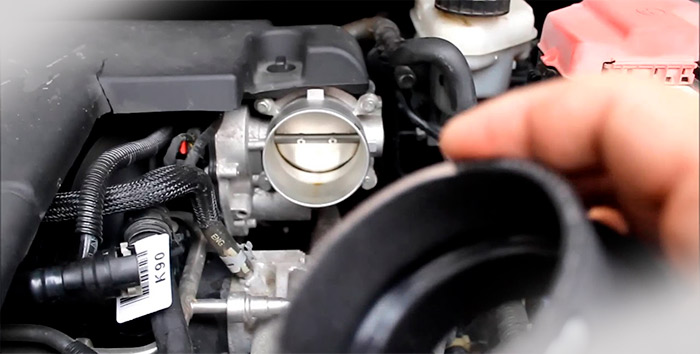 That way, it's much easier to ensure a perfect fit. The mounting/replacement routine is very simple and can be done without any extra tools. On top of that, vehicle-specific kits do a much better job of maximizing not only the airflow but also the powertrain. I'm talking about HP, torque, and MPG gains. Summing up, I would strongly recommend picking a direct-fit air intake over a universal unit.
#2: Make sure it's a High-Flow Filter
The filter does exactly that: filters out all the "rubbish" and prevents it from ruining the engine. Ideally, the only thing that enters the combustion chamber should be clean, cold air. Well, that's what aftermarket filters aim at. They keep all the dust, dirt, debris, and everything else at bay. Sadly, most stock cooling systems have paper filters – they're not at all reliable, especially for an off-roading SUV like the Explorer.
So, what you should find is an intake kit with a high-flow, performance filter. It will be significantly more efficient and eliminate 95-99% of the contaminants. The layers matter as well: some brands go with three layers, while others add as much as five. Cotton gauze media has proven to be the best material for modern-day filters. If you see this in the specs, put that CAI on your list.
#3: The Intake Tube comes next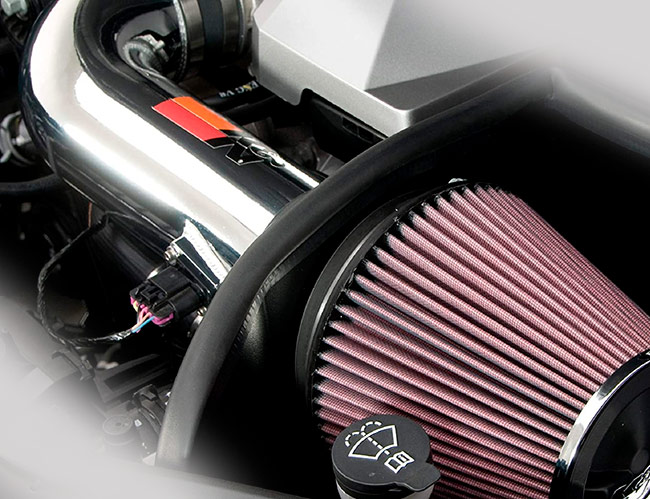 While the filter serves as a layer of defense for the engine, the intake tube takes care of the airflow. That's why you gotta pay extra attention to the tube. My advice to you – don't EVER buy a CAI system with a tube crafted from plastic or composite materials, because it won't do you much good. Pick stainless steel or aluminum instead. Aluminum is the most expensive option, but it's more reliable and lasts longer.
Besides, it handles extreme heat and cold a lot more efficiently, which is exactly what we need in an aftermarket cold air kit. As for the design, mandrel-bent tubes are on top of the "food chain". They help the system with the airflow and keep the motor nice and cool even in the most challenging situations.
#4: Go for a Maximum Airflow Increase
It's safe to say that you'll see improvements in the airflow even if you buy the cheapest air intake system out there. However, if you want to get the best results, do some digging. Look in the specs: there, you'll find all the necessary information on the flow boost. For most vehicles (including the Explorer), a 20-25% increase is a decent place to start. A 30% airflow gain, in turn, will be able to protect an upgraded, more demanding engine.
Still not satisfied with the improvements? Then keep navigating until you come across a CAI that guarantees a 50% boost. That kit will cost more than the industry average, but it will be money well spent. For example, the K&N intake kit on today's list can help you achieve such impressive results. For off-roading and competitive racing, it's one of the best systems on the market.
#5: Don't forget about the Warranty
The last thing to check for is whether the manufacturer backs its product with a warranty, or not. Even if it's a 30-day factory guarantee, it's still better than nothing. A 30-day refund policy will be a much better deal, of course, as you'll be able to get your money back within those 30 days. The most generous brands cover the kit with a 5- or even 10-year warranty (or a 10-million-mile deal).
Conclusion
Do you want the Explorer to serve you for many decades and deliver a strong performance off the road, on challenging terrain? Then you might want to start saving for a cold air intake system. Thanks to the superior design and premium material + build quality, it will be a lot more effective and efficient than the factory cooling gear. Today, I introduced you to five market-leading intake systems that fit Ford's crossover perfectly.
With K&N, you'll get easy maintenance, incredible filtering efficiency, and all-around strong performance. Ares, in turn, is easy to install and comes packed with top-quality hardware. Explorer drivers on a limited budget will like how affordable Intake Kai is. S & T Racing and Rtunes Racing are also worth your attention. Got a favorite pick already? Share in the comments!