Windshield wipers – without a proper set, you'll run the risk of getting blinded by rain, snow, and other natural elements. So, if the factory Corolla wipers are acting up, that means only one thing: it's time to look for a replacement. Which manufacturer should you trust, though? What does a premium-quality kit look like? There are hundreds of different offers on the market – how do you find the right fit?
Well, that's why you have me! I'll be your guide into the world of the Best Windshield Wipers for Toyota Corolla! After testing dozens of different sets from best-selling and high-rated brands, I narrowed the list down to five sets. They're all affordable, easy to install, and do a decent job of keeping the windshield clean. Ready to learn more? Let's dive right in!
Best Windshield Wipers for Toyota Corolla Review
1. Bosch ICON Wiper Blades for Toyota Corolla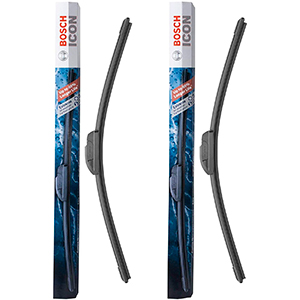 The ICON series by Bosch has been around for quite a while now, and it's still one of the finest windshield wiper sets for the Corolla. Thanks to the dual-rubber compound, these wipers boast above-average durability and reliability. They won't break or crack when facing harsh weather conditions. Speaking of that, ICON is also well-protected against excessive heat and ozone deterioration – the biggest enemies of any exterior accessory.
Add a unique beam design that provides excellent visibility in all four seasons, and you'll see why the Bosch deserves our attention. The only thing that I didn't like during my test was customer support. The agents aren't very quick to respond, and you might have to wait for a week or two to get help with a replacement. Other than that, this will be a safe bet for the average Corolla driver.
Pros & Cons
Patented dual-rubber compound for extra durability
Market-leading protection against heat and ozone
Advanced beam design ensures optimal visibility

If you're looking for a weather-resistant windshield wipers kit with an extended lifespan, Bosch might just have the perfect offer for you. The ICON wipers are, indeed, well-protected against natural elements and last for a really long time. Sadly, customer service leaves a lot to be desired.
2. Rain-X 810164 – Latitude Water Repellency Wiper Blade
Folks in the market for a flexible, universal-fit wiper should put Rain-X on their must-have lists. The reason – it is compatible with 96% of vehicles out there and won't be a problem to install. Another big pro is the premium-quality water-repelling coating. No matter how heavy the rain is, or how humid it is in your area, the wiper will do a great job of keeping the windshield nice and clean.
I also want to mention the aerodynamic spoiler. It's great at eliminating wind lift and ensuring noise-free wiping (which can't be said about most similar products). Do keep in mind, however, that the rubber blade tends to come off. It will only take a second to put it back on, but this is still a downside that you need to be aware of. If it happens again, try using some glue – that should help. Oh, and this is a single wiper package, not a pair.
Pros & Cons
Universal design: fits 96% of vehicles on the road
Includes decent-quality water-repelling coating
Aerodynamic spoiler for quiet operation
The blade tends to slip off

Extended compatibility, strong anti-water protection, and quiet performance are the biggest selling points of the Rain-X wiper blade. It takes little effort to install and looks great on the windshield. The blade isn't very secure, though, and may just slide off in the middle of the road.
3. MOTIUM INC – Best Budget Wiper Blades for Toyota Corolla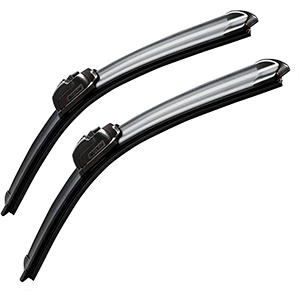 Next up, we've got Motium with a high-quality windshield wiper set for the Corolla. The biggest advantage of this kit over the competition is obvious: a cheap price tag. So, if you need a wiper blade pair ASAP, but don't have a huge budget for it, this could be exactly what the doc ordered. The package is covered by a one-year warranty, by the way – another big reason to consider this set over the competition.
The actual wipers are crafted from a sturdy frame (galvanized steel) + natural rubber for the blades. Unfortunately, despite the decent combination, real-world performance isn't very impressive. For a regular rainy/snowy day, this kit is perfect. But, when driving through "tropical" weather, the wipers will have a hard time handling all the work. Therefore, consider the area that you live in before making an order.
Pros & Cons
Galvanized-steel frame + natural rubber
Backed by a standard one-year warranty
The cheapest blades on the list
Average-at-best performance

The Motium windshield wipers are available at a very affordable price, and that's what makes them so popular. On top of that, they are built from solid materials and protected by a standard warranty. Their efficiency leaves a lot to be desired, though, especially during a harsh fall season.
4. AERO – Windshield Wiper Blades with Extra Rubber Refill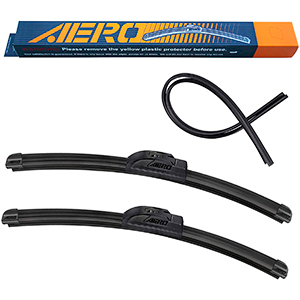 This right here is one of the most generous wiper kits out there. With it, you won't only get a standard pair of blades, but also a refill set. So, whenever you feel like the rubber blades are failing at doing their job, go ahead and replace them. That won't take long, and you'll save yourself the trouble of ordering a new kit (and paying for it). But that's not it for the pros yet.
These wipers feature Aero's Micro-Precision-Cut technology. It ensures smooth, chatter-free performance. In addition, you'll get dual-tension springs. They also work towards minimizing the shocks, noises, and eliminating streaks. As for the cons, the included plastic mounts are of poor quality. They tend to break/crack when not treated carefully.
Pros & Cons
Micro-Precision-Cut wiping = smooth performance
Dual-Tension springs for streak-free wiping
Come packed with a pair of rubber refills
Low-quality plastic mounts

These windshield wipers by Aero are all about efficiency and steady performance. While the plastic mounts are cheap and unreliable, the dual-tension springs, MPC streak-free wiping mechanism, and the extra set of rubber blades for a refill make it all worth your while.
5. Michelin 8526 Stealth Ultra Windshield Wiper Blade with Smart Technology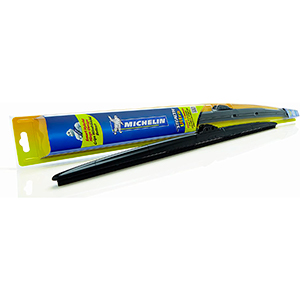 The last stop for us today is Michelin. This brand needs no introductions and always delivers premium quality. Now, like the Rain-X option, this is a one-blade offer, not a set, and that means you'll need to make a double order to get a pair of wipers for your Corolla. The package arrives with a user guide, though; sadly, it's not very clear and will end up confusing you rather than helping.
On the bright side, this wiper boasts extended durability and delivers a steady performance after you go over 300K cycles. Protection against clogging is another standout feature. It's not rare for wiper blades to get stuck because of ice, snow, and debris blocking them. Well, that won't be an issue here. This is achieved through the Smart Hinge joints that fit the windshield perfectly.
Pros & Cons
Consistent performance even after 300K wipe cycles
Strong protection against snow/debris clogging
Smart Hinge joints for a tight, secure grip
Misleading installation instructions

Despite the inaccurate user guide, the Michelin windshield wiper blade will be very easy to install, thanks to the EZ-Lok connection system. The Smart Hinge mechanism, in turn, ensures a tight grip and keeps debris from piling up. High efficiency after the 300K cycles mark is a part of the deal as well.
Replacing Windshield Wipers on your Toyota Corolla: Step-by-Step Guide
Wiper replacement is one of the easiest tasks even for a novice driver. All you gotta do is find the right fit (more about that in the Buyer's Guide) and follow the instructions closely. Even if there's no guide included in the package, you'll be able to pull this off manually. So, we start by removing the old wipers. On the Corolla, you'll see a latch that needs to be unclipped (on the factory assembly).
Do the same for the other side, and there will only be the frames left on the windshield. As for the new blades, check the package first. They'll include a set of different adapters for a universal fit. And, they'll probably have the most flexible one already mounted to make the process easier. That's right: it's actually the adapters that "sit" on the frames, not the blades. Just slide them in, secure the latches, and you're pretty much done.
And one more thing: before you start removing the old wipers, get into the cabin for some quick settings. Begin by turning the engine off and give it a minute or two to cool down. Next, go to the windshield wiper settings and switch to the "Mist" mode. Press and hold it for 2-3 seconds. Once you do that, the wipers will come up into the maintenance position.
Tips for Choosing the Right Windshield Wipers for Toyota Corolla
As mentioned in the intro, there are lots of different brands on the market that specialize in wipers. On one hand, that's great news, as you've got plenty to choose from. But on the other hand, it can be quite hard to make a pick when you don't know the first thing about these accessories. So, here's a list of critical aspects to keep in mind while shopping for a new set of wiper blades for the Corolla:
Strong anti-clogging protection. Even if the weather isn't particularly harsh, over time, the blades get clogged – that's just how it is. And when Mother Nature is raging, tiny rocks, debris, snow, and ice on the road can block the wipers, preventing them from clearing the view for the driver. Therefore, the first thing to check should be decent protection against clogging.
Otherwise, you'll be forced to constantly get out of the car and fix the wipers manually. That can be problematic on a busy highway or when you're, say, late for a meeting. It all comes down to the design of the windshield wipers and whether they're secure against cluttering, or not.
Resistance to heat and water/ humidity. Here's another vital feature: protection against extreme heat, water, and oxidation. Again, you might not notice this with a naked eye, but natural elements have a very strong effect on plastic and rubber (which is what the blades are mostly made from). Thus, if you want to avoid cracks in the blades and lackluster performance, look for a wiper set that says "heat- and ozone-resistant" in the specs.

Go for an Aerodynamic Design. With most exterior accessories, the design plays a big role in terms of aerodynamics. When it comes to wipers, it helps prevent wind lift and provides a noise-free, drag-less, enjoyable ride. Plus, the less resistant the blades, the easier it will be for them to effectively keep the windshield clean. I also recommend choosing custom-contoured blades that perfectly fit the shape of the windshield.
How Often Should Wiper Blades be Changed?
As soon as they start showing signs of wear or bad performance, of course. And by that I mean when you see more streaks on the windshield than usually. This depends on your driving habits, the area that you live in, the climate, and the durability and engineering quality of the wipers. On average, the blades last for six to twelve months, which isn't a very impressive lifespan. But, these are the official recommendations by most manufacturers.
The good news is – if you got a set of refill blades (like in the case with the Aero set), the wipers will serve for twice as long. A good rule of thumb is to have the blades checked whenever you perform an oil change. That way, it will be much easier to keep track of their condition. But how do you really know that it's time for a replacement? Here's a short guide:
Worn-out blades. As we'll learn soon from the Buyer's guide, rubber and silicone are the best materials for the blades. However, they don't last forever, and all that water, snow, and debris cleaning can wear them out. So, if you see that the wipers are a bit loose, or if there are signs of cracks, that means a replacement is in order.

Corroded frame. Moving on to the frame, it's usually crafted from stainless steel or aluminum. And, while these materials are naturally resistant to rust, they do get overwhelmed by it eventually. Most drivers don't even care about the frame, arms, and joints, and they work fine for many years. Still, I'd recommend checking on them as well. Otherwise, the metallic parts might break in the middle of the road and (potentially) hurt someone.

Screeching noise. When the wiper blades start to make a squeaky noise, chances are, the frames or arms are bent and not matching the windshield's contour perfectly anymore. This is another big reason to buy an aftermarket set. Or, at the very least, ask a mechanic to diagnose the wipers for you.
Buyer's Guide
You probably think that we already went over the most defining aspects of wipers in the FAQ, but there's more ground to cover. While resistance to clogging, heat, rain, and other natural elements is important, and you should always consider the design, there are other factors to keep in mind. Let's take a quick look at that right now to master the art of picking the perfect windshield wipers for the Corolla!
#1: Easy Fitment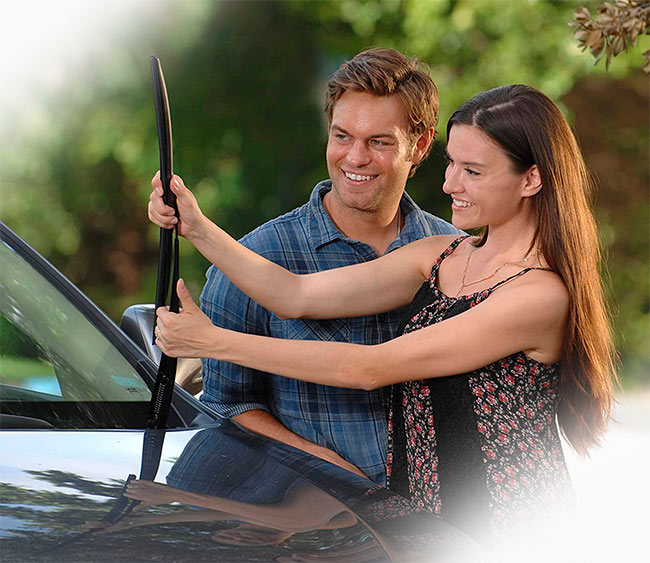 To install a new set of wipers on the Corolla, you won't need to have a mechanical degree. This is a very straightforward process and doesn't take lots of experience or expensive tools. However, it's very important to remember about compatibility. While most modern-day wipers/blades follow a universal design that works with a wide range of vehicles, you still gotta check the specifications to make sure it's gonna be a perfect fit.
If you can't find this information in the specifications on the official website/online store, refer to your car's manual. Or, get in contact with the aftermarket windshield wiper brand(s) that you like. This way, you won't have to waste many hours (and nerves) trying to make incompatible wipers fit your windshield.
#2: Silicone vs. Plastic
Next, let's talk about the materials. I bet you've already seen dual rubber on wiper blades. Well, this is one of the most reliable and efficient options on the table. Cheap, easily adjustable, and 100% harmless, it is a very popular pick among wiper manufacturers. With that said, if you want maximum quality, go with silicone. It has proven its effectiveness in various third-party tests and does a better job than rubber, often being a key component in the best quality windshield wipers.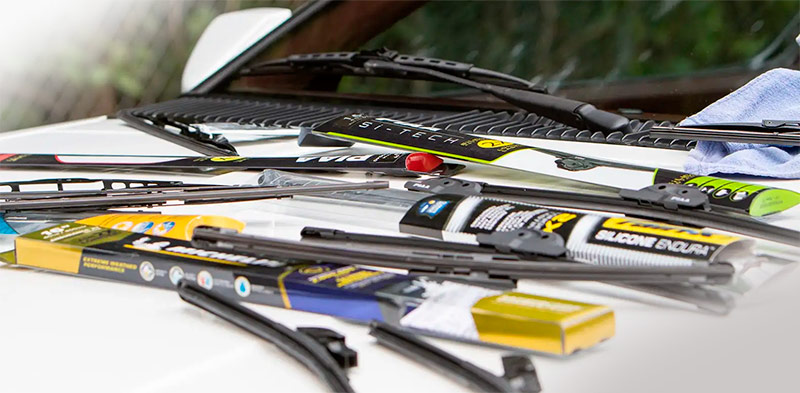 It's a softer material and does not damage the windshield while protecting it against natural elements/hazards. Thanks to the sturdy, highly resistant nature of silicone, it has a longer lifespan (again, compared to rubber). So, even though silicone is more expensive, in the long run, it will be a reasonable and beneficial investment. As for the frame, steel is the #1 choice. Galvanized steel, in turn, is the most preferred pick.
#3: All-Season, or Not?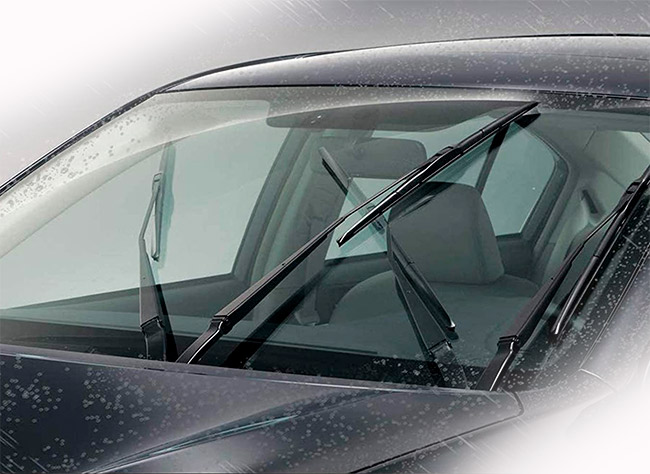 When it comes to windshields, you gotta always consider the area that you live in. Say, if it's a windy and rainy state, buy a set of windshield wipers that are strong against water and debris. In contrast, folks from colder areas should look for a set of wipers that easily handle snow and extremely low temperatures. Heat and ozone need to be kept in mind as well, depending on the climate.
Or, you can pay a bit extra and order an all-season wiper kit. As the name suggests, these blades are specifically designed and built to clean rain, snow, dust, pollen, debris, and everything else in between. Plus, they don't crack or break when it's too dry or humid outside. Some brands use the term "all-condition", but it's the same thing. And remember: silicone is best for extremely low/high temps, while rubber is strong against heaps of snow./p>
#4: Pricing + Warranty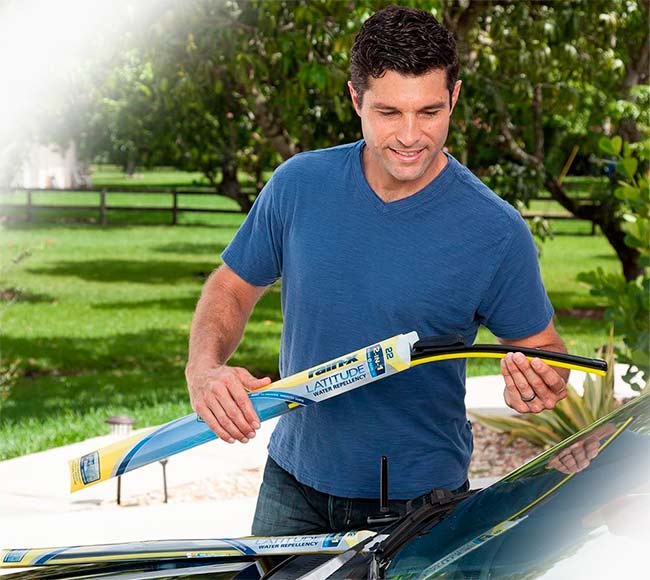 The last thing we need to discuss is the price. How much will you have to pay for solid-quality wipers? This heavily depends on the actual package, of course. If it only includes one blade, that's gonna cost you less than a pair. Next, some packages come with detailed instructions; others also include extra rubber, which increases the cost further.
On average, for the Corolla, you can get an all-around decent wiper set for $15-30. The final price will be dictated by the brand, extras, material quality, real-world performance, and the engineering techniques slash technology used in manufacturing. I'm talking about Smart Hinge points and Micro-Precision-Cuts, to name a few. Also, check whether the company backs the wipers with a warranty, or not. A standard one-year guarantee would be great.
Conclusion
Windshield wipers are one of the cheapest, simplest, yet most important exterior accessories for Corolla. If they do their job right, you enjoy a clear vision even when the weather is rainy, stormy, and foggy. In contrast, when the wipers are malfunctioning, that can lead to disasters on the road. That's why I want you to think it through before ordering the first set you find online.
Consider compatibility, build quality, materials, weather resistance, and pricing. We discussed all these aspects earlier in the Buyer's Guide and FAQ – check them out! Or, just go ahead and pick one of the five top-notch wiper kits from the list. They'll fit Toyota Corolla like a glove and help you overcome the harshest conditions on the road. Drive safely, and I'll see you next time!