Also known as nerf bars, or step rails, step bars are an off-roader's best friend. Essentially, they serve as a "stepping" stone for climbing in and out of a truck/SUV. Today, our focus will be on installing a new set of step bars on the legendary RAM 1500. Now, it's a pretty big truck, and, unless you're really tall, it can be challenging to get into the cabin sometimes.
That won't be an issue with nerf bars! On top of helping with the climb, they also protect your feet (or, rather, shoes) from mud, dirt, or slush that always accompanies off-roaders on their adventures. Besides, step bars look pretty dope and give the RAM a cool, aggressive look, perfect for the wilderness. So, let's go ahead and learn how to install them!
What to look for in Step Bars?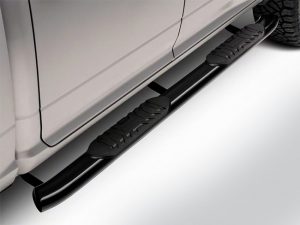 Essentially, a step bar is just a tubular device that you attach to the side of your truck. Yes, there's nothing complicated about it. Still, there are lots of different brands on the market, each with its own design, engineering quality, materials, and more. First of all, make sure it's crafted from aluminum or stainless steel. Otherwise, all the mud and dirt will ruin it before you know it.
Plus, some manufacturers use rest-resistant black powder coating to make the bars even more resistant to natural hazards. This is important: most nerf bars come with step pads that you put your feet on when hopping in and out of the RAM 1500. Well, they should be crafted from non-slip rubber to make for easy climbs. Resistance to water, UV rays (the sun), and tear would also be great.
I always go for step bars with a low profile. That increases the ground clearance; plus, it makes the bars more durable and reliable. One last thing to look for is a one-piece design, as it's less prone to cracks, and, overall, safer. That's pretty much everything you need to keep in mind when shopping for a new set of step/nerf bars.
Step Bars vs. Running Boards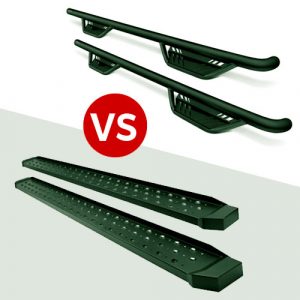 These terms are often used interchangeably, but they're not actually the same thing, even though they are, indeed, quite similar. We just talked about the step pads – well, you'll only see them on step/nerf bars. Running boards are generally wider and flatter, but don't have specific spots where the driver or the passengers should put their feet. Another thing: step bars usually go from the left door to the right one, covering the entire cabin.
That means you can use them to get both into the front and the back of the RAM 1500. As for running boards, they can sometimes go even further and almost touch the wheels. What's the point in that, though? It's really simple: the extended board allows for easy access into the truck's bed as well. However, that also means step bars are cheaper than running boards, because the engineers use less aluminum or steel to manufacture them.
Getting Started
Before we begin, I want to mention that the vast majority of nerf bars come with drilled thread holes on the bottom for quick and easy installation. So, unless you want to buy a drilling machine, and, well, make new holes, make sure the bars are pre-drilled. Don't worry: the average price-tag on a premium-quality set of step bars is quite affordable. They're available for 100-150 US dollars, or even cheaper.
But wait – make sure they're 100% compatible with your truck before ordering them. And I'm not only talking about the make, model, and year, but also the cab design. Some bars are specifically designed for single-cab trucks; others only fit crew cabs. So, yes, it all depends on your RAM's configuration. Once you know what to look for, it will be much easier to find a perfect fit.
Step Bar Installation Guide
Ok, that's it for the getting started part. Now let's see how we can install the nerf bars. If you have a friend that can lend a hand, that'd be super helpful, because the bars are pretty heavy and long; that can make it a bit hard to handle the installation on your own. Great news: most step bars come packed with all the necessary installation hardware and a user guide, with detailed instructions. That makes the installation much easier.
Now, one of the best things about the RAM 1500 truck is that it has factory-drilled mounting points for the bars. So, all you'll have to do is install the brackets into the mounting holes, align the bars with them, and secure everything. Sometimes, the mounting spots have welded nuts – use a wrench to remove them. This is important: if you're driving an older RAM model and it doesn't have factory mounting spots, it would be wise to hire a pro to make them for you.
The reason: if you lack the necessary experience, you might end up damaging the truck's frame. Besides, a drill (the instrument) is pretty expensive to buy for this one job. Alright, what you should do once the holes are done is install the brackets using the provided nuts, bolts, and washers. Don't rush this, as you might damage the bolts and the factory holes if you push too hard with the torque wrench.
Plus, I'd recommend leaving the brackets loose. You might need to do some minor calibrations/adjustment to ensure a perfect fit of the step bars. Only tighten them once the bars are in place and you're 100% happy with how they look. And that's actually all there is to it.  If you plan everything, ensure perfect compatibility, and buy a set of step bars that include all the necessary hardware and pre-drilled mounting holes, the installation process will be a walk in the park.