Best Running Boards for F150 Review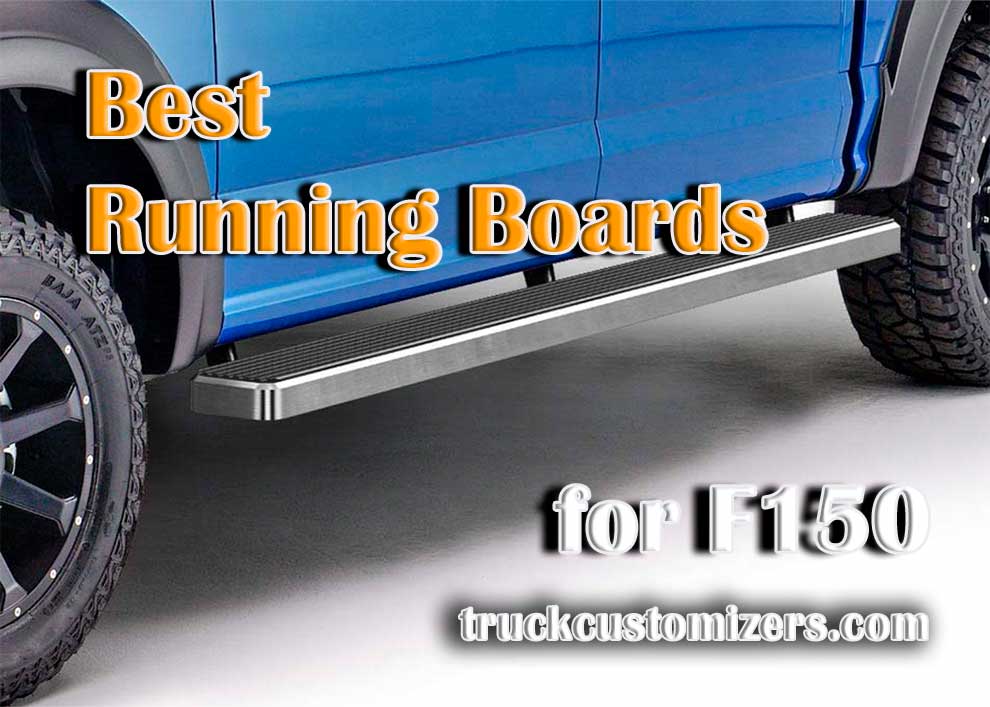 Do you feel like getting in and out of your F150 takes more effort than it should? Then you might want to get a set of running boards. Available at a reasonable price, they serve as a "ladder" for climbing into the cabin. Boards can be especially useful if you've got a set of larger-than-average wheels installed, along with a lift kit. Today, our focus will be on finding the Best Running Boards for F150.
I already did my "homework" and tested dozens of market-leading products. The following list includes my top-five running boards for Ford's world-famous truck. Now, while they're all worth our attention (and investment), there are still lots of differences that we need to discuss. So, let's get right to it and figure out the winner of this competition!
Best Running Boards for F150 Review
1. APS – iBoard Running Boards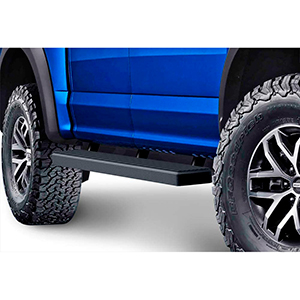 If you're looking for an all-around solid set of running boards for the F150, APS might be a reasonable pick. It doesn't have any big cons, which can't be said about most boards. The list of pros, in turn, is pretty decent. For example, iBoard boasts market-leading resistance to rust and corrosion – the #1 enemy of any metallic exterior accessory. Next, thanks to the company's trademark low-profile design, you'll get increased ground clearance.
As for the downsides, QA can be an issue. This is only reported by a small percentage of buyers, of course, but some running boards arrive dented, while others can be a bit rusty. On the bright side, iBoard is available in various colors and sizes. So, it won't be hard to find the right set that fits your truck perfectly. Overall, APS did a great job with these boards.
Pros & Cons
Advanced anti-rust/corrosion protection
Patented low-profile iBoard design
Available in different sizes/colors
Minor issues with quality control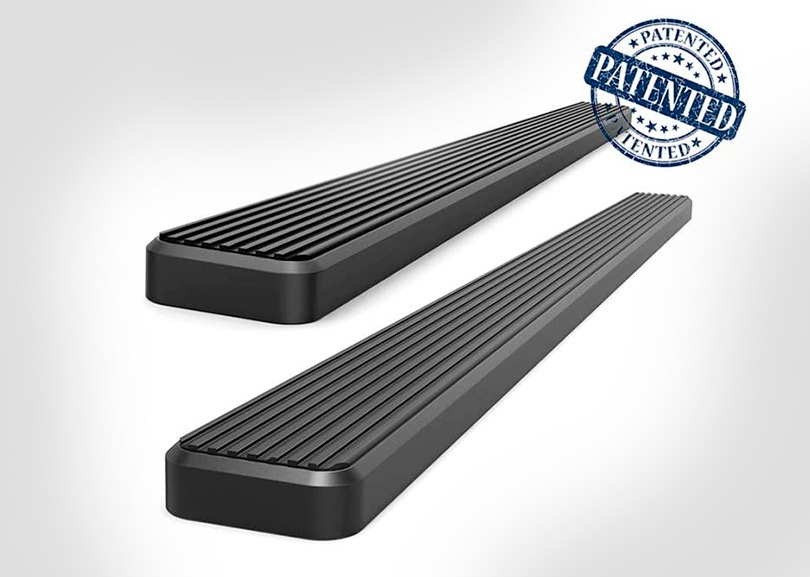 Strong protection against rust, a low-profile design, and enhanced compatibility are this running board kit's biggest selling points. And, despite the (minor) problems with quality control and assurance, you'll get a great bang for the buck if you go with APS.
2. Tyger Auto TG-RS2F40118 – Best Aftermarket Running Boards for F150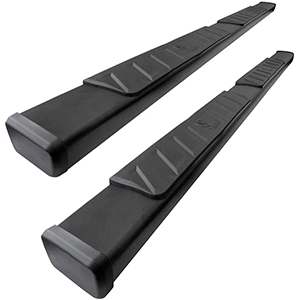 Next up, we've got Tyger Auto – a market-leading brand – with a high-quality running board set. Specifically designed for the F150 truck, they take very little effort and time to install. All you'll have to do is alight the boards with the factory mounting spots and secure them. With TG, you'll also get extra resistance to UV rays. Over time, the sun can make plastic decade and tear. Well, that won't be an issue with this kit.
Besides, if something does happen, you can always take advantage of the company's five-year warranty. So, does that mean Tyger Auto's running boards don't have any cons? Well, there is one tiny disadvantage, and it has to do with the weight: TG is one of the heaviest sets for the F150. But, this will only be a minor inconvenience during the installation and won't have a dramatic effect on fuel efficiency/aerodynamics.
Pros & Cons
Fast, hassle-free installation
Strong protection against UV rays
Backed by a no-hassle 5-year warranty
The heaviest boards on the list

Ford F150 drivers looking for a safe bet will find Tyger Auto's running boards to be right up their alley. Thanks to the vehicle-specific design, they can be installed in 20-30 minutes. Add extra protection against the sun (UV rays) and a generous warranty, and you'll get yourself a bargain.
3. COMNOVA AUTOPART – Aluminum Running Boards for 4 Full Size Doors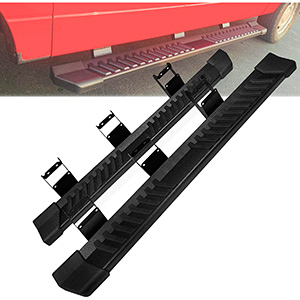 Are you the proud owner of a Superduty Crew Cab truck? Then Comnova will fit it perfectly. The package includes a detailed, friendly user manual that will help with the installation. The design deserves our attention as well. It features a slider mechanism that allows for easy adjustment of the running boards. Speaking of the design, these boards feature an OE style with stripes and everything.
And the best thing about this kit – it is available at a very attractive price. Therefore, if you don't have a huge budget for the boards, but would still like to get above-average quality, this could be it for you. As for the cons, my only complaint is about customer support. While it's helpful and client-oriented, you might have to wait around for a while before they respond.
Pros & Cons
Easily customizable, slider design
Available at a very affordable price
Come packed with a detailed user guide
Somewhat slow customer support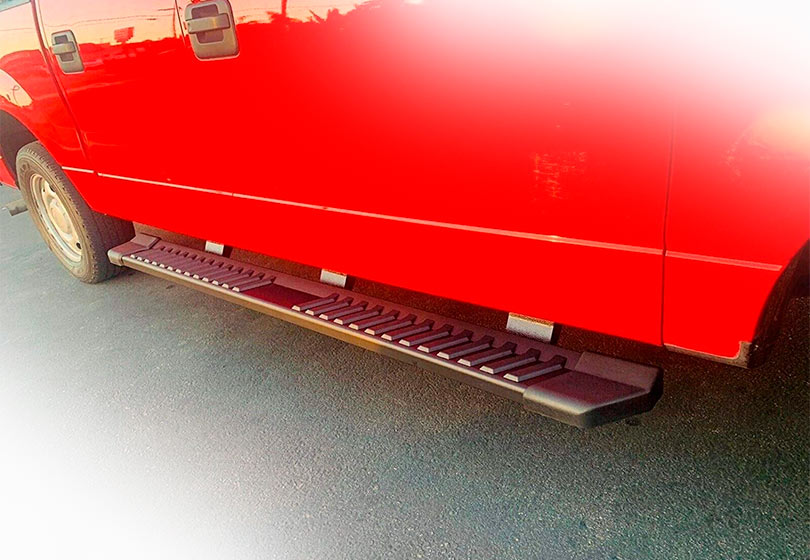 This is the cheapest running board set on the list, and that's what makes it so popular. On top of the cheap cost, Comnova also includes all the necessary hardware (+ detailed instructions) and features a patented customizable, adjustable design for perfect fitment.
4. Auto Dynasty – 4 inches Black Oval Tubing running board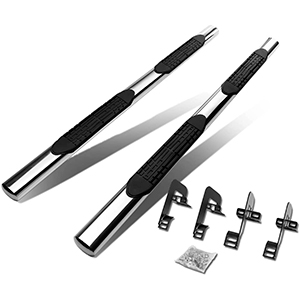 In contrast to the Comnova running boards, the Auto Dynasty set isn't particularly cheap. It's actually the most expensive option on today's list, but it does compensate the price with a long list of pros. Most importantly, it has an above-average weight limit and can hold up to 500 pounds. The overall engineering quality is also a crowd-pleaser.
These boards easily handle harsh off-roading conditions. Tree branches, bushes, tiny rocks, and heavy impact – they're ready for it. Last, but not least, I want to mention the skid-resistant pads. True, most side steps have this feature; however, they're not as good and might slip depending on your shoes. That won't happen with Auto Dynasty.
Pros & Cons
Impressive weight limit (up to 500 pounds)
Superb build quality: can take a beating
Premium-quality, slip-resistant pads
Slightly on the expensive side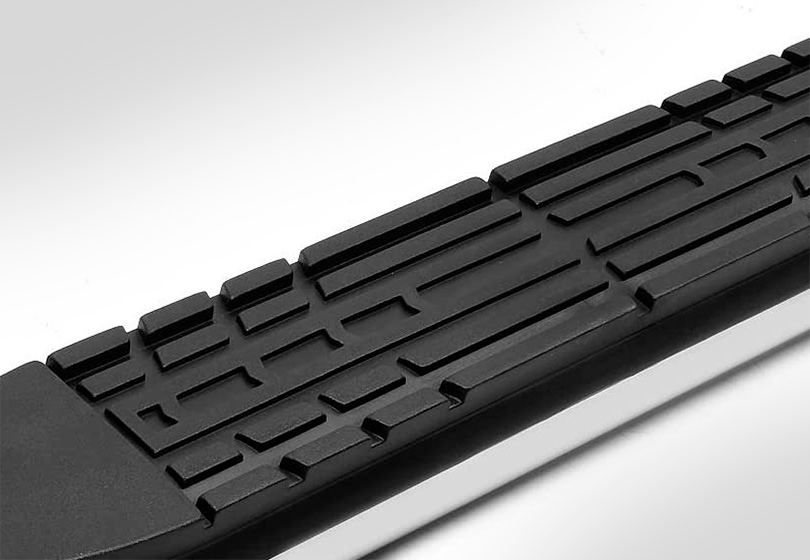 Despite the high price, the Auto Dynasty running boards are a must-have. They feature brick-strong mounting brackets and hold up to 500 pounds. The top-notch build and material quality, along with the 100% slip-resistant pads make these boards an even better pick.
5. YITAMOTOR – Best Looking Running Boards for Ford F150 SuperCrew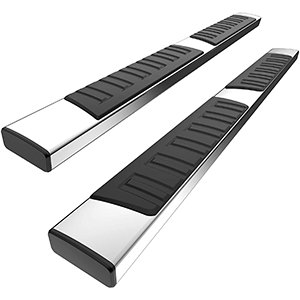 And what can we expect from these running boards? Will Yitamotor be a great purchase for an F150 owner, or not? The short answer – yes, it will be. And now let's take a look at the pros and cons. The first thing that'll catch your attention will probably be the ABS plastic cover for the steps. It is incredibly resistant to tear, cracks, and water/humidity. Another big advantage is compatibility: Yitamotor can fit a long list of Ford vehicles.
Moreover, the manufacturer provides quick, helpful support and ships the boards in a safe, secure package. What I didn't necessarily like about them was the length. Depending on your F150 truck, the boards might be a bit short and not cover the entire length of the doors. But, that's not a very significant con, of course.
Pros & Cons
Water- and tear-resistant ABS-covered side steps
Safe packaging + fast, helpful customer service
Compatible with a wide range of Ford trucks
Could've been a bit longer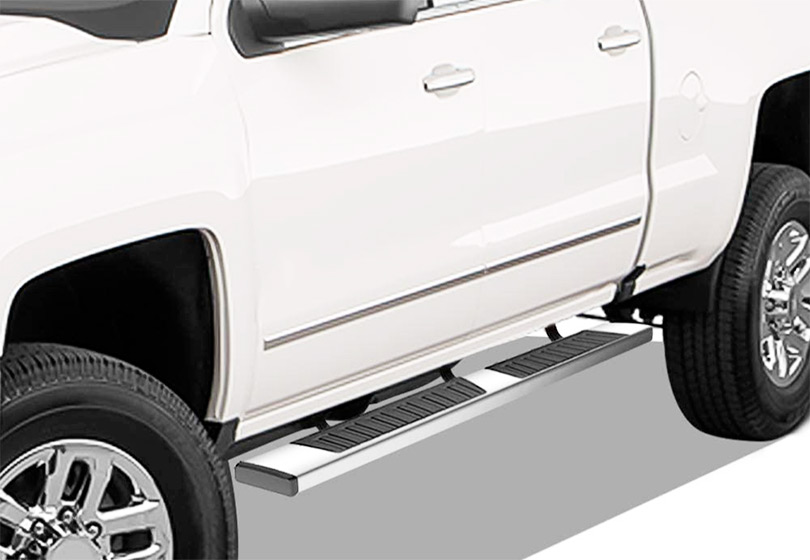 Strong customer support, secure packaging, and protection against tear, wear, and cracks – that's the best way to describe the Yitamotor boards. They are compatible with dozens of F-series trucks, too, which is also a pro. The steps aren't very long, though.
How to Install Running Boards on Ford F150?
The first thing you gotta do is make sure you have all the right tools. Don't worry: I'm not talking about any expensive equipment. All you'll need is a wrench set, a socket kit + extension, and, of course, protective gloves and glasses. Say, if you choose one of the five running boards from today's list, the installation process will run smoothly and take 30 minutes max.
They all come with pre-drilled holes, which means a drill won't be required. Installing the mounting brackets is the most important step, and the pre-drilled mounting spots make the job a lot easier. Use the included hardware to secure the brackets properly on both sides – I'm talking about hex bolts and washers. Oh, and you'll find the holes in the rocker panel.
Modern-day trucks usually have three brackets for each board. Before installing the actual boards, check the treaded positions to figure out which side should be facing up, and which facing down. Carefully place the first board and tighten it using the provided bolts. If there's a rubber strip on it, go ahead and remove that. Now, the board needs to be tightly secured to hold your weight.
With that said, don't tighten them fully unless you're 100% sure the boards are aligned perfectly with the rest of the truck. Alright, that's pretty much it. Repeat the process for the passenger's side, and take the boards for a spin. As long as the package includes all the necessary bolts and whatnot and a friendly guide, this shouldn't take much time or effort.
Mechanics charge a lot for running board installation, however; so, if you pull this off on your own, you'll get to save some bucks for a new upgrade! A quick note: the installation process will vary slightly depending on how old or new the F150 truck is. But, the main steps are still the same and if you ordered the right fit for your vehicle, there shouldn't be any issues with it.
What's the Right Running Boards Size for your Truck?
When it comes to running boards, size does matter. And first, I want you to think about the length. Say, cab-length boards match the actual length of the cab. You can expect them to reach the rear end of the cab, but never go over the bed. In contrast, wheel-to-wheel boards cover the distance between the end of the front wheel and the start of the rear wheel, just like the name suggests.
That way, they cover the entire length of the F150, which gives it a sleeker, more refined look. True, the longer the running boards, the more expensive they'll be. But, since you won't be switching between different sets every year or so, it might be wise to save a bit to get a kit that you really like. Next, we've got the width – a parameter that most manufacturers indicate in the specifications.
In some ways, it's more important, because the more "standing ground" you get, the easier it will be to climb in and out of the truck's cabin. Again, the wider the boards, the higher the price, and in my experience, five inches is the golden middle. Four inches is a bit narrow, while six can be expensive (but not necessarily). There aren't any right or wrong rules here, though. It all comes down to personal preferences and the budget.
If you're ready to invest in premium-quality running boards, go for a six-inch set that stretches from wheel to wheel. It will beef up the F150, give it a more masculine, off-road-ready look.
How do you Remove Running Boards with a Basic Toolset?
We just talked about a proper installation routine for aftermarket running boards. But wait – how do you remove a factory/older set? Can this also be done manually in your garage? There's nothing hard about this process. Just like with the installation, the key is to follow the guide closely and take your time with it. And you'll need the same toolset: a couple of wrenches, sockets, plus a protection kit (a pair of gloves and glasses).
This is important: if you're dealing with an aftermarket set of boards, just go ahead and repeat everything from the installation routine in reverse. Locate the three mounting brackets, carefully remove the hex bolts that hold them in place, and then get rid of the actual boards. I'd recommend asking a friend for help, as the boards can be quite heavy to handle manually.
Besides, there's nothing holding them up there except for the bolts. So, they'll fall on the ground the second all the bolts are off. On the other hand, if your F150 came with pre-installed running boards, the process will be a bit different. The board will probably be secured with five factory bolts. The bolts/nuts that hold the board from the inside can be dealt with using a socket wrench; to reach the other end, use a box wrench.
Sometimes (depending on how long you've been driving the truck), the bolts can be too tight to remove with a regular tool. In that case, heating them a bit will help solve the issue. Or, if the bolts are all rusty, use penetrating grease/lubricant instead. This formula can help with any corroded hardware on your truck, by the way.
Buyer's Guide
Running boards – what sets them apart? Are there any "hidden dangers" that you need to be aware of? Well, yes: while at the core, these accessories are pretty straightforward, there are still some things to keep in mind. Say, what's the right capacity for the average F150 owner? What's the best material for the side steps? How do you ensure easy installation? These are just some of the questions that we'll discuss in this guide!
#1: Capacity Comes First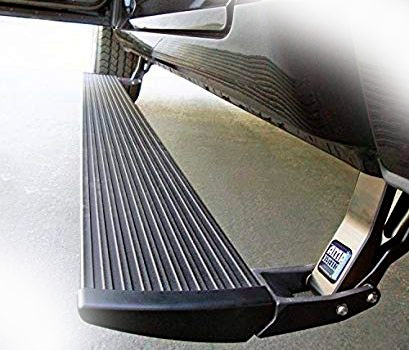 The #1 job of running boards is to make it easier for the driver and the passengers to step into the truck. That's why it's vital to check the weight capacity before making an order. Now, the average weight of a grown man is 200 pounds, give or take (that's 90 kilograms). So, make sure the boards can at least handle 300 pounds. Ideally, the weight limit should be 500 lbs. to give yourself peace of mind.
Statistically, most side steps break when two people stand on them simultaneously (yes, that happens quite often). On the bright side, capacity doesn't really affect the cost of the board kit that much. That's great news, of course, but do keep in mind that if the boards are crafted from cheap materials, they won't last for long even if they can carry up to a ton.
#2: Material Quality Follows
Stainless steel or aluminum – that's what most boards are engineered from. Some brands use plastic instead, but I strongly recommend against buying these, even if your budget is low. Stainless steel is, in many ways, the best choice, as it's equally sturdy, reliable, and affordable. Now, for the padding, plastic can be a decent pick. It needs to be of the highest quality, however.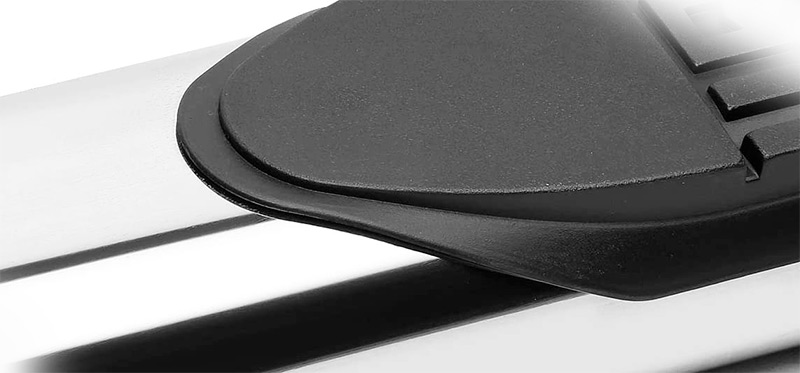 Otherwise, the padding will give up on you. That's why I always go with rubber. Naturally, it's more resistant to tear, wear, cracking, UV rays, and humidity. Plus, it protects the actual boards (say, crafted from steel) from rust/corrosion. See that the padding is slip-proof and features a stripe design for a stronger grip and longer service life.
#3: What about the Installation?
We already talked about how to easily remove old running boards and replace them with a new set. We also discussed sizes and how to find a perfectly compatible set. But, no boards will fit your truck unless they were designed for it. There are hundreds of different trucks, makes, models, and trims levels. So, once you're happy with the engineering/material quality and the capacity, check for fitment.
In most cases, running board kits are manufactured with one single generation in mind. For example, you'll see something like "compatible with F150 2015-2021" or "perfect fitment for F150/250 2011-2015" in the specs – keep that in mind. Oh, and see that the package includes all the necessary hardware and a friendly user guide.
#4: Pricing and Brands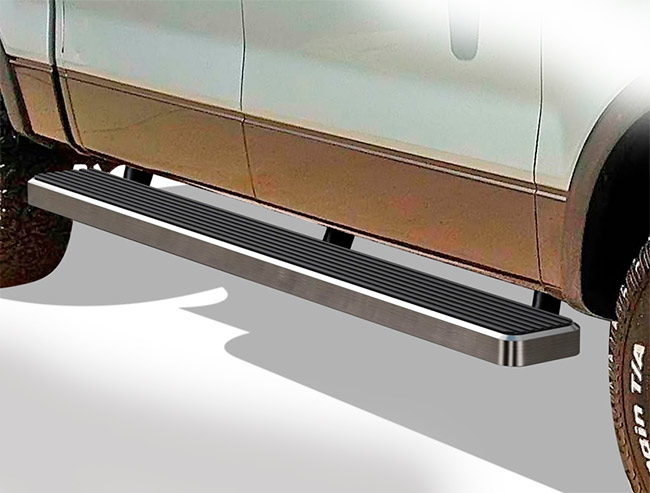 Did you know that running boards are among the cheapest exterior accessories? That's right, and you will get a decent-quality set for as low as $150. For that kind of money, you can expect decent material + build quality, easy fitment, and maybe even a user manual. However, if you want a full installation package, a warranty deal, plus an above-average weight limit, you might have to pay an extra 50 to 100 bucks.
That's still a fair price, though, especially given the average lifespan of running boards. Brands matter too, but only if you don't know your way around this product. That's why I wrote this guide, actually: to help you make an educated pick without relying heavily on the brand/manufacturer. APS, Tyger Auto, and Auto Dynasty are some of the biggest brands out there. Yet, again, they should only be chosen if they meet all of your requirements.
Conclusion
Alright, there you have it – the best third-party running boards for the F150. If you do lots of off-roading behind the wheel of your pickup or like to camp out with the family, these boards will be a great investment. All you gotta do is find a set that fits your truck perfectly and doesn't leave your wallet empty. So, go ahead and pick one of the market-leading kits from the list.
They've all been meticulously tested and can be trusted on your next trip into the wilderness. How do you find the right size, though? And how do you remove the old boards (if you had any) and install the new ones? I've got all the answers in the FAQ and Buyer's Guide! Still got some questions left? Don't hesitate to reach out!