Best Shocks for Towing F150 Review & Buyer's Guide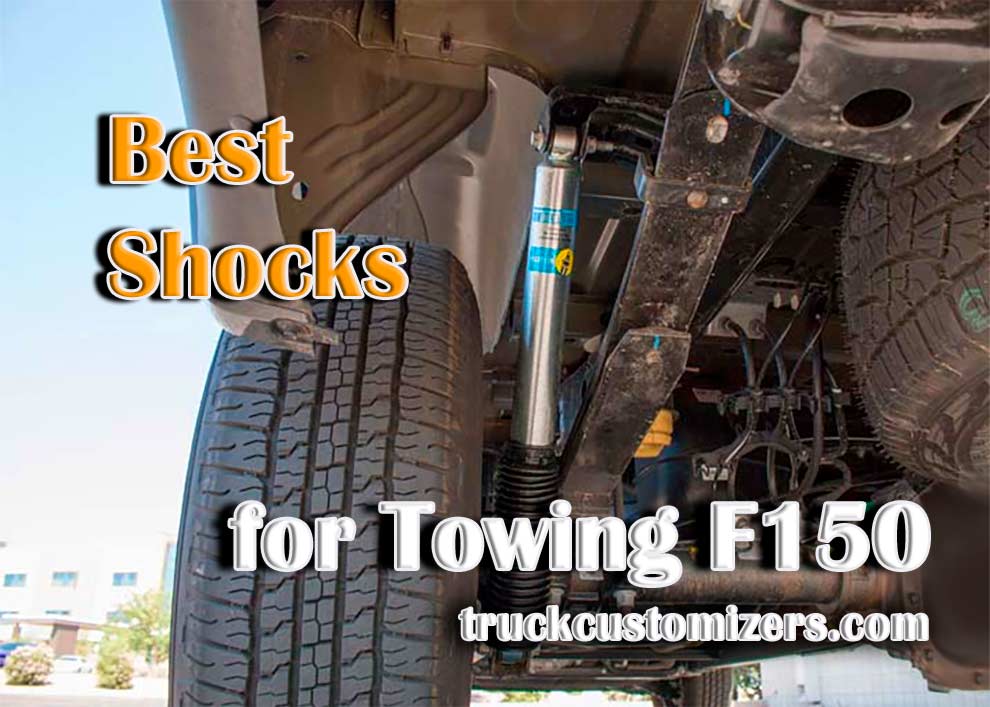 Just like struts, shocks are a vital part of the suspension system. Without a proper set, you won't be in control, and that can lead to a disaster. So, if you feel like the factory shocks are going bad, look for a replacement ASAP. The longer you drive around on faulty/malfunctioning gear, the higher the chance of crashing! Fortunately, the Best Shocks for Towing F150 don't cost a fortune.
Plus, they're (relatively) easy to install. All you gotta do is find the right fit for your truck. So, in this post, we'll check out three best-selling and high-rated kits from the biggest brands. They all have their strong sides and minor cons. So, take a minute to read through the reviews, and, of course, the Guide and the FAQ. Let's get to it!
Best Shocks for Towing f150 Review
1. Bilstein 5100 – Best Shocks for Ford f150 4×4
The best thing about the Bilstein 5100 series shocks: no matter which set you choose, the installation process will always be simple and take little time. So, if you're driving a 4×4 F150, this could be a great investment. The shocks are engineered from brick-strong materials and easily handle hazards on and off the road (a key factor for any part of the suspension system).
In the package, you'll find all the necessary extras for the installation, including nuts, bushings, and washers (no mounting bolts, though – use the factory ones). Rubber boots, reinforced rods, and superb damping will be a part of the deal as well. The only downside has to do with the lift: you'll only get one extra inch. But, if you only want to beef up the F150's towing, Bilstein will be a sure pick.
Pros & Cons
Fast, straightforward installation for the F150
Crafted from durable, sturdy materials
High-quality hardware included

Despite the low lifting capacity, the Bilstein 5100 shocks are a perfect match for the F150 truck. They take almost no effort to install and are built from long-lasting materials, which is exactly what a towing/hauling vehicle needs. Plus, the package includes high-quality hardware for fast installation.
2. Rough Country – Best Leveling Shocks for F150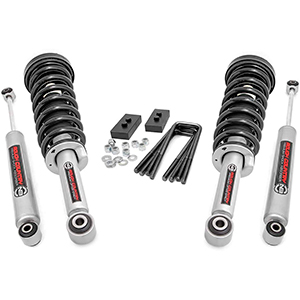 Here, we have another big name on the market of third-party Ford gear. But this time around, it's a set of struts (front) and shocks (rear). If you're looking to level the truck, Rough Country might be right up your alley. It provides two inches of leveling/lifting and boasts a long list of engineering and technological treats. For example, the struts feature application-specific valving that allows them to quickly adjust to the road.
The piston seal, in turn, is well-protected against leaks, and, in combination with low-friction oil, it ensures steady, reliable performance. In addition, the shocks are specifically designed to withstand temperature extremes. Strangely enough, the included U bolts are way too long for a two-inch lift. That's not a big deal, though, as you can always order new ones (they're available for cheap).
Pros & Cons
Application-specific valving for extra control
Leak-proof piston seal + low-friction oil
Easily handle temperature extremes
The included bolts are a bit too long

Rough Country's leveling kit is a two-in-one kind of a deal and includes a pair of front struts and rear shocks. Velocity-sensitive valving, leak-resistant piston seals and above-average temperature tolerance turn it into a sure pick for an F150 driver looking to improve off-road performance.
3. Detroit Axle – Best F150 Shocks for Smooth Ride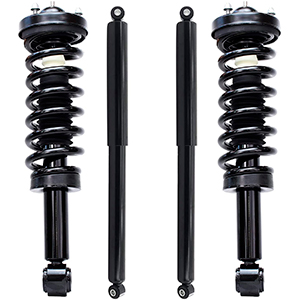 Alright, now let's check out what Detroit Axle has to offer. Just like the previous kit, this is a strut + shock combination. That means more flexibility and smoother ride quality for the F150. The struts come with super-quality springs manufactured from industrial-grade materials. Next, the rubber boots provide extra protection against mud, dust, rust, and other natural hazards.
The high-rigid piston rod, low-vibration hydraulic system, and OEM design make Detroit Axle an even better investment. That's not it for the pros yet, though. The biggest selling point is, of course, the affordable price tag. Plus, the company ensures quick deliveries across the country at no extra cost. As for the cons, depending on your truck's model year, the installation process could take up to five hours.
Pros & Cons
Premium-quality springs + rubber dust boots
Fast, charge-free shipment within the US
Available at a very attractive price
Might take a while to install

Superb-quality strut springs, long-lasting protective boots, and an affordable price turn Detroit Axle into a must-have. Prompt delivery to all 50 states is also a part of the picture. However, do keep in mind that the installation could last for an extra hour or two, depending on your skills and F150 generation.
What do the Best Shocks for Ford F150 look like?
The F150 is a big, strong truck that puts lots of pressure on the suspension system. And, with shocks doing most of the heavy lifting, you gotta make sure that they're up to the task. Here are some key factors that turn so-so aftermarket shocks into the best options on the market:
Dampening efficiency. As mentioned, the #1 job of any shocks (or struts, for that matter) is to eliminate the bumps on the road, dampen the ups and downs and ensure a steady, comfortable ride for the driver. Just like the name suggests, this gear is engineered to smooth out the shocks on a challenging trail. That's why real-world performance is the most important thing to check.

Adjustable valving. You've probably heard the term full-displaced or adjustable valving. This describes the shock's ability to adjust and adapt to the terrain no matter how smooth or rough it is. The finest shocks have up to nine different valving modes and promptly switch between them to deliver the best possible ride quality.
How much does it Cost to Replace Shocks?
This largely depends on the actual shocks, of course. There are lots of affordable options on the market that will set an F150 driver back between $180 and $250 (that's the price for a set of four). And then you've got kits that cost as much as 450-500 bucks, or even more. As for the labor costs, they range anywhere from 100 to 300 bucks. On average, mechanics charge 70-80% of the shocks' cost.
If it's a shock + strut combination, you'll have to pay a bit extra, because struts take more effort and time to properly remove and install. On top of everything we just discussed, the final price is always dictated by the auto/repair shop. So, it might be wise to check out a couple of spots and try to find the best price in your area. Be ready to pay at least $500 for a set of shocks/struts and the labor. Anything that costs less probably won't be worth the investment.
How long do Bilstein Shocks last?
Aftermarket shocks usually have quite an impressive lifespan. When properly taken care of, they can go on for up to a decade. And if you're an avid off-roader and like to race, you'll probably have to replace the shocks once they reach the five-year mark. That leaves us with an average life cycle of 7-8 years. As for Bilstein, it manufactures some of the best aftermarket shocks for F150, famous for their market-leading sturdiness and durability.
They easily handle 100K+ miles of rough driving. Thus, you can expect them to serve for 200-300K miles given you replace the bushings and keep the shocks nice and clean. This company backs its products with a limited lifetime warranty that claims the shocks will be defect-free for as long as they run. Protection against weather elements is also strong, which makes them last even longer.
How to Pick the Right Shocks for the F150?
There's no shortage of third-party shocks on the market, and that's the good news. The bad news is – with so many options on the table, it can be quite hard to make the right pick. We already learned the importance of dampening efficiency and valving. Now let's talk about how to find a compatible set and choose between different tube types:
Make sure they fit perfectly. With shocks, your DIY options are rather limited. You can't do any trimming/cutting to make them fit. Drilling new holes for the bolts is not recommended either. That's why you gotta ensure 100% fitment before buying an aftermarket set. For that, check the specifications. They'll tell you exactly what vehicle (say, the F150 truck), trim level, model year, and lift they're compatible with.

Choose between mono/twin tubes. Without getting into complex techy details, let me just say that mono-tube shocks are ideal for off-roading and racing. They're pretty great at handling harsh road conditions. Twin tubes, in turn, are more suited for smooth highways and city streets.
What is the Difference Between Shocks and Struts?
They look pretty similar and do roughly the same job. However, shocks and struts are different, and here's what sets them apart. The most important thing to remember is that you can NOT replace a strut with a shock, or vice versa. At the same time, it's quite common for off-roading and towing trucks to have a set of shocks in the rear and a pair of struts in the front. This combination has proven to be highly effective on challenging off-the-road paths.
Another thing to keep in mind is that struts are a structural part of the suspension, not just an add-on. It's harder to remove/replace struts without at least some basic skills and sleight of hands. When the struts go bad, that has a bigger negative effect on steering and control compared to shocks. Finally, struts are more expensive, but they usually last longer.
Buyer's Guide
What's the best material for a brand-new set of shocks? What about engineering quality? How do you make sure the shocks withstand harsh weather conditions? Does warranty play a big role, or not? If you've been asking these questions lately, I'm happy to say that you'll find quick, down-to-Earth answers in this detailed guide! We'll start by talking about lifting capacity and go from there.
#1: Consider the Lifting Potential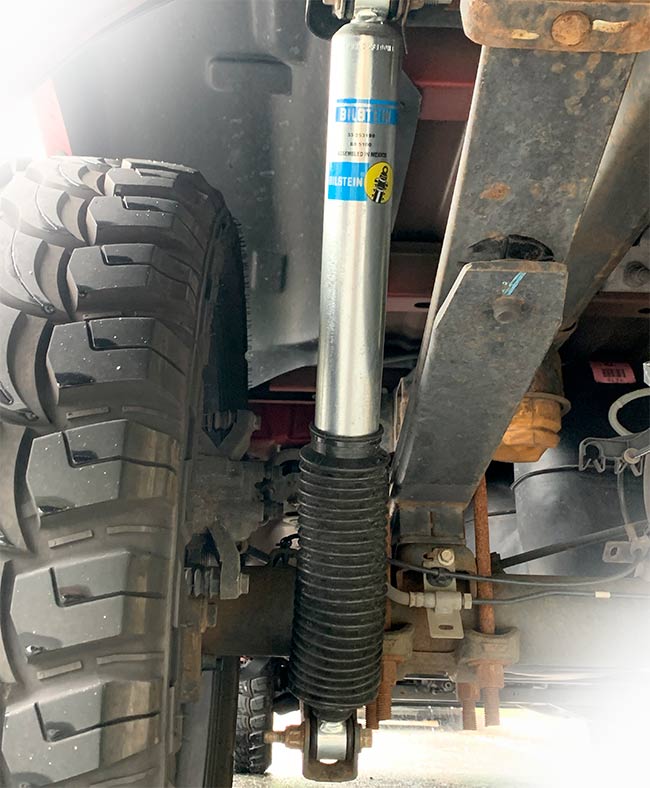 Shocks aren't necessarily designed for lifting the F150. Their job is to dampen the road impact and ensure a controlled ride quality. With that said, you should still check the lifting potential. It's indicated in inches and usually goes from one inch up to three. Now, this isn't a huge lifting capacity; more likely, you'll be able to level the truck, not lift it.
#2: Check the Material/Build Quality
With shocks, you always got a choice between stainless steel and aluminum, with the latter being the more preferable pick. As for the rod, make sure that it's crafted from iron; otherwise, it won't be particularly resistant to heat. The size of the rod also affects its ability to disperse heat and stay cool in the most demanding situations. With premium shocks, you'll find something like "-40/+248F" in the specs, and that's a golden standard for this kind of gear.
#3: Anti-Weather Protection Comes Next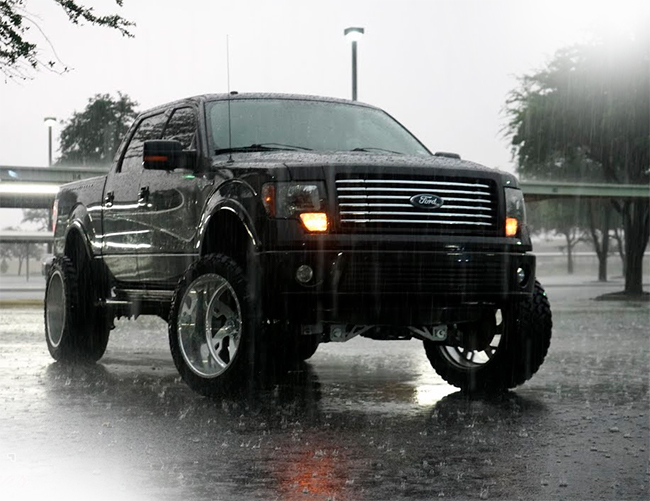 As a part of the suspension system, shocks and struts are constantly "one-on-one" with water, mud, dust, sand, and everything else in between. Over time, they get rusty and even develop cracks. On the bright side, top-notch units are well-protected against all that. So, look for a layer of protection against wear and rust/corrosion (like zinc coating, for example).
The fluid seal, in turn, should be self-lubricating. Otherwise, you won't be able to fully rely on the shocks when hitting the off-road. Earlier, we talked about adjustable valving. Well, I want you to remember that vehicle-specific valving does a great job of keeping friction (metal-to-metal) to a minimum, thus ensuring a longer service life.
#4: Get the Right Warranty Deal
In the FAQ, I mentioned that shocks last for 7-8 years on average, and, say, Bilstein backs its gear with a limited lifetime warranty. Other brands offer replacement guarantees. For example, with Rough Country, you'll get a three-year replacement warranty on both the shocks and the struts, which is quite a nice deal. The third manufacturer on the list – Detroit Axle – covers its product with a ten-year warranty.
Fast shipment within the States should also be a part of the deal. The same goes for the hardware. If the package doesn't include all the necessary nuts, washers, and bolts, you can still use the factory ones. Yet, it would be best if the shocks/struts came packed with it all.
Conclusion
Ford's F150 is one of the most popular trucks for towing, hauling, and carrying heavy stuff. If cargo transportation is what you do for work, then you gotta think about replacing the stock shocks/struts. They will wear over time – get rusty, develop cracks, and lose the initial efficiency. Now, even if the factory gear is doing fine, you might want to go for a lift or a high-performance set.
Say, Detroit Axle is incredibly cheap, while Bilstein 5100 is easy to install and can take a beating. Finally, with Rough Country, you'll get a smooth, controlled ride quality. And if you're not 100% happy with any of these kits, the FAQ and Buyer's Guide will help you find the perfect fit. Enjoy your new shocks, and I'll see you next time!