Best Exhaust System for Toyota Tacoma Review & Buyer's Guide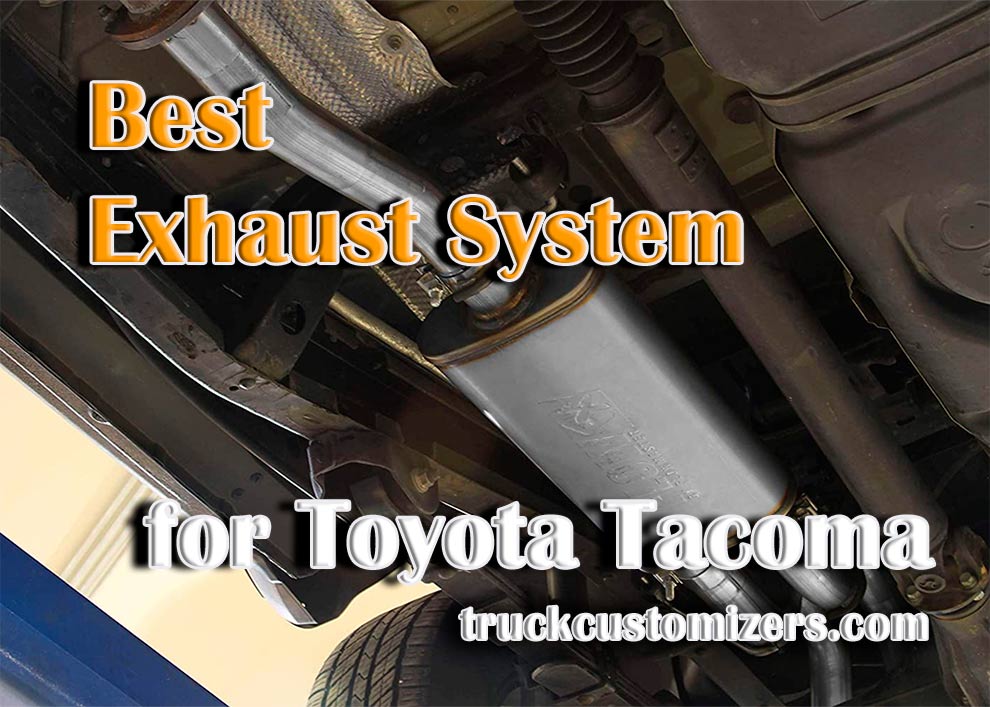 Tacoma is a universal truck – in more than one way. It is equally reliable as an off-roading beast, a towing "workhorse", and a vehicle that you can use to drive around the town. Yes, Tacoma easily conquers rough American terrain. With that said, if you're looking for an upgrade, an exhaust system should be on top of your list. First of all, it can do a better job of eliminating toxic fumes.
Secondly, it will improve the motor sound, turning it into a satisfying growl. As a bonus, you'll get a boost in HP/torque, MPG, and acceleration. So, what does the Best Exhaust System for Toyota Tacoma look like? Don't worry: I've got your back on this one! The following list includes five top-notch aftermarket exhausts for this best-selling truck. Let's check them out!
Best Exhaust System for Toyota Tacoma Review
1. BORLA – Best Sounding Exhaust for Toyota Tacoma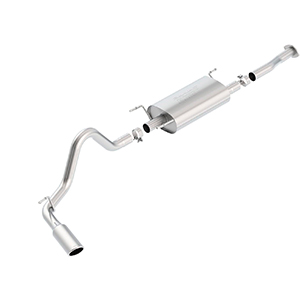 Do you know what kind of an exhaust tone you're looking for? Is it an aggressive, in-your-face growl that scares all the birds in the neighborhood? Or is it a quiet, dampened hiss that's almost as toneless as the factory system? Statistically, most folks want a little bit of everything, meaning a mighty roar, but one that won't cause you any trouble on a busy highway or traffic stop. Well, that's exactly what you'll get with Borla.
On top of that, it does an excellent job of maximizing fuel efficiency, saving you precious bucks in the long run. This is a US-made system, by the way – designed, engineered, and tested. That means it's more than ready for the challenging American roads. On the downside, you'll have to pay big bucks for this unit, as it's significantly pricier than the market average.
Pros & Cons
Delivers a strong, yet controlled exhaust tone
Provides a significant boost to the MPG ratio
Designed and built in the United States
A bit on the expensive side

There's very little not to like about Borla except for the hefty price tag. Crafted in the US, it's perfectly shaped to handle rough off-roading trails and can significantly improve Tacoma's MPG ratio. In addition, it has a likable, equally strong, and regulated tone for daily driving.
2. MBRP – Aluminum Single Side Exit for Toyota Tacoma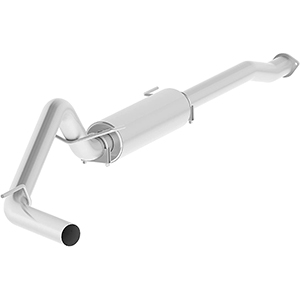 The most significant reason for investing in an aftermarket exhaust is to reduce the temperature in the pipes. When the factory system is failing at effectively removing the vapors/fumes, the exhaust tubes get heated, and that's not a good thing. With MBRP, this won't be a problem anymore. Engineered from heavy-duty (aluminized) steel, it's highly resistant to temperature extremes.
Another big pro is the installation process. It will only take you +/ -an hour to replace the stock gear with this cat-back unit. Just follow the instructions, and you'll be done in no time. The only thing that I didn't like about MBRP was the customer service. While the agents are helpful and engaging, it usually takes them a while to hit you back through email or a phone call.
Pros & Cons
Does a great job of minimizing exhaust temps
Fast, trouble-free installation with basic tools
Crafted from heavy-duty, aluminized steel

In many ways, MBRP is the best third-party exhaust system for Tacoma. Built from heavy-duty materials, it easily handles toxic fumes and keeps the temperature in the exhaust pipes to a minimum. The installation/replacement routine, in turn, is very quick and straightforward.
3. MagnaFlow – Tacoma Performance Exhaust Kit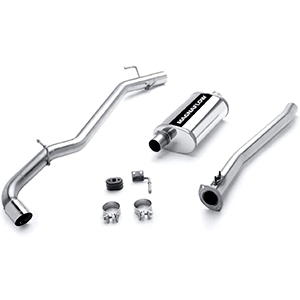 When it comes to aftermarket exhaust systems, you gotta always make sure it's legal in your state. Otherwise, you'll be stopped by an officer and they'll write a check (or worse). I'm talking about it being street legal, of course – nobody will bother you if you only stick to uncharted trails in the wilderness. Now, the MagnaFlow exhaust is officially 50-state legal and won't cause any trouble on or off the road.
In addition, it is covered by a limited lifetime construction warranty, which means you can reach out to the company when you discover any defects in the gear. Speaking of the gear, it features a fast-flowing tubing system with mandrel-bent pipes. They ensure a strong, steady performance and can serve for many years (if not decades). Sadly, the package doesn't include any gaskets – you'll have to buy them separately.
Pros & Cons
Fast-flowing, mandrel-bent pipes for optimal performance
Backed by a (limited) lifetime construction warranty
Street-legal in all 50 American states
Installation hardware not included

For the average Toyota Tacoma driver, MagnaFlow is a safe bet. It's street-legal across the States and includes a generous construction warranty. On top of that, this exhaust system is highly durable and reliable, thanks to mandrel-bent tubing and the fast-flowing design.
4. Gibson – Best Exhaust System for Toyota Tacoma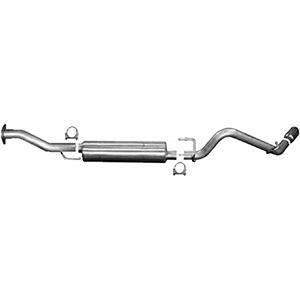 In contrast to Borla and its moderate tone, with Gibson, you'll get a ground-shaking exhaust sound, perfect for off-roading. This is achieved through the chambered and baffled design that was specifically made for that aggressive attitude. However, I'm happy to say that none of that sound will soak into the cabin. That's right: this unit is pretty much silent for the driver and the passengers.
I also want to mention that the Gibson exhaust provides a solid boost in horsepower and torque. While it won't turn Tacoma into a Ferrari, you'll definitely feel these positive changes after the installation. That could take a while, though. Plus, depending on the Tacoma make and trim level, you might have to use a pole jack to install everything properly. Other than that, this is an all-around great exhaust.
Pros & Cons
Baffled + chambered design for an aggressive tone
Noise-free ride thanks to clever engineering
Decent gains in HP and torque
Might take some effort to install

The fans of that "no holds barred" tone will find Gibson's system to be right up their alley. As a chambered cat-back unit, it sounds like a million bucks. And, while the installation process tends to be a bit challenging, that's compensated by the strong HP/torque gains.
5. Flowmaster – Best Cat-Back Dual Exhaust System for Toyota Tacoma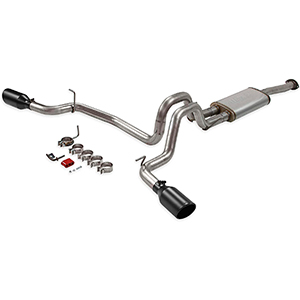 I saved Flowmaster for last because it's a dual-exhaust system. So, who would potentially need gear like this? Won't it be an overkill for the Tacoma? The answer is no, especially if you've got an upgraded engine and do lots of off-roading on the weekend. Now, while a double-tailpipe setup doesn't mean twice the efficiency, you'll still get significantly better performance.
The FlowFX exhaust comes packed with larger-diameter stainless steel tips. Ceramic-coated, they're highly resistant to rust, corrosion, dirt, snow, and impact. Add swift, charge-free delivery within the country, and you'll see why this kit deserves our attention. Do keep in mind, though, that two pipes mean a loud output, especially on lower RPMs.
Pros & Cons
Dual-exhaust tailpipe design for maximum efficiency
Large-diameter, ceramic-coated steel tips
Fast delivery within the United States

This is the only dual-pipe exhaust on the list and it's got quite a long list of pros. Higher efficiency, stronger performance, and long service life – that's the best way to describe it. FloxFX can take a beating and boasts fast shipment. You will hear drone once in a while, however.
Is a Dual Exhaust System a Good Choice for the Toyota Tacoma?
We just checked out Flowmaster's dual-pipe exhaust, and I briefly talked about its most significant pros. Now, if you just want to show off when driving into the wilderness with fellow off-roaders, you gotta think twice before getting a system like this. First of all, it's gonna cost more than the average single-pipe exhaust. Secondly, some mechanics charge more for installing such a kit.
And one more thing: when one of the tips/tailpipes breaks down on you, it would be best to replace them both to get even, stable performance. Going back to the pros, a two-pipe setup means fewer fumes and more "breathing room" for the manifold/header. This is also called "lifting backpressure". Oh, and for the fans of aggressive tones out there, a dual-exhaust setup can get pretty loud (again, as we already discussed in the Flowmaster review earlier).
The biggest concern with such a system is fitment. The kit needs to be 100% compatible with the make, model, year, and trim/cab of your Tacoma. And don't forget clearance: there should be enough room between the tubes and the ground so that you can freely drive on bumpy roads with lots of ups and downs. Summing up, while a double-tip exhaust is not 100% necessary for Toyota's famous mid-size truck, it will most certainly be a reasonable investment.
How to Install an Exhaust System on a Toyota Tacoma
Exhaust removal and installation is an incredibly straightforward process. All that you have to do is follow the instructions clearly, and you'll be done in a couple of hours. The first thing to do is to order a penetrating lubricant for the factory exhaust. Apply it on every single piece of hardware to loosen them up. Otherwise, they might not budget and you'll have to apply excessive force (and, potentially, break something).
So, give the formula some time to "kick in", and start removing the stock gear. Begin with the flange behind the catalytic converter, but don't throw the hardware away – we'll need it later. When removing the muffler, I'd recommend asking a friend for help, because it can be a bit tricky to handle it on your own. Or, just put a stand right beneath it so that the muffler doesn't fall and break. Finish up by removing any hangers and clamps you see.
For the installation, refer to the manufacturer's manual. There, you'll find the right torque values. This is very important: when the torque is wrong, the consequences will be dire. Another thing to keep in mind is to NOT use air impact tools when securing the fasteners, because sometimes, that damages the pipes, causing leaks. Ok, now carefully place the front tube/pipe where it belongs and secure it.
Don't use any tools yet – just your hands. Then, put one clamp on its end, and another one onto the muffler. Do you see the rubber isolators? That's where the hangers need to go. Do the same with the tailpipe: use a clamp and a hanger to secure it. Are the pipes aligned properly? Is there enough clearance? If the answer is yes to both questions, go ahead and secure the clamps using a proper tool.
Finishing up, check the hoses and wires – make sure they're not getting in the way of the exhaust system. Get into the Tacoma and start the engine. If you don't see any leaks, that means you did everything right. A quick note: upon acceleration, the new exhaust might generate some smoke and fumes. Don't worry: this is completely normal for the first test drive.
When should you replace the Exhaust System? A Detailed Guide
Like radiators, water pumps, and air intake systems, exhaust tubes last for a really long time. When taken care of properly, they can go on for up to ten years. As for the average lifespan, it's roughly around five years. The actual life cycle, in turn, depends on a long list of aspects. The material quality plays a huge role in the pipes' durability and reliability (more on that in the Buyer's Guide).
If the tubes are weak against rust/corrosion, water, dirt, mud, and debris, the exhaust system won't last for long. They'll start leaking (after severe wear or tiny cracks) and cause you lots of problems instead of helping keep the engine cool and improving the exhaust tone. Nothing goes on forever, though, and even the most advanced exhaust does break down eventually. Here's a list of the most common signs that it's time for a replacement:
Poor fuel economy. This is arguably the most frustrating side effect of a faulty exhaust system. Here are the facts: the harder the engine has to work, and the hotter it gets, the more fuel it needs to operate properly. So, when the exhaust pipes fail at eliminating the fumes, expect a heavy drop in the MPG ratio. Low fuel efficiency can also be caused by other systems, of course, but, again, check for leaks in the pipes first.

Vibration in the cabin. Do you feel like the steering wheel, gearbox, and seats are rattling? Chances are, the exhaust is to blame. This usually happens when the tubes get rusty. And that's another big reason to find an exhaust system with strong protection against corrosion.

Burning odor. Some drivers mistake the burning smell with engine trouble, but in most cases, it's the exhaust's fault. What happens is the gasket fails and the fumes start to leak. They're so hot that the plastic parts in the engine bay begin to burn. In a really bad situation, you'll also see smoke coming out.

Lackluster performance. Lazy acceleration, idle starts, and weak performance (especially when going up a hill) are well-known symptoms of a malfunctioning exhaust system. More specifically, it's the catalytic converter acting up. If you see the engine light come up on the dashboard, that's probably exactly what's happening.
Buyer's Guide
To make sure you're getting the best bang for your buck, you gotta know in advance exactly what you're looking for. This applies to pretty much all aftermarket gear, exhaust systems included. So, in this guide, we'll go over the key points to keep in mind while choosing between different exhausts. We've got different materials, sound output, powertrain gains, and more. Ready to learn your way around it all? Dive right in!
#1: Axles vs. Cats: Which one should you choose?
You've probably already heard the terms axle- and cat-back exhaust. Well, these are the two most popular options on the market, and they both have their pros and cons. For the average driver looking to upgrade the exhaust tips, an axle-back setup will be exactly what the doc ordered. The reason – it will be pretty cheap and easy to install on your own. The exhaust tone is gonna be overly loud, by the way, and you won't see any significant gains.
In contrast, cat-back systems are all about performance. So, if you're in the market for a mighty HP, torque, MPG, and throttle response boost, you'll only get that with a cat-back. The installation process takes more time and effort, though, simply because the package includes more pipes and tubes. On the bright side, cat-backs feature that deep, growling roar that brings a smile to a truck driver's face.
#2: What's the Right Material for the Exhaust?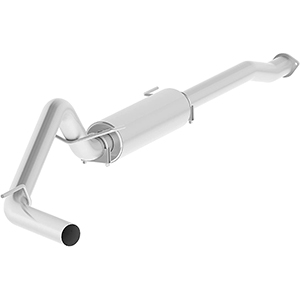 Ideally, you should go with aluminum. But, it's rather expensive and it might be a bit of a challenge to find an all-aluminum exhaust system. Most likely, you'll end up with aluminized stainless steel. This is a decent option, as it's relatively strong against rust. However, if you're worried about all the dirt, water, tiny rocks, and whatnot on the ground, I would recommend 304 steel.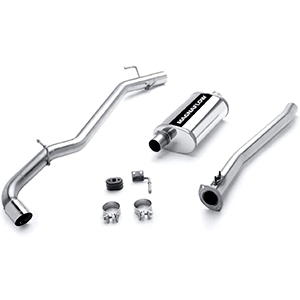 This material is incredibly sturdy, durable, and reliable. Its "little brother" – 409 steel – can also work; yet, it's slightly less impressive. Essentially, an exhaust is a bunch of pipes connected to each other. And, the more resistant they are to tear, wear, cracks, and natural elements, the longer they'll serve.
#3: Picking Between Different Tones
As we just learned, cat-backs have a richer, more pronounced tone, while axle-backs are mostly just loud. With that said, every single system is different, with its own sound, just like an air intake kit. Sadly, you can't just walk into a local auto shop and ask them to let you test-drive a dozen of exhausts. So, the best course of action here would be to check out some videos on YouTube to get an idea of how those tubes will sound in real life.
It all comes down to your driving habits. If you only get behind the wheel of the Tacoma to enjoy the wilderness and camp out, a roaring tone will be just right. But if it's your only vehicle, and you drive it to the office, to get some groceries, or take the kids to school, you might want to think twice before installing an aggressive exhaust.
#4: Performance Gains: what can you Expect?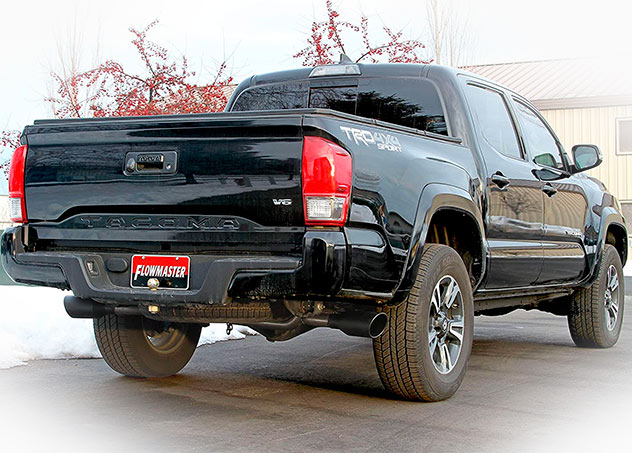 Not much – the #1 job of an exhaust system is to be better at handling the fumes generated by the combustion chamber. Performance improvements are just a bonus. When the engine is working at comfortable temperatures, it gets to operate at the top of its game. So, a premium-quality exhaust doesn't add any extra HP, torque, or MPG – it just lifts all the restrictions.
Still, what's the average boost for Tacoma? When properly installed, the new tubes can increase the power output by 3-4%. Fuel efficiency will see a bigger improvement, though – up to 5-6%. Again, this isn't an exact science and depends on many factors, mainly the air intake system, header, and radiator.
Conclusion
Will the Tacoma mid-size truck sound better with an aftermarket exhaust system? Yes, it most certainly will. And can you expect a performance boost – extra HP, torque, stronger acceleration, and improved fuel efficiency? Of course, you can! More importantly, a brand-new exhaust will be able to "handle" the fumes and vapors more efficiently, keeping the engine from overheating and allowing it to deliver its best performance.
There aren't any downsides to upgrading the exhaust tubes – only pros. Today, we checked out all-around capable units from market-leading brands. Say, Borla delivers a dampened, "expensive" tone, while Gibson is all about that roaring sound. Flowmaster, in turn, features a double-pipe design. And then we've got MBRP with a user-friendly installation and MagnaFlow with a generous warranty. Which system is your favorite pick? Share in the comments!