What's the purpose of the exhaust system? Do you even have to worry about it? Well, it's actually one of the most important components of any vehicle! Without a properly-functioning set, the engine will overheat in the blink of an eye. The toxic fumes generated in the combustion chamber only have one "escape route", and that's the exhaust tubes.
Over time, the system gets clogged, even if it's the Best Exhaust System for GMC Sierra. On top of that, the pipes tend to wear off. When that happens, the toxic vapors build up inside of the tubes, and that can lead to a disaster. So, if you've been driving around with the factory kit for +/- five years, it's time for a replacement. Join me, and let's see what the market has to offer!
Comparison Table – Best Exhaust System for GMC Sierra
Product
Product Information
View on Amazon

Best Features:
– Premium-quality mandrel bends for max efficiency
– Precision manufacturing for a perfect fit
– Backed by a million-mile warranty
Fits Models: GMC Sierra 1500 4.8/5.3L/6.0L 4 Doors (2009-2013)
Available Options:

– GMC Sierra 1500 8L/ 5.3L(1999-2007)
– GMC Sierra 1500 8L/ 5.3L/ 6.0L Cab- 78.7″/69.3" (2007-2008)
– GMC Sierra 1500 3L Cab 78.7″ (2014-2018)
– GMC Sierra 1500 6.2L Cab 78.7″/69.3" (2014-2018)

Best Features:
– Fully sealed seams – strong against rust
– Superb black coating for extra protection
– Introduces a slight boost to fuel economy
Fits Models: GMC Sierra – 1500 4.3L V6, 5.3L V8 4 Doors (2009-2018)

Best Features:
– Strong resistance to extreme heat
– Engineered from durable materials
– Drone-free + dampened exhaust sound
Fits Models: GMC Sierra – 1500 4.3L V6, 5.3L V8 4 Doors (2007-2013)

Best Features:
– Does a great job of boosting HP and torque
– Dyno-tested and 50-state legal
– Limited construction warranty
Fits Models: GMC Sierra – 1500 4.3L V6, 5.3L V8 4 Doors (2009-2018)
Best Exhaust System for GMC Sierra Review
1. BORLA Cat-Back Exhaust System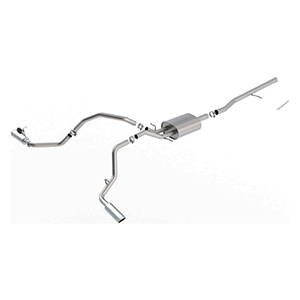 Worried that you might not be able to handle the installation on your own? Don't worry: the installation process is very smooth and straightforward with Borla. Thanks to advanced CNC manufacturing, this exhaust system is a 100% match for GMC's truck and fits it like a glove. Just don't rush yourself, get the right tools for the job (nothing fancy or expensive), and you'll be done in no time!
And if you discover any manufacturing defects, or if the kit includes the wrong pipes, don't hesitate to take advantage of the Borla million-mile warranty. More good news: thanks to ultra-smooth mandrel bends, you'll get a nice overall power and flow boost. It won't be ground-breaking, of course, but still worth mentioning. My only complaint: the package doesn't come with a clamp – you'll have to buy it separately.
Pros & Cons
Smooth mandrel bends for max flow/power
CNC manufacturing for a hassle-free fit
Covered by a Million-Mile warranty

It's safe to say that this exhaust system will be a great match for the average GMC Sierra driver. It takes little effort to install, provides a modest boost to engine performance, and is backed by a generous warranty. The package isn't particularly generous, but that's only a minor downside.
2. Flowmaster Cat-Back Exhaust System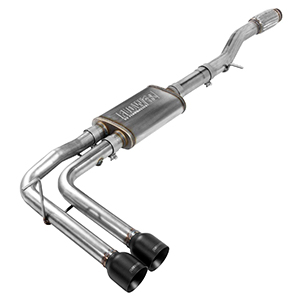 Most folks invest in aftermarket exhaust tubes for strong performance; others want a system that's more efficient at eliminating toxic fumes. And then you've got drivers that look for an aggressive, roaring engine tone. If that's exactly what you're after, Flowmaster might have just the right pick. It completely changes the way the motor sounds, making the tone a lot deeper and "punchier". On top of that, the tubes are crafted from 304 stainless steel.
This is one of the most durable and reliable materials on the planet and will ensure a long lifespan for the exhaust system. Oh, and I also want to mention that along with the premium cat-back kit, you'll get a detailed, friendly user guide and all the necessary hardware. The installation process could take a while, though, and will probably involve some drilling (depending on your Sierra model).
Pros & Cons
Engineered from industrial-grade 304 stainless steel
Changes the engine's tone into a growling roar
Helpful user manual + hardware included
Might take some effort to install

Manufactured from premium materials, the Flowmaster exhaust system is worth every single penny. It does take some effort to install on some trucks but comes packed with high-quality hardware and a guide. More importantly, this kit makes the engine sound like a million bucks.
3. MBRP Cat Back Exhaust System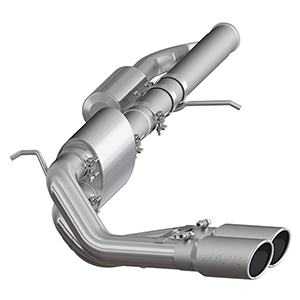 Next on the list, we've got MBRP – a prominent player on the market of third-party truck gear. So, what about this exhaust system? Is it on par with the competition? Yes, it most certainly is. First of all, it is incredibly strong against water (humidity, to be exact) and rust. This is very important for an exhaust, as it's constantly "face to face" with the dirty, muddy, and slushy ground. The black coating makes the tubes even more resistant.
It serves as an extra layer of protection and boosts this system's expected life cycle. Another big pro: it provides a slight gain to the MPG ratio. By getting rid of toxic vapors at a higher rate, MBRP allows the motor to deliver its best performance and burn less fuel than it usually does with the factory kit. Do keep in mind, however, that on highways, you may hear some droning sounds (they go away pretty quickly).
Pros & Cons
Exceptional resistance to humidity and corrosion
Black coat finishing for an increased lifespan
Minor improvements to fuel efficiency
Drone sounds (on busy freeways)

The MBRP exhaust is practically immune to rust/corrosion and humidity. And, it has an extended lifespan, thanks to premium black coating. Add a boost to fuel economy, and you'll see why this product is a best-seller. You will get a little drone on highways, but nothing too annoying.
4. CORSA 14866 Cat-Back Exhaust System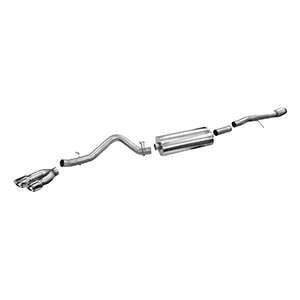 In contrast to the previous exhaust system that has a minor drone problem, with Corsa, you won't ever have to worry about that. It's crafted using the company's trademark Reflective Sound Cancellation technology that eliminates the chance of sound leaking into the cabin. The manufacturing/build quality is another standout feature. This kit is specifically engineered for harsh off-roading trails and can take a beating.
As a result, it's also highly resistant to heat, which is great news for any exhaust system. The dual-walled design protects it from heat distortion and ensures steady performance no matter how much pressure is put on the tubes. As for the downsides, Corsa is pretty heavy – 70 pounds. While this isn't a very big disadvantage, if you're planning on installing it manually, do remember about the above-average weight.
Pros & Cons
Trademark RSC technology for a noise-free ride
Manufactured from sturdy, durable materials
Easily handles extreme heat (dual walled)
Heavier than the market average

What should you expect from the Corsa 14866 exhaust system? Three things: noise-free, comfortable ride quality, an extended lifespan (thanks to quality materials), and market-leading resistance to heat. It's also pretty heavy, but that's a rather tiny con compared to all these pros.
5. MagnaFlow Cat-Back Performance Exhaust System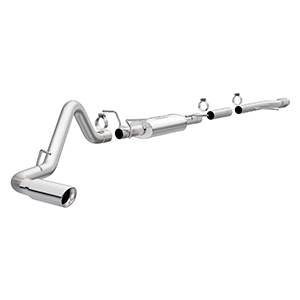 Who doesn't want to get a free HP and torque bonus, right? Well, that's exactly what the MagnaFlow system provides. Again, the increase won't be game-changing but you will, most definitely, feel the boost. So, if you're trying to get one of those "two-in-one" deals – stronger toxic fumes elimination and performance gains – that will be very much possible with this kit. It's 100% street-legal in 50 states, by the way.
On top of that, it was extensively dyno-tested before hitting the market. That means no tweaking will be necessary (like using a programmer/tuner) to make it work. What I didn't like about this otherwise great exhaust system was the chrome coating. It starts to peel off in a year or two, which is bad news. On the bright side, the product is covered by a limited lifetime construction warranty.
Pros & Cons
Provides a significant horsepower and torque boost
Legal in all 50 states + dyno-tested for the Sierra
Protected by a lifetime construction warranty
Poor-quality chrome coating

Is MagnaFlow the best option for the Sierra truck? It might as well be, especially for a fan of maximizing engine performance through aftermarket upgrades. Dyno-tested and legal across the US, this cat-back system will, indeed, be worth the investment, despite the low-quality finish.
How much HP and Torque do Third-Party Exhausts Add?
As I already mentioned throughout the reviews, the gains won't be off the charts. What you should expect is a rather modest increase both in horsepower and torque. With that said, to maximize your power output, look for an exhaust system that was designed with performance in mind. It would also be best if the tubes were specifically manufactured to be a perfect fit for your vehicle (GMC Sierra, in our example).
That way, the exhaust will ensure a 10% boost both in HP and torque, which is a pretty impressive result. Say, for a 300HP-strong engine, that's gonna land you with an extra 30 horsepower. A more "generic" system, in turn, will only provide a 3-4% increase, or slightly better. To get the most out of the engine, consider also investing in an aftermarket cold intake system and a programmer. Together, these three components will bring the best out of the motor.
Which Exhaust Systems Have the Longest Lifespan?
This greatly depends on the build quality. Material quality also matters, and we'll talk about that in a moment. For now, let's focus on engineering. First of all, go for smooth mandrel bends. Next, see that the exhaust tubes are crafted using multi-core and straight-through technology. That way, they will be able to handle tough situations and easily withstand temperature extremes (like abnormal heat).
CNC manufacturing and 3D scanning, in turn, ensure perfect fitment and steady performance. And one more thing: always check whether the company backs its product with a warranty, or not. If it does, and it's a pretty generous deal, most likely, it will have an extended lifespan (and that's why the manufacturer stands by it). Established brands like Borla, Flowmaster, and Magnaflow have some of the longest-lasting exhausts on the market.
What's the Right Exhaust Type for My Truck?
Right now, the market is dominated by two kinds of exhaust systems: axle-back and cat-back. Here's a short breakdown of the pros and cons of each system:
Axle-back. This is the cheaper option between the two. Axle-back kits include a limited set of tubes and don't really have a huge impact on performance (horsepower, torque, acceleration, and MPG). On the bright side, they're much easier to install with a basic toolset. As for the exhaust tone, it's really loud and uncontrolled. That can be a good thing for off-roading and racing but not so much for daily driving.

Cat-back. If you're a bit more serious about upgrading the exhaust system on the Sierra, go with a cat-back set. Yes, it will cost more and take extra effort to properly install. But, as a bonus, you'll get a growling, yet dampened sound and a more noticeable gain in HP/torque and fuel efficiency.
Material Quality: Finding the Perfect Fit for the Sierra
Exhaust fumes are really hot and toxic, which is why material quality should always be a priority when choosing between different exhaust systems. If you're on a tight budget, mild steel is where you should start. However, it's not very reliable or long-lasting. Instead, I would recommend saving a bit and investing in stainless steel. Here, we've got two options: 409 and 304 steel. In contrast to popular belief, 409 is NOT the superior type.
The biggest difference between the two: 304 steel has more nickel and chromium. That, in turn, makes it more resistant to rust and extreme heat – exactly what we're looking for in exhaust tubes. Aluminum is also a great choice. While it's not as strong, aluminum is much lighter. In addition, it has better thermal conductivity and costs less. However, stainless steel handles higher temperatures much easier.
Buyer's Guide
Alright, so, in the FAQ, we learned that the perfect exhaust system is crafted from 304 steel or aluminum and engineered using CNC manufacturing. On top of that, it's a cat-back system backed by a generous warranty. There are still some things to keep in mind, though. For example, what's the right price for a new exhaust? How can you ensure easy installation, and what kind of a tone should a Sierra driver go for? Let's find out!
#1: How much does it cost?
Good news: a decent-quality exhaust doesn't have to be unreasonably expensive. Yes, there are lots of premium options on the market that cost more than $1000. However, you can get a solid product for a lot less. As I already mentioned, axle-backs are the most affordable pick, and they are available for $200-300, or even less.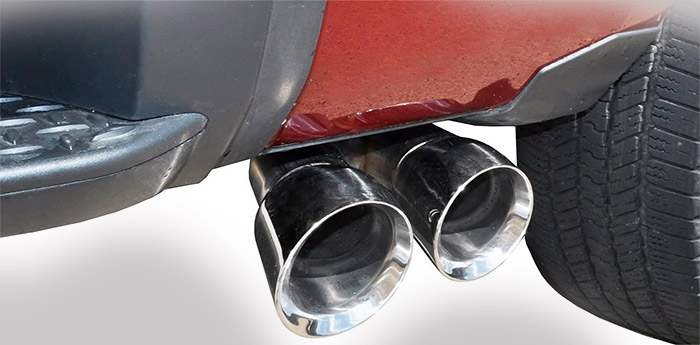 For a cat-back system, you'll have to pay +/- 50% more, but it will be worth it. The "sweet spot" for this gear is 500-600 US dollars. While that's not particularly cheap, for that kind of money, you can expect a generous warranty, top-notch engineering and material quality, and an all-around performance boost. In the long run, this will be money well spent.
#2: Is the System Easy to Install?
This is another thing to check before committing. A rule of thumb here is – the fewer vehicles the exhaust system is compatible with, the better. That's right: don't go for any of those universal products, because they will NOT be easy to install/mount. Instead, look for kits that only fit one or two generations of the Sierra truck. That way, the whole replacement process will run much smoother and without any hassle.
The clamps, hangers, and hardware will easily slide into the factory spots. The tubes, in turn, will be of the right size, and you won't have to do any trimming or cutting to make them fit. So, check the specifications of at least a dozen exhausts that meet your wallet and requirements, and pay extra attention to the compatibility list.
#3: Will you see an MPG Boost?
Most likely, the fuel efficiency improvements will be rather modest. With that said, do remember that 2 extra miles per gallon will save more than $200 in 12 months and that's a pretty great deal. This greatly depends on your driving style, the engine that's powering the Sierra truck, the cooling system (including the cold air intake), and other factors. But, again, even a slight fuel economy optimization can go a long way.
#4: What about the Sound?
Last, but not least, let's talk about the exhaust tone. Axle-backs are louder, while cat-backs are more controlled – we discussed that earlier. Yet, even if you go with an axle-back system, there will still be lots of different options to choose from. Some manufacturers include dampeners and silencers to, well, tame the overly aggressive sound output. As for cat-backs, they can get pretty noisy as well. It's all up to you!
Conclusion
Exhaust tubes aren't particularly fancy, but the Sierra truck simply won't be able to function without them. That's why you gotta always perform routine maintenance checks to make sure the system is working flawlessly. Or, if there are signs of wear, tear, and the pipes are slowly giving up, that only means one thing: start saving up for a new exhaust! While it will take some experience and patience, the replacement process can be handled manually.
As for the actual exhaust system, they're all pretty different and fit different drivers/trucks. Today, we took a close look at five top-quality products. So, go ahead and take your pick! Borla is very easy to install; Flowmaster delivers a roaring tone. MBRP boosts the MPG ratio, while CORSA boasts brick-strong construction. Finally, MagnaFlow provides performance gains.