Best Jump Starter for Semi Trucks Review & Buyer's Guide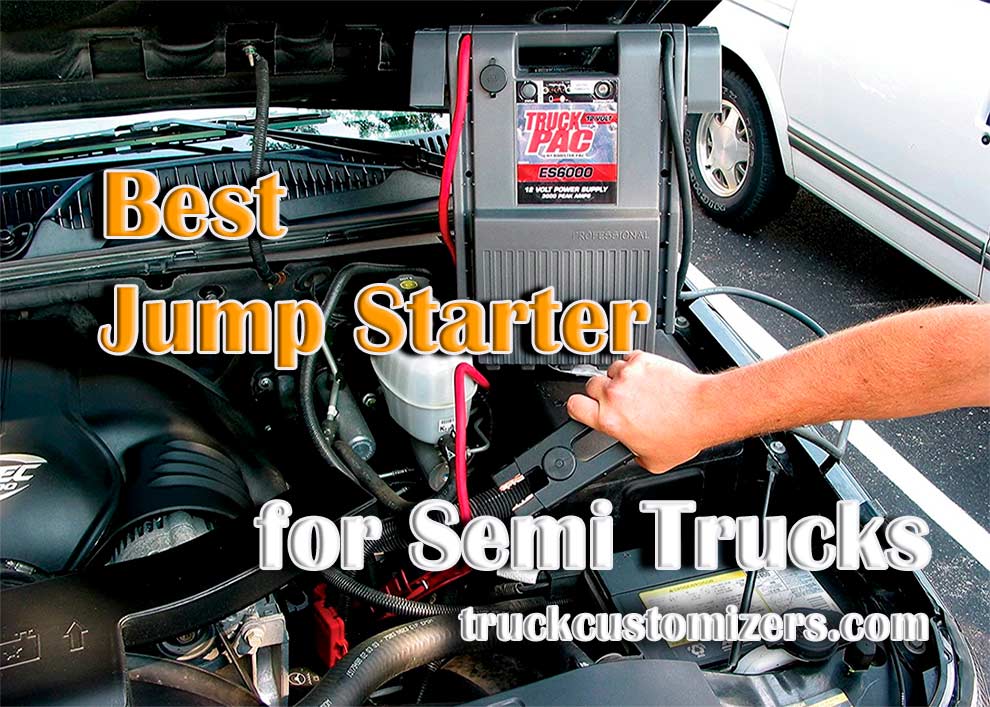 As far as the most important components of the emergency kit go, a jump starter is right on top of the list. You never know when the battery is going to give up on you. And when you're driving a semi-truck and need to deliver the cargo on time, a dead battery can instantly turn into a problem. And that's why you gotta always keep the Best Jump Starter for Semi Trucks around.
Which one should you choose, though? Which brand(s) can you trust with your hard-earned money? Don't worry: I've got it all covered! After testing dozens of different units in real-world situations, I made a short, yet detailed list of the best bangs for the buck. So, join me, and let's check out the top-five jump starters the market has to offer.
Best Jump Starter for Semi Trucks Review
1. Clore Automotive – Heavy Duty Jump Starter for Semi Truck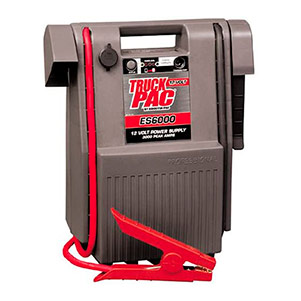 If you do lots of cross-state driving, it will be pretty hard to predict the weather. It can be raining, muddy, and cold in, say, Chicago, and sunny, dusty, and hot somewhere in Nevada. That's why you'll need a jump starter that withstands temperature extremes and delivers steady performance no matter the climate. With Clore, that won't be an issue, because it has a -20/+115 operating range.
Another big pro is the combination of premium-quality hot-jaw clamps and longer-than-average cables. So, when you see a fellow trucker having battery troubles on the side of the road, the cables will make it easier to lend a hand. I also want to mention that the company offers four different configurations of the same starter. The only downside – shipment is a bit slow at times.
Pros & Cons
Impressive operating range: -20/+115 degrees F
Features hot-jaw clamps and extra-long cables
Available in four different sizes/configurations

Clore is one of the safest jump starters for a semi-truck. It boasts strong temperature resistance, comes packed with long wires, and high-quality clamps. Plus, you can choose between four different editions. Do keep in mind, though, that fast deliveries aren't this manufacturer's strongest suit.
2. NOCO – Best Portable Jump Starter for Semi Trucks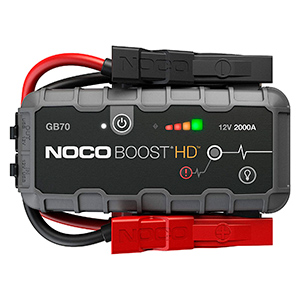 Semi-truck batteries tend to fail in the least expected moments, like when you're driving into the night on a foggy, rainy day. When that happens, it can be a bit of a challenge to get the vehicle back on the road unless the starter has a built-in flashlight. Now, most portable starters do, but with Noco, you'll get extra brightness and seven different modes. It's a LED light that's perfect for some nighttime action.
More good news: GB70 is a US-made jump starter and is well-suited for the Ford, Chevy, and GM trucks. In addition, the company covers it with a one-year warranty. On the downside, while you can, indeed, reach out to customer support during the warranty period, the service leaves a lot to be desired. The agents aren't very quick to respond and you might have to play "cat and mouse" to get proper help.
Pros & Cons
Premium-quality, seven-mode LED flashlight
Backed by a one-year warranty deal
Designed and built in the US

Despite the disappointing customer support, Noco is still a bargain for the average semi-truck owner. It is backed by a 12-months warranty and is 100% designed and manufactured in the States. The multi-functional LED flashlight is even more reason to consider it.
3. Clore Automotive – Best Jump Starter for Truck Battery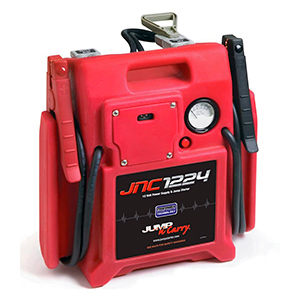 Extended compatibility is one of the biggest selling points of the Jump-N-Carry starter. It works with a long list of different trucks, SUVs, sedans, and even boats. So, if you are in the market for a universal jump starter, this could be it. On top of that, it has a strong power output (3.4K peak amps at 12V and 1.7K at 24V) that easily handles the biggest and most demanding engines.
The design/engineering deserves our attention as well. JNC utilizes dual batteries, and when they lose all their "juice", it won't take much effort to replace them. Plus, the new units will be available at a very reasonable price. And what about the downsides, you might ask? There's only one: this starter is not on sale in California due to the state's Proposition 65 – consider that before making an order.
Pros & Cons
Compatible with a wide range of vehicles/boats
Impressive power output: 3400 peak at 12V
Replaceable, affordable batteries
Not available in California

A strong output (both 12 and 24 V), enhanced compatibility, and easily replaceable, cheap batteries turn the Jump-N-Carry starter into a must-have. It has a built-in auto-charger, too, along with heavy-duty cables. Sadly, you won't be able to buy it if you're from California.
4. NEXPOW – Best Jump Starter for Semi Truck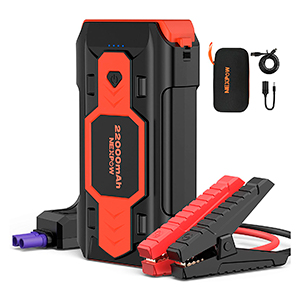 Most old-school battery chargers are pretty heavy and bulky, and while you won't be carrying them around every single day, it will still be a con. In that regard, NexPow is an ideal pick, because it's incredibly lightweight and compact. This tool/device weighs less than 1.5 pounds and is miniature in design. However, it's pretty powerful and holds up a charge for up to three months, which can't be said about most starters.
That's not it for the pros yet: with NexPow, you can expect a big set of extras, including a carrying case, detailed user guide, lots of cables, a socket adapter, and more. Strangely enough, the included cables are very short and will probably be a bit hard to use. That means you'll have to order an extra set. But, that's not a very significant downside, given how generous the package is.
Pros & Cons
Incredibly lightweight and compact design
Can hold a charge for up to three months
Generous package with lots of extras
The included cables are short

Lightweight, easy to carry around, and strong on the charge – that's the best way to describe this jump starter. It comes packed with lots of extras, too, and the price tag is more than reasonable. My only complaint has to do with the included cables, as they're not particularly long.
5. DEWALT – Best Jump Starter for Diesel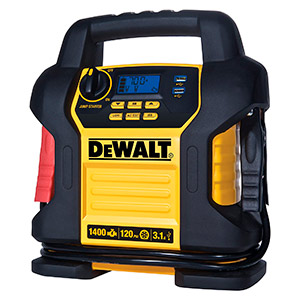 Semi-truck drivers in the market for a two-in-one kind of equipment will like what Dewalt has to offer. With this unit, you'll get not only a decent-quality jump-starter but also an air compressor for keeping the tire pressure right. Next, the engineers did a great job of reinforcing the main body of DXAEJ14, making it impact-resistant. Crafted from sturdy, durable materials, it can take a beating.
The front panel is another big pro. It includes a set of intuitive, responsive controls and a LED screen that displays all the important info. Dual USB ports, an AC charger, and a convenient handle will be a part of the deal as well. Sadly, quality control tends to be a problem. I'm talking about durability issues, inability to hold a charge, and dented packages. This is only reported by a small percentage of buyers, though.
Pros & Cons
Crafted from brick-strong, durable materials
Features intuitive controls + a LED display
Can also work as an air compressor

This right here is a portable power station. It can jump-start a low-charge battery and compress the air inside of the truck's tires. In addition, it has a friendly, informative front panel with a LED and is built from impact-resistant materials. Unfortunately, QA and QC are average at best.
How to Jump-Start a Starter: Step-by-Step Guide
In modern vehicles, a starter is a relatively small motor that sits right between the battery and the engine. Its #1 job is to receive a charge from the battery and "feed" it into the engine. Without it, you simply won't be able to hit the road. There are different kinds of starters out there, but they perform the same task. The big question here is – can you jump-start a bad starter?
Can you make it work, or will you have to get a new one? Good news: there is, indeed, a way to do that. Now, statistically, it's the starter solenoid (a tiny electromagnet) that fails most of the time, not the actual starter. And to bypass it from the chain, you'll need a screwdriver. First, pop the hood and locate the solenoid (you'll find it right next to the battery).
Next, gently touch the post that runs to the starter (not the battery) with the screwdriver's tip. This simple routine turns the screwdriver into a switch that takes the solenoid out of the chain. But, we're not there yet. Carefully place the screwdriver's main body (the shaft) onto the terminals. Start the truck and quickly remove the screwdriver. If you're not fast enough, it will get welded to the terminals, which isn't what we want. So, ask a buddy to help out!
How to use a Portable Battery Jump Starter
There's nothing hard about this. The most important thing here is to make sure the package includes long-enough cables and a set of clamps. To jump-start the battery, pop the hood and locate the battery's terminals. The positive (+) terminal is colored red, while the negative one (-) is black. The starter's clamps will be colored as well. Start by connecting the red clamp to the positive terminal.
Next, grab onto the negative/ground terminal with the black clamp. Double-check the connections for a strong metal-to-metal contact. Ok, now go ahead and turn the starter on. Give it 30-60 seconds to do its thing and get into the cabin. Start the truck. If the engine "comes alive", we're in business. Turn the jump starter off, remove the clamps (the black one first), and that's it!
Charging a Jump Starter Pack
As you'll learn soon from the Buyer's Guide, jump starters need time to charge. Some require 6+ hours for that, while others reach a full charge in 2-3 hours. Regardless, the actual process of charging is really simple and requires minimal effort. All you gotta do is plug its cable into the cigarette lighter (the A/C adapter, to be precise) of your truck. In many ways, it's like plugging a Smartphone for it to charge.
Or, better yet, if you're at home, connect the jump starter to an AC outlet on the wall. That way, you won't put extra strain on the vehicle's battery. Besides, wall outlets are usually quite powerful and take less time to charge the starter (or any other device, for that matter). And one more thing: if you just bought the starter, it's highly recommended to charge it before using it, because most units come from warehouses and aren't ready to give the battery a boost.
Buyer's Guide
Ok, now that we've checked out five top-notch jump starters and learned how to use them in the FAQ, let us discuss the key factors that turn an average-quality unit into a crowd-pleaser. We'll go over charging times, voltage, real-world efficiency, build quality, weight, size, and all the available extras. The more you know, the easier it will be to make the right pick!
#1: Voltage/Power Output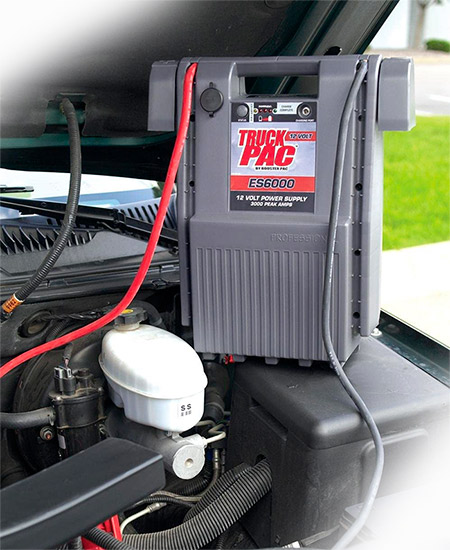 In many ways, a jump-starter is as good as its power output. But, this can get a bit confusing if it's your first time buying a starter. The reason: you've got peak amps, cranking amps, and voltage often used interchangeably by some folks, even though they represent different things. Now, as the name suggests, peak amps equal the maximum power output. For a 24-Volt battery, 1500 peak is a decent place to start.
And if you've got a heavy-duty battery (which most semi-trucks do), the output should be double that (3000 amps). As for cranking amps, they indicate the actual operating range of the jump starter. No device can work at peak levels for long – it will break down. So, always pay extra attention to the cranking amps. Usually, they're two or even three times lower than the peak.
#2: Charge Time + Efficiency
Jump starters don't last forever – they gotta have enough charge to, well, start the battery. The charging time differs depending on the unit. If it's an expensive, advanced device, it will reach a full charge in 3-4 hours. And if it's a less impressive starter, you'll have to give it up to 6 hours. The next thing to check is how many charges the starter can hold before another charging session is due.
Right now, the industry average is 20-25 charges. That should be more than enough even on the longest trips behind the wheel of a semi-truck. The best starters are good for 40, or even more charges, but you'll have to pay a bit extra for that. As for the "starting" time, most jump starters don't take long to "revive" the battery (one minute tops), so that shouldn't even be a concern.
#3: Flashlights and LEDs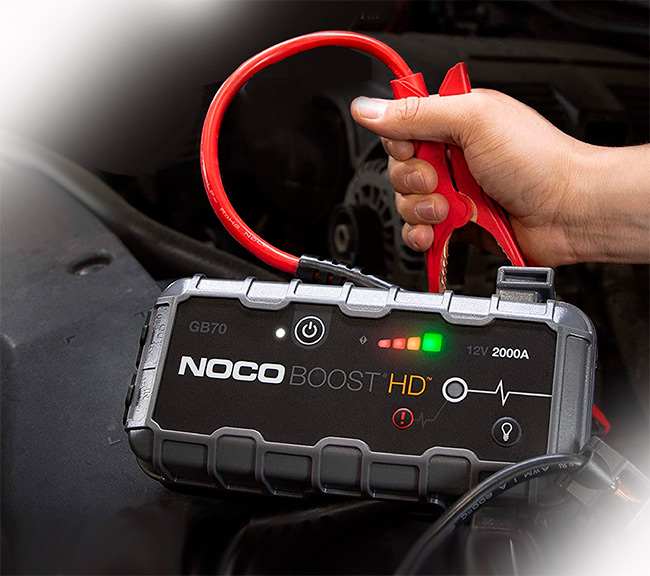 If you like the power output and the charging time, take a minute to learn about the extras that come with the starter. Most importantly, it should have a built-in flashlight to kick-start the battery when it's dark outside. A LED display would also come in handy. It will make it easier to check the charge, amperage, and other parameters. I always make sure the package includes all the necessary extras.
I'm talking about cables (both regular and USB), an adapter, and, preferably, a detailed guide and a carrying bag. The cables should be long enough to reach the battery terminals. Sometimes, they are too short for comfort. In other cases, they're way too long and get in the way. Finally, double USB charging pots would be a lovely touch if you do lots of charging.
#4: Do Weight and Size Matter?
They do, of course, especially if you do lots of cross-state driving and have limited space in the truck. Most starters are pretty compact, but some old-school units are, indeed, be pretty large. Modern-day devices are as light as 5-10 pounds. Bigger ones can reach 40 pounds, but that usually means they're sturdier. Oh, and see that the jump starter meets all the safety standards and features a water-resistant body with reverse polarity.
Over-charge and short circuits can cause lots of trouble on the road. That's why you gotta check the safety features before making an order. If the jump starter meets the UL2743 certification, that means it will be well-protected against sudden voltage spikes and other electricity-related hazards.
Conclusion
To keep the truck going no matter what, a decent-quality jump starter is a must. While it won't be cheap, in the long run, you'll get all the right benefits. This is especially true for drivers that make a living on cargo transportation and can't afford to get stuck because of a faulty/bad battery. If you don't have the time to learn about starters, just pick one from the list.
They've all passed a series of tough tests and will be worth the investment. On the other hand, if you want to make your own choice, check out the Buyer's Guide for some quick, helpful tips and tricks. And in the FAQ, you'll learn how to use a portable starter, jump-start, and charge it. Drive safely, and I'll see you next time!