The F150 is an all-around solid truck. In addition to a powerful engine and a brick-strong suspension system, it's also got lots of decent-quality extras. Say, the front headlights are quite alright and do a solid job of lighting the way. However, when it gets really dark outside (or when it starts to rain and the trail becomes foggy), they lose their effectiveness and efficiency.
Well, that's where light bars come in. Specifically designed to illuminate a gloomy road, they will dramatically improve your truck's ability to drive in the dark. Now, with the Best Light Bar for Ford F150, you'll get catchy looks, versatility (can mount them wherever you want), and peace of mind. The following bars are incredibly bright, easy to install and come at a reasonable price. Check them out!
Best Light Bar for Ford F150 Review
1. Nilight – Best LED Light Bar for Ford F150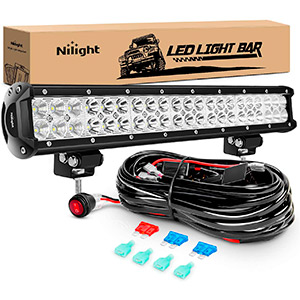 You might think that light bars are out of "harm's way", but in reality, when driving into the wilderness, all the bushes, trees, and rocks can roughen them up. This is true both if you mount them on the roof or the grille. That's why Nilight will be a reasonable investment for an F150 driver. Thanks to premium material and construction quality, ZH006 boasts market-leading impact and shock resistance.
Another big pro – this product doesn't only meet but also exceeds tough US standards for safety. It will serve you for many years and (relatively) easily handle whatever the road has in stores. The only thing that I didn't like was the included hardware. The adjustment system and the mounting brackets leave a lot to be desired. On the bright side, Nilight backs this light bar with a two-year warranty.
Pros & Cons
Meets and exceeds toughest industry standards
Highly resistant to impacts: can take a beating
Backed by a standard two-year warranty

If you're in the market for a reliable, durable, and sturdy light bar for your truck, pay extra attention to Nilight. While the hardware isn't very impressive, the engineering/material quality is quite alright. Plus, ZH006 is available at a reasonable price and won't break your bank.
2. oEdRo – Best Off-Road Light Bar for Ford F150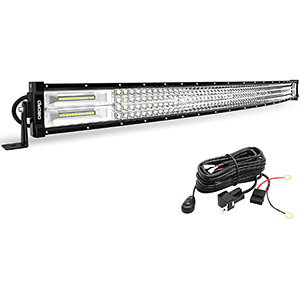 The light bar is one of the most exposed accessories for the F150 (or any other vehicle, for that matter). It's constantly one-on-one with natural hazards. Therefore, it's very important to find a bar that's protected against Mother Nature. With oEdRo, you won't have to worry about water/humidity and corrosion, because it features top-quality protection. In addition, it boasts one of the finest cooling systems.
A quick note: LED lights are much better than HIDs and Halogens, but they do generate lots of energy. oEdRo is crafted from high-conductivity aluminum – it does a great job of dissipating all that heat. The design/construction also deserves our attention: this light bar fits a long list of trucks and SUVs. Sadly, customer support is rather slow and not particularly client-oriented.
Pros & Cons
Market-leading water and corrosion resistance
Advanced cooling/heat dissipation system
Compatible with a wide range of vehicles

Despite the disappointing customer support, the oEdRo light bar is a great bang for the buck. Its biggest pros are enhanced compatibility, strong resistance to corrosion and water, and a top-of-the-class cooling system. It's pretty bright, too, and can light up the darkest trails.
3. 4WDKING – Best Light Bar for F150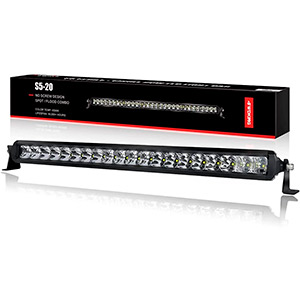 We just praised the oEdRo light bar for its advanced protection against rust, and while that is, indeed, a critical aspect, that's not the only thing to keep in mind. Say, for an avid off-roader, scratch- and crack-resistance also play a major role. Without it, you'll end up ruining the bar and making it look really old and "beaten up". Another concern is the installation process. If you want to learn more about that, check out my FAQ section.
The best thing about 4WDKing – it is one of the most user-friendly options on the market. You'll need little time and almost no sleight of hand to mount it and get connected manually. As for the actual light, it reaches pretty far and covers lots of ground on the sides of the road. The only minor downside has to do with the package. It isn't particularly safe – the hardware and the bar arrive loose in the box.
Pros & Cons
Strong protection against scratches and cracks
No-screw design: very easy to install/mount
Casts a wide, far-reaching light beam
Average-at-best packaging

4WDKing is one of the best third-party light bars for the F150 truck. It emits a strong, bright, and focused light beam, features extended protection against scratches, and takes minimal effort to install, thanks to the no-screw design. Watch out for the packaging, though, because it's not very secure.
4. AUTOSAVER88 – Best Light Bar for a Ford F150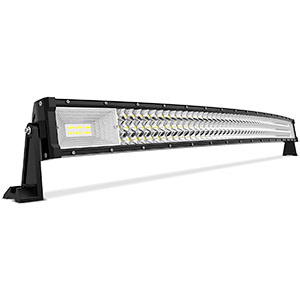 This next brand specializes in many different exterior upgrades for Ford's best-selling truck. And this light bar is definitely on par with the finest offers on the market. First of all, it includes premium adjustable brackets. They allow the driver to easily regulate the angle for the best results. True, most bars feature similar adjustment mechanisms, but they're not as flexible or versatile. The rest of the hardware – nuts, bolts, and whatnot – are also of the highest quality.
Last, but not least, Autosaver88 was specifically designed for harsh temperature conditions. This unit has a -40/+85 degrees tolerance and won't lose its efficiency no matter how cold or hot it is outside. On the downside, the included wiring is average at best and not at all reliable. So, you might want to invest a bit extra and get decent wires for this otherwise excellent bar.
Pros & Cons
Top-notch adjustable bracket for easy positioning
Easily handles extreme weather conditions
Premium-quality hardware included

What is it that you're looking for in an aftermarket light bar? Is it resistance to rough climate, or high-quality hardware? Or maybe you're a big fan of perfect light positioning and want an adjustable, easily customizable bracket? You'll get all of that with Autosaver. The wires are rather cheap, sadly.
5. YITAMOTOR – Best Waterproof Light Bar For Ford F150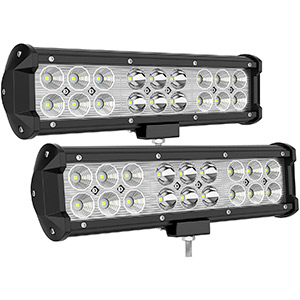 What can you expect to get with Yitamotor – yet another third-party light bar? What are its biggest selling points? First of all, it's the cheapest product on the list. You can get it for a very affordable price, and it will deliver above-decent performance. Plus, it features a unique design with acrylic covers for the lights. They reduce optical loss, resulting in a bright, clear, and far-reaching beam.
High-quality LED chips, reflective cups, and an IP68 rating (resistance to water, dust, and corrosion) are even more reasons to put it on your list of must-haves. A quick warning: some buyers report issues with quality control and assurance. Wrong mounting hardware, missing bolts – stuff like that. If that happens to you, make sure to take advantage of the two-year warranty.
Pros & Cons
Acrylic cover for the lights - minimal optical loss
Protected by the company's 24-month warranty
Affordable, compared to the market average

Ford F150 drivers looking for a cheap, yet solid-quality light bar might find Yitamotor to be exactly what they need. The overall performance is worthy of our praise, thanks to the high-intensity LEDs, IP68 design, and strong illumination. Quality control might be an issue, but nothing major.
How many Watts is a good Light Bar?
If you want the light bar to be a significant upgrade over the standard headlights (and that's what most of us go for), you gotta always consider the wattage. This parameter defines how strong/bright the lights will be. The higher the wattage, the more power (energy) the bar will consume, though. Keep that in mind and make sure to only hit the wilderness with a fully charged battery.
For a light bar, 100-120 watts is a decent starting point. While it won't turn a dark night into a day, it will still be a reasonable investment. Up the ladder, we've got the 200-300W range. With such a unit, you'll be able to roam the darkest trails and never worry about illumination. As for premium-quality light bars, they can be as bright as 500+ watts. These cost more but will help you notice a deer from afar and have enough time to slow down.
And let's not forget about the Lumens. It's a widely-used term that describes the brightness of pretty much any light source. While wattage is more about power, lumens are about luminance. To put things into perspective: lumens are +/- 70-80 times higher than watts. So, a 300-watt light bar will put out roughly 22-23K lumens. Different brands use different terms to describe their products. That's why you need to know about both.
One more thing: to a regular F150 owner, brightness and color temperature might look like the same thing, but they're not. The temperature describes how "warm" the light beam is. Say, 2-3K is pretty warm, while 5-6K is a white, clear light beam. For highway driving, a high temp might not be an ideal choice. In contrast, when heading off the road, go for a higher color.
What Size Light Bar is Best for Ford F150?
Moving on the size, the rule of thumb here is the longer/wider the light bar, the better it will be at illuminating the road (because it will have more built-in bulbs). Check the dimensions before making an order. And don't worry: compatibility shouldn't be an issue, no matter how long or short the bar is. However, that only applies to the truck's roof. If you're planning on mounting it into the front grille, the actual size will matter.
To be 100% sure that you're not spending your money on a bar that won't fit, take a minute to measure the truck (a regular tape will do). When shopping online, you'll see the measurements of the light bar in the specifications. They usually indicate the length, width, and height – what we need is the length. This is important: the bar will "sit" where the license plate is.
That's the best spot for it, as it lines itself up with the fog lights and adds to the overall design. Removing the plate is illegal in some states, however. So, familiarize yourself with the local laws before doing anything like this. What's the right size for the F150, though? For the grille, 10-12" is the sweet spot. For the roof, I'd go with 20 inches. Or, if you want more light, a 40- or even 50-inch light bar will be right up your alley.
How to Install Ford F150 LED Light Bar?
Begin by parking the truck on an even, flat surface. Next, shut down the engine and disconnect the battery. After all, we'll be working with wires, and you can never be too careful with electricity. Speaking of safety, make sure to put on a pair of protective gloves and goggles for the eyes. The actual installation process is pretty straightforward. It might vary a bit depending on the truck's generation.
But, for the most part, it's gonna be the same routine. If you want to mount the bar on the roof, that will take you 40-60 minutes tops. Grab the mounting brackets, secure them using the provided hardware, and then place the bar right into those brackets. With that out of the way, take some time to adjust the bar properly, and that's pretty much it. And if you want the bar on the front bumper, go ahead and remove the license plate.
It will be held by a pair of bolts. Remove them using a wrench (21mm will do). Then, slide the brackets in and secure the bolts – do this with both brackets. If you want the bar a bit higher, use a drill to make new mounting holes. The light bar needs to be mounted onto these brackets. To secure it, use a hex tool. Next, open up the grille, reach from behind, and use a lock washer + nut to tighten it nicely.
Finally, let's talk wires. The vast majority of bars work with 12-gauge wiring. Check this before making an order. Connect the wiring to the positive and ground terminals. Finishing up, run the harness into the cab so that you can control the lights from the driver's seat. Just run it down the front in the engine bay until you find a rubber grommet.  Put the harness through the grommet, get it connected, and we're in business!
Buyer's Guide
We just talked about the right light bar size for the F150 and how many watts you'll need for proper illumination. Next, we learned how to install an aftermarket light bar with basic tools. Now let's take a minute to quickly go over the most important aspects that define the quality and efficiency of a light bar. Compatibility, size, brightness, lifespan, and resistance to elements – those are just some of the topics that this guide covers.
#1: Fitment Comes First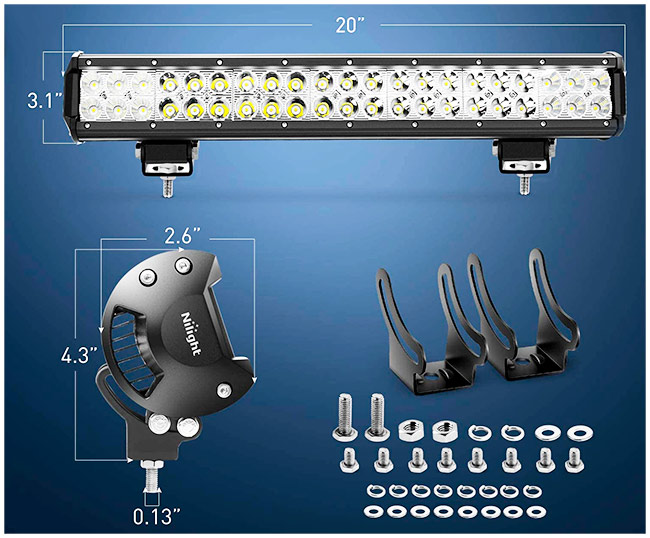 Let's start with compatibility: how do you make sure the light bar will fit the F150? I've got good news for you: most aftermarket bars can fit a wide range of vehicles, be it trucks, SUVs, crossovers, or even sedans. As long as there's enough space on your truck's roof or the front bumper/grille, and there are no issues with the wiring (there shouldn't be any), you're good. Go back to the FAQ for my step-by-step installation guide.
And don't forget about the mounting brackets. If it says "adjustable" in the specs, that means they can be "fine-tuned" to 45 degrees to get proper illumination at the right angle.
#2: Brightness + the Beam
Some folks believe that wattage and lumens are the only "technical" things to keep in mind with lights, but I want you to also remember about the beam. The light bar should cast a far-reaching beam that illuminates the road ahead. The sides also matter: see that the beam pattern doesn't create any blind spots on the left and right sides. To get the best results, find a bar with reflective cups.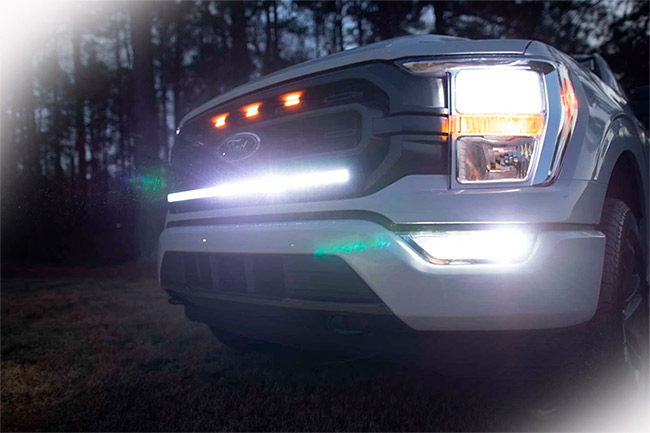 They provide a rather wide illumination range. Plus, like in the case with Yitamotor, look for some sort of cover for the bulbs (acrylic, for example). That way, the LEDs will be pretty bright and not dimmed by the glass, which happens with most lower-quality units. Ideally, the bar should emit a flood beam for a broader view area and a spot beam for longer distances.
#3: Lifespan and Warranty
This greatly depends on the bulbs. If it's a set of cheap Halogens, the bar won't last for very long (up to 2K hours, give or take). The same is true for HIDs, but they're brighter and more reliable. Now, LEDs – Light Emitting Diodes – are the vastly superior option. On average, they last for 20-30K hours, which is 10-15 times more. And if you want the light bar to serve you for decades, find one with a 50K-hour lifespan.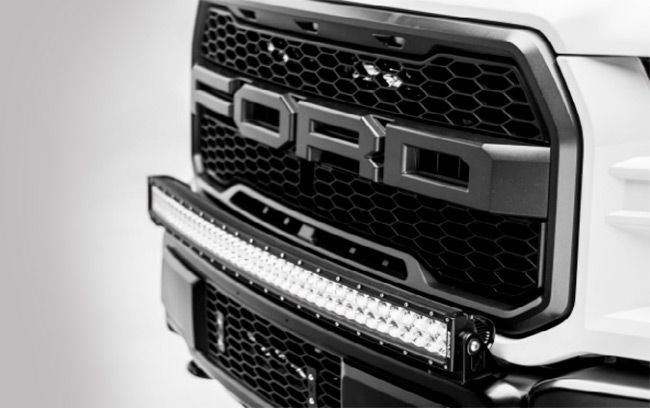 Again, this heavily relies on the quality of the bulbs. The wiring also matters, of course, since low-quality wires can lead to shortages and other problems. They should have high electrical conductivity and resistance to melting. Speaking of the warranty, it would be best if the bar was covered by at least a standard 12-month manufacturer's guarantee. A two-year warranty will be an even better deal. You'll get it with Nilight and Yitamotor, by the way.
#4: Build Quality and Resistance
The engineering/material quality affects the lifespan as well. For light bars, aluminum is the best choice, with military-grade aluminum being on top of the "food chain". Also, make sure it's resistant to impact, especially if you do lots of off-roading on uncharted trails. And what about resistance, you might ask – why is it important? For protection, of course! Unless the light bar is secured against rain, snow, dust, and debris, it will break down before long.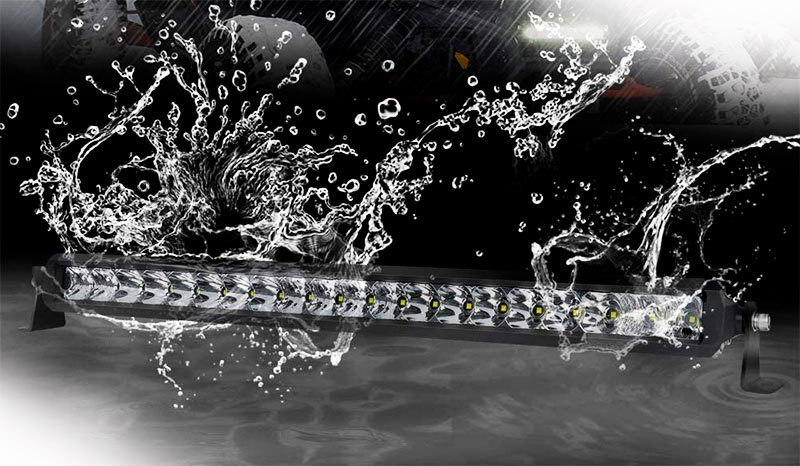 Rust/corrosion and UV rays can be an even bigger issue, along with extreme temps. Aluminum is great at handling temperature fluctuations. In combination with decent-quality fins and a rust-resistant lens, it will ensure proper cooling for the bulbs and prevent overheating (which does happen quite often). And if the bar is protected against scratches, it will be a safe bet for the F150.
Conclusion
No matter how bright and far-reaching the stock F150 headlights are, they still won't be able to deliver perfect vision when the sun goes down. Add natural elements like wind, rain, snow, fog, and dust, and casual night-time driving can turn into a disaster. That's exactly why light bars are one of the most important exterior upgrades for any truck driver. Adjustable, heat-resistant, and long-lasting, they will be worth every single penny.
If you want a cheap, yet reliable kit, go with Yitamotor. With Autosaver, you'll get top-quality hardware and strong weather resistance. Nilight boasts a brick-strong, impact-resistance body, while oEdRo's bar fits a long list of vehicles. Finally, 4WDKing casts the strongest, farthest-reaching light beam. Yes, they've all got their pros. So, take a minute before making a choice!