Best Grille Guards for Dodge Ram 1500 Review & Buyer's Guide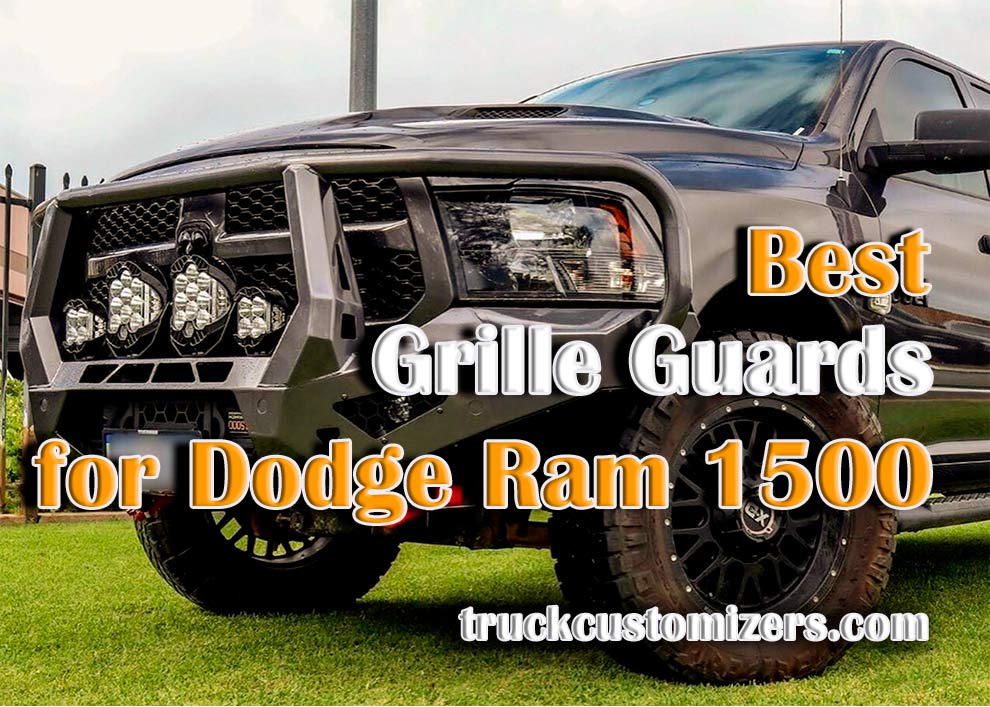 RAM 1500 is a mighty truck. It's not afraid to get a bit dirty and push through mud or dust. However, it's not invincible: if you do lots of off-roading on the weekends, you might want to think about extra protection. I'm talking about a front grille guard, of course. Crafted from premium-quality steel tubes, this exterior accessory will keep you and your truck from harm's way.
So, yes, the focus today will be on the Best Grille Guards for Dodge Ram 1500. I'm a big advocate of conquering the wilderness myself, and it took me almost a month to test dozens of best-selling and fan-favored guards. The following list includes my top five picks for the RAM. They're equally worth your attention and money. Which one is the finest pick? Let's find out!
Best Grille Guards for Dodge Ram 1500 Review
1. ARIES 5058 – Best Grill Guards for Dodge Ram 1500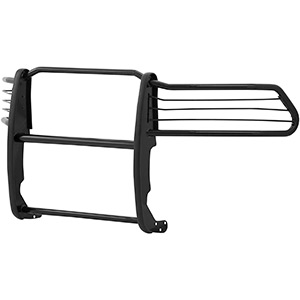 The first thing to check when choosing between different grille guards is the tubing. Ideally, it should be made from premium 304 stainless steel. Next, make sure that it's a one-piece, heavy-wall construction for extra durability. That's exactly what you'll get with Aries. Along with the impressive engineering/material quality, it also features a double-layer E-coat. It is very strong against rust/corrosion and humidity.
True, E-coating is something that you'll see with many brands, but it's usually just a single layer. I also want to mention this unit's flexibility: the side guards are custom-bent to fit the contours of the RAM 1500 truck perfectly. The only thing that I didn't like about this otherwise top-notch grille guard was the customer support. The agents are somewhat slow and won't always have helpful tips to share.
Pros & Cons
One-piece, heavy-wall tubing for extra durability
Dual-layer E-coat protects against corrosion
Custom-bent side guards for a perfect fit

Aries is one of those "brick-strong" grille guards that can easily handle whatever the road has in stores. One-piece tubing, high-grade steel, and dual-layer coating turn it into a must-have for fans of wilderness. Customer service isn't very impressive, but that's the only significant con.
2. Ranch Hand 09-C – Best Grill Guards for 2010 Ram 1500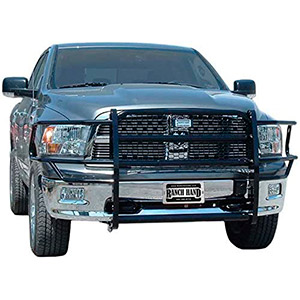 And what about Ranch Hand – what's its biggest advantage over the competition? The first thing that'll catch your attention is probably gonna be the design. The 09-C guard has that aggressive, "masculine" look that most of us tend to like. Plus, it fits RAM 1500's style perfectly. Speaking of fitting, the installation process will be like a walk in the park. Fast and trouble-free, it doesn't require any expensive tools or years of experience to pull it off.
And if you still have some difficulties with the process, the friendly instructions (come packed with the kit) will help sort things out. Summing up, Ranch Hand is a crowd-pleaser and will be a reasonable investment for the average RAM truck driver. I do, however, have to mention that this is a Chinese product – designed, manufactured, and tested. The build quality is more than decent, though.
Pros & Cons
Fast, hassle-free installation – fits like a glove
Aggressive, in-your-face look for RAM 1500
Detailed user manual included
Not a US-made product (produced in China)

If you're looking for a third-party grille guard that's easy to install and has a mean, eye-catching look, you'll get exactly that with Ranch Hand. A detailed user guide is also a part of the deal. Made in China, this guard is crafted from sturdy, reliable materials and will serve for many years.
3. Hunter Premium – Best Grill Guards for 2007 Dodge Ram 1500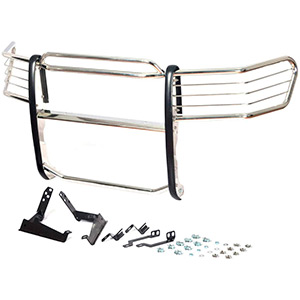 If you're driving an older-gen RAM (like a 2006-2008 model), Hunter Premium will be an ideal fit. Manufactured from polished 304 steel, it will protect you from small animals, bushes, rocks, and maybe even oncoming traffic. As for the package, it includes top-quality hardware for the installation – you won't have to order all the nuts and bolts separately. A user guide is also a part of the deal, but it's not at all helpful.
In fact, the instructions are a bit confusing, and you'll be better off following your own logic. On the bright side, the company backs its product with a limited lifetime warranty. More importantly, Hunter Premium is one of the most affordable grille guards for the RAM 1500 trucks – that's its biggest selling point. So, if you're struggling a bit with the budget, this could be a great pick.
Pros & Cons
Includes premium-quality installation hardware
One of the cheapest grille guards out there
Backed by a limited lifetime warranty
Confusing installation instructions

If you're not ready to invest big bucks in an aftermarket grille guard, but still want to protect the RAM's front, put Hunter Premium on your list of must-haves. It is cheap, covered by a warranty, and comes with all the necessary hardware. The user manual is not particularly helpful, though.
4. BLACK HORSE – Best Front Grill Guard for Dodge Ram 1500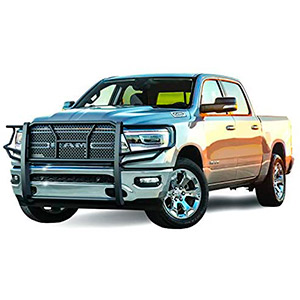 Like the previous grille guard, Black Horse is protected by the brand's limited warranty – always a big pro. But what makes it stand out? Why should you pick it over the competition? This front grille guard is crafted from cold-rolled, mandrel-bent steel tubing. Yes, most aftermarket guards are built the same exact way. However, Black Horse is much thicker (2.25-inch diameter 16ga tubing).
Add a high-grade coating (black powder) and you'll see why this product is so popular among RAM 1500 owners. The tubing and the coating make it last longer than the industry average; plus, it's more impact- and shatter-resistant. Compatibility isn't its strongest suit, however. I'm not saying installation will be a problem – it actually runs smoothly. What I mean is that the guard only fits a very limited number of trucks.
Pros & Cons
Superb-quality, glossy black powder coating
Thick, cold-rolled, mandrel-bent tubing
Three-year manufacturer's warranty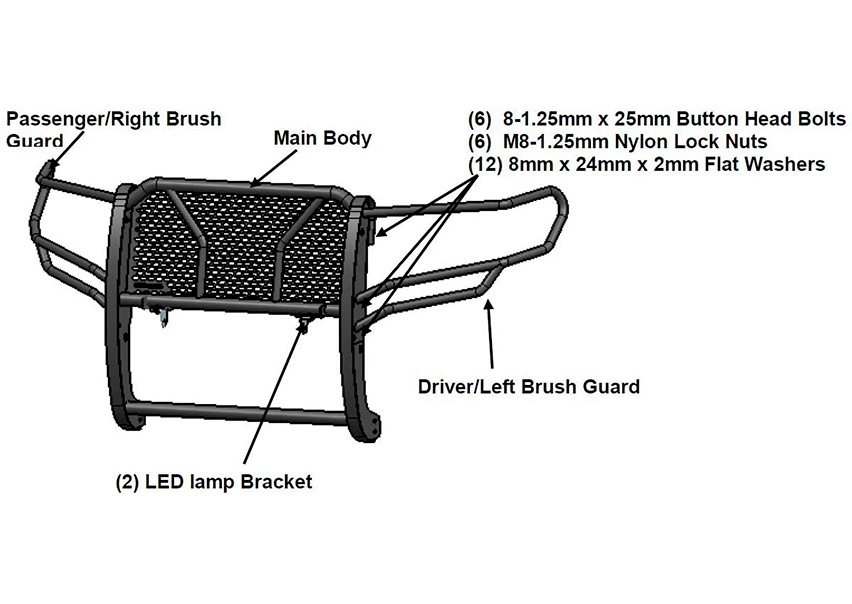 Thicker-than-average steel tubing, high-quality powder coating, and a three-year warranty from the manufacturer – that's what you'll get with Black Horse. It only fits the 2019-2021 RAMs, but if you own one of the latest trucks, this grille guard will fit it perfectly and provide solid protection.
5. Westin 57-1955 – Best Grill Guards for Ram 1500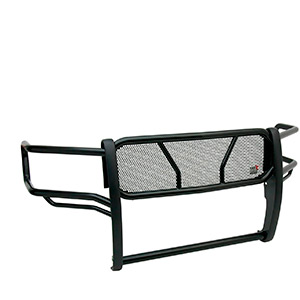 Impact resistance is arguably the most important aspect of any grill guard, and you'll get plenty of that with Westin. It boasts market-leading durability and sturdiness and won't crack when you hit a raccoon or a deer. This is partially achieved thanks to heavy-duty construction. Westin is the heaviest unit on the list, and that allows it to be incredibly hard to bend or break.
Sadly, while this is only reported by a small number of buyers, there can be some issues with quality control and assurance. I'm talking about missing installation hardware, a dented shipment box, and slow delivery times. But, that's compensated by a lifetime warranty; do take advantage of it when something like this happens to you.
Pros & Cons
Impressive durability and impact resistance
Much heavier than the market average
Covered by Westin's lifetime warranty
Minor issues with QC and QA

Despite the (minor) problems with quality control, Westin is one of the safest bets on the market for the RAM 1500 truck. This guard is big, strong, heavy, and durable, which is exactly what makes it a worthy pick. If you put security first, Westin will be a reasonable investment.
Are Grille Guards Legal?
In contrast to crash guards, grille guards are, indeed, legal in the states. Even so, I highly recommend checking local laws before making a purchase. Oh, and make sure you don't have any kinds of lights installed on it, especially strobe lights (red or blue) – that is against the law here in the US. Apart from the obvious issues with police officers, you also won't get any aid from your insurance company in the case of an accident.
But, again, as long as the law isn't against grille guards, there's nothing to worry about. Bull, brush, and grille guards are very popular accessories on emergency and police vehicles. They're used to push crashed vehicles from the road and to mount sirens and speakers on an SUV's or truck's front. A quick note: in Europe, grille guards are NOT legal. Studies prove that they increase the risk of injury/death to pedestrians.
What is the Point of a Grille Guard?
Protection – that's the #1 job of any grille guard. Unless you're a professional driver that mostly sticks to highways, you'll eventually ruin the front grille/bumper of the RAM 1500 truck. Off-roading trails are full of bumps, steep climbs, bushes, trees, rocks, and wild animals that jump at you from out of nowhere. Thus, the point of a guard is to give you peace of mind and help avoid expensive repairs.
According to official statistics, headlights (both high and low beams) are one of the most vulnerable parts of any vehicle (including trucks). And replacing them might cost roughly the same as buying a guard. Grille guards keep the front-seat passenger and the driver safe, absorbing most of the impact. So, if you're a bit hesitant about whether you should invest in a grille guard or not, this should give you enough reason to start saving up.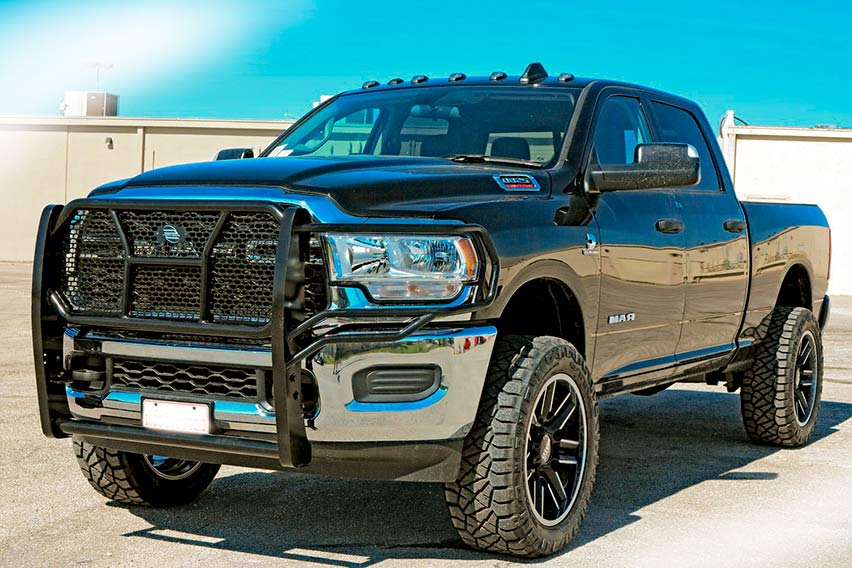 Grill Guards vs. Bull Bars?
Many folks in the US and Canada use these terms interchangeably, however, they're not the same thing. True, the concept is very similar, but bull bars are cheaper and only cover the center of the truck's front. This is still better than nothing of course, as the bar is more than capable of securing the radiator from an impact. But, you get mediocre protection. In contrast, grille guards tend to be much bigger and protect the entire front end, including the lights.
As I just mentioned, headlights are quite expensive, especially if you include labor. My advice would be to save a bit extra but get a grille, as it will be a better investment in the long run. Now, the best thing about both grilles and bars is that they're mostly easy to install and don't interfere with any extra equipment or accessory installed on RAM 1500. I'm talking about tow hooks, for example, of aftermarket fog lights.
Buyer's Guide
Grille guards aren't the most complicated exterior accessory for a truck – far from that. With that said, there are still some factors to consider before making a purchase. For example, the guard needs to be a perfect fit with the RAM. The price, warranty deal, anti-weather resistance, and material/build quality also make a difference. So, let us dive into all that next and learn our way around grille guards!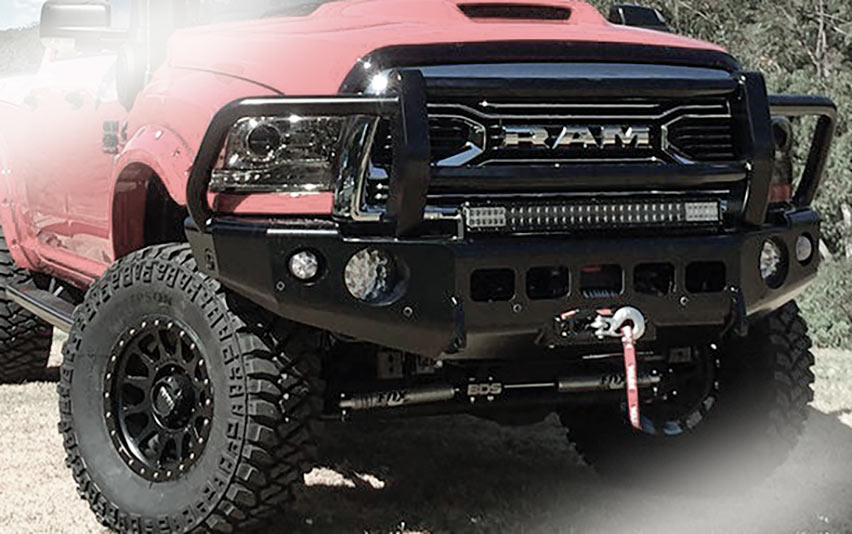 #1: Tubing + Thickness
Grille guards are crafted from steel tubes, and the sturdier the tubes, the more durable and reliable the guard will be. Now, 409 steel is a pretty great material, but it's not as impressive compared to 304. For me, material quality is always the first thing I check. With that out of the way, take a close look at the diameter. The larger the diameter, the thicker the tubes will be.
Most average-quality guards are made from one-inch tubes. But, I recommend going for at least two inches. Say, the Black Horse grille guard from today's list is 2.5"-thick, which is great news. This will cost you extra, of course, but there are lots of great deals on the market at a very reasonable price. And one last thing: the grille should feature one-piece tubing for extra security.
#2: Rubber Pads for Protection
What's the point of rubber stripping – is it even worth it? The answer is yes, it absolutely is, as the rubber serves as an extra layer of protection for the guard. Mostly, it covers the vertical risers, as they take most of the impact. Without rubber padding, the finish won't last long, no matter how expensive it is. So, if you want the grille guard to always look brand-new, see that there's enough rubber keeping it nice and clean.
#3: Anti-Corrosion Resistance
Rust is the #1 enemy of any steel accessories. True, 409 and 304 steel are highly resistant to corrosion, but it can still be a problem. That's why the tubes need to have an additional layer of anti-rust protection. A standard black powder coat is quite an effective solution. And if you want to take this to another level, E-coating will do that for you. Say, with the Aries grille guard, you'll get a dual-layer E-coat.
A quick note: anti-rust protection means the guard (and the RAM 1500 truck) will not only be protected against actual rust, but also natural hazards that cause it. The list includes humidity (mostly rain and snow), dust, dirt, and mud. After tubing, the diameter, and rubber stripping, this is the most important aspect for any grille guard.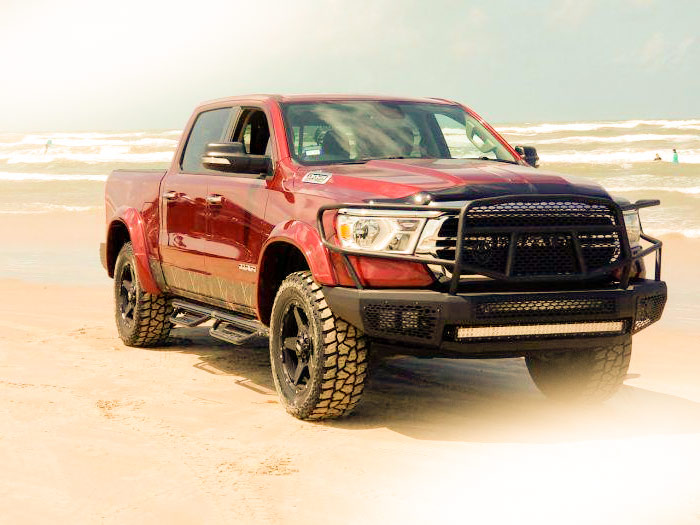 #4: Easy Fitment + Installation
As we learned from the reviews, grille guards only fit a limited number of trucks. Even if it says "compatible with RAM 1500", you still gotta double-check to see whether it does, indeed, fit your truck's make, model, trim level, and year. If you get that part right, the installation process will go smoothly. Grille guards don't take much time to install, especially if the package includes a helpful user guide.
#5: Pricing and Warranty
Ok, so, how much are you gonna have to pay for a grille guard? Are 200 bucks going to be enough? Sadly, no: the average price is $500-600, with the most expensive units getting very close to $1000. On the bright side, there are some rather cheap options that are decent in quality and won't leave your wallet empty. On today's list, that grille is Hunter Premium. It doesn't have any significant cons and comes at an incredibly low price.
On top of that, it is covered by a limited lifetime warranty. But in most cases, you won't see any guarantees with a grille this cheap. The higher the price, the more protection you get, including protection against direct impact, natural elements, and more. Still, keep your eyes open and check the specifications first before looking at the price. Sometimes, an expensive grille guard turns out to be less effective than a low-priced unit.
Conclusion
Accidents happen, no matter how careful we are. You can hit a tree on your next off-roading trip or collide with a fellow driver on a busy highway. Now, RAM 1500 is one of the safest and most reliable trucks on the American market, but it won't be able to protect you without a grille guard. Think of it as an additional layer of security. It looks pretty cool, too, especially on the newer trucks.
While guards aren't particularly cheap, they are still 100% worth the investment and the effort. Today, we checked out five market-leading offers from the likes of Aries, Ranch Hand, Hunter Premium, Black Horse, and Westin. So, take your time, go through the FAQ and the Buyer's Guide and I'll see you next time!