When taken proper care of, radiators can last for up to a decade. They will give up on you eventually, though, and that's when a third-party replacement will be in order. Plus, if you do lots of off-roading behind the wheel of a Toyota and have aftermarket gear/equipment installed, the factory radiator won't be able to "keep up". New headers, premium air intakes, and tuners maximize the powertrain.
While that's a great thing, you gotta make sure the cooling system (the rad) is up to the task. That's why in this post, I want to introduce you to the best radiators for Toyota's world-famous line-up: Tacoma, Tundra, and 4Runner. After months of meticulous testing, I chose the following units as my top picks. They are efficient, reliable, and reasonably priced. Let's get to it!
Best Radiator for Toyota Tacoma Review
Tacoma is one of the most popular mid-size trucks in the US, and that speaks volumes about its quality. This pickup easily competes with the likes of Chevy Colorado, Ford Ranger, and Nissan Frontier. It's got a very impressive powertrain and easily handles the most challenging off-roading trails. However, when pushed too hard, the mighty motor is known to give up.
That won't be a problem with the Best Radiator for Toyota Tacoma, of course. The following list includes three top-notch replacement options. They fit Toyota's four-wheeled champ like a glove and will be a dramatic improvement over the restrictive stock system. Take a closer look!
1. AUTOSAVER88 ATRD1050 – Best Radiator for 2004 Toyota Tacoma 2.7L L4 3.4L V6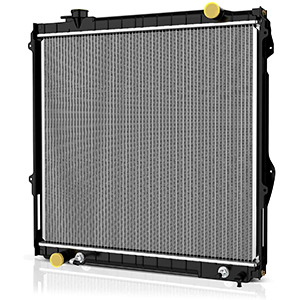 Engineering/material quality is one of those things that can "make it or break it" for a radiator. The good news is – with Autosaver88, you won't have to worry about that. Crafted from a strong combo of high-grade aluminum and sturdy plastic, it is among the most reliable and durable units out there. The cooling efficiency is pretty impressive as well: this radiator can handle extreme heat easily.
Another big pro is the one-year/12K miles warranty. The package also includes a detailed, friendly user manual to help with the installation. The process is easy and straightforward. However, depending on the make and year of your Tacoma truck, the radiator might be slightly taller than the mounting spots. That shouldn't be a very big issue, though, especially if you know your way around gear.
Pros & Cons
Crafted from premium-quality aluminum + plastic
Backed by a 12-months/12K miles warranty
Comes packed with a detailed manual
A bit taller than the factory gear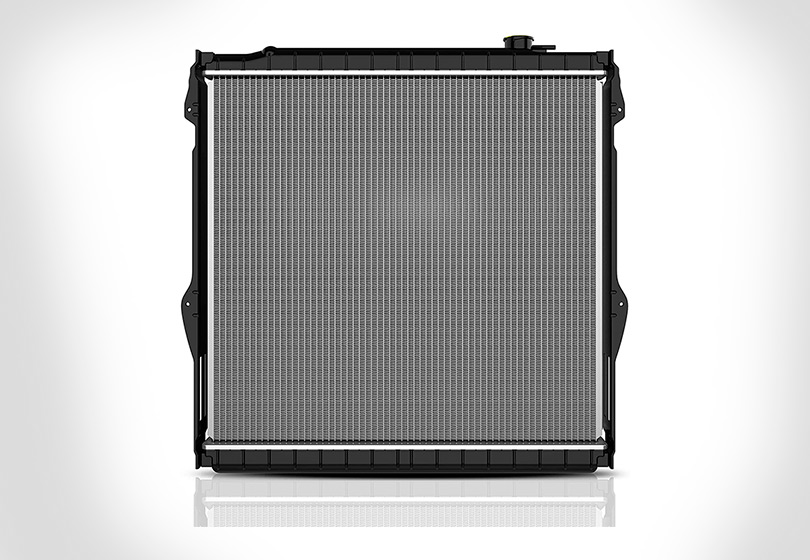 Thanks to the top-quality aluminum cores, fins, and plastic tanks, ATRD1050 is a highly efficient and long-lasting unit. Covered by a standard warranty deal and packed with a useful installation guide, it is a safe bet for the average Tacoma driver looking for an aftermarket radiator.
2. Denso 221-3137 – Best Replacement Radiator for Tacoma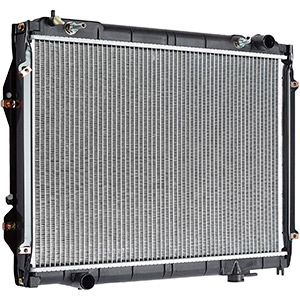 Moving up with the list, let us check out what Denso has to offer. The first thing I want to mention is, of course, the affordable price. So, if your truck's factory radiator is slowly going bad, and you need a replacement ASAP, this could be a very good deal. Oh, and the installation process won't take much time or effort. Specifically designed to be a direct fit for the Tacoma, Denso can be installed in +/- an hour.
This is a very lightweight, yet durable radiator, and that makes it an even more attractive pick. There's one downside, though: it doesn't go well with the factory Tacoma bolts, because they're a bit too short. And, since the package doesn't include any hardware, you'll have to pay extra and order a new set online. On the bright side, that will only cost you $5-10, or even less.
Pros & Cons
Direct fit: takes very little effort to install
Lightweight, durable construction
The cheapest offer on the table
Doesn't fit the factory bolts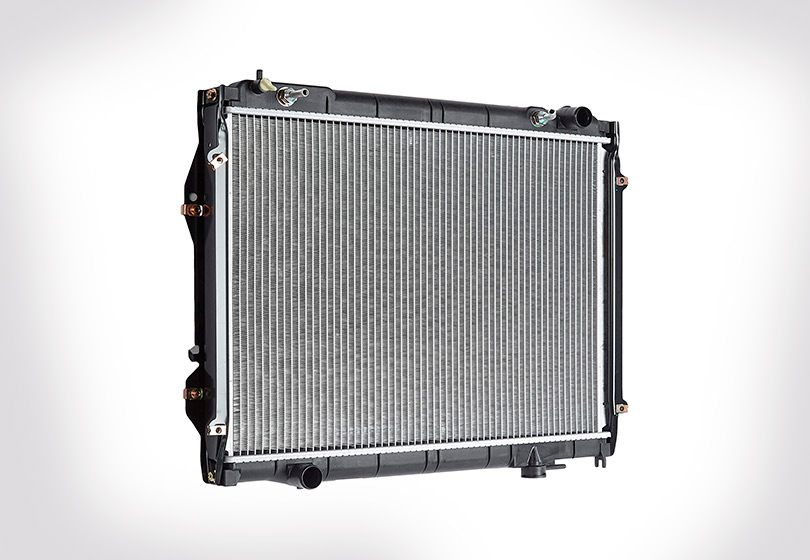 Despite the issues with the installation hardware, Denso is still a bargain. This radiator is very easy to install, thanks to the direct-fit design and lightweight construction. On top of that, it is available at a very attractive price and will be right up your alley if you're on a tight budget.
3. Mishimoto R1755-AT – Best Radiator for Tacoma 1995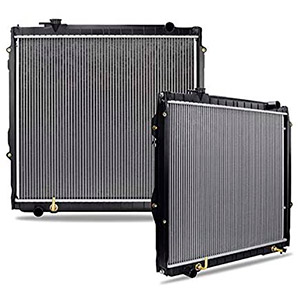 This company has a strong foothold on the market of radiators, and with R1755-AT, you'll get an all-around decent product. Thanks to the brazed aluminum core, it's significantly more efficient than the average third-party radiator. Besides, every single unit goes through a series of tough tests before leaving the factory. These tests ensure proper fitment, resistance to natural elements, and, above all, strong performance.
And if something does go wrong with Mishimoto, you can always take advantage of the lifetime warranty. Speaking of that, some buyers report issues with the transmission connectors. They aren't always tightly secured, which can lead to leaks. Make sure to check everything before starting the engine. This is a minor con, of course, but can still cause inconvenience.
Pros & Cons
Brazed aluminum core for extra efficiency
Rigorously tested before hitting the market
Covered by a generous lifetime warranty
Faulty transmission connectors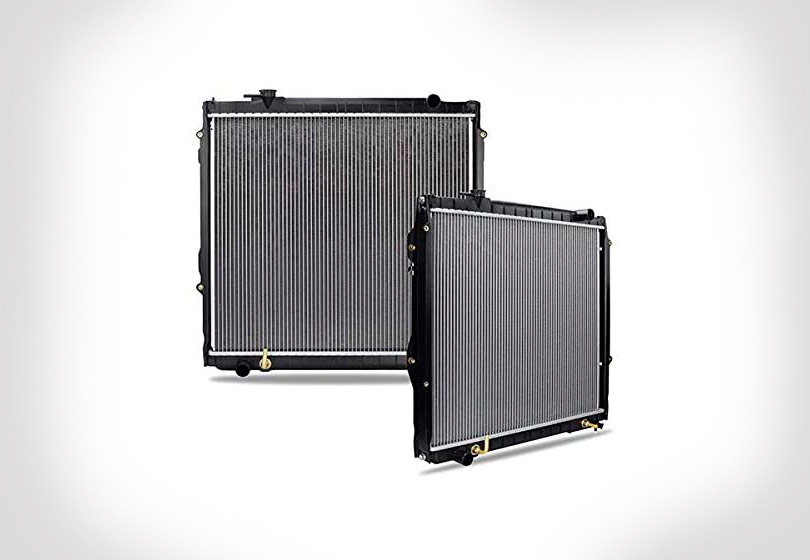 Are you in the market for a reliable, efficient, and easy-to-install radiator? If the answer is yes, Mishimoto has got you covered. The brazed aluminum core, generous warranty, and OEM, bolt-on installation turn it into a must-have. Just don't forget to tighten the transmission fluid lines!
Best Radiator for Toyota Tundra Review
Tundra is Tacoma's "elder brother": it's a full-size pickup truck and has a significantly more powerful engine. Therefore, if you want to keep the motor from overheating, it might be wise to invest in a brand-new radiator. The best thing about this – you won't have to spend big bucks on this upgrade. Which brand has the Best Radiator for Toyota Tundra, though?
Join me, and let us check out my top-three rads. Keep in mind: they fit different generations/model years and fall into different price categories. So, make sure you've got the right pick for your Tundra before making an order!
1. AUTOSAVER88 ATRD1058 – Best Radiator for 2006 Toyota Tundra 4.7L V8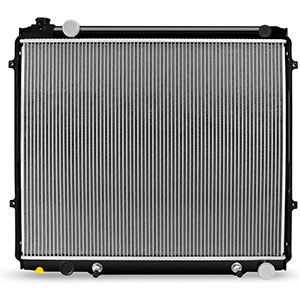 As mentioned, Tundra is a lot more demanding of the radiator, as it's bigger, stronger, and needs the cooling system to be effective. So, can Autosaver88 keep the engine nice and cool? The answer is yes, it most definitely can handle all the extra pressure. It comes packed with high-density fins (multi-louvered) that are incredibly efficient at heat dissipation. Along with that, it boasts advanced anti-corrosion and anti-leak resistance.
It won't crack or break even in the most challenging situations. If you're driving an older-generation Tundra (a 2000-2006 model), ATRD1058 will fit it perfectly. The only downside has to do with quality control issues. Sometimes, the package arrives all bent and dented. In other cases, the company sends the wrong radiator. This only happens to a small percentage of customers, of course.
Pros & Cons
High-density multi-louvered fins for better cooling
Strong resistance against rust and leaks
Easily fits older-generation Tundras
Minor issues with quality control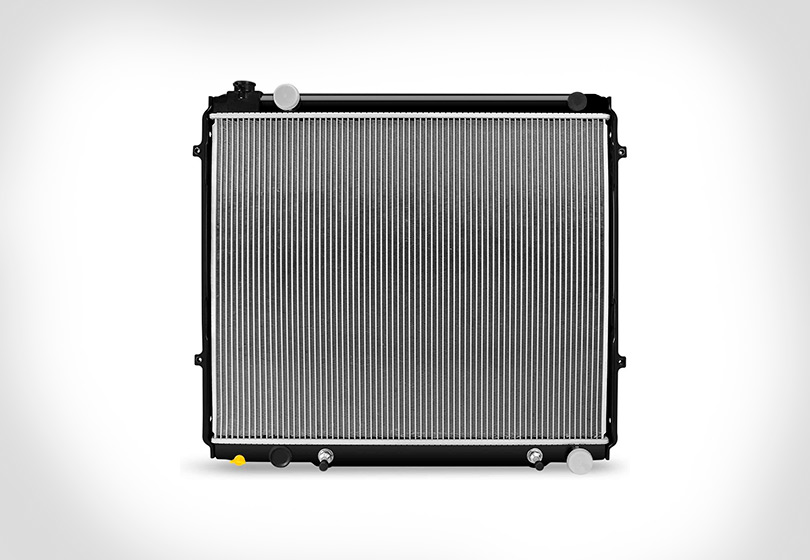 Despite the QC issues, Autosaver88 is a radiator that you can trust. Designed with the 4.7-lit V8 engine in mind, it delivers superb performance and keeps the motor from overheating. The premium-quality fins, anti-rust/leak protection, and easy fitment make it an even better pick.
2. TYC – 2994 – Best Radiator for Tundra 5.7L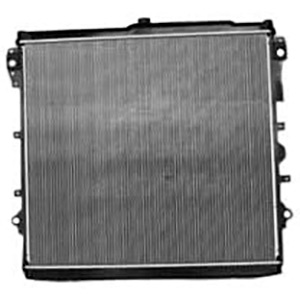 Aluminum construction, plastic tanks, and decent resistance to elements – you'll get all that with TYC. However, those are not its biggest selling points. It boasts an OE design that makes the installation process a walk in the park. It will take you less than an hour with a basic toolset. Next, delivery across the US is fast and charge-free. Except for some rare cases, the product arrives in a perfect shape.
A standard, 12-months warranty will be a part of the deal as well. It's worth mentioning, though, that not all TYC radiators are built in the States. The company has lots of manufacturing facilities in Asia and Europe, which allows cutting the production cost. Quality control and assurance meet the highest standards; so, there shouldn't be any issues upon arrival.
Pros & Cons
OE-design for quick, hassle-free installation
Fast delivery across the United States
Standard one-year limited warranty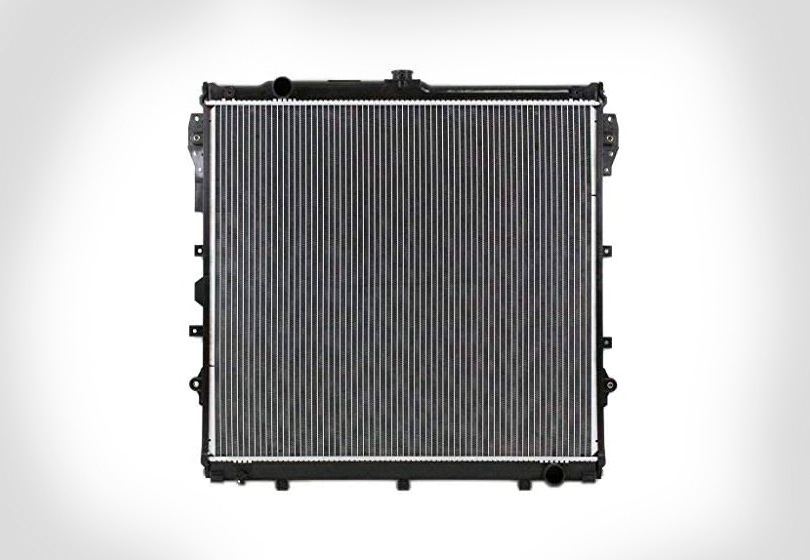 Fast, simple installation, swift delivery to all 50 states, and a limited warranty turn TYC into a must-have. This isn't necessarily a US-built radiator, however. For some Tundra drivers, that's a major turn-off. But, if this isn't a big deal for you, 2994 will be a worthy investment.
3. Mishimoto MMRAD-TUN-00 – Best Performance Aluminum Radiator for Tundra 2002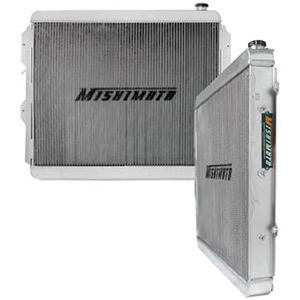 MMRAD-TUN-00 is the most expensive unit on the list – it's actually two-three times pricier than the market average. So, is it even worth the high cost, or not? Well, it doesn't have any cons (except for the price tag, of course). As for the pros, this is a TIG-welded aluminum radiator with premium engineering and material quality. It can last for up to a decade and deliver steady performance, unlike most aftermarket rads.
The cooling capacity and efficiency are significantly higher than that of a factory unit (up to 30%). Last, but not least, Mishimoto includes a radiator cap and a drain plug to make it even more effective at cooling the Tundra motor. The plug gets rid of tiny metallic particles, while the cap boosts the coolant's boiling point.
Pros & Cons
Impressive cooling efficiency and capacity
Impeccable material + build quality
Packs a drain plug and a rad cap
Expensive, compared to the market average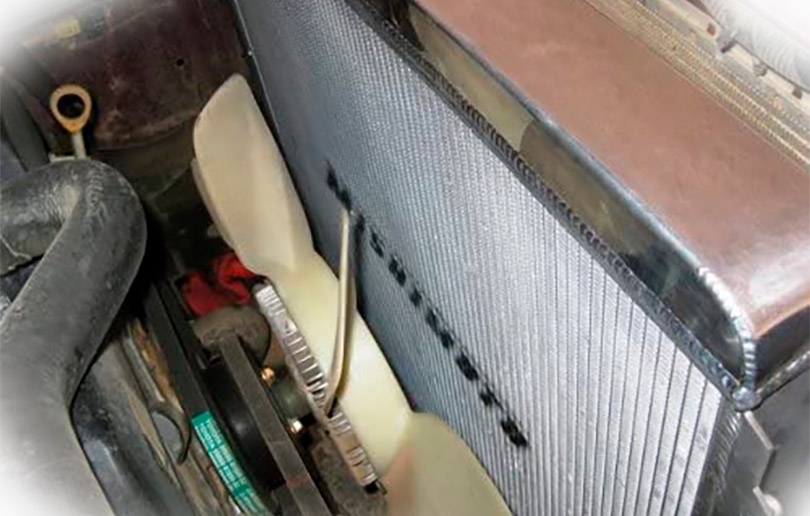 Mishimoto is a near-perfect radiator with only one downside: a steep price. But, that's well-compensated by the superb build/material quality, impressive efficiency/capacity, and lots of extras, including a radiator cap and a drain plug. In the long run, this unit will be a great investment.
Best Radiator for Toyota 4Runner Review
Alright, with the trucks out of the way, let's focus on the 4Runner. It's a rather compact, capable, and flexible mid-size SUV with impressive off-roading performance. In contrast to most rivals, it's got pretty decent air intake, exhaust, and cooling systems. Still, if you want to avoid potential issues with the motor, consider investing in a premium-quality radiator.
This time around, we've got five units instead of three. They're all equally worth your attention and have their own pros and cons. Alright, here are the candidates for the title of Best Radiator for Toyota 4Runner.

1. Sunbelt SBR1998 – Best Radiator For Toyota 4Runner 1998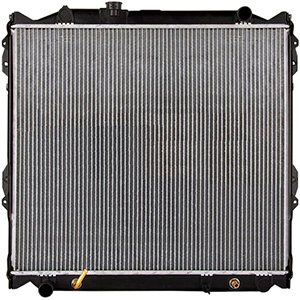 Are you the proud owner of a 96-02 4Runner? And is it time to replace the restrictive, limited radiator with a decent-quality aftermarket unit? Then you might want to put Sunbelt on the list of must-haves. It features an OE design that makes the installation/mounting process very simple. You just "drop" the radiator into the factory spot, get it connected, and that's it!
Another standout feature is the fast delivery. They actually claim same-day shipping (Mondays through Fridays), which is very convenient, especially if you need a new rad as soon as possible. Add a lifetime warranty, and you'll see why SBR1998 is worth our attention. It only fits a narrow list of 4Runners, though, but that's the only (minor) downside.
Pros & Cons
OE-compatible design for drop-in fitment
Same-day shipping on business days
Protected by a lifetime warranty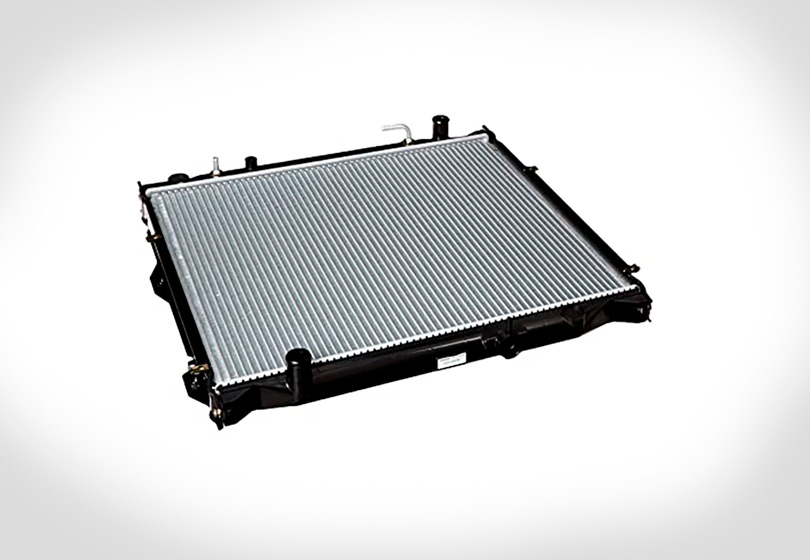 Sunbelt's radiator is a sure pick for the drivers of older-gen 4Runner SUVs. Perfect fitment, a quick installation routine, and same-day shipping/delivery turn it into a bargain. And, while compatibility is limited, the lifetime warranty should give you peace of mind.
2. AUTOSAVER88 ATRD1065 – Best Radiator 2009 Toyota 4Runner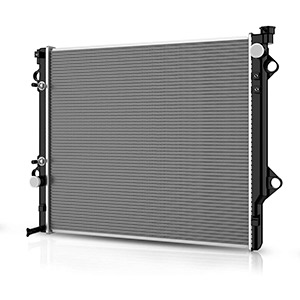 What can you expect from this third-party radiator? Will it be a reliable replacement for the stock gear? The quick answer – yes, it's a worthy investment. Autosaver88 features premium aluminum tubes and fins. Together, they do an excellent job of keeping the engine cool. The heat dissipation system is, indeed, quite impressive.
Along with that, ATRD1065 is 100% leak-resistant and very strong against rust/corrosion. Sadly, while the installation process is mostly straightforward, it might take quite a while, depending on the make, model, and year of your 4Runner. On the bright side, the radiator arrives in a safe, protective box that eliminates the chance of damage to the tanks, fins, and the main body.
Pros & Cons
Aluminum tube and fins – highly durable
Leak-, rust-, and heat-resistant design
Arrives in a protective package
Might take a while to install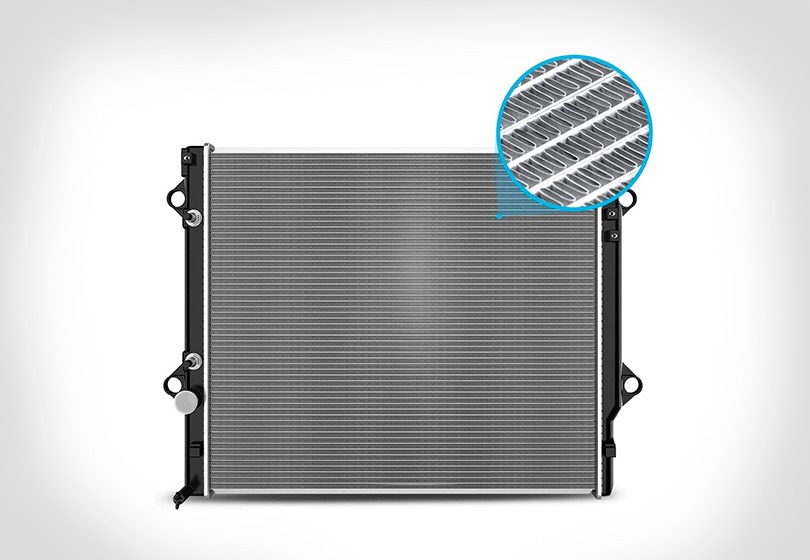 For the 4Runner, Autosaver88 is a no-brainer. In contrast to the factory system, it is crafted from aluminum and is practically immune to rust and leaks. Add protective packaging, and you'll see why it's a 4Runner favorite.
3. Denso 221-0508 – Best Replacement Radiator for Toyota 4Runner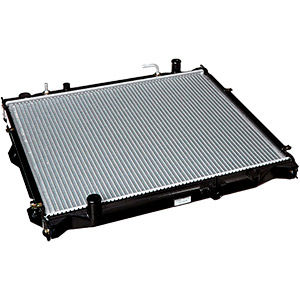 The twin-tube construction is arguably this radiator's biggest selling point. It boosts the cooling efficiency and helps both the engine and the entire cooling system last longer and perform better. The superior fin waves make the heat dissipation system even more effective, especially compared to a clogged, outdated factory radiator. Denso is available in different styles/designs, by the way, and can be both down- or cross-flow.
Sadly, quality control tends to be a problem. I'm talking about poor packaging, broken overflow spouts, and crooked ends. So, make sure the radiator is crafted in the States. If it's China-made, you'll probably have to deal with quality assurance issues. Other than that, Denso is a solid unit.
Pros & Cons
Superior fin waves for efficient heat dissipation
Thin-tube design: lightweight, yet durable
Available in different configurations
Lack of quality assurance/control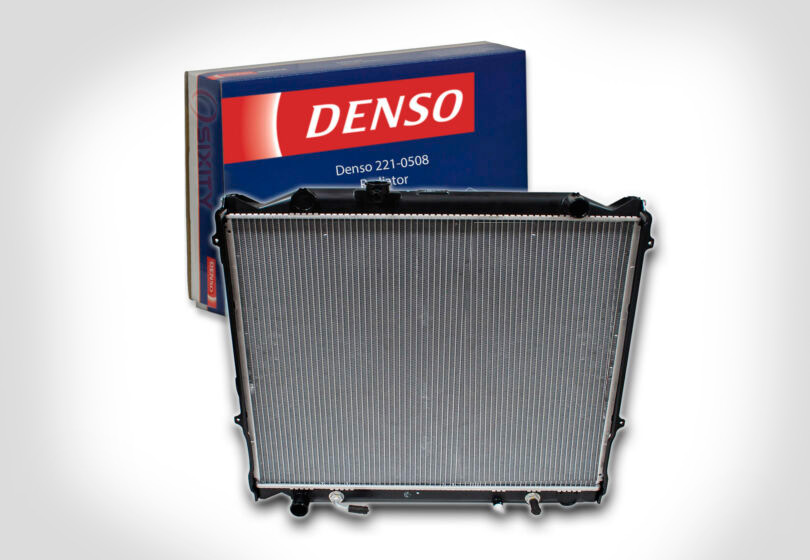 Despite the frustrating issues with QA and QC, Denso can be a bargain for a 4Runner driver. It's reasonably priced and boasts a highly efficient twin-tube design with premium fins. Plus, you can choose between different variations, which is always a pro.
4. AutoShack RK1011 – Best Toyota 4Runner 2009 Radiator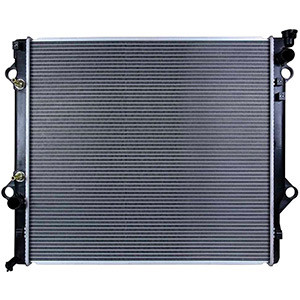 In many ways, for a 2007-2014 4Runner, AutoShack is a must-have. First of all, this is the most affordable radiator on the list. You won't have to drive around with the faulty stock rad for an extra month or two before you save enough for a new unit. RK1011 is significantly cheaper than the market average and carries an excellent value. Now, for a low-cost product like this, the engineering and material quality is quite good.
Do keep in mind, however, that you won't get installation hardware with this radiator – keep the factory nuts and bolts around! Depending on the 4Runner model, they'll fit RK1011 easily. Oh, and if something goes wrong, don't hesitate to take advantage of the six-month warranty.
Pros & Cons
Excellent build and material quality for the price
One of the cheapest options for the 4Runner
Covered by a six-month warranty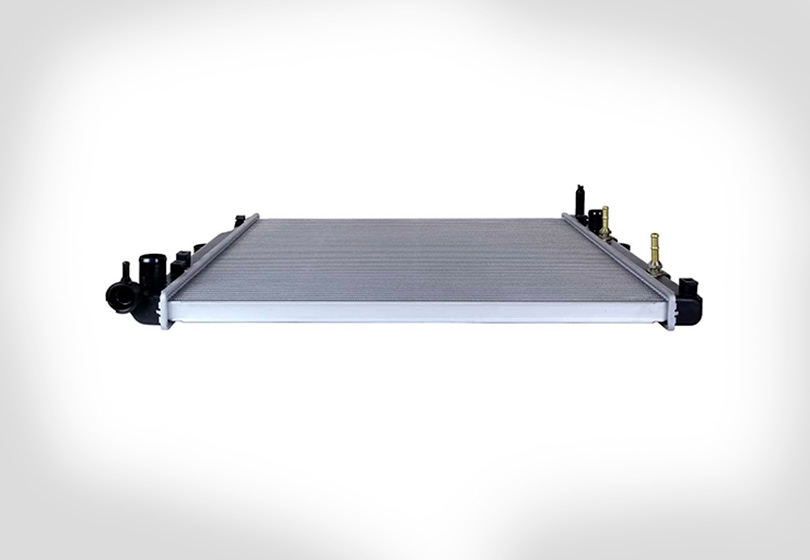 With AutoShack, you'll get all-around decent performance at a very affordable price, and that's its biggest selling point. And while the package doesn't include any hardware for proper installation, you will get a six-month warranty.
5. TYC 2580 – Best 1-Row Radiator for 4Runner
Finishing up with the list, let's take a quick look at TYC and the 2580 radiator. Designed and manufactured to handle over-the-top temperatures, it will be a great purchase if you do lots of off-roading and put the cooling system to the test. This radiator is brazed with the industry-standard Nocolok furnace process for maximum efficiency. The aluminum coating, in turn, protects against rust/corrosion and increases the lifespan.
And what about the downsides – are there any significant cons? This is a Taiwan-made radiator, not a US product. Like we discussed earlier, for some people, this is a big disadvantage while others don't give it much thought. What's more important is that deliveries might not always be on time. Other than that, this rad is a keeper.
Pros & Cons
Aluminum-treated coating for extra protection
Nocolok furnace process-brazed design
Easily handles temperature extremes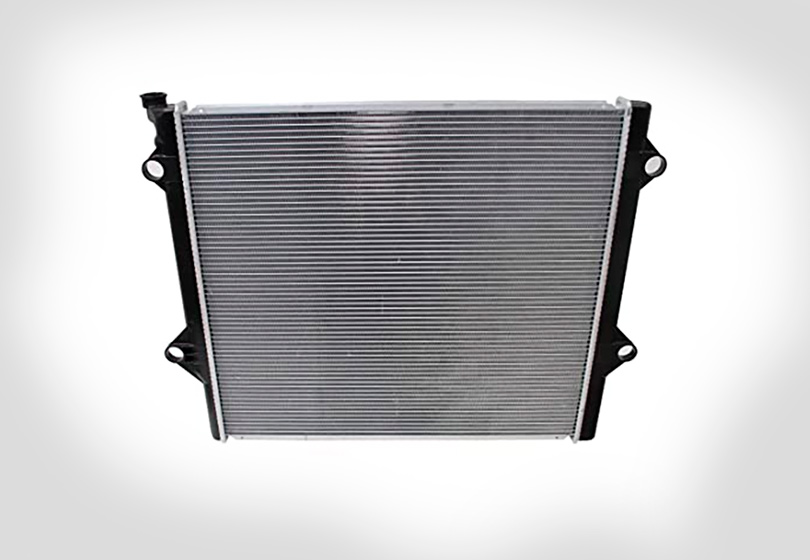 A long list of pros and one minor con – that's the best way to describe TYC 2580. This radiator is aluminum-coated, Nocolok-brazed, and isn't "afraid" of extreme heat. It's a Taiwan-made unit, but that's not a very significant downside.
How much is a Radiator for a Toyota Tacoma?
This largely depends on how much money you're ready to spend on it because the price range for this gear is quite large. But, to put things into perspective, let's take a look at what we can get with different budgets. So, entry-level radiators cost as little as 80-90 US dollars. For that kind of money, you'll get decent material + engineering quality (probably aluminum/copper and plastic) and overall solid performance.
Even if you're struggling a bit with your finances, <$100 shouldn't leave your wallet empty. Now, the 100-150-bucks range is when things get a lot more interesting. Here, you can expect an all-aluminum body, a large surface area, and extended coolant capacity. If you want rad caps, drain plugs, and a warranty, be ready to pay up to $200-300. Anything that costs more probably isn't worth the money (but there are some exceptions).
What Coolant does Toyota use?
You might think that there are some specific brands that fit Toyota vehicles best, but that's not really true. It all comes down to finding coolant that meets the requirements of any modern-day truck or SUV. The antifreeze needs to be resistant to rust/corrosion and flow easily through the tubes. Clogging is arguably the biggest enemy of any liquid; so, make sure the product includes particles that prevent that from happening.
I also go for silicate- and nitrite-free coolants as they last longer and don't have any negative effects on the engine or the cooling system components. If you still want to go with a certain brand, I'd recommend Toyota's original formulas. While the price might be a bit expensive, this company's 50/50 Pink antifreeze is pretty great (Red is also a decent pick).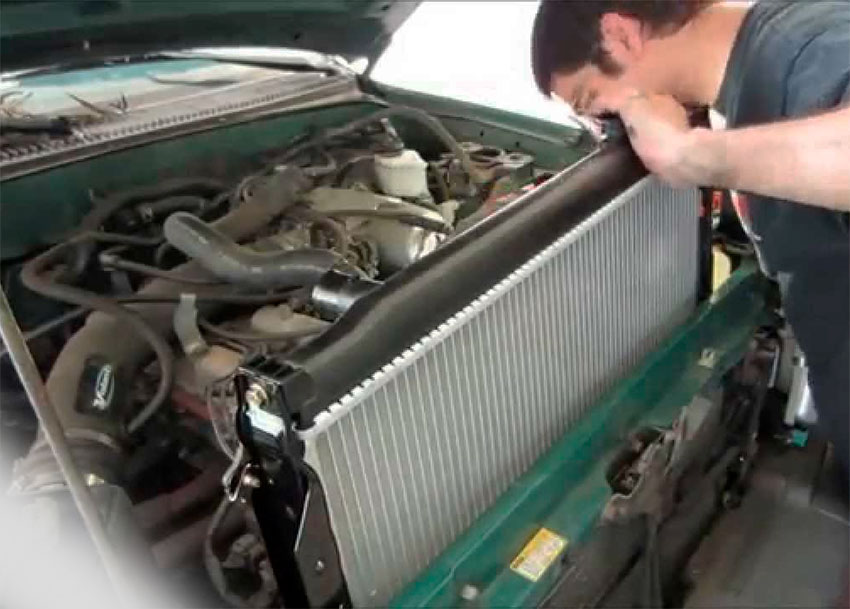 How do you Burp a Toyota 4Runner Radiator?
Don't worry: there's nothing hard about this and you won't have to hire a mechanic to handle the burping. Another term for this is "bleeding", and that's when you get rid of the air that's mixed in with the coolant. It prevents the fluid to flow freely and can (potentially) lead to overheating. Alright, here's how it's done:
• Turn the engine off and give it some time to cool off
• Pop the hood, locate the radiator, and open the cap
• Go back into the cabin, start the motor, and turn up the heat
• This way, the coolant will move much faster and "detach" from the air pockets
• Go up to 2K RPMs and hold for 15-20 seconds; repeat the process twice or thrice
• Find the upper hose and squeeze it
• Make sure you grab it at least 10 inches away from the cap
• Squeeze it a couple of times to get rid of the remaining air
That's it! Don't forget to top the coolant off after each squeeze for the best results.
Buyer's Guide
Cross-flow, or down-flow? Cellular, or tubular? Aluminum or plastic? One row, or two? If you know the answers to these questions, just skip this guide and move on. And if not, join me, and let's see what sets an average-at-best radiator from a market-leader and crowd-pleaser!
#1: Tank Placement
We just talked about down- and cross-flow designs; well, this refers to radiator tank placement. If it's a down-flow rad, the tanks will be mounted at the top and the bottom of the main body. These radiators have been around for quite some time and won't be a problem to install on an older-generation vehicle. Thanks to a more flexible design (usually quite thin), the mounting process is, indeed, very easy.

In contrast, cross-flow radiators are wider + shorter. But, they deliver great performance on newer 4Runners and are significantly better at cooling the engine. With cross-flow units, the tanks are found on the left and right corners. So, if you own an older SUV, a down-flow rad will be right up your alley; on a current-gen vehicle, though, cross-flow is the way to go.
#2: The Core and the Tubes
Now let's compare tubular to cellular. If the radiator features a tubular design, the liquid runs through the tanks that are connected to the tubes. The fins, in turn, make the flow stronger. However, when one of the multiple tubes starts to malfunction, that has an immediate negative effect on the entire system. That won't happen with a cellular radiator, which is why it's a more preferable option.
#3: Finding the Right Material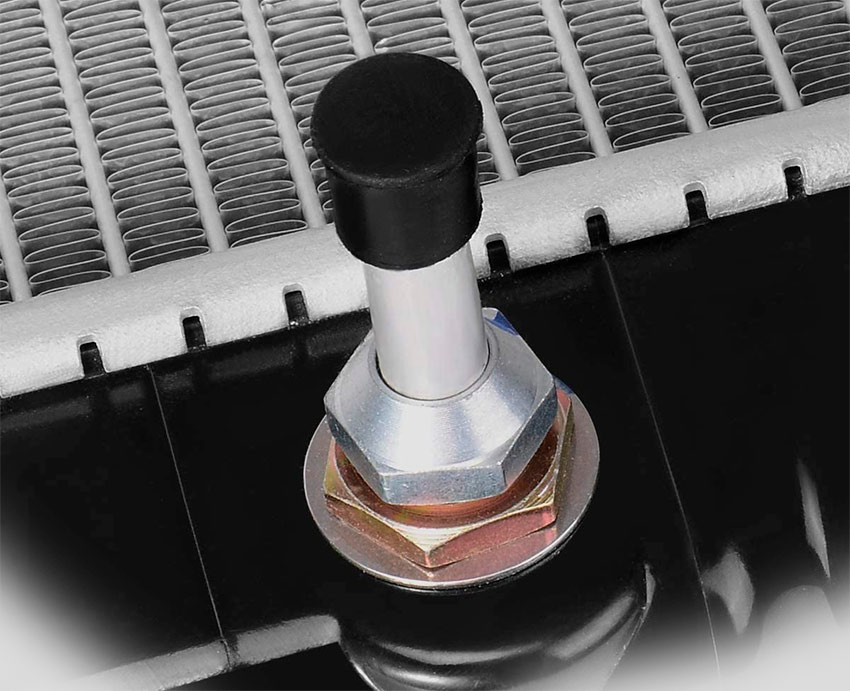 Unless you're going for a really cheap radiator, you'll probably get a combination of an aluminum core and plastic tanks. This has proven to be quite a reliable and efficient setup. Sometimes, the core is built from copper/alloy, but that's a bit less effective solution. On the other hand, all-aluminum radiators are on top of the "food chain" and boast an extended lifespan and higher heat resistance. On the downside, they cost a bit more.
#4: Rows and Fans
My advice to you – always go with electric fans. In contrast to mechanical units that need 20 horsepower to work, they aren't power-hungry and run on 2-3HP. Besides, electric fans are cheap, easier to find at a local/online store, and generally take less effort to install. As for the rows, some radiators only have one row of tubes, while others feature up to four. But, more doesn't always mean better.
Conclusion
Alright, there you have it – the finest aftermarket radiators for Toyota's best-selling nameplates. Today, we checked out eleven all-around solid rads. So, you won't have a hard time finding a perfect fit for your truck or SUV. These brands have been around for decades and know exactly how to appeal to the average American driver. Pay extra attention to the pros and cons of each unit.
This info will help make an educated choice. In the FAQ, we discussed the best coolant for Toyota vehicles, quick burping techniques, and the average price on a decent-quality radiator. And in the Buyer's Guide, we learned about the key factors that turn a so-so product into a market leader. If you still go some questions left, don't hesitate to reach out to me in the comments!