You can never overestimate the importance of a radiator in a modern-day vehicle. Without it, the engine will overheat in the blink of an eye. As for the Cummins motors, they're quite powerful and well-suited not only for regular driving but also for racing and off-roading. However, that also means they rely heavily on the cooling system to keep the temps within operational levels. Sadly, the factory rads aren't very impressive.
Their efficiency is average at best, and they don't last that long. On the bright side, with the Best Cummins radiator, you'll greatly improve the cooling efficiency and protect the engine from premature breakdown. The following list includes five market-leading radiators. They boast premium build quality, extended capacity, easy fitment, and, above all, reliable performance. Let's take a closer look!
Best Cummins Radiator Review
1. Mishimoto – Best 3rd Gen Cummins Radiator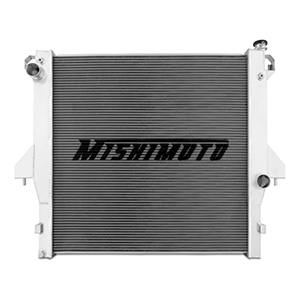 If this is your first time buying an aftermarket radiator and you're looking for a "safe bet", Mishimoto might have the perfect deal. First of all, RAM-03 is very easy to install manually with a regular set of garage tools. Just follow the instructions, and you'll be done in no time. Secondly, the company backs its product with a lifetime warranty – that should give you peace of mind in the long run.
On top of that, with this radiator, you'll get a high-pressure cap. It does a great job of upping the liquid's boiling point, making the cooling system more efficient and reliable. The magnetic drain plug, in turn, protects the motor from tiny metallic particles. What I didn't like about this otherwise excellent unit was the price. Mishimoto isn't particularly cheap; yet, it will be worth every single penny if you take lots of off-roading trips.
Pros & Cons
Fast, straightforward installation with a basic toolset
Magnetic drain plug + high-pressure cap included
Covered by Mishimoto's lifetime warranty
Slightly on the expensive side

As far as the best third-party radiators for the 3rd-gen Cummins engines go, Mishimoto's RAM-03 is definitely in the top-3. It takes little time/effort to install, includes lots of "extras" (a cap and a drain plug), and is protected by a generous lifetime guarantee. It's a bit expensive, though.
2. Cooling Care – Best Radiator for 1st Gen Cummins 5.9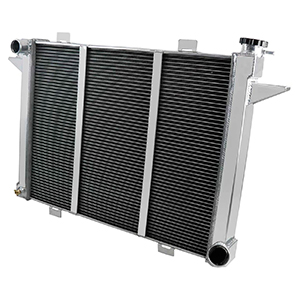 With radiators, one of the most important factors is consistency. You want a unit that delivers steady cooling in demanding situations. That's exactly what Cooling Care delivers. Thanks to the rigorous factory tests and inspections, they provide lasting performance for the older-generation Cummins motors. Another pro is the coolant capacity: it's 25% higher than with the stock rads, and that's a pretty big boost.
And let's not forget about the design. Cooling Care is a three-row radiator, one that was specifically designed with off-roading, racing, and towing/hauling in mind. Therefore, if you're planning on pushing your truck/SUV to the limit, this could be a reasonable pick. On the downside, this radiator only fits a pretty narrow list of vehicles. So, make sure it's 100% compatible with your ride before making an order!
Pros & Cons
Severely tested to guarantee reliable performance
Above-average rad coolant capacity (+25%)
Three-row design for extra efficiency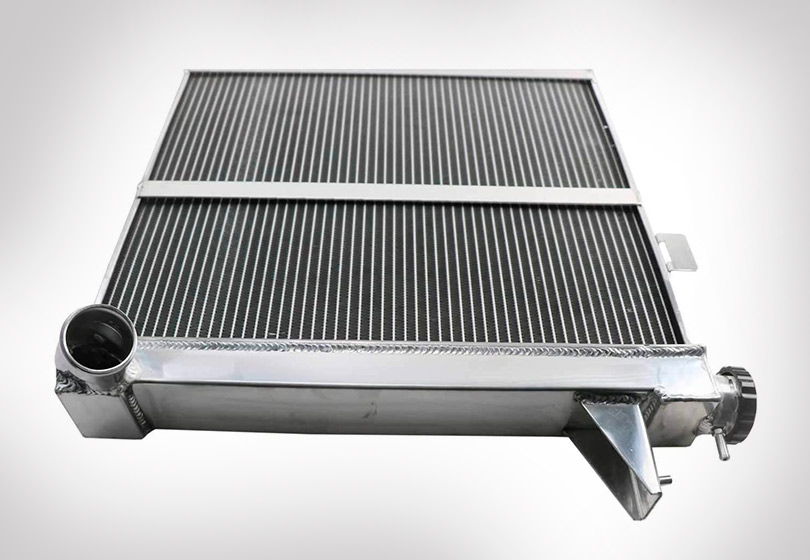 Cooling Care is one of those can't-go-wrong-with radiators and boasts above-average performance, durability, and a 25% increase in coolant capacity. As a three-row unit, it's highly capable of keeping the motor going no matter how much pressure you put on the cooling system.
3. Prime Cooling – Best Cummins 6.7 Radiator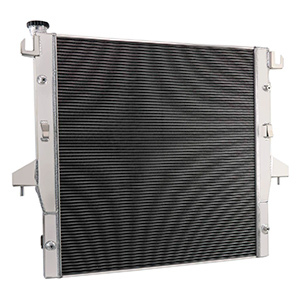 Folks that drive vehicles powered by the mighty 6.7-lit Cummins motor might want to pay extra attention to Prime Cooling. This is a precision-engineered, dual-core radiator that fits the factory mounting spots like a glove and instantly provides a significant boost to the cooling system. In addition, it is pretty lightweight, which, again, means OEM fitment. However, the included overflow hoses (or, rather, the fittings) are a bit too small.
So, you might want to order an aftermarket set online (it will only cost +/- $10). On the bright side, Prime Cooling's engineering quality is top-notch – it was built to last. Add an enhanced cooling surface area (for more efficient heat dissipation), and you'll see why this radiator deserves a spot on the list. For the average off-roading fan, it's exactly what the doc ordered.
Pros & Cons
Extended surface area for max heat dissipation
Precision-engineered, lightweight design
Impressive build + material quality
Poor-quality overflow hoses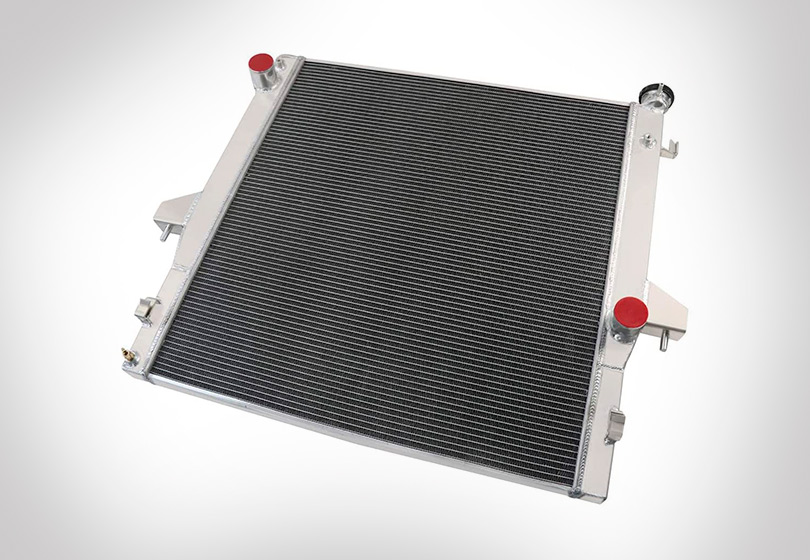 Superb build/material quality, precision engineering, and a tube fin design with an increased surface area – that's the Prime Cooling radiator in a nutshell. It's reasonably-priced, TIG-welded, and will ensure a longer lifespan for the legendary 6.7-lit Cummins V8 engine.
4. OzCoolingParts – Best Replacement Radiator for Dodge Cummins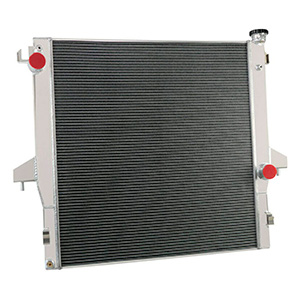 Next, up, we've got the most effective radiator on the list. Yes, OzCoolingParts features a high-performance design that allows it to improve cooling efficiency by up to 45%. That's a pretty impressive gain by any standard. So, you can stop worrying about engine overheating or premature failure. CE-approved, leading-edge engineering will be a part of the deal as well. And what about the warranty deal?
OzCoolingParts includes a 30-day refund and a satisfaction guarantee with this radiator. That should be more than enough time to detect potential defects/fitment issues and send the unit back. Shipment within the country is pretty fast, by the way, and you won't have to wait for long before the delivery arrives. The installation process might take a while, however. This rad is a bit bulky and will require some DIY skills to fit with the factory fan shroud.
Pros & Cons
Up to 35-45% more efficient compared to stock gear
Backed by a risk-free satisfaction guarantee/refund
Quick shipment/delivery within the United States
Might be a bit tricky to install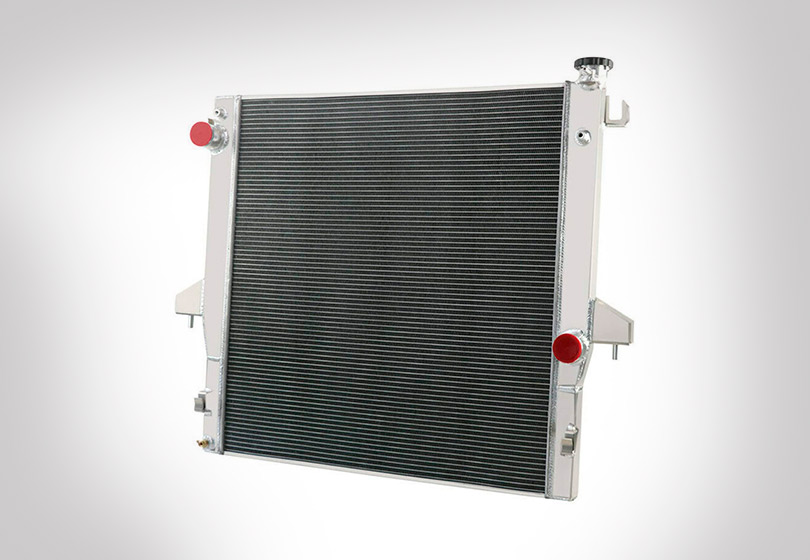 Despite the minor issues with the installation, OzCoolingParts is a crowd-pleaser. It is protected by a refund policy/risk-free guarantee. Plus, the company ensures fast shipment. More importantly, this radiator provides a 35-45% boost to cooling efficiency, which makes it a worthy pick.
5. Evan Fisher – Best Radiator for 2003-2009 Dodge Cummins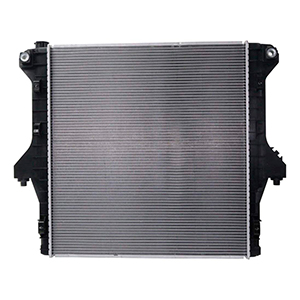 This right here is one of the most flexible and versatile radiators out there. It fits a long list of vehicles with the Cummins engine under the hood. If you drive a 2003-2009 truck or SUV, it will take zero effort to replace the restrictive factory radiator with this part. I also want to mention the client-oriented, fast, and friendly customer support. If you're not 100% sure about compatibility (or anything else), don't hesitate to reach out.
Now, as for the biggest selling point, Evan Fisher is available at a very attractive price, compared to the market average. It's a one-row radiator that has proven to be efficient and capable in the toughest conditions. At the same time, it is made in China, which can be a con for some drivers. However, it doesn't fall behind the more expensive US counterparts in terms of performance and reliability.
Pros & Cons
Fits a long list of Cummins-powered trucks/SUVs
Excellent customer support: fast and helpful
The most affordable radiator on the list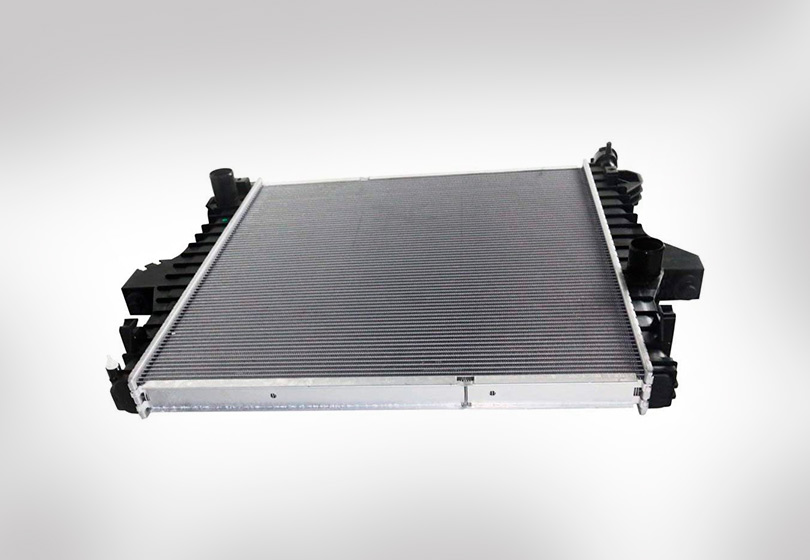 If you have a limited budget, but still want to get an all-around solid radiator, Evan Fisher has got your back. This radiator is, indeed, pretty cheap, but won't disappoint you on the next off-roading trip. Strong client support and enhanced compatibility are a part of the deal as well.
Can I Replace the Radiator on my Own?
Yes, you very much can. This isn't rocket science: as long as you've got detailed installation instructions, the replacement process shouldn't take much effort. Or, you can watch a YouTube video and use it as a guide. The most important thing here is to make sure the aftermarket radiator is 100% compatible with your vehicle. If it's not, you'll have a hard time making it fit – even some DIY cutting, trimming, and bending won't work.
Now, do keep in mind that replacing a radiator can take a while (up to 3-4 hours). Yes, it's a slow routine, but doesn't involve any "pitfalls". Start by draining the old radiator of the coolant. Next, use a screwdriver + wrench combination to detach the rad from the factory mounting spot. Carefully remove the unit and put it to the side. To install the new one, repeat every single step, but in reverse order (install it, secure using the hardware, and add fresh antifreeze).
Flushing a Cummins Engine Radiator: Step-by-Step Guide
No matter how expensive and premium-quality the coolant is, over time, it will be taken over by dirt, rust, sludge, and other deposits. Eventually, that can lead to engine overheating. To avoid that, you gotta perform regular flushing. The first thing to do is turn the engine off and let it cool down. Next, use a jack + stands to raise the vehicle. Take a close look at the rad's fins and remove any grime/dirt that you might find.
Ok, place a bucket/drainage pan right under the radiator's valve to collect the flushed antifreeze. Do you see a plastic cover on the valve? Go ahead and remove it. Now just remove the petcock and let the fluid drain. On average, this procedure gets rid of half of the stock coolant. To get rid of the sludge, pour in a mixture of water, coolant, and detergent. Start the vehicle and run it for 10-15 minutes to let the fluid circulate properly.
Again, let the motor cool down and drain the fluid. For the best results, repeat the process two to three times. Finishing up, add a 50/50 antifreeze + water mix to the motor, and that's it!
Is a 3-Row Radiator better than a 2-Row Unit?
In many ways, yes, it is, because the extra row of tubes increases the radiator's cooling capacity and efficiency. So, generally speaking, the more rows, the better job the unit will do at keeping the engine temps within operational levels. However, it's pretty common for engineers to only add one or two rows of tubes, but use larger tubes instead. This has the same effect and makes the rad smaller (easier to fit in tough spots).
That's right: bigger tubes are pretty great at dissipating heat (thanks to the larger-than-average surface area). Besides, if the radiator is made of brass or copper, the rear tubes will be less efficient at cooling the antifreeze. With aluminum, that's not such a big problem, but it's still something to consider. Summing up, it's all about the cooling capacity, not how many rows the radiator has.
How often should the Radiator Fluid be changed?
As mentioned earlier, contaminants have a huge negative effect on performance. We already learned how to properly flush a radiator. Now let's talk about official recommendations on fluid change – how often should it be replaced for maximum efficiency. Most manufacturers/brands claim you should change the antifreeze every 2-3 years. That equals 24-36K miles, depending on your driving style. If you are specifically looking for recommendations for diesel engines, the best antifreeze for Cummins diesel may have different guidelines for replacement, so always consult the manufacturer's instructions.
You could, of course, last on the same fluid for four, or even five years, but that can lead to sludge and deposit build-up. And one more thing: if you're driving a brand-new car, and this is your first coolant change, you should perform it after 60K miles; after that, 30K miles will be the "golden standard" for all consecutive changes.
Buyer's Guide
Alright, with the FAQ out of the way, it's time to talk about what sets a poor-quality radiator from a premium-quality product. We'll cover tubular vs. cellular rads, build quality, and different radiator designs. This will only take two minutes, but you'll learn your way around the topic and be able to make the right choice.
#1: Tubular/Cellular Design
Radiators consist of cores, tubes, and fins. Plus, you've got the tanks, and in tubular rads, they're connected to the tubes. The fluid rushes through these tanks to ensure proper cooling. The fins maximize the speed of the flow because the faster the fluid runs, the more efficient it will be. There's a catch, though: in such a design, one faulty tube can significantly worsen the radiator's performance.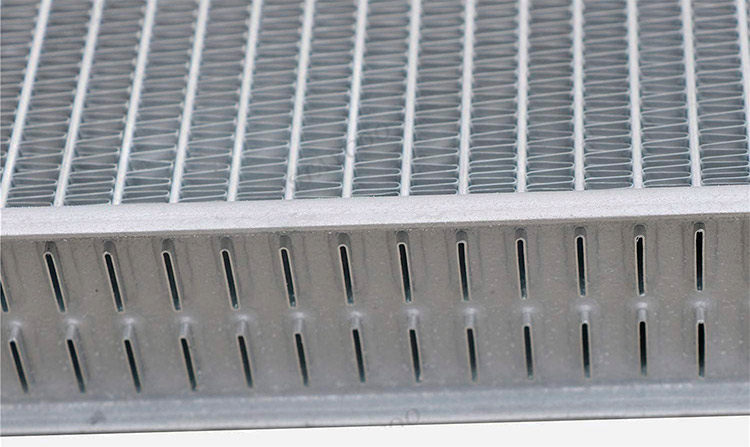 In contrast, cellular units keep their factory effectiveness even when a couple of tubes go bad. Clogging is very common among modern-day radiators, by the way, which is what makes the cellular design so much better than the tubular one. It usually costs a bit more, but in the long run, that will be a great investment.
#2: Cross-Flow vs. Down-Flow
Another thing to keep in mind is where the tanks are placed. Yes, that's an important factor, because it defines the flow of the antifreeze. Again, we can choose between two setups. If it's a down-flow radiator, the tanks will "sit" on top and at the bottom of the rad's core. This isn't a particularly new design and is considered a great pick for slightly outdated vehicles. The cooling efficiency isn't over the roof, but these units are cheap and easy to install.
In cross-flow radiators, you'll find the tanks in the top left and the bottom right corners of the main body/core. This concept has proven to be more effective and will be an ideal choice if you're driving a brand-new truck or SUV. The installation process can be slightly harder, but still doable with a basic skill set.
#3: Engineering/Material Quality
You won't get to enjoy the new radiator for long unless it's manufactured from premium-quality materials. The main body should be crafted from aluminum. Right now, it's the most reliable and efficient material for radiators. Stainless steel is an option as well, but it's not as lightweight, resistant, or flexible. As for the tanks, they're mostly built from plastic and deliver a steady performance.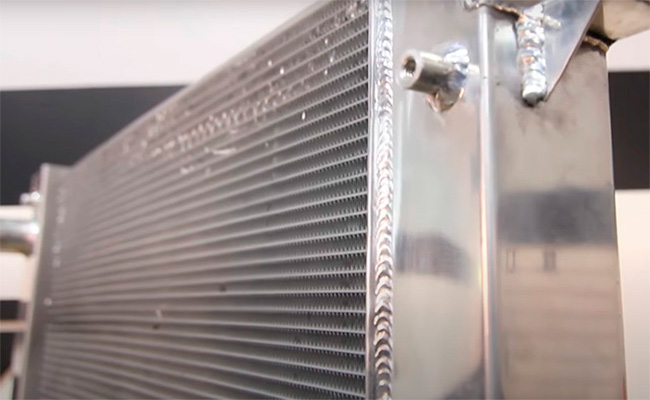 And if you see "TIG-welded" and "precision-engineered" in the specifications, that means two things. First, the radiator was manufactured using an advanced welding technique. As for the engineering part, it indicates that installation will be fast and simple, thanks to perfect fitment.
Conclusion
Alright, that's everything for today! The best thing about radiators – they're not at all complicated. While there are, indeed, lots of nuances (as we learned from the FAQ and the Buyer's Guide), essentially, it all comes down to easy fitment and efficiency. Now, I spent a little over a month testing dozens of high-rated and best-selling units until I made this list. So, I vouch for every single rad and believe they'll be a great investment.
The OzCoolingParts radiator has an impressive cooling efficiency and takes very little time to arrive at your doorstep. Cooling Care, in turn, boasts an above-average coolant capacity. With Mishimoto, you'll get lots of extras, while Evan-Fischer is available at a very affordable price. Last, but not least, Prime Cooling is incredibly durable and long-lasting. Take your pick!