If you're driving a current-gen F150, it probably has a pretty decent headlight set. However, no assembly is perfect: over time, it gets rusty and loses the factory brightness, not to mention the design is average-at-best. That's why third-party headlights are so popular among truck owners. They are relatively cheap and easy to install, upgrade the front fascia, and do a better job of lighting the way.
Today, our focus will be on finding the Best Headlights for Ford F150. We'll check out five top-of-the-class kits that have proven their worth and efficiency in real-world situations. And if you want to learn how to remove the stock headlights, install a new set, and choose the right bulbs for your truck, check out the FAQ and Buyer's Guide. Alright, let's get to it!
Best Headlights for Ford F150 Review
1. DNA MOTORING – Best Replacement Headlights for Ford F150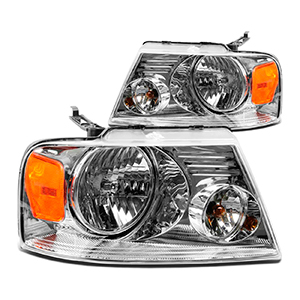 Let me guess: you want to get a new set of headlights for your truck, but you're worried it will be too expensive. Or, maybe you believe that the installation process will be too hard to pull off manually. Well, I'm happy to say that you won't have to worry about any of that with DNA Motoring. This is one of the cheapest kits on the market, and it takes little effort to mount and get connected.
Thanks to the OEM design, it's gonna be a bolt-on replacement with no cutting, drilling, or anything like that involved. DNA is a US-made assembly, by the way, and was specifically designed with the F150 in mind. There is one downside, however, and it has to do with the engineering quality. While the headlights are chrome-coated, resistance to weather elements and impact aren't particularly impressive.
Pros & Cons
Direct, bolt-on replacement: no drilling required
A good deal if you're on a tight budget
Designed and engineered in the US
Average-at-best build quality

DNA Motoring will be a great investment for F150 drivers on a somewhat limited budget. It is cheap, very easy to install on your own without any expensive tools, and is, overall, widely superior to the factory headlights. Protection against UV rays, rust, and water could've been better, though.
2. AmeriLite – Best LED Headlights for 2010 Ford F150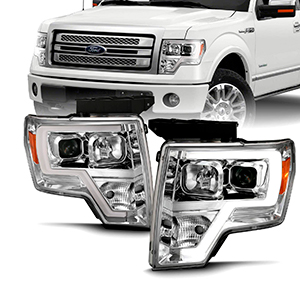 In contrast to the previous headlight set that's all about fast, straightforward installation, AmeriLite will probably be a bit of a challenge. But, this only applies to wiring, and there are plenty of videos on YouTube that will help you get everything connected. As for the pros, the assemblies arrive in protective packages and shipment usually takes 2-3 days, depending on the area that you live in.
Probably the biggest selling point of this product is the generous 30-day money-back guarantee. That means you can get a full refund within a month no matter what the issue is. It can be manufacturing defects, incompatibility, wrong hardware – you name it. Oh, and the AmeriLite headlights are very strong against the sun (UV rays). So, if you live somewhere in California or Arizona, this could be a perfect pick.
Pros & Cons
Market-leading protection against UV rays
Well-packaged + take little time to arrive
Backed by a 30-day refund policy/MBG
Might be a bit tricky to install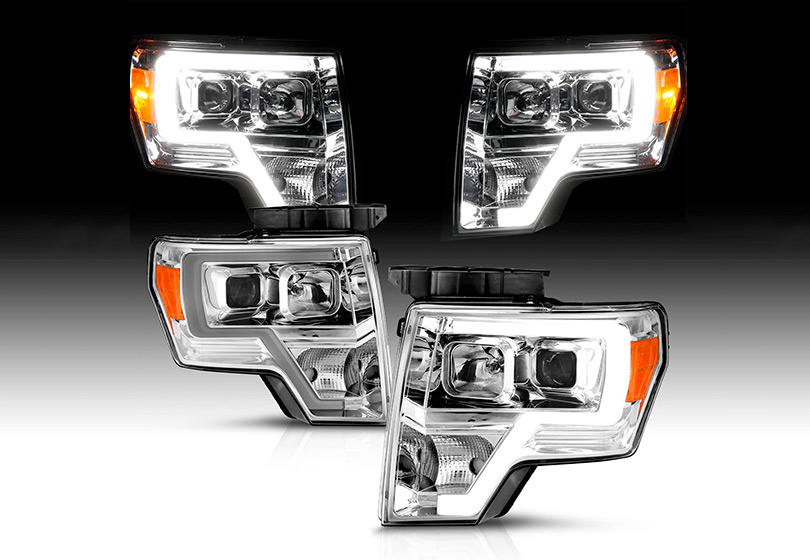 Safely packed, fast to arrive, and covered by a 30-day refund policy, the AmeriLite LED headlights are a no-brainer for the F150. They fit the 2009-2014 trucks and boast premium anti-UV coating - protection against the sun. As for the cons, connecting the lights might take you a while.
3. AKKON – Best LED Headlights for F150 2003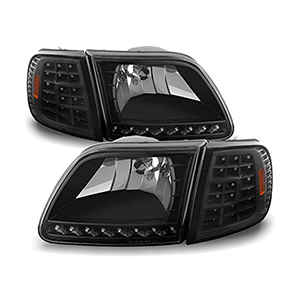 With headlights, you always gotta make sure they can "take a beating". Otherwise, if you hit the off-road every weekend or so, the assembly will (most likely) get lots of scratches and maybe even tiny cracks. The good news is – AKKON is well-protected against that, thanks to the top-quality engineering and decent housing. On top of that, it casts a bright and wide beam, which can't be said about the stock F150 headlights.
Another big pro is enhanced compatibility: this kit fits a pretty long list of heavy-duty Ford nameplates – trucks and SUVs. The only thing that I didn't like about this company was the return policy. While they do replace defective parts free of charge, you (the customer) will have to pay for the shipping. Furthermore, there are no installation instructions in the package. But, overall, this is still a reasonable investment.
Pros & Cons
Brick-strong construction + premium housing
Cast a bright, clear, and far-reaching beam
Fit a wide range of Ford trucks/SUVs
Return shipping cost not covered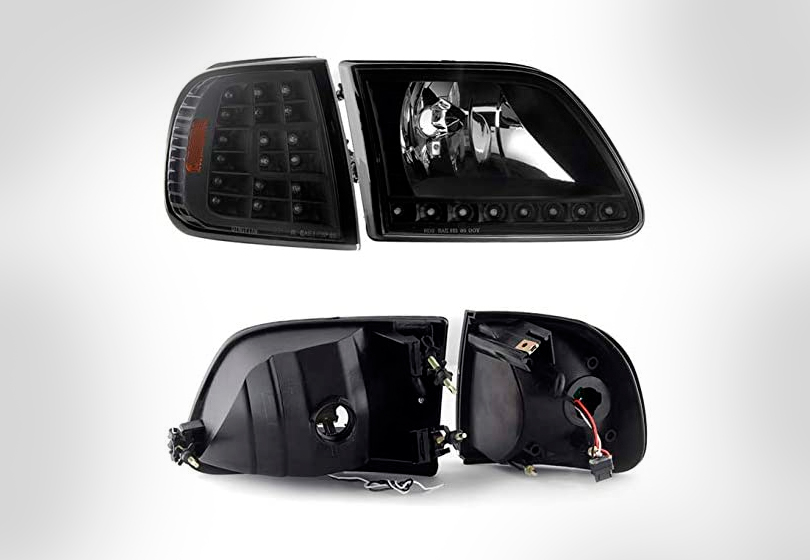 Fans of racing and off-roading should pay extra attention to AKKON. These headlights are crafted from durable, impact-resistant materials and fit a big line-up of vehicles. Do keep in mind, though, that return shipping costs are not covered, despite the friendly customer support.
4. SEALIGHT – Best LED Headlights Bulbs for F150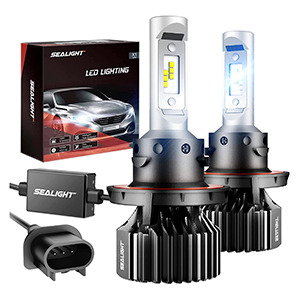 To switch things up a bit, let's check out a set of LED bulbs instead of assemblies. So, what can you expect to get with the Sealight kit – is it worth the price? Yes, it definitely is, thanks to a long list of benefits. First of all, these bulbs have an extended lifespan and will serve for up to 50K hours (that's ~6 years if you keep them turned on 24/7). Now, for LEDs, the heat dissipation system needs to be efficient.
Otherwise, they will end up overheating. Thankfully, Sealight's top-quality aluminum sink ensures strong thermal conductivity and keeps the bulbs nice and cool. There are no fans in the picture, by the way, and that's why you won't hear any noise whatsoever. I do have to mention, however, that some buyers complain about reversed polarity. This can be fixed by rotating the connector, of course, but it's a con nonetheless.
Pros & Cons
Silent, fan-less design with efficient heat dissipation
Aviation-grade aluminum sink for extra efficiency
Impressive lifespan: up to 50K hours

Although quality control can be a problem, Sealight is a bargain. Long-lasting illumination (50K hours), a superb cooling system, and silent performance – that's the best way to describe these LED bulbs. They fit 99% of vehicles and can be installed in 10/20 minutes.
5. VLAND – Best LED Headlights for 2020 Ford F150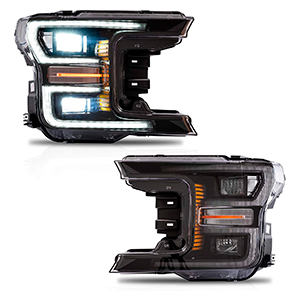 And here we have an all-in-one kind of headlight kit that includes not only the assemblies but also a pair of LEDs. That's right: you'll get a full replacement set, a great improvement over the factory lights. The overall design is pretty great and makes the F150 look beefed up and in-your-face. On top of that, it is 100% resistant to natural elements, including rust/corrosion, water/humidity, dust, and sand.
More importantly, VLAND meets and exceeds the most demanding quality and safety standards. I'm talking about DOT, SAE, and more. Add easy installation, premium-quality bulbs, and quick deliveries within the States, and you'll see why this product deserves a spot on the list. It's not very affordable but will be well worth it if you're serious about upgrading the F150 headlights.
Pros & Cons
Feature an aggressive, trendy, and eye-grabbing style
Exceed DOT, SAE, FMVSS, and other certifications
Strong resistance to water, dust, and corrosion
A bit expensive for the average driver

The VLAND kit is not at all cheap – that's its biggest downside. However, it compensates for that with a complete set (assembly, bulbs, and harness), superb anti-weather protection, and compliance with the toughest certifications. In many ways, these are the Best LED Headlights for Ford F150.
Choosing Best Headlight for F150: Detailed Guide
With headlights, you gotta always think not only about the assembly, but the lights/bulbs as well. I'm talking about the high and the low beams, of course. So, that begs a question: which bulbs are best suited for your truck? An F150 owner has a choice between three different bulbs. The list includes Halogens, HIDs, and LEDs. Here's a more detailed breakdown:
These bulbs have been around for many decades and are still a popular choice for modern-day vehicles. Halogens are incredibly cheap, and that's their biggest advantage over the competition. On the downside, while halogens are relatively bright, they're quite power-hungry and might overheat if the wires are old or not thick enough. Most F150 models are equipped with Halogens, by the way.

This is the next step in the evolution of electric bulbs. High-Intensity Discharge bulbs, AKA Xenon lights, are much better than the limited Halogens. They're brighter, cast a wider and farther-reaching beam, and aren't nearly as demanding of power/energy. Durability can be an issue, though; plus, you'll have to pay more to get a set of HID bulbs for your new headlights.

Last, but not least, we've got the Light Emitting Diodes. This forward-thinking technology has proven numerous times to be vastly superior to both Halogens and HIDs. Most importantly, LEDs have an impressive lifespan (50K hours compared to 2-3K hours with HIDs). In addition, they're smaller, brighter, and well-protected against elements. LEDs aren't cheap, however, and tend to overheat without proper cooling.
The biggest downside: LED bulbs consist of multiple tiny diodes. And, when one of those diodes starts to malfunction, fixing that will be a pretty big challenge. Still, LEDs are the obvious choice if you want the headlights to be nice and bright, cover lots of ground, and serve for many years (if not decades).
How do I Adjust the Headlights on my Ford F150?
Badly-adjusted headlights are a problem. They rob the bulbs of brightness, reach, and cast the beam at the wrong angle. As a result, they pose a threat to oncoming traffic by (potentially) blinding the drivers. On the bright side, it won't take you long to re-adjust the lights. The first thing to do is to park the truck in front of a large enough wall (like a garage or a parking lot) that you can use for fixing/adjusting the lights.
Once you find it, the rest of the routine won't be a challenge to complete. Set the right tire pressure and park the F150 10-15 feet away from the wall. See that the shocks are leveled, and the truck is sitting evenly on the ground. Otherwise, you won't be able to achieve perfect adjustment. With that out of the way, turn on the headlights. Next, use duct tape to mark both beams (vertical and horizontal) on the wall.
Make sure the lines in the center are nice and even (and sit on the same level). If they don't, move them around a bit to get perfect alignment. Now get behind the wheel and back away from the garage/parking lot wall. You need to be exactly 25 feet away. Go ahead and turn off the lights completely. To adjust the headlights, grab a screwdriver. They can only be fine-tuned via the adjustment screws.
Each headlight has a set of screws – for horizontal and vertical correction. To get the right results, work with one single light at a time (just cover the other one with a piece of cloth or something like that). The goal is simple: keep adjusting until you've got the top of the brightest segment of the light beam aimed at the center of the improvised line we created earlier with tape.
Ideally, it should hit slightly to the side. As soon as you're happy with headlight #1, move on to the second headlight, and re-adjust it using the same techniques.
How to Remove Ford F150 Headlights with a Basic Toolset?
Mechanics charge $200-300 for headlight replacement. So, if you manage to pull it off manually, that'll save you big bucks for a new upgrade. First, you'll have to remove the factory set, of course, and that usually takes +/- an hour, depending on your skills and experience with aftermarket gear/accessories. As for the toolset, a regular Phillips screwdriver is pretty much all you're gonna need. Oh, and don't forget to put on a pair of protective gloves.
To begin, find an even, flat surface and park the truck. I would recommend using a couple of tire blockers to prevent the vehicle from "slipping away" while you're busy with the replacement. Next, pop the hood to get access to the headlights. Like in most Ford vehicles, in the F150, the lights are secured by four screws (two at the top, and two at the bottom). A quick note: the upper screws sit vertically; the ones at the bottom, in contrast, are located horizontally.
Use the screwdriver to get rid of the screws and carefully remove the assembly. On the newer F150s, the lights will also be secured by a pack of plastic push-pins. And if you want to use the factory bulbs with the new assembly, go ahead and unplug them. Each bulb is plugged into a connector. All you need is to disconnect them. Depending on the F150 edition, you might have to turn them for easy removal.
On newer trucks, there's a plastic piece sitting on top of the grille. Use the same Phillips screwdriver to get rid of it.
How to Install Aftermarket Headlights on Ford F150?
In many ways, the installation process is the same as the removal, only everything is done in reverse order. As far as the new headlights are designed with Ford's truck in mind, all you'll have to do is place them into the factory mounting spots and secure them with the included screws (or just use the stock hardware). If the assemblies come with pre-installed light bulbs, plug them into the connectors, and that's it.
And if not (say, it's an aftermarket set of LED bulbs, or you're using the factory set), carefully place the bulbs into the assembly, and then get them connected. The best thing about modern-day headlights – they don't involve any pro-level wiring or expensive, hard-to-get tools. You just connect a couple of plugs, secure the headlights with standard-issue screws, and you're ready to hit the road!
Cleaning F150 Ford Headlights: Step-by-Step Manual
No matter how well-built and weather-resistant the headlights are, over time, they do get dirty and oxidized and will greatly benefit from proper maintenance. Sandpaper is one of the best remedies against dirt and dimmed lights. As for the grit, I recommend using 1500 and 2500. And before you begin, make sure to cover the area around the headlights so that you don't damage/peel off the paint.
So, just grab that 1500 sandpaper, dip it into a bucket full of water, and get to it. Don't rush yourself and avoid applying too much pressure. Going in circles has proven to be an effective and safe technique. Once you see that the 1500 paper has reached its limit, switch to 2500. Again, dip it into the bucket and repeat the process. It's important for the paper to be wet. Otherwise, it'll lose its efficiency and you may end up scratching the lights.
Next, give the headlights some time to dry (like an hour or two) and use polish and a microfiber towel/piece of cloth for further cleaning. Apply it in a circular motion, but this time around, you can go from right to left or from center to the sides. Now, if you're serious about cleaning the headlights, get a buff ball and attach it to an electric drill. That will turn the ball into a highly effective cleaning device!
The most important thing here is to set the drill at 2500 RPM. Don't go higher than that! If you did everything right, you'll be amazed by the difference. The lights will look newer; plus, they'll illuminate the road a lot better.
Buyer's Guide
In the FAQ, we talked about how to remove the factory headlights, install a new set and get it adjusted. We also covered an effective maintenance/cleaning routine and tips for finding the right bulbs for the truck. Now let's focus on the package, engineering/material quality, anti-weather protection, compatibility, and quality assurance – key aspects that define how reliable and investment-worthy the headlights are.
#1: Easy Fitment: Installation + Wiring
It doesn't take much effort to have the headlights replaced on the F150. However, that's only true if the assembly fits the factory mounting spots perfectly. If it doesn't, your mechanical skills/experience or sleight of hands won't do much good. Some experts claim that you can make any kit work with some DIY trimming, cutting, and drilling, but I'm strongly against that because you'll probably end up damaging the lights. Besides, it's very easy to ensure compatibility.
Check the specs: there, you'll find a list of the officially-supported vehicles, generations, and model years. Also, see that "direct, bolt-on OEM installation" is a part of the deal. That means no modifications will be required. As for the wiring, on older F150 trucks, it will take more effort to get the lights connected than on a newer edition.
#2: Decent Build Quality/Resistance
As an exterior accessory, the headlights are one-on-one with Mother Nature 24/7. That's why they need to have a protective layer against weather elements. Otherwise, you'll start seeing signs of rust and wear in a couple of months, or maybe even earlier. Ideally, it should be a triple-layer coating against debris, dust, UV rays, and water. It will prevent fading, hazing, and ensure proper illumination no matter the weather.
Impact and scratch resistance is another thing to check for. No, it won't protect the headlights if you hit a tree, rock, or fellow driver. But, the assembly will last a lot longer and won't be covered in scratches after a trip or two into the wilderness. That's it. As long as the headlights fit perfectly and feature decent anti-weather protection, they're well worth your attention.
#3: Installation Hardware and Warranty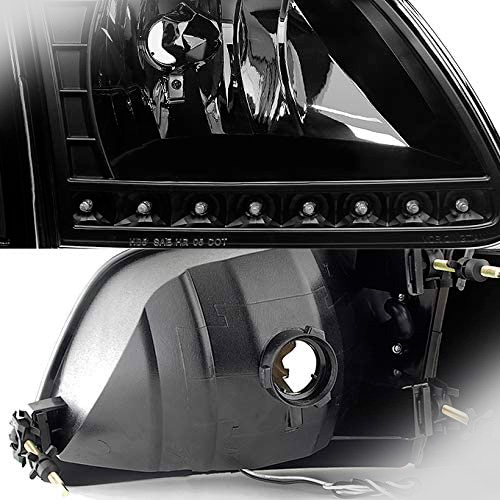 Before you go ahead and make an order, take a minute to inspect the package. Does it come with any extras or only a set of headlights? Make sure you'll get wires, nuts, bolts, and washers. True, you could always use the factory ones, but it would still be best if the kit included all the necessary hardware. A detailed user guide would also come in handy, especially if this is your first time replacing the headlights.
The instructions aren't always crystal clear, though, or very specific. Instead, they describe the mounting process for a wide range of vehicles – keep that in mind. Finally, see that the company backs its product with a warranty. It can be a limited lifetime warranty, a one-year maintenance guarantee, or a 30-day refund/money-back guarantee. For the average driver, an MBG will be the right deal, as it's more than enough time to detect flaws within the headlights.
#4: Quality Standards/Certifications
When it comes to headlights, there are lots of quality standards that they gotta meet. Many aftermarket assemblies and bulbs are illegal in certain states and you'll be charged by a police officer if they pull you over with the wrong headlights. For example, DOT stands for the Department of Transportation – an international standard for design and manufacturing. Next, the lights need to have an SAE and an FMVSS 108 certification.
If they do, you can freely drive to pretty much any state and never worry about the new headlights not being street-legal. For a set of headlights, DOT is the most important standard and it's usually the only one to worry about.
Conclusion
As far as the best exterior upgrades go, headlights are definitely in the top five. This is especially true for off-roading vehicles like the F150. A brand-new assembly will update the front end and give it a more aggressive, "ready-steady" look. Plus, you'll enjoy stronger performance (illumination) and better protection. There are lots of options on the market, though – it can be quite challenging to find the perfect pick.
So, you've got two options: either order one of the great headlight assembly sets from today's list or use the Buyer's Guide and FAQ to do your own picking. Make sure the kit is 100% compatible, easy to mount and get connected, fits a wide range of bulbs, and, most importantly, has a killer design. Choose wisely, and I'll see you around!