Best Window Deflectors for F150 Review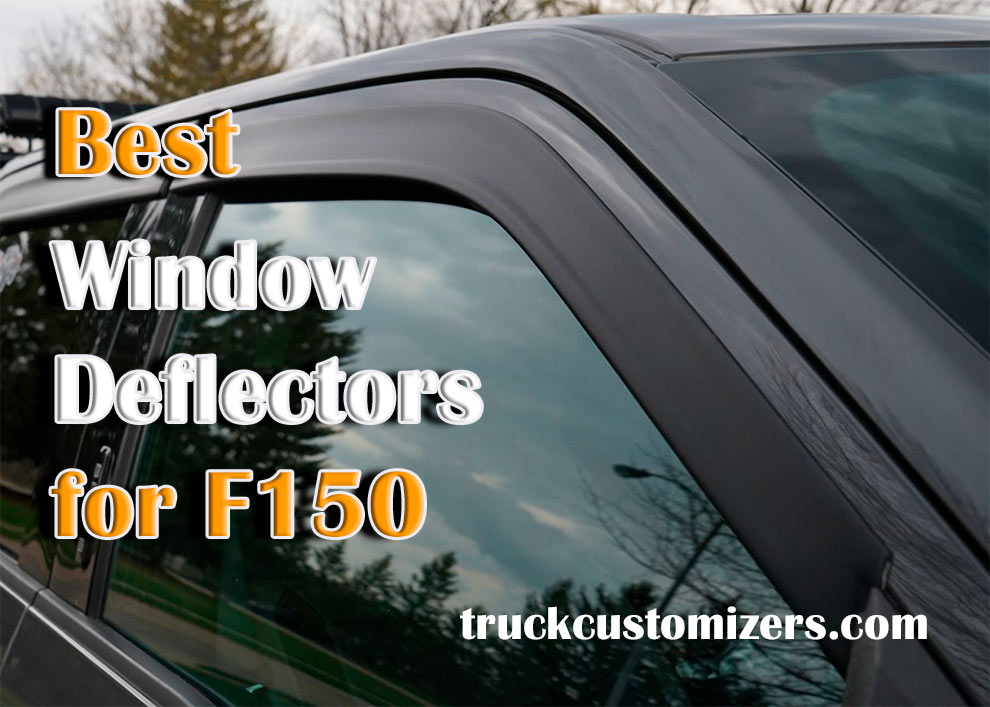 Feeling the wind in your face while you're cruising down the block is a wonderful way to start the day. However, when it rains/snows, you have to close the windows; otherwise, the water will ruin everything. Fortunately, there is a cheap and quick way to avoid all that while still enjoying the fresh air. I'm talking about deflectors! They might not look like much, but do get the job done.
Today, we'll take a close look at the Best Window Deflectors for F150. They've all successfully passed the test of time and will be a worthy investment for the average truck driver. These units can protect not only against the rain, but also snow, dust, dirt, and everything else in between. So, let's go ahead and check out what the market has to offer!
Best Window Deflectors for F150 Review
1. Auto Ventshade AVS 94975 – Best Window Deflectors for Ford F150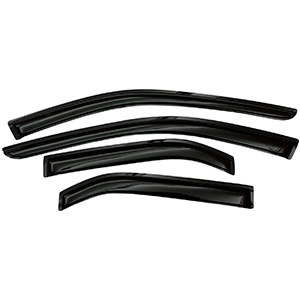 Crafted from hardy, sturdy, reinforced acrylic, the Auto Ventshade rain guards are quite tough and long-lasting. Plus, they are highly resistant to the sun (UV rays) – the paint won't get peeled off after a month or two. So, you can keep the windows open 24/7, let fresh air in, and not worry about ruining the deflectors. Precision-engineered, the AVS set is specifically designed to be a tight fit.
You just remove the adhesive tape, put the deflectors where they belong, and that's it! On older F150s, the installation process might pose a minor challenge, though. If they're giving you a hard time, try trimming the edges a bit. Or, put a tab under the mirror connection to ensure an exact fit. On the bright side, the company backs this product with a limited lifetime warranty.
Pros & Cons
Reinforced acrylic: UV-ray resistant
Precision-engineered and custom-molded
Covered by a limited lifetime warranty
Minor issues with the installation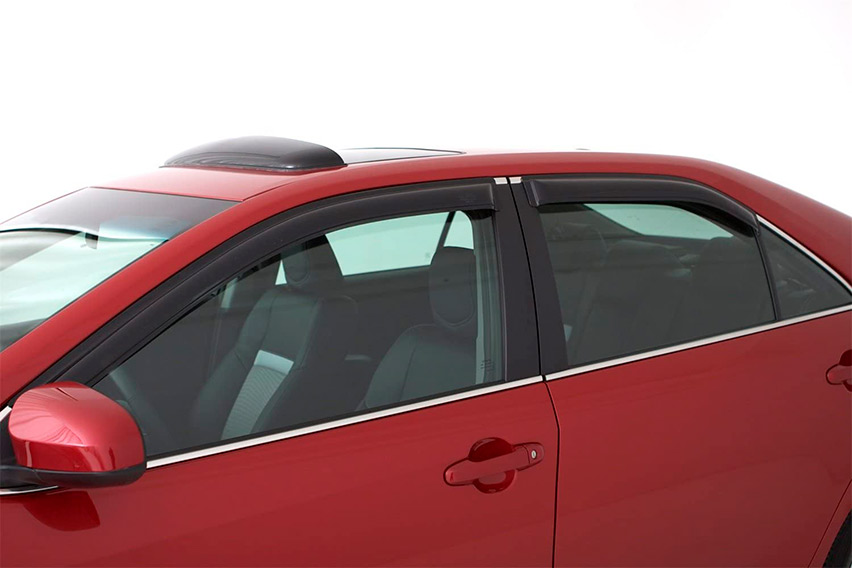 Designed and made in the States and backed by a generous warranty, Auto Ventshade is a sure pick. These rain guards are durable, reliable, and custom-molded. Depending on your truck's model, the installation might be a bit tricky, but that's nothing the average F150 owner can't handle.
2. CLIM ART 615010 – Best Rain Guards Window Deflectors for F 150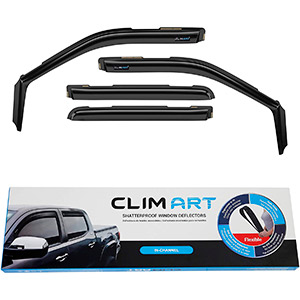 Did you know that most window visors/deflectors are pretty fragile and tend to break? That's right, but the Clim Art set boasts a shatterproof design. Manufactured from premium-quality PC plastic, these guards are, indeed, crack-resistant and can take a beating. Another big pro is automated manufacturing: high-precision injection machines guarantee perfect fitment for the F150 truck.
On top of that, the package includes a detailed installation guide to help you out with the mounting. Sadly, the deflectors don't always have enough adhesive: you remove the strip, position the visors, but they don't stick properly. This only happens to a very small percentage of buyers, of course. Besides, you can get a glue tube for $5 at a local store.
Pros & Cons
Crafted from break-/shatter-proof PC plastic
Fully automated manufacturing for a perfect fit
Detailed installation instructions included
Could use a bit more adhesive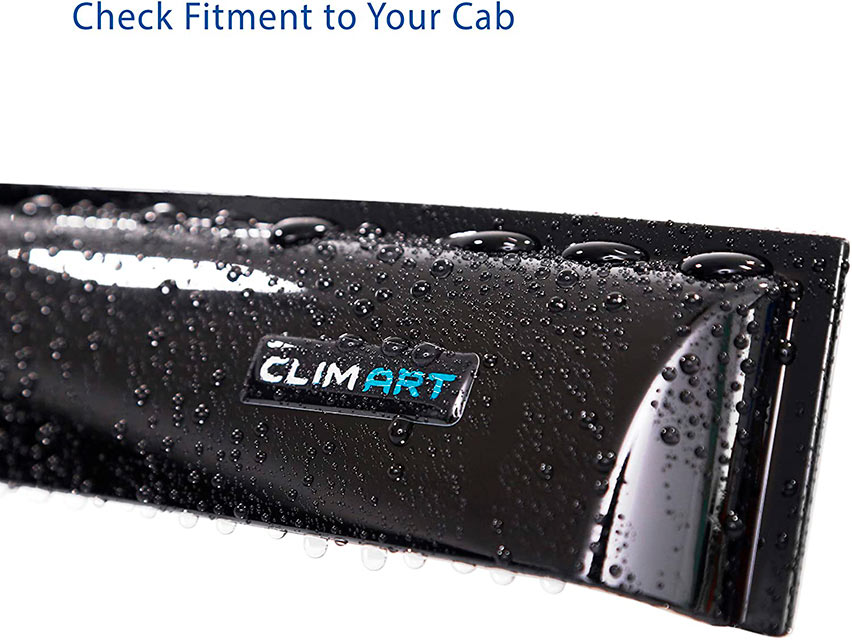 Crack- and bend-resistant, built from break-proof plastic, and auto-manufactured – that's the Clim Art deflector kit in short for you. Due to minor QC issues, you might feel a lack of glue on the deflectors. Yet, that's countered by a friendly user guide and a flexible design.
3. Voron Glass 220018 – Best Vent Window Visors for F150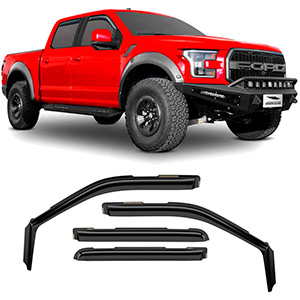 Up next, we've got another investment-worthy set of deflectors for the F150, this time around, crafted by Voron. The first thing that I want to point out is that this product is available in six different sizes. If you like what you see, you'll most likely find the right fit for your truck's size/cab. Another standout feature is the 3D design: it ensures an aerodynamic, low-noise ride both for the front and the rear passengers.
In addition, the Voron Glass deflectors provide maximum protection against rain, snow, and dust. Sadly, the visors for the rear windows aren't very flexible: they tend to "fight" with the roll-up mechanism. So, make sure they're nice and tight to avoid this problem. Going back to the pros, you won't have to pay a pretty penny for this set – it's one of the most affordable offers for the F150 truck.
Pros & Cons
3D design: noise-free and aerodynamic
Available in six different styles and sizes
One of the cheapest options on the market
Poor back-window guards design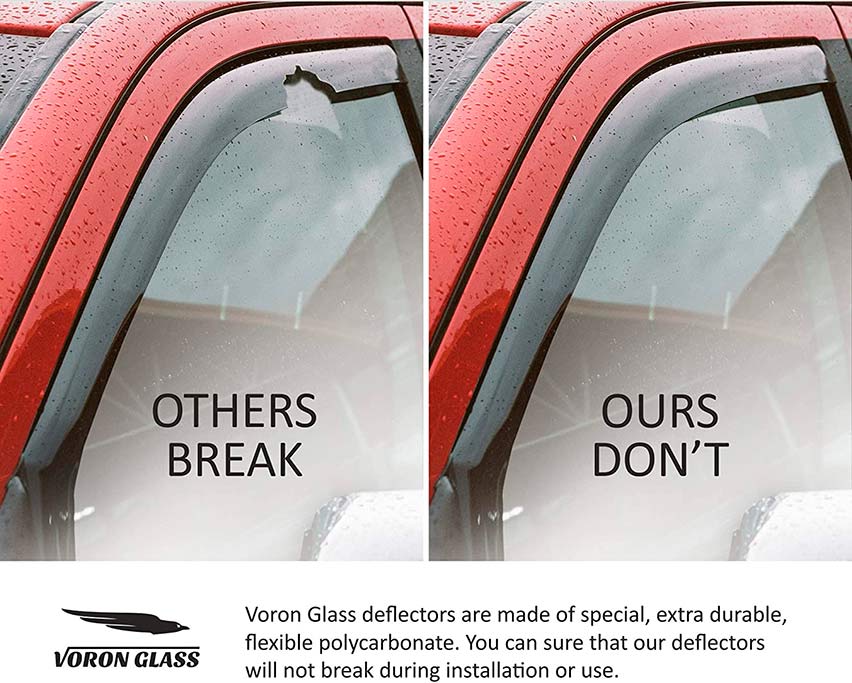 Strong against natural elements and noise-free, Voron is a bargain, thanks to the affordable price and durable, reliable design. You can choose between different designs/styles, which is also a pro. The rear-window deflectors can be a bit tricky to mount, but that's a minor con.
4. Goodyear GY003110 – Best Vent Deflector for 2012 Ford F150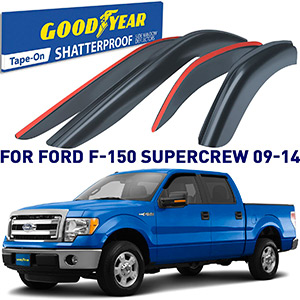 Can you trust Goodyear with your new deflectors? The answer is yes, you most definitely can. This company is a known leader in the market of third-party gear/accessories, and GY003110 is a clear example of that. Quick, charge-free delivery across the country is one of its biggest standout points. Along with that, these rain guards arrive in a protective box that keeps them safe during shipment.
And what about resistance to natural elements, you might ask? Well, with Goodyear, that won't be an issue, thanks to advanced protection against UV rays, water, dust, and dirt. What I don't particularly like about this otherwise exceptional kit is the price. Compared to the market average, it is a bit steep.
Pros & Cons
Water-, dust-, and UV-resistant deflectors
Fast delivery across the United States
Arrive in a protective shipping box
Pricier than the market average

Goodyear's deflectors are pricey, but they do compensate for the high cost with a long list of pros. These include all-around protection, fast delivery, generous packaging, excellent performance, and trouble-free installation. If you're looking for premium quality, you'll get it with this set.
5. Optimal Co FDF150VSC15 – Best Side Window Vent Visor Deflectors for 2019 F150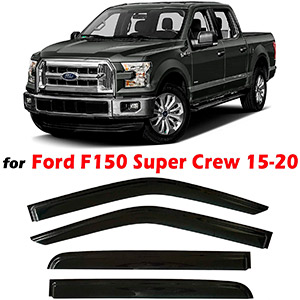 This right here is the most flexible/versatile set of window deflectors. It is compatible with both regular and super cab F150 trucks. And, it takes minimal time and effort to install. Just remove the adhesive strips, place the rain guards properly, and that's it! Designed with durability in mind, these are manufactured from a scratch-resistant material and won't be ruined by heavy rain, hail, tiny rocks, or debris.
As for the downsides, this isn't a US-made product: Optimal Co is a product of Taiwan – designed, manufactured, and tested. Now, while the build quality is more than decent, delivery times can be slow at times. Furthermore, the company doesn't provide any warranty deals.
Pros & Cons
Simple, hassle-free installation with no tools
Crafted from a scratch-resistant material
Fit both regular and super cab trucks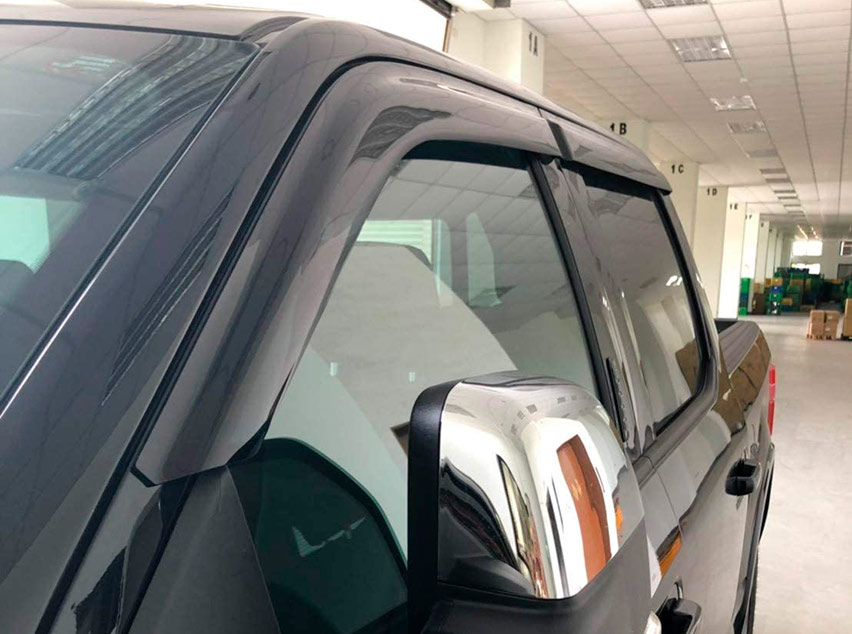 There's very little not to like about the Optimal Co deflectors, except for the country of origin. Fast, trouble-free installation, extended compatibility with the F150, and a sturdy, scratch-resistant design turn this kit into a must-have for someone looking to get quality at a reasonable price.
Are Window Deflectors Worth it?
Absolutely! If you do lots of highway driving or prefer to conquer the wilderness behind the wheel of the F150, deflectors will make your travels a lot more enjoyable. Sun glare, mist, rain, dust, and dirt can blind your view and potentially lead to a crash or an accident. The best thing about window guards – they are incredibly cheap and only take 5-10 minutes to install (or even less, if you're good with your hands).
These accessories last for a really long time and don't break or crack over the years. So, if you're tired of natural elements messing up the windows and ruining your mood, a set of deflectors might be a perfect remedy for that. They always come in a pack of four (for the front and rear windows). Even if you mostly drive slowly and stick to city streets, deflectors/guards will still be a great purchase.
Window Deflectors Problems
Alright, now that we've learned about the pros of vent deflectors, let's take a quick look at the most common problems that drivers have to deal with:
Too loose – easy to steal. It might not seem very obvious, but rain guards do get stolen a lot, even though they're not particularly expensive. The best way to protect your truck from this is to install them properly and go for a tight fit. Statistically, the majority of potential thieves will "flee the scene" if the deflectors don't come off easily. That's right: when the deflector sits tightly into the window channel, that means it will be safe.
Interfere with the auto-up feature. This is another common issue that you might've already experienced in the past. Most modern-day trucks (including the F150) have the auto-up feature that, well, allows the windows to close automatically. But, when the rain guards aren't installed correctly, they prevent the windows from going up. The only way to fix this is to carefully remove the deflectors and reinstall them.
Again, make sure they are positioned properly, aligned with the windows, fit snugly, and don't "fight" with the engine. The actual installation process is very simple and takes 5-10 minutes. If that's still not helping, try trimming the deflectors a bit to make room for the windows.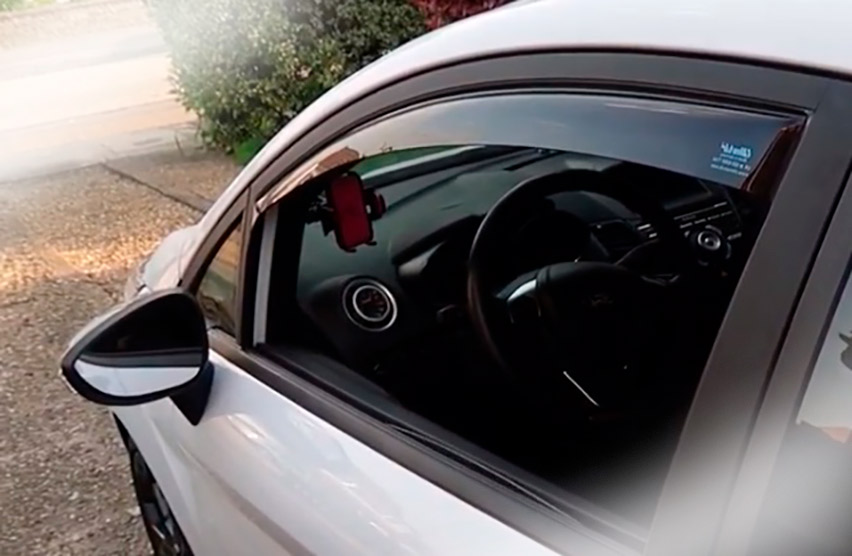 How do I Stop Wind Deflectors from Whistling?
Whistling is one of the most annoying things that can happen on a long road trip. Now, the first thing you can do to get rid of that is to try and reinstall the deflectors. Yes, you might have to add an extra layer of adhesive for that, but it's worth the try. If that doesn't help, try only using the front set of deflectors. In most cases, it's the rear-window pair that's causing all the trouble.
Just like rubber seals around the edges of a vehicle's doors, deflectors tend to wear out over time. If you see signs of that, it means a replacement is in order. With brand-new guards, though, moisturizing could do the trick. Silicone spray is the best option on the market. It will prevent the deflectors from sticking to the windows when the temperature suddenly changes.
Some experts recommend using cooking spray, or even water, but silicone is still the preferred option. Another thing you can do is lower the windows just a little bit. It might seem that the whistling is caused by the vent visors when in fact it's the window creating that "sizzling" effect when the distance between the actual window and the top of the frame is too short.
Buyer's Guide
What's the best material for window rain guards? How do you get strong resistance to natural elements? How much does a decent-quality set? These are just some of the questions we'll discuss here, along with the importance of warranty, perfect fitment, automatic manufacturing, and more. Take your time with this guide: the more you learn, the easier it will be to make the right choice!
#1: Build/Engineering Quality
The #1 concern with the build quality should be resistance to scratches. Deflectors are designed to protect the driver and passengers from natural elements, that's true. But, they can get damaged over time unless they're crafted from durable materials like, say, reinforced acrylic or premium-quality plastic. For brittle, cheap deflectors, a car wash can be a pretty "traumatizing" experience.
In contrast, a set that was engineered to last will easily handle high water pressure. So, yes, the materials and the build quality are some of the key factors for rain guards. Going back to the elements – rain, snow, debris, and, of course, UV rays – they're still a major threat. See that the deflectors are well-secured against all that.
#2: Compatibility/Fitment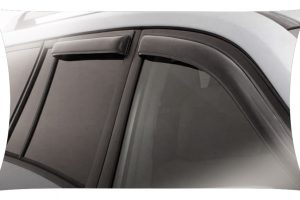 There are lots of universal deflectors out there that fit a long list of trucks. But, they're pretty cheap, low in quality, and won't last for long. That's why I recommend custom-made deflectors: they're more expensive but create a tight fit and serve for many years. With that said, you gotta still check the specifications regarding compatibility with your truck. We've got a huge line-up of F150s out there with different cabs styles, makes, models, and trims.
If you're shopping locally, ask the guy to help you with the choice. You could, of course, try calling different brands to ensure compatibility, but that's a longer and more tedious route.
#3: Tape-On vs. In-Channel
Tape-on vent visors stick to the windows via glue, or, rather, adhesive tape. You'll find the tape at the bottom: just remove the strip and get to the installation. Tape-on deflectors sit outside of the window channels, and that makes them better at "handling" the wind; they're quite effective against rain as well. On the downside, these units can be a bit tricky to remove and may ruin the factory paint.
In-channel guards, in turn, won't be a problem for the paint. And, they sit right inside the window channels; that's why they don't have any adhesive sides. Overall, in-channel deflectors are more durable, reliable, and look better. Removing them will be a safe task. However, you gotta make sure they're a 100% fit for your truck. Otherwise, the deflectors won't be properly secured.
#4: Pricing + Warranty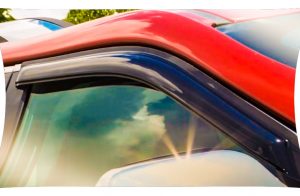 Rain guards are very cheap: you can get a set of four for as low as $35. Moving up the ladder, we've got the 50-100 bucks category. In this price range, you'll see market-leading brands with premium-quality deflectors. They're more resistant to natural elements, scratches, and impact. Plus, they're usually model-specific. That means the installation process will run as smoothly as butter and you'll be done in five minutes.
As for warranties, most companies don't offer any guarantee deals. But, if you pay a bit extra, you'll find a manufacturer that backs its product with a limited lifetime warranty. Speaking of the package, make sure it includes all the clips (if necessary) and a detailed installation guide to help you with the process.
Conclusion
Windows deflectors might not be a very exciting upgrade, but as long as the most useful accessories go, they're definitely in the top five. Factory F150 windows aren't properly protected against natural elements/hazards. So, if the wind is constantly rushing through the window, and raindrops are blurring the view, it might be time to get a set of deflectors. You can buy them offline or order online.
There are lots of different designs, materials, and colors to choose from. As long as it's a perfect fit with your truck, go for it. Say, Voron is incredibly cheap, while Clim Art is all about perfect fitment. With AVS, you'll get premium UV resistance. Finally, Goodyear is fast to arrive, and Optimal Co boasts extended compatibility. Go ahead and take your pick!